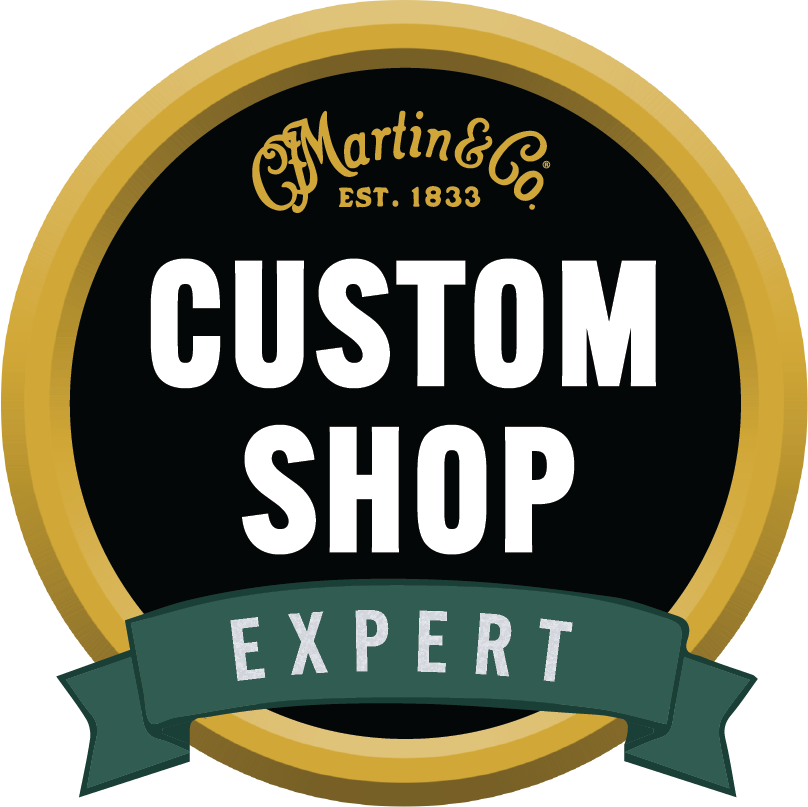 Martin Custom Shop
Martin Guitars has been producing instruments since 1833 so it is no wonder that they wanted to build on their rich heritage. Their Custom Shop does exactly that. By allowing a small and dedicated team of talented luthiers to solely focus on crafting some of the finest acoustic guitars we've ever seen and heard, the results are truly phenomenal.
Having visited the Custom Shop in Nazareth, Pennsylvania, and seen it all up close, we can confirm that these guitars rightly deserve their high distinction. These incredibly desirable instruments often sell very quickly, partly due to their exclusive nature but also a testament to the unparalleled levels of quality and craft.
Start the Journey
From Conceptualisation
Martin are one of the best known names in the acoustic guitar world and with very good reason. They have been inspiring guitarists for generations and have remained a prominent figure throughout decades of music style changes.
Their commitment and passion keep them at the forefront of the industry, being a beloved choice for any guitarist who values tone, feel, and performance. Each Custom Shop guitar is often spec'd featuring exclusive woods and individually chosen specs, resulting in a playing experience unlike any other.
Workshop of Artistry
Each instrument is created in the Martin Custom Shop which is a separate section of their main factory. Here, the small and dedicated team specialise in producing some of the finest acoustic instruments ever constructed.
Stocked with a wide variety of tools, instruments, and woods, this is a building filled with history, creativity, and passion.
Boutique Wood Choice
Many of the guitars feature exotic woods that you won't find on other Martin series models.
This exclusive array includes such woods as the stunning quilted bubinga and elegant wild grain east Indian rosewood.
These aren't picked only for their beautiful looks but for the lush tones they produce. Some of these woods have been kept in storage for many years, waiting for the perfect moment and pairing.
Over 100 Years of Experience
Martin's Custom Shop guitars are lovingly crafted by a small team who are passionate about creating exquisite instruments.
Every stage of the process is carried out with a high level of precision and extreme attention to detail, with the majority of work carried out by hand. The final results show just how essential the skilled human touch is when producing an extremely high caliber of guitar.
With years of experience and having made guitars for many high profile artists, the Custom Shop is consistently impressing players all around the world.
The Next Step
Our relationship with Martin allows us the chance to personally visit the Custom Shop in Nazareth, Pennsylvania, giving us the opportunity to spec guitars, hand pick woods, and speak to the fine craftspeople plus sometimes Chris Martin himself. This lets us select the very best Custom Shop guitars and on some occasions the wood they are made from.
We get to see and hear them first-hand, ensuring that the ones we choose have that extra special dose of character and beauty.
Some Custom Shop models are even hand signed by Chris Martin. This is a great display of how hands-on he is and how much he values every step of the process.
To Completion
Having completed its journey, the Custom Shop guitars arrive with us for the last stage - allowing you to experience them for yourself!
Every step of the process is a real pleasure for us to see, as we love the opportunity to make sure we can provide you with an acoustic like no other.
As you've seen throughout the process, we have been there at key points along the way to witness how much love and talent goes into creating these guitars.
We have an ever changing range due to the high demand and small numbers produced, and we use our experience to ensure we have the best ones in stock for you.
However, if you have an idea for your own custom build, just contact our sales team to get started. You can submit a full list of specifications and supporting images, or you can simply start with the base model you like and some ideas for custom additions or changes. We'll help you get your ideas dialed-in and submitted to Martin for a quote.
Below is our current selection of Custom Shop instruments.
View Products
Martin Custom Shop
1-40 of 49
products
About Martin Custom Shop
The Martin Custom Shop build some of the finest acoustic guitars in the industry. Whether you choose from current pre-built models or want to create your own, the quality is second to none! Here at guitarguitar we can help get you the Martin of your dreams, and are proud to call ourselves a Martin Custom Shop Expert.
If you are building your dream guitar, you want to work with someone who knows everything there is to know about Martin Custom Shop Guitars. You want someone who will be there for you every step of the way. You want the best. And only the best can call themselves a Martin Custom Shop Expert.
Only elite Custom Shop dealers, those offering the highest level of service and attention to detail, are part of the Martin Custom Shop Experience Program.
Our Martin Custom Shop guitars come included with a guitar hard case.
Why Should I Choose a Martin Custom Shop Guitar?
Exceptional Quality
Making Guitars Since 1833
Boutique Wood Choice
Outstanding Tone
Frequently Asked Questions about Martin Custom Shop
Question: What Is A Martin Custom Shop Expert Dealer?
A Martin Custom Shop Expert Dealer has been invited to represent the very best that Martin has to offer. Here at guitarguitar we are proud to call ourselves an Expert Dealer and can't wait to help get you started on your own Martin Custom Shop journey!
Question: How do I order a Martin Custom Shop Guitar?
Ordering your Martin Custom Shop guitar is easy! We stock many great Custom Shop guitars right here on our site. but if you want something more personal contact us and we'll help you dive in to your own custom built Martin.
Question: How Much is a Martin Custom Shop Guitar?
Pricing for Martin Custom Shop guitars can vary depending on the complexity of the build. In general, every spec change will have an impact on pricing. The higher you go with the style number for your base model, or the more exotic the wood, the higher the price. But you don't have to worry about all that. We can help you navigate through the selection process to build you the guitar you want at the price that works for you.
Question: How Long Does it Take to Build a Martin Custom Guitar?
Martin Custom Shop guitars are in high demand. While the wait time for a Custom Shop build is anywhere from a few months to about one year, they are well worth the wait. Build time can vary based on the complexity of your order, availability of materials, and time of year that your order is placed.