Events: Devin Townsend Clinic at guitarguitar Camden
Published on 29 January 2019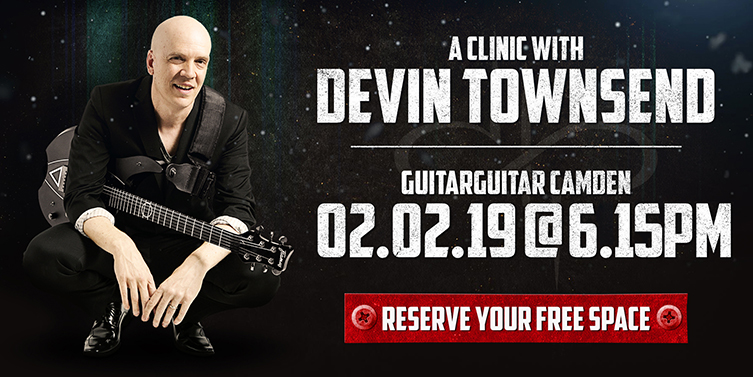 About as close to metal royalty as you can get, Devin Townsend's music is both instantly recognisable and absolutely mindblowing. With a shudderingly heavy, yet uplifting sound which is totally one of a kind, he's never satisfied unless he's innovating and his extensive back catalogue is testament to that. Devin was actually first introduced to the masses as a vocalist on Steve Vai's Sex & Religion album, so it's safe to say that he's been impressing the right people from the get-go. However, it's his achievements since that have really put him in a league of his own.
Spearheading a wide range of diverse acts and projects ranging from operatic to extreme metal and even collaborating with bands such as the Wildhearts, Devin has always been at the forefront of new ideas. Personally responsible for some of the heaviest music that the world has ever heard, his contribution to metal is pretty overwhelming and it doesn't hurt that he's also a total beast on the guitar. He famously uses an altered tuning on all of his axes and trust us - it doesn't matter whether he wants to bludgeon you with heavy riffs or dazzle you with more technical licks, Devin's a seriously impressive player who has never been afraid to make a statement or do things his own way.
Right now we're eagerly anticipating the release of his forthcoming album EMPATH which we have no doubt will be among his most creative to date and we're VERY pleased to share that he's planning on paying us a visit...

On the 2nd of February (02/02/19, 6:15PM) we're over the moon to share that Devin Townsend is stopping by our Camden store for a clinic in association with Sony Music. Discussing his gear, open tuning, his gigging and studio setup, taking questions and of course, doing some playing, this is a truly special opportunity to hear from one of the most influential and innovative musicians in metal. We cannot wait to hear what he has to say and would recommend grabbing your FREE tickets as soon as possible. We expect them to fly out and this isn't something you want to miss!

To reserve your FREE space now, click here.

Devin's new album 'EMPATH' will be released on 29th March via Sony Music. You can pre-order now by clicking here.
In the lead up to the album's release, Devin will walk fans through how Empath came together with a series of documentary episodes recorded as phone conversations during the course of the album's recording. Watch him explain more in this video:
To keep up with all of the latest news, music and more from Devin Townsend, check out his Facebook: @dvntownsend