A Closer Look: Takamine Japanese Pro Series
Published on 20 February 2019
Takamine are one of the most beloved acoustic guitar brands on the planet. From their beginnings beneath a mountain in Japan to worldwide exposure via big name players like Bruce Springsteen choosing them above all other brands, Takamine are a brand that have defined Far Eastern guitar craft and become an institution.
Yes, but what's all this about a mountain? Indeed, Mt Takamine itself, in central Japan. Takamine started here (in the town of Sakashita to be more precise) as a family-run industry back in 1959. The company grew throughout the sixties and became known as a pioneering, innovative brand, responsible for revolutionising electro-acoustic guitars with under-saddle pickups in the late-70s. Takamine were also the first to use actual vacuum tubes in their Cool Tube acoustic guitar onboard preamps.
Takamine, like most big guitar makers, offer guitars in a variety of ranges and price brackets. From low cost, high value G Series instruments, right up to special edition models made in their Japanese premises, Takamine have guitars for every player. These Japanese models, known as the Pro Series, are revered as some of the greatest acoustic guitars available anywhere and it is these that we want to look at today!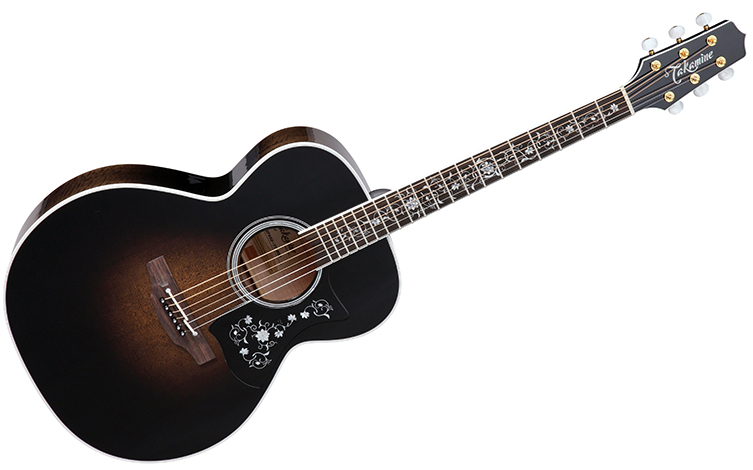 Takamine TK guitars are top class instruments, designed and built in Japan to the most uncompromising of standards. Select tonewoods, hand-shaped neck profiles, all-solid construction and lots of subtle detailing are elements that make up a Takamine Pro Series guitar.
These delicious instruments are made in a range of body sizes: Dreadnought, Jumbo, NEX and more. The range is vast, with instruments for rhythm players, fingerpickers and all other types of acoustic player.
We have just taken delivery of a select groip of these guitars and we are making them available at scandalously good prices! These are all professional spec, top-end Takamine TK models: Japanese-made and unseasonably good! Let's take a quick skip through one or two of these...
First up, we'll draw your attention across to this subtle and lovely dreadnought. Made with select solid Spruce and Rosewood, this is a guitar for the traditional connoisseur. Spruce and Rosewood together make one of the most revered acoustic guitar tone profiles: bright, responsive and detailed with strength and a firm low end. An Ebony fingerboard is a masterful addition, bringing beauty and feel to the playing surface. A touch of elegant detailing in the form of an abalone rosette and Maple binding draws everything together with subtle taste. This truly is refined guitar building.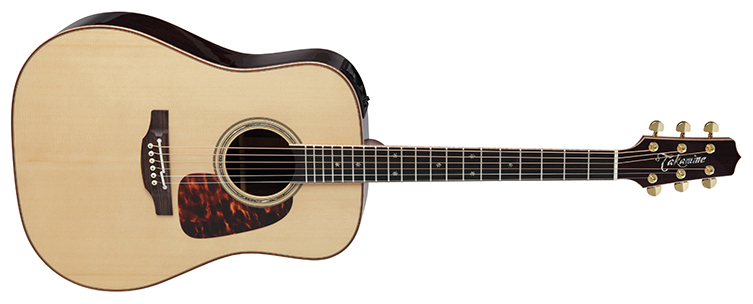 Under the hood lies Takamine's aforementioned and game-changing Cool Tubes preamp system for a plugged-in sound that is virtually unmatched throughout the industry. This guitar is the very definition of 'quality acoustic guitar'.
This beautiful Takamine borrows a little style influence from Kalamazoo and filters it through into a familiar-yet-unique style that captivates. The TK EF450 TT- BSB is a larger bodied guitar akin to a Jumbo and displays much of the charm that Takamine is noted for. It's a stunning instrument with decorative inlay work and a superbly applied sunburst finish.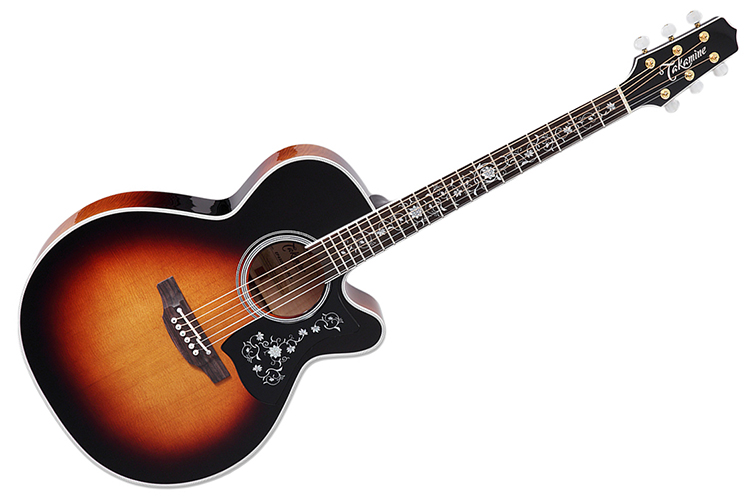 Significantly, this guitar has a torrefied top. A what? Yes, otherwise known as 'thermally treated', torrefaction is a process whereby the timber is subjected to extreme heat in an oxygen-free environment. What this does is change the molecular composition of the wood itself (we're not kidding) permanently. The benefit for the player is a loud, strident and well-defined tone that is seasoned and detailed like never before. Torrefied guitars sound very similar to guitars that are over a century old! It's pretty incredible and of course makes a huge difference to how this guitar not only sounds but reacts, too.
Looking a little further, this EF450 reveals itself to have Flamed Maple for the back and sides! Goodness. It's fair to say that 'special' is something of an understatement here.
These are just two of the select models we have available at the moment. We invite you to take a much closer look, whether it be on our site or in person at one of our guitarguitar stores. We guarantee you will not be disappointed!
These Takamine Pro Series guitars are available in limited numbers of each model, and when they are gone, they are well and truly gone! Do not miss out on these deals!
Check out our range of Takamine guitars today.