A Closer Look: Reverend Guitars
Published on 14 November 2019
What do Smashing Pumpkins, The Cure, Nine Inch Nails and The Stooges all have in common?
Correct: great songs!
But also...
A slightly darker take on things? Yes, possibly...
An independent and original attitude? Most definitely.
They also all use Reverend electric guitars!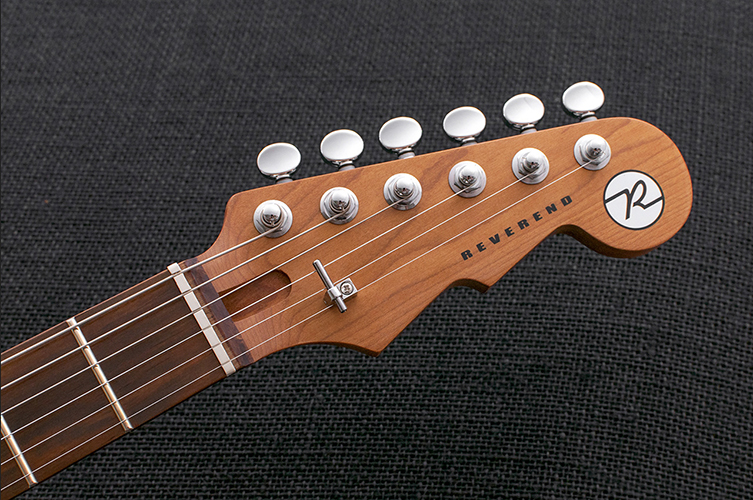 This brand, from Detroit, Michigan, display those same original and iconoclastic traits as the artists who use them. You'll no doubt have been noticing them popping up on more and more stages across the world in recent years. At guitarguitar, we are honoured to join the ranks of Reverend dealers and figured the now would be a great time to check out their brand a little more.
Reverend guitars boast several innovations that apply across the brand. These include a 'bass contour' circuit, which thins out a typical humbucker's low end to help it resemble a single coil. All guitars use Korina for the body wood, ensuring excellent midrange response and lots of sustain. Reverend make their own pickups, including the patented 'Railhammer' design with blends a blade-style polepiece for the lower strings and regular individual polepieces for the lighter strings.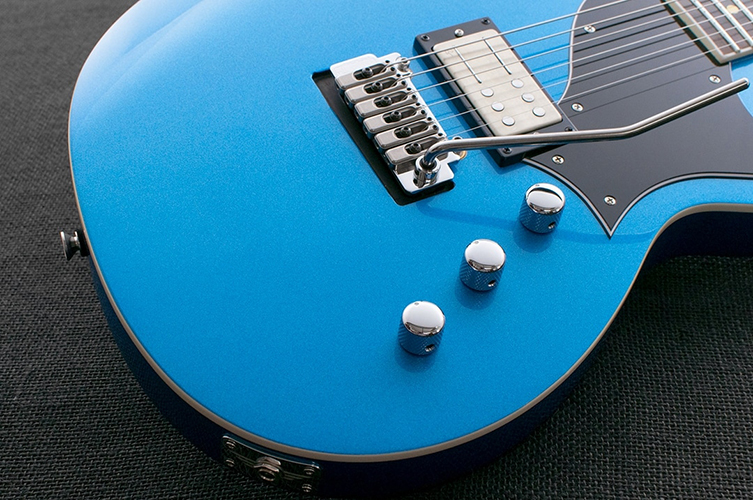 In another blog post, you'll be able to read an interview we conducted recently with Reverend CEO Ken Haas, where he goes into great detail about the other Reverend innovations. For this piece, we'll choose a selection of Reverend models and look at them in greater depth.
Billy Corgan Signature
The Smashing Pumpkins frontman and friend to guitarguitar (see our interview with Billy here) is long overdue his props as one of the defining guitarists of the Alternative generation. His ability to weave beautiful textures, brutal riffs and explosive solos helped propel the Smashing Pumkpins into the outer stratosphere of pre-Millennium rock music. Since regrouping in 2007, Corgan and the Pumpkins have been unstoppable, cementing their legend as one of the greatest bands ever.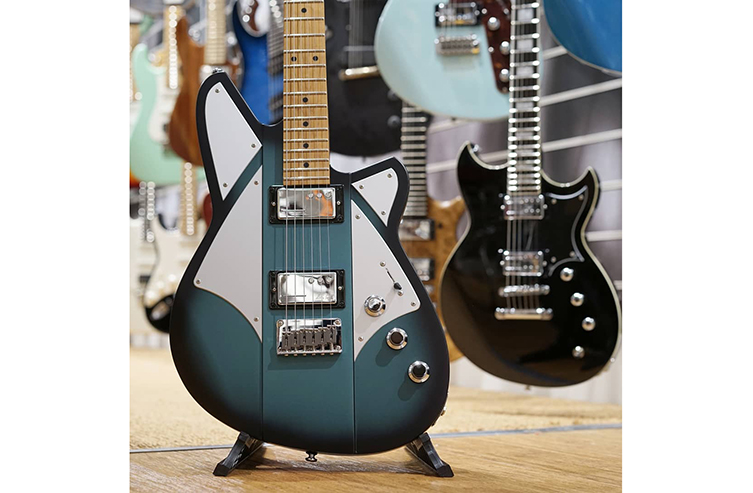 Traditionally a Stratocaster fan, Corgan has in fact made use of a large range of guitars throughout his career. His relationship with Reverend guitars actually goes back to the late 90s, when he experimented with custom-made baritone models. However, this unique signature model is his main squeeze nowadays, and it needs to be pretty special in order to handle the dynamics of a typical Pumpkins gig!
The Reverend Billy Corgan model is actually semi-hollow, which is a surprise, given his proclivity for high gain and fuzz sounds! The Korina body (a tonewood used throughout all of Reverend's guitar and bass range) has a raised centre with two slightly thinner (the body has good 'girth', as it were) wing sections which are chambered for extra resonance. Two Billy Corgan Signature Railhammer pickups adorn this model, which give Billy the best blend of cut, depth, body and sustain.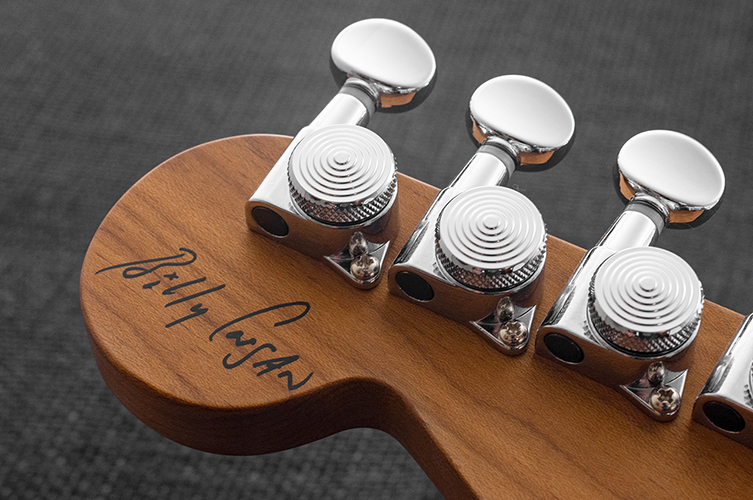 As is his preference, the bridge is a hardtail model that strings through the body. Combine all this and you have a guitar that feels particularly alive: it's quite a thrill to play and sounds absolutely massive! You don't have to be a Pumpkins aficionado to be into this, either. It has a stunningly cool sci-fi look that will suit Rockers of all allegiances, plus a sound and feel that blows the competition out of the water. Nice work!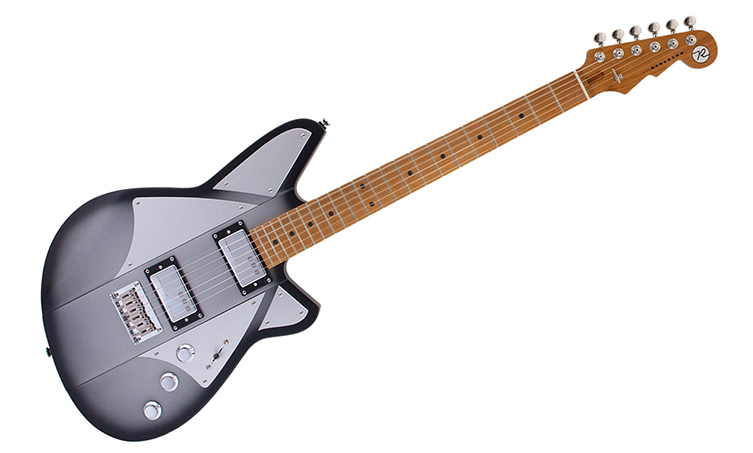 Jetstream 390
This cool Space Age-looking design brings lots of fifties surf charm to a modern guitar. Each of the three P90 pickups are custom designed and wound for each position the inhabit, making for an instrument with plenty of nuance and cohesion. The Bass Contour is still available on here, which takes a little of the 'wrestle' out of the P90s, bringing forward the twang! This is not something we see much of with P90s, and it works a treat!
A Roasted Maple neck is used here, as it is on all Bolt-on Reverend guitars and basses. The benefits of the roasting process (otherwise referred to as 'torrefaction') are both cosmetic and practical: the neck takes on a gorgeous, caramel hue, plus it's lighter, stronger, more stable and more resonant. Win!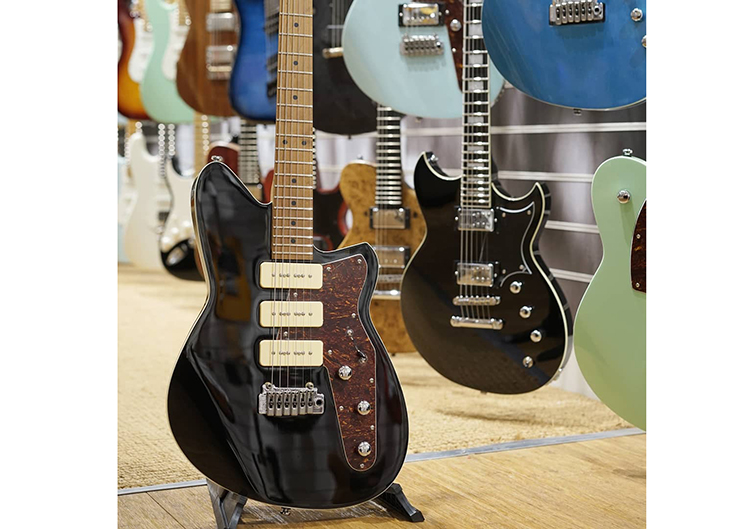 This model has a tremolo installed, and it's a good one! The Wilkinson WVS50 operates like a vintage-style trem, but has several improvements that include saddles that lock to the baseplate (better energy translation so more tone, basically), a push-in arm that doesn't swing about and a Vari-claw in the back to give you option on spring placement. This last addition is important for determining the overall feel of the tremolo.
These are all well-thought out, player-friendly details. It shows us that Reverend are thinking about the holistic experience of playing a guitar. It tells us that they are zeroing in on areas that require improvement and are doing just that.
The Jetstream 390 is a versatile beast for sure: we can see this in the hands of Blues, Indie, Alternative, Funk and Rock players. Anyone who likes a little twang but needs to get messy too, will love this.

Airwave 12 String
How cool is this?
Fans of jangly Rock from the Byrds to REM and the Smiths will definitely understand the appeal of a semi-hollow 12 string electric! This Airwave model brings the chime to Reverend's distinctive offset body shape. With a 'slash' soundhole and a satin finish, this is a beautiful instrument to behold.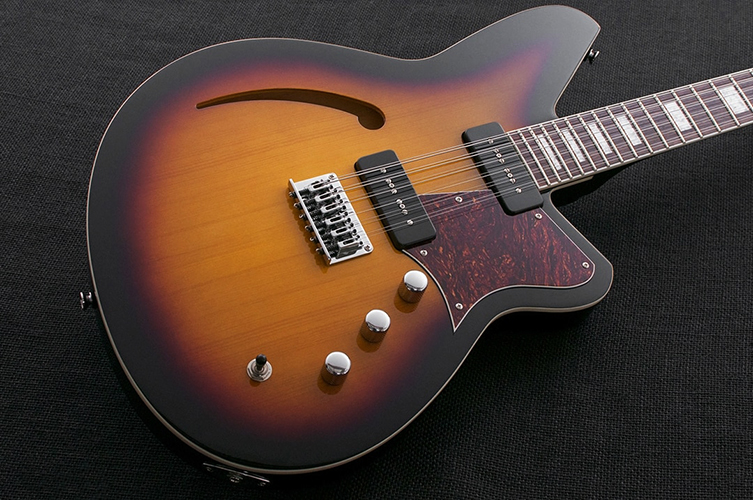 Sonically, this thing really shimmers! A pair of Reverend's own P90 pickups are a perfect choice, and the bass contour can take you into jangle-heaven! The bridge has been designed to be fully adjustable for intonation, so you don't need to compromise in pitch accuracy at all. The Airwave 12 string has set-neck construction, with a 5-piece neck made of Korina and Walnut. The nut is a little wider than Reverend's usual specs, in order to allow for the extra string-age, and the scale length (Reverend standard is 25.5") is a shorter 24.75", to ease up on the tension somewhat.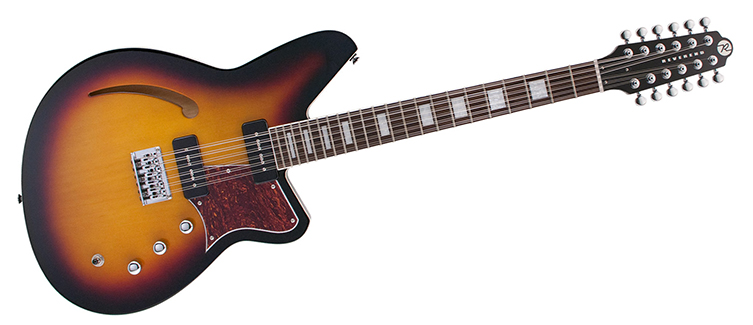 Again, all of these considerations have the guitarist in mind. Reverend is all about playing, performance and innovation, mixed in with some rebel Rock vibes. We seriously love these instruments and are happy & excited to be bringing them to you! Please check out our Reverend guitars online and share in the excitement!