A Closer Look: Cole Clark 2020 Top Picks
Published on 26 March 2020
From the land of Neighbours, Round the Twist, Ned Kelly and Empire of the Sun, comes Cole Clark guitars.
Cole Clark are not your average acoustic guitar brand.
Not by some distance.
They have one thing in mind, and that is simple: to give performers the greatest sounding live acoustic guitar sound.
It's funny to think it, but most acoustic makers don't actually make live sound a priority. They design their guitars to sound as good as possible for the person playing, and then stick a pickup system in afterwards. For the more vintage-styled, heritage brands, they offer acoustic guitar designs (as amazing as they are, frankly) which existed half a century before pickup systems were even a thing! For the predominantly live acoustic player, could there be another way?
Cole Clark, a thoroughly modern company, have a fresh perspective on all this. Here's a direct quote from the company:
"We designed a pickup and built a guitar around it."
Nice! This single-minded determination has certainly reaped results: the plugged-in sound of Cole Clark guitars is amazingly 'real': there is almost none of that horrible 'quack' you get from piezo systems, even though Cole Clark do in fact utilise piezos within their patented system. Cole Clark's pickup system has three separate parts that all contribute to the plugged-in sound: a piezo under the bridge saddle for the bass, a body sensor to pick up the all-important midrange from the guitar's resonant top, and a microphone to pick out high end detail and performance dynamics. The mic has been designed to have little to no feedback, which is sometimes an issue with mic pickups. When these elements are all mixed in together, it makes for a remarkably realistic sound. It's the same, in fact, as the guitar sounds when played unplugged.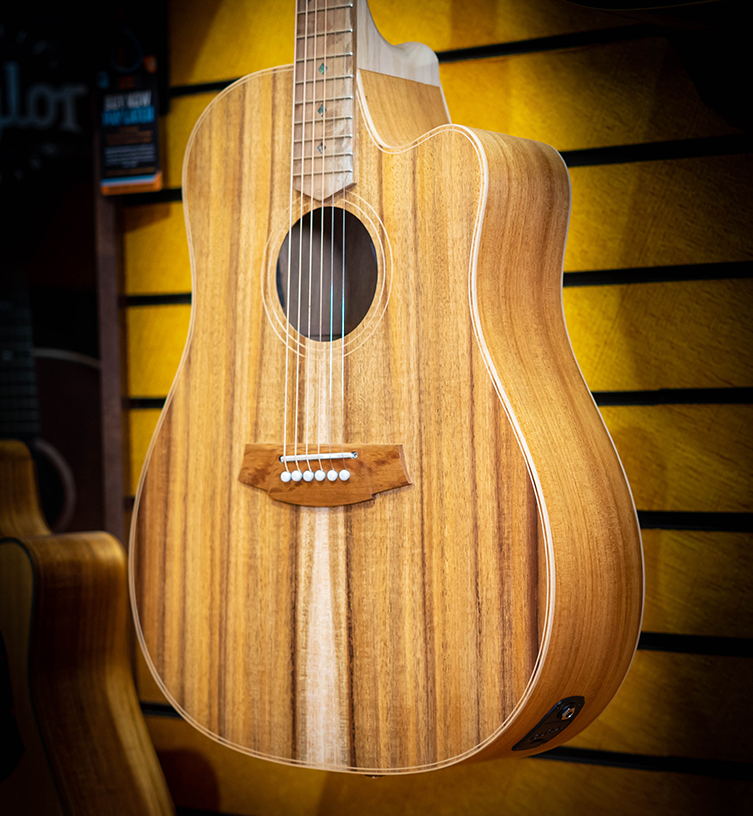 As we sort of noted earlier, Cole Clark guitars are made in Melbourne, Australia. The brand is big on sustainability: the majority of their raw materials comprise of locally sourced timber with great names like 'Bunya' and 'Blackwood' lending some antipodean charm, not to mention a unique angle on both looks and sound.
In addition, the guitars are actually put together which a 'Spanish heel' technique, a process normally used only on Classical and Flamenco guitars. Put simply, this means that the neck is attached to the face of the guitar before the back and sides go on, rather than afterwards via a dovetail joint or similar. In other words, the neck is made first, and the body is built around it. The benefit is that the instrument acts and reacts as one large piece of wood, meaning more vibrations and therefore richer tone.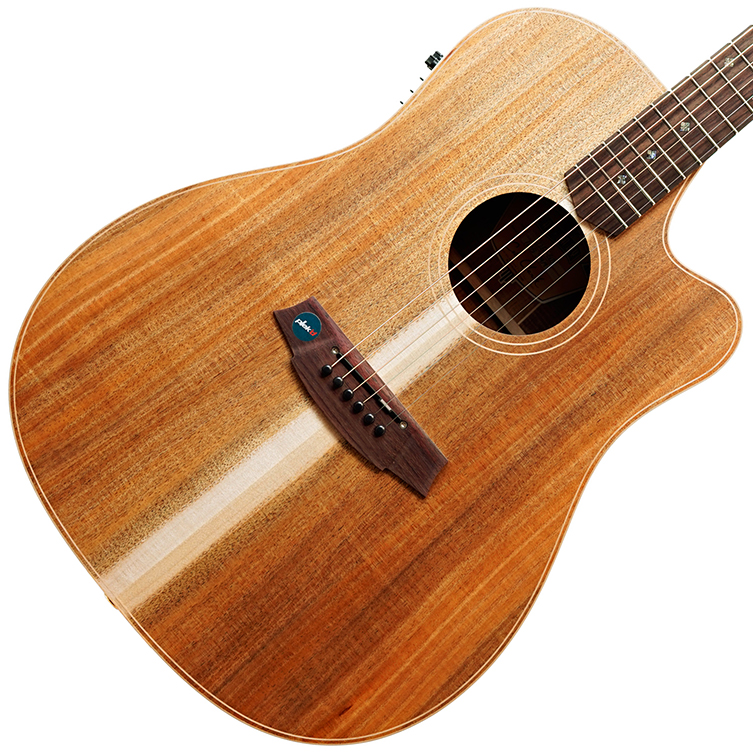 Cole Clark's use of native timbers does give each guitar a uniquely beautiful look: they have an exotic quality, mixed in with a get-down-to-business attitude. Each guitar is finished with a thin coat of Nitrocellulose, to age and beautify increasingly over the years, and of course to let the top vibrate more freely than a thicker Polyurethane coat would otherwise allow.
We just took in a fresh delivery of these wonderful instruments directly from Australia, and they are available now! We thought we'd maybe choose two or three to have a little look at right now, so please join us as we get to know these chaps a little better...
Cole Clark Angel 2 EC Redwood and Blackwood
This first choice has a very striking Redwood top indeed! Sometimes, Redwood can be subtle and other times you can luck out and get some dramatic striping going on like we have here! Each Cole Clark guitar is effectively unique, since the woods will vary in grain etc, so we put each guitar online separately.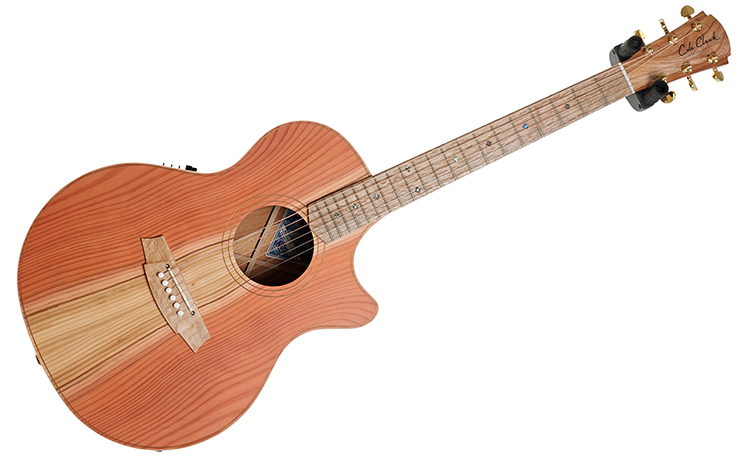 The Angel is a slightly smaller bodied instrument, very similar to a Grand Auditorium. This means it'll be a winner for picking out single notes as well as chordal strumming. This particular Angel has a cutaway too, since many Cole Clark users are contemporary 'tappers': players who tap the body percussively and use a myriad of altered tunings in their repertoire. The cutaway gives these adventurous sorts a little more creative freedom on the fingerboard!
The Angel's Grand Auditorium shape is very tactile and portable, and boasts a good mix of body and projection.
As mentioned, the timbers are locally sourced: the body is Tasmanian Blackwood, the neck is Maple from Queensland, and the top, though called 'American Redwood', is still grown in Australia. This is great, but what does it mean to the player?
Well, speaking in relative terms, Tasmanian Blackwood is often compared tonally to Koa. Koa, as you may know, shares many tonal properties with Mahogany, so you can expect powerful, authoritative mids from the body of this Angel.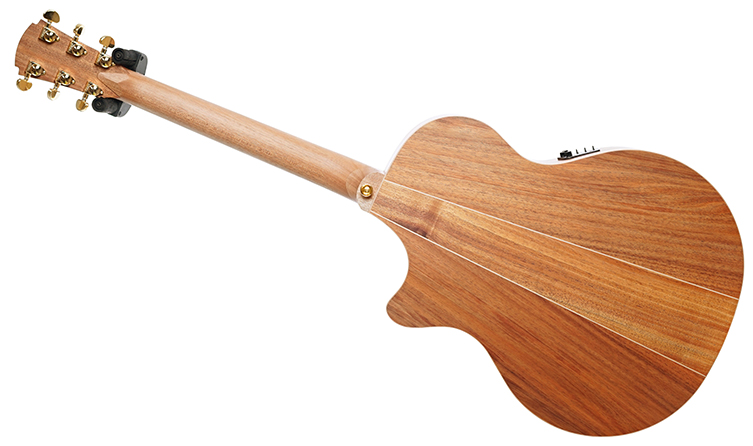 Redwood, in fact, is a highly prized tone wood used in luxury guitar building. Redwood expresses the warmth of Cedar along with the crispness and sustain of Spruce. When put together with the Tasmanian Blackwood, you have a recipe for beautiful, angelic tone!
Cole Clark Fat Lady 2 Bunya
The Fat Lady is the other main Cole Clark body shape. If the Angel is a Grand Auditorium, then the Fat Lady is most definitely a dreadnought!
As we know, dreadnoughts are the most popular acoustic guitar body style. They sound big and powerful, enough to create a good bed of sound to sing over, but they also have good articulation, so fingerpickers can feel satisfied, too. If the Grand Auditorium is a great all-rounder, then the Dreadnought is geared slightly more in favour of the strummers.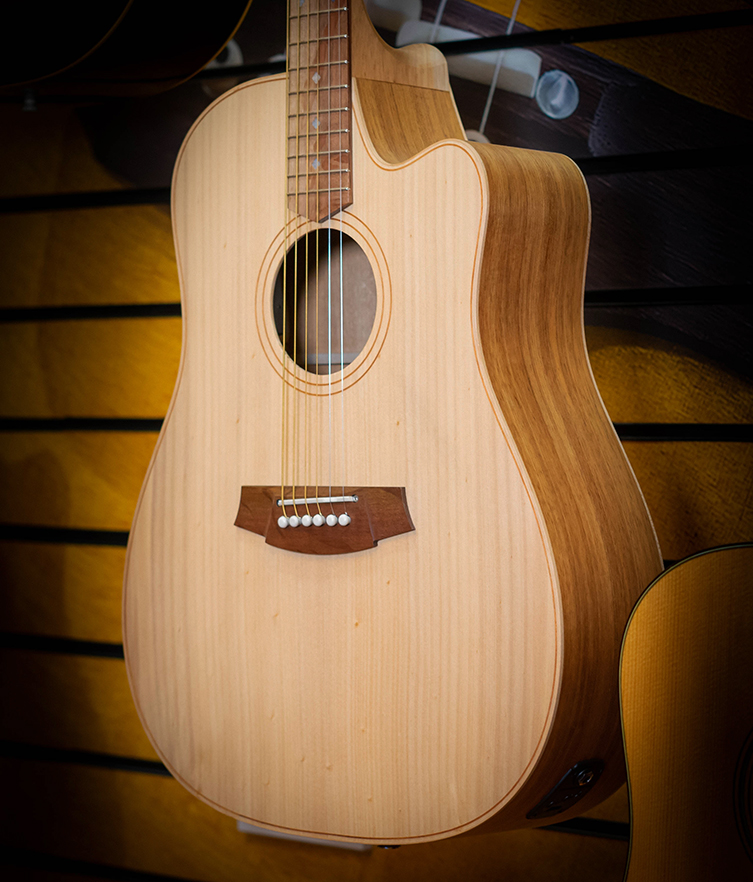 This particular Fat Lady is made with Tasmanian Blackwood for the back and sides, and Bunya for the top. We've seen Blackwood already, but what of Bunya? Well, Bunya is bit of a secret weapon, all told: it has similar tonal properties to Spruce, with lots of volume, but it also has tremendous stiffness to weight ratio (it's even stronger than Englemann Spruce, which is a top-drawer choice for the well-heeled player) plus it's very sustainable, due to its fast maturity levels. Indeed, Bunya takes roughly half as long to mature as Spruce, making it a very worthwhile choice for guitar soundboards!
In player's terms, it means that this Cole Clark Fat Lady positively pings with a strong vibrant tone!
Cole Clark Angel 2 EC Lollar HB Blackwood
Wow, now this turned our heads a bit when we first saw it! Yes, that is a proper Jason Lollar Imperial humbucker sitting right there up at the bridge! No messing about here! Lollar makes some of the best pickups in the biz but one expects that even he didn't expect to see his magnetic humbucker built into an acoustic guitar!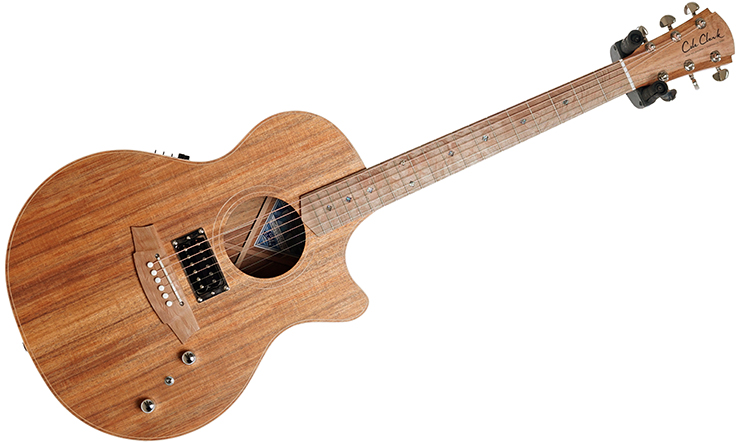 Truly, this is a hybrid instrument. It has dual outputs, so you can send the 'electric' output to an amp or modeller, whilst the 'acoustic' output can go out to a desk or mixer. Each side has its own set of controls, with the acoustic preamp controls in the usual side-mounted position and the humbucker's volume and tone pots sitting right on the face of the guitar.
We flat-out love the vibe of this guitar! It's super-cool and is a total statement piece. We don't know whether it's the utilitarian look of the near-bare tone woods, the 'modified' look of the electronics or indeed the Aussie connection but we just can't shake associating this guitar with a total Mad Max vibe!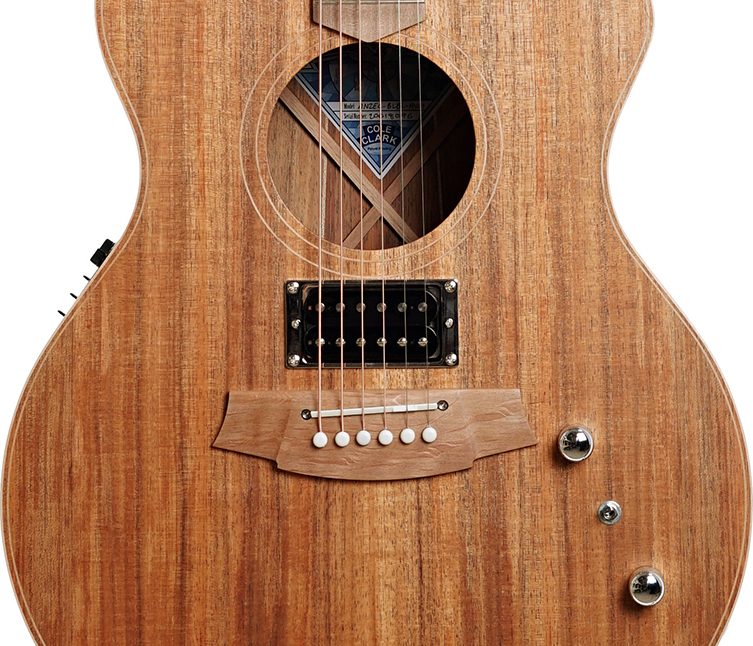 Whether you see it in quite the same 'Road Warrior' way as we do or not, there's no denying how handy this one guitar could be to the gigging player who needs to bring a little bit of crunch to their otherwise mainly acoustic performance. It's still a proper acoustic guitar, so we're not taking about being able to knock out Pink Floyd guitar solos here (the strings are still Phosphor Bronze acoustic strings, so tone-and-a-half bends are unlikely), but you do get a whole other legitimate voice to use here, and you can blend a bit of both if you have two outputs to plug into. Loads of scope, plus it packs a unique visual punch too. We would play this thing all day long!
Final Thoughts
Cole Clark occupy a relatively unique niche in the acoustic guitar world. They've set out to make the best sounding 'plugged in' acoustics, and the proof here suggests that they've largely dominated that corner of the world with these fantastic instruments.
They have created a range of top quality tools for today's gigging professional, with lots of ingenuity. It's refreshing to come across an acoustic builder who is not a slave to the past. We're convinced that serious acoustic musicians who perform regularly will be able to hear a significant difference between one of these and an acoustic with a more standard pickup. What's more, the cost of these guitars, whilst not in any way inexpensive, is easily justified by the Australian build, the high quality and the next-level technology.
Thanks for reading
Ray McClelland