Meet Your Maker: Cole Clark guitars
Published on 01 April 2020
Ever since the first Cole Clark guitars arrived in our stores, we've been impressed.
We immediately found their unique visual style to be appealing and loved the 'Aussie-ness' of timber names like 'Bunya' and 'Tasmanian Blackwood'. This brand really has their own vibe, and it's something we got extremely interested in.
Then we plugged one into a small compact PA and really understood what it was all about! The plugged-in sound is uncommonly good. As in, you hear an acoustic guitar coming out of the speakers, not a version of an acoustic guitar!
We had to find out more.
Michael Adams at KORG USA, who are Cole Clarks USA distributor (whilst also managing Cole Clark's International distributors) has been demoing these guitars for a long time and knows the range inside out. He agreed to be gently interrogated on all things Cole Clark. This is a very interesting brand with some very unique features. We think all serious acoustic players will be really interested in what Michael's saying here, so please read on to get the lowdown on 3-way pickups, Spanish heel construction and why Cole Clark is going to be your 'other' favourite guitar!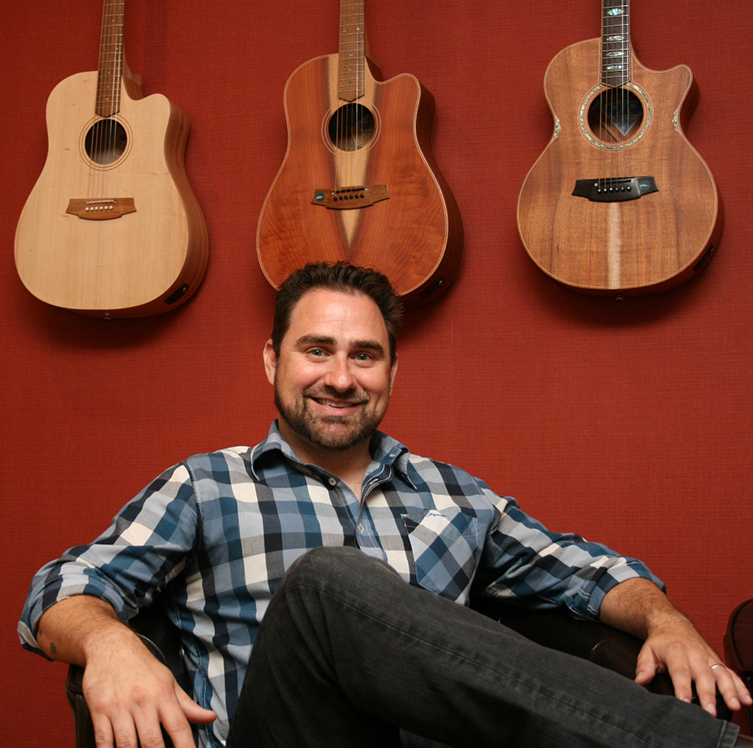 Guitarguitar: So, Cole Clark is from Australia and the name is, in fact, two people, right? Are all of the guitars built in Australia?
Michael Adams: Yes, so Cole Clark formed in Australia in 2001 and was the brainchild of Adam Cole and Brad Clark. Cole Clark manufacturers all of its guitars in Melbourne Australia and does not plan to change that moving forward. Miles Jackson, whom has been the CEO since 2012, has been with Cole Clark since day 1 and he has been an integral part of Cole Clark staying Australian Made and using (almost exclusively) Australian sustainable tone woods.
GG: How much of each Cole Clark guitar is hand built, and how much uses robots and automation?
MA: Great question, I think anyone who visits the factory (and we do factory tours almost daily) would consider Cole Clark a traditional builder and not one utilizing a lot of computer automation or robotics. However, most of the major cutting and shaping of components is done by machine. In fact, Cole Clark utilizes 5 Axis CNC machines to help carve the top and back of the guitar. This is essential to our integrated kerf and channelled bracing. The result is that Cole Clark guitars are stronger and lighter, which then integrates perfectly with our pickup system.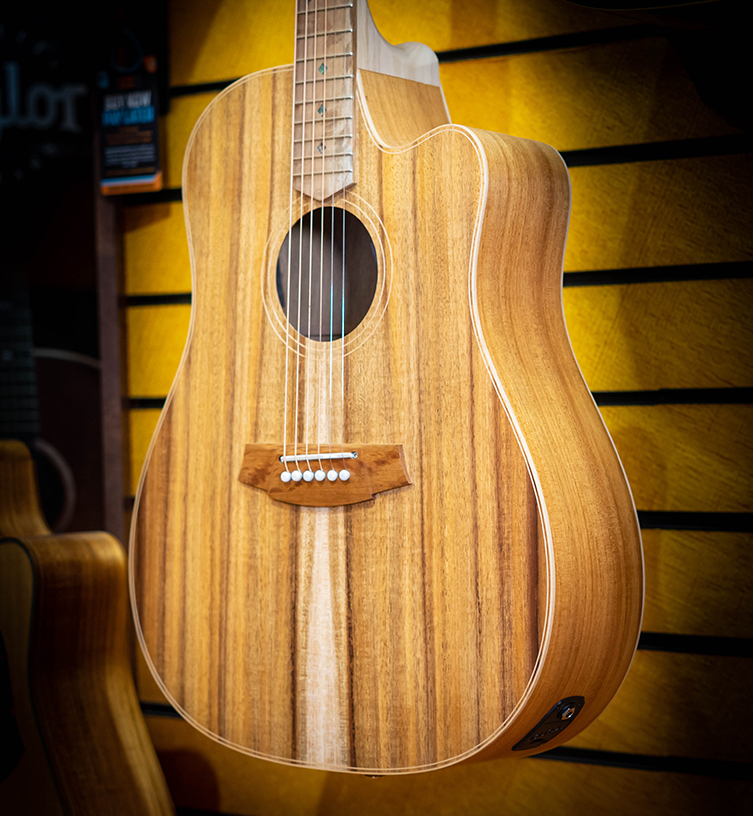 GG: Cole Clark uses lots of tone woods that we are less familiar with, such as Bunya, Tasmanian Blackwood and Southern Silky Oak. Are these comparable with other tone woods?
MA: Yes, you can find a 'match' within the Australian tone woods to almost anything American or European. One of the wonderful things about tone woods is the variety of tones and textural differences you get from it… many Spruce Top, Mahogany Back and Side guitars have the same spec, but sound different. It's all about finding the guitar that is perfect for you.
Bunya, which is our tone wood most similar to Spruce, is considered the classic "Cole Clark" sound. It's a great all-rounder, suitable for light finger picking and also opens up
beautifully with heavy strumming. Australian Blackwood (sometimes from Tasmania, but mainly from the mainland) is one genetic sequence different to Koa. So, it behaves a lot like Koa. It's a very stiff timber and responds well to heavy hitting and percussive styles. Blackwood is our customers preferred choice if they are playing plugged in almost
exclusively.
Californian Redwood (grown in Australia) is the tone wood that rounds out the three main top or 'face' tone woods for Cole Clark. It is light and soft, and both plays and sounds characteristically similar to Cedar. It is our most 'open' timber acoustically and responds very well to the lighter fingerpicker… So, we have a Spruce, Koa and Cedar all available, except for Cole Clark they are called Bunya, Australian Blackwood and Californian Redwood.
GG: Are most of the Cole Clark timbers sourced locally to Australia? Is sustainability a priority for the company?
MA: Yes, the majority of our timbers are sustainably sourced Australian woods. Sustainability has been a corner stone for Cole Clark since day one and will continue to be so. Using Australian tone woods helps give Cole Clark that unique character. So, if you want that essential Cole Clark sound, you would be best of trying out the Bunya, Blackwood or Redwood models.
We do, however, also build custom guitars and this is where we do have a small amount of imported tone woods that we use… for example if you want a Spruce Top Cole Clark… we will do that by custom order and we source our Spruce from the same places that most of the main builders do which is North America. Non-Australian timber-built guitars for Cole Clark represents less than 2% of our sales and with over 40,000 Cole Clark guitars now out in the marketplace, I think we should stick to our plan for sustainability and Australian grown.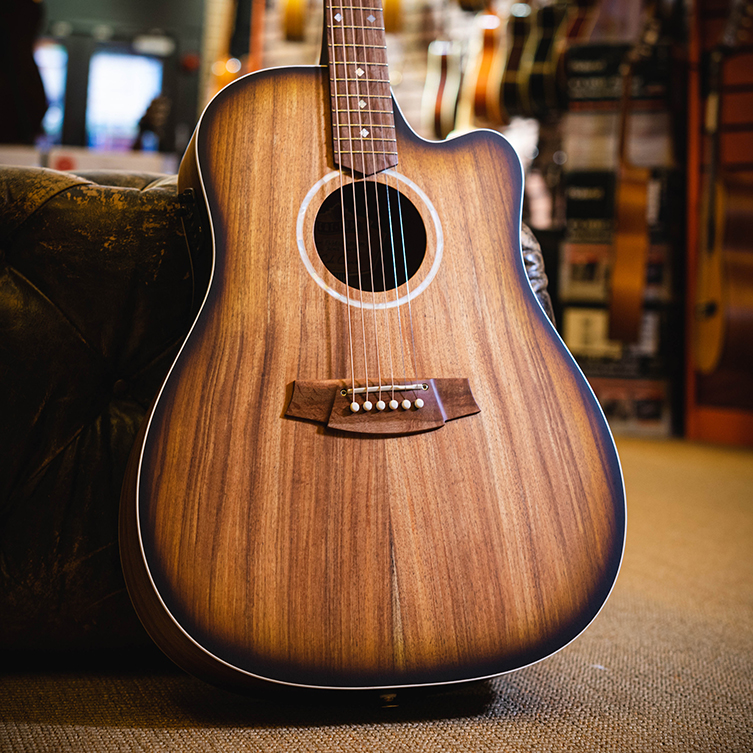 GG: The pickup system used in Cole Clark guitars is somewhat revolutionary: what sets it apart from other acoustic guitar pickups systems? And does this technology change from model to model?
MA: Many people consider a Cole Clark guitar a pickup system first… and that's not a bad way of thinking about it. Essentially what Cole lark has done has built the world's best (natural and versatile) pickup system and then designed the most complimentary acoustic guitar around the pickup. Typically, acoustic guitar manufacturers build guitars almost like they are pretending that electricity, cars, lights, PA systems, microwaves, the internet etc does not exist. By that, I mean they build wonderful (really wonderful) acoustic guitars, but the electronics is just an afterthought often provided by a third-party company. The Cole Clark 3 Way Pickup (which is the same in all models) is focused on getting the sound of you, playing your guitar, out of the speaker system. Because let's remember the top (or sound board) of your guitar is now NOT the only speaker system that we as the player and our audiences are listening to.
The 3 Way Cole Clark system comprises of 3 elements, each crossed over at different frequencies, so they are just doing the job they are best designed to do. Think of it like a three-way PA system. Subwoofers in Bass, Woofers in the Middle and Tweeters in the high-end. Cole Clark has a 6-pole suspended Piezo system that works as the subs. 350hz and down. This means the piezo is not active in the annoying piezo frequencies which is the mid-range quack and high-end ping/zing. The Face sensor is essentially a vibration sensor which is literally built into one of the integral 'A' braces of the guitar. This brings the soundboard and fingerboard to life and as you may have guessed, works like the woofers or mid-range, being active between 350hz and 2.5khz. Cole Clark then utilizes an omnidirectional condenser microphone which is just active in the high frequencies 2.5Khz up to 20Khz. This mic is mounted on the back of the preamp and because of its position and shelving does not feedback in that typical "microphone in a guitar" feedback zone of 400hz. There are 2 blend knobs for you to control the Piezo, Face Sensor and Mic. There is 3 band EQ and a Master Volume Knob.
By adjusting all of these parameters you can fit your guitar into any mix and any genre of music. It is the most natural and versatile pickup system in the world… which makes some people scoff when I say that… but I have presented these guitars all around the world for 10 years and I am yet to have anyone bring me something even close… challenge accepted!!
GG: The gauntlet has been thrown down! What type of player uses a Cole Clark guitar? We assume you are aiming at performers, right?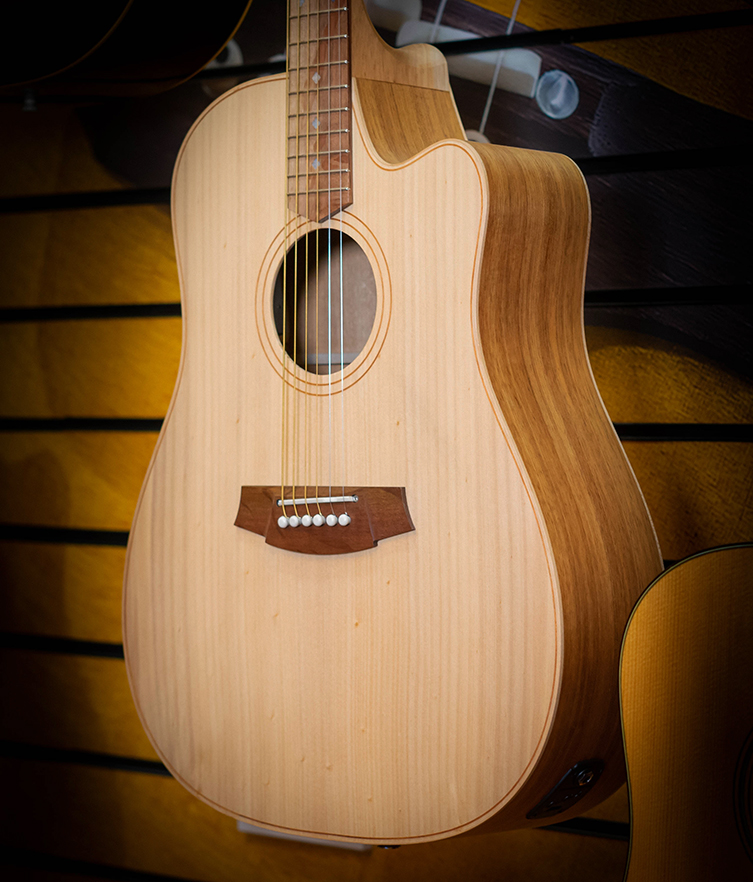 Correct, because of the unique build aspects and the 3 Way pickup, we are considered the "working man's guitar" (Also suitable for our working women, but when I say that out loud it seems to have a different connotation…aghhhh!). In fact, we have many players that only touch their Cole Clark at gigs. They have their Collings, Martin, Santa Cruz, Bourgeois, Gibson or whatever inspires them acoustically. You know, guitars that were designed to be acoustic guitars and sound great in the home, studio or controlled environments.
Well, we build the workhorse guitar that sounds like the above-mentioned guitar when you plug it in…
And because we are (often) ½ the price of the above-mentioned guitars you're not so worried when you spill half a pint on it!! (Or maybe that's just my gigs!!) Please don't think that I'm saying that we don't build great sounding acoustic guitars, we do… they have a different character and sonically they are something that should be in everyone's toolbox. But we also have to think about using the right tool for the right job… do you take your Prius 4-wheel driving?? Not successfully twice… so when playing live, use the guitar that was designed for that purpose… and that's a Cole Clark.
GG: Cole Clark uses 'Spanish Heel' construction in their guitars. What is this, and why is that
better than more typical neck joins?
MA: Spanish Heel neck join is not better than other neck joints, it's just different. It has been in use in guitar building for over 300 years and is a proven technique for building guitars. For us, it is essential because of the transfer of tone and vibration that happens with the Spanish Heel neck join. This transfer of tone and vibration then hits the 'A' Braces, which then includes our Face Sensor Pickup. This comes back to getting the tone in your fingers, into the guitar, into the pickup and out of the speakers. The Spanish heel design means that the neck does not stop at the edge or body of the guitar like a dovetail design does. In fact, the neck material (mostly Queensland Maple for Cole Clark) continues all the way through the bottom of the fingerboard. Another positive reason for using this design is it also eliminates the 'hump' that often exists under the dovetail joint around the 12th-15th frets. So, the Spanish heel neck join is the best neck join for Cole Clark but not necessarily for all acoustic guitar builders.
GG: What is the best-selling Cole Clark guitar?
MA: This is a forever changing answer, depending on how you look at the company. Historically, the best-selling guitar is the FL2ECBB (Fat Lady, 2 Series, Bunya Top, Australian Blackwood Back and Sides). But this model has almost 20 years of sales data… If you were to look at the results refined to the last 5 years the model would be AN2ECBLBL (Angel 2 Series, Blackwood Top, Back and Sides). This is for a number of reasons… There has been s shift in all of our sales towards smaller body guitars. In 2019 we saw Cole Clark (for the first time ever) sell 50/50 Fat Ladies (Dreadnoughts) versus Angels (Grand Auditorium). Also, as PA system have become better and so has people's ability to assess their live tone… this means finding an instrument that works for them in the environment in which they use it. The stiffness of the Australian Blackwood makes it very conducive to loud environments and gives you total control over the 3-way pickup system… and it's just a beautiful looking guitar!!
GG: Each style is available in three different series: the 1,2 and 3 series. Could you briefly outline the differences that separate these series?
MA: One of the great things about Cole Clark is that even within the different series 1, 2 or 3 you are not purchasing a guitar of different quality or design. The same internal carving, the same Spanish heel design, the same 3 way pick up is on all guitars. What you are finding in the different series is your tonal voice, your feel and your visual aesthetic.

Our 1 series is our most refined cosmetically. It is truly the no bells-and-whistles workhorse guitar of the Cole Clark range. The 1 series is available with a Bunya Top and Queensland Maple back and Sides and comes in a tour-ready Cole Clark designed gig bag. 1 Series represents about 22% of our total sales.

The 2 Series is where the bling starts. Snowflake shell inlays on the fingerboard, a bound body with matching purfling line, contrasting headstock fascia and most importantly, in the 2 series, you widen your tone wood options. Californian Redwood and Australian Blackwood are added to the options for the top timbers. Australian Blackwood is the standard back and sides however Cole Clark also runs seasonal or limited options for back and sides which currently includes Southern Silky Oak, which some people also known as Lace Wood. Each 2 Series guitar comes protected in a Cole Clark designed wooden structure hard case.

The 3 series is for the person that really wants to be visually blown away. Building upon the features of the 2 Series you add a bound fingerboard, Abalone shield style fingerboard inlays, Abalone ring Rosette, Abalone Hip Inlays, Imperial style Machine heads… bling bling bling!! The 3 Series also adds some more top timber options (when available) like Huon Pine, Cedar of Lebanon, Quandong and Master Grade Blackwood. With all the different options in Tone woods, Series and Body Shapes, I am confident that anyone can find the guitar that best suits their playing style, budget and application.
GG: Finally, the CC AN1EC-BB-HUM has a full-on bridge humbucker! Can we talk about that?
MA: OK, yes…well… where do we start??? The humbucker models (which now includes 9 models across 1, 2 and 3 series) is really the result of an amalgamation of Miles Jackson (our CEO) and Lloyd Spiegel who is our in-house guinea pig, guitar tester, "nah that's crap it should be like this" guy… (who is also a highly acclaimed artist who plays hundreds of sell out shows a year right around the world). Anyway, Lloyd has been using a split system for quite a while and, being fed up with not having the functionality that he desired, he and Miles got to work.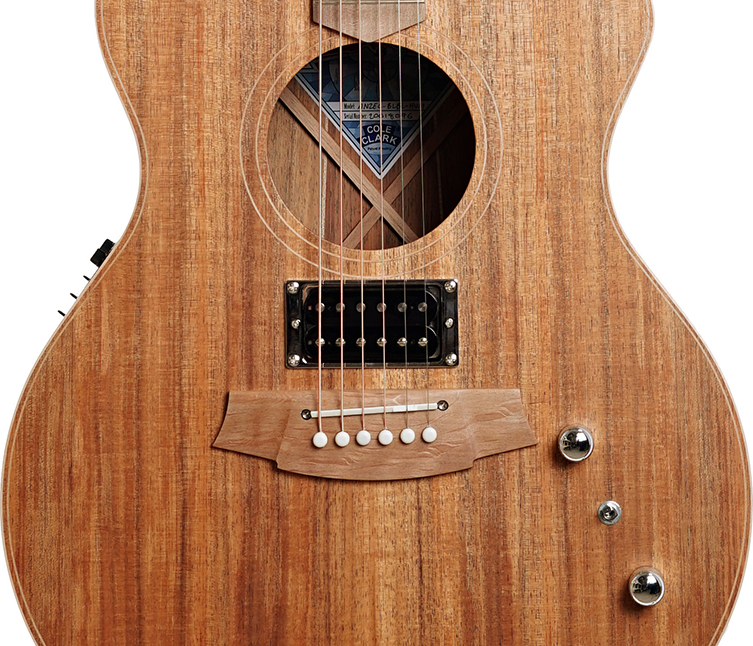 The big points on the humbuckers guitars from Cole Clark are this: there is no compromise on either side of the guitar. It's a great electric guitar because the humbucker (made for us by Jason Lollar) is a great pickup… and not only that, it's in the correct spot on the guitar…back near the bridge. So, you get those biting Les Paul-type tones. We don't need to cover the acoustic side because well… it's a Cole Clark. But when I say no compromise, I mean this is a dual output system. Yes, two cables… because you need the acoustic side running straight to the PA system, no extra processing, as clean and as full range as your PA can manage. On the electric side however, you want to run it into whatever takes your fancy for gritty lead type tones. Think electric guitar... I have been using both the VOX AC10 and the Blackstar HT20 with different but amazing results. On the electric side you have a volume pot and a tone pot. The tone pot also has a push pull that changes the humbucker from Series to Parallel which is a nice mid-range EQ change and way more user friendly than splitting the humbucker.
Finally, both acoustic and electric worlds are brought together with a 3-way switch which enables, Acoustic Only, Electric Only or Both Combined (always out separate outputs). You have to play it to believe it… We get loads of questions/comments from people that have not yet played one like… I bet the feedback is crazy… that can't work with Phosphor Bronze strings etc... all I can say is… go into a store and check it out… it's crazy… I'm not saying it's not… but it works and it's a monster that has almost limitless musical possibilities.
Limitless possibilities indeed! There is definitely something of the vast, blank canvas when it comes to Cole Clark. The guitars are designed and built to let you find your unique voice.
If you want a super well-made guitar with a distinctive look and an unsurpassed plugged n tone, then you owe it to yourself to check out Cole Clark guitars!