Sadowsky MetroExpress Basses including EXCLUSIVE Q&A with Roger Sadowsky
Published on 17 December 2020
Roger Sadowsky.
The man.
The legend.
The instruments.
Roger Sadowsky is a game-changer, and those who know his work are lifelong fans.
Roger has built guitars for artists like Prince, Lou Reed and Mark Knopfler, but it's his basses that have really put his name of the music world map. The NYC-based luthier and his small team of boutique artisans have wowed the world for decades with some of the finest examples of 4 and 5-string bass guitars the world has ever seen.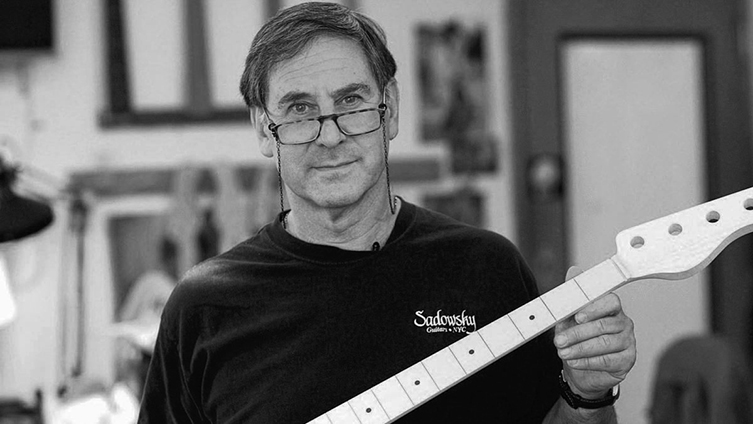 Taking his lead from Leo Fender, Sadowsky has used that inspiring starting point and built improvements into the areas where elements could indeed be improved. Famously, the addition of an active preamp – designed and pioneered by Roger – transformed the amount of power and sonic control available to basses from that point on, making Sadowsky one of the most influential post-Fender bass brands. Active basses are a normal thing these days, largely due to Sadowsky's success in incorporating them in basses for customers such as Marcus Miller. It all has to start somewhere, and for active basses, it started here.
To this day, Roger and his team create instruments in New York City. These are now known as Masterbuilt instruments, and are the very best, hand-made basses money can buy.
However, Sadowsky as a brand understands that not everybody is able to pay boutique prices, and so for many years have offered other bass ranges made in the Far East. This included (up until recently, as we'll learn) the popular Metroline range, which were made in Japan by a small, hand-picked team of craftspeople trained by Roger Sadowsky himself. A further MetroExpress (these terms refer to the underground rail system in NYC) line made things even more affordable, but we are still talking about prices that are not far off two thousand pounds, which is beyond the means of a large part of the instrument-buying public.

Enter Warwick
Things have changed now, though. Sadowsky have joined forces with Warwick in order to distribute their non-USA instruments. The Japanese leg of the business is no longer operational, and the Metroline and MetroExpress ranges have been revamped and updated. The German giants have a premises and business network that can really elevate the flow of instruments bearing the Sadowsky brand name.
As long-time Sadowsky dealers, we knew we needed to get the lowdown on all of these new happenings. We managed to track down and get hold of a very busy Roger Sadowsky in order to fire off a few questions about it all. Here's our mini interview, so you can get the skinny on it all from the man himself...
Interview with Roger Sadowsky
Guitarguitar: So, Roger, the big news is that you've entered into a licensing and distribution situation with Warwick for all non-USA basses, is that correct?
Roger Sadowsky: This is a licensing and distribution agreement for all production lines: MetroExpress, MetroLine and Masterbuilt.
GG: Does this mean, then, that the Japanese facility will no longer be making basses for Sadowsky? This is more about distribution than anything else, right?
RS: Correct. My Japanese production has ended.
GG: You went across to the Warwick facility in Germany to see the place for yourself, didn't you?
RS: I have been there twice since April 2019. Would have been there several times in 2020 if it weren't for COVID.
GG: Apart from easier and quicker distribution, what other benefits will this new situation bring?
RS: Warwick brings to the table their amazing manufacturing capabilities and their worldwide distribution network.
GG: Does Warwick have any input on the design process for these instruments?
RS: They might make some suggestions based on their manufacturing processes, but all designs and specifications are mine.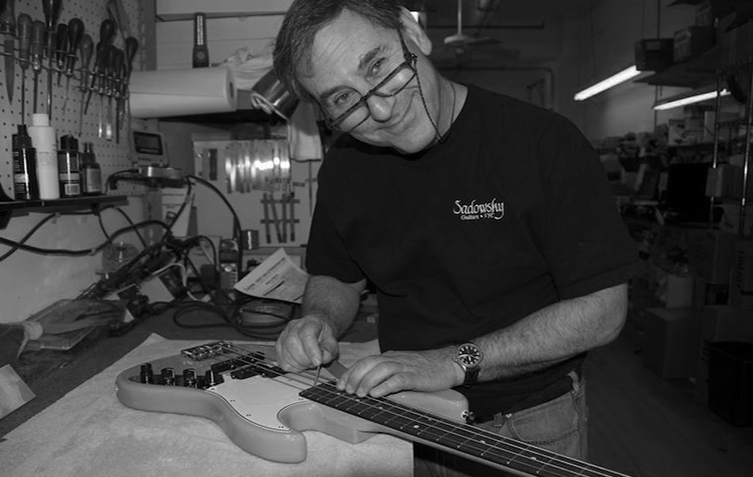 GG: There will be three Sadowsky lines coming from Warwick, including one from their Chinese facility. Could you tell us just a little about what separates and differentiates the Masterbuilt, Metroline and MetroExpress lines please?
RS: It is mostly about price point. The MetroExpress will be made in China and will sell for under $1000. I have chosen Okoume bodies for light weight and great tone. Necks will be maple with either Morado or Maple fingerboards. Sadowsky pickups and preamp.
The MetroLine is the lower priced line made in the German facility. Ash and alder bodies guaranteed to be under 3.9 pounds, Sadowsky designed pickups, hardware and tuners, maple necks with graphite reinforcement. Prices start at about $2900.
The Masterbuilt line will feature figured tops and chambered bodies as well as limited editions. Prices start around $4400.
GG: There is a story behind why the Chinese MetroExpress basses don't carry the 'Sadowsky' name on the headstock, isn't there?
RS: This is due to trademark litigation as a trademark pirate stole my name 20 years ago before I got to register it. We keep winning judgements and he keeps appealing. The Chinese trademark courts move very slowly. So, until this gets resolved, he still owns the trademark, so I am not using Sadowsky on the headstock for the time being.
GG: Finally, Sadowsky custom shop instruments are still very much being made out of your NYC premises, aren't they?
RS: Absolutely. I have downsized from a 10-person shop to my three best people. We will make a maximum of 15 basses a month, plus our solid body guitars and archtops. We now refer to the workshop as the Sadowsky NYC Custom Shop.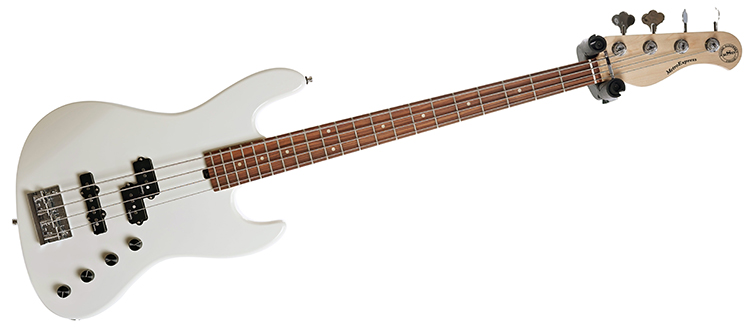 So, there it is, all directly from Roger himself. It's an exciting thought, to consider that his design nous and expertise can be had for under a thousand pounds! Let's cap things off by having a brief look at two slightly different models from the new MetroExpress line.
Sadowsky MetroExpress Standard JJ & Hybrid PJ4
Both of our bass choices today share the same body style, which could be described as a more slender, curvier take on a traditional 'J-style'. The bodies for both MetroExpress are made from lightweight Okoume, which is a quality, resonant wood available in plentiful supply. It's a relative of Mahogany, and imparts a similarly thick, rich tone.
The Standard JJ model, shown here in Olympic White, sports a pair of specially wound Sadowsky single coil pickups, whilst the Hybrid PJ4, in a fabulous shade of sparkly Black Pearl, has a 'PJ' pickup configuration. This refers to the use of a Precision-style split-coil pickup and a Jazz-style single coil pickup (hence PJ) together for a superbly versatile selection of tones.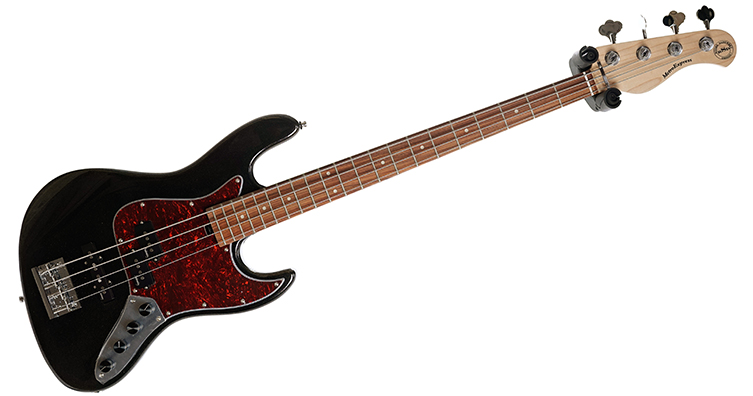 Taking of versatility, that famous Sadowsky preamp is here, too, in 2-band form. It comes complete with individual controls for volume, bass, treble and balance. All of that special Sadowsky power is available right at your fingertips! There isn't a genre or song that won't benefit from the beautifully strong yet classic tone of these basses.
Other features shared by the basses include a 34" scale length, 12" radius fingerboards (one of Roger's upgrades from the 'Leo days') and nickel silver frets. All in all, there is a lot of bass here for the money, and it all comes with that rich Sadowsky heritage.

Are you looking for a new bass that delivers on all fronts, and has the design magic of a master builder? Look no further: check out the Sadowsky MetroExpress range of guitars at guitarguitar today!
We'd like to thank Roger Sadowsky for his time in taking part in our interview.
Click to view all of our Sadowsky basses