Events: POSTPONED Neural DSP Facebook Takeover
Published on 27 October 2020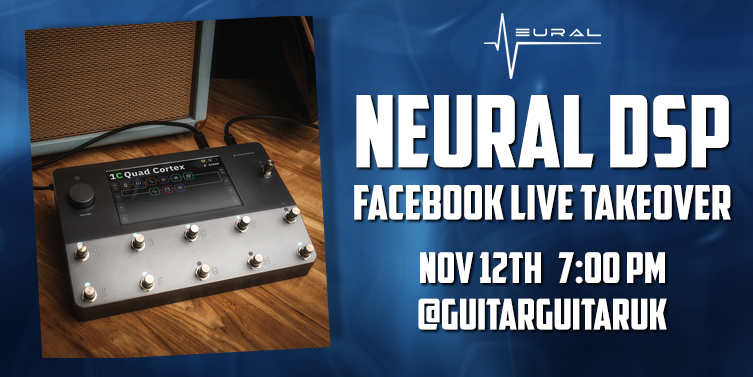 Unfortunately, we've had to postpone this event. Keep an eye on the page for a rearranged date!
In recent years, we've seen modelling gear and multi fx come on leaps and bounds, creating loads of new options for gigging and recording guitarists. Although initially many of you were sceptical about the switch to digital platforms, the technology has become so advanced that we're seeing more and more of our customers make the switch and never look back. The most exciting thing about this new era of guitar playing for us is that it's constantly developing and we're right in the middle of the revolution!
Which brings us on to a brand new product on the market which we're pretty damn excited about, the Neural DSP Quad Cortex. Billed as the most powerful floor modeller on the planet, this newcomer is about to make a huge impact on the guitar world and we're proud to share that we're going to have some of the first units in the UK. The Quad Cortex has an extremely powerful processor allowing you to layer up multiple effects and amp models without it ever showing any signs of slowing down. On top of that, the guys at Neural DSP have packed in over 1000 impulse responses captured in alarming details, along with over 50 amp models and over 50 effect options. User-friendly, intuitive and with a large touch screen to give you total control, this really feels like the future. But don't take it from us, we're going to let the experts convince you...
The Details
On the 12th of November, we're over the moon to have the experts from Neural DSP join us for a Facebook Live Takeover! They'll be running through the capabilities of the unit, demonstrating some advanced tone shaping and even recreating some of your favourite artist's rigs to show you just how close they can get using only the Quad Cortex. We've been buzzing to check this out in more detail so we're well chuffed to give you this opportunity to get a first look at what it can do. If you love all things tone then you don't want to miss this - tune in or get left behind on the next era of guitar.
Click HERE to visit our Facebook page now.
Can't wait for the stream? Check out what the Quad Cortex can do below: