Fender 75th Anniversary: 75 Years of Amazing Artists
Published on 05 March 2021
75 years since Leo Fender changed the world forever.
75 years since Fender started on their path toward worldwide greatness.
Their inventions brought about Rock n Roll and a whole new attitude. The sound of an electric guitar played through an amplifier ricocheted around the planet and gave us a new world of expression, one which began in the fifties and continues through till today.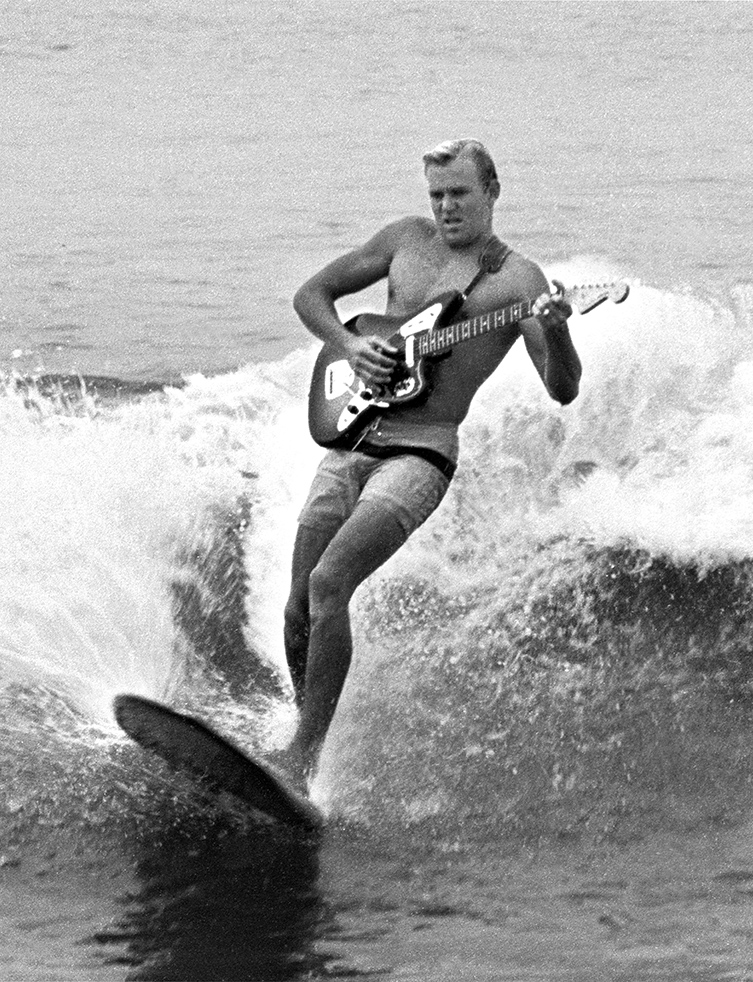 The two most famous Fender creations are, of course, the Telecaster and Stratocaster. Each is similar and yet entirely unique. Fender fans tend to love both but definitely seem to prefer one over the other...
The Telecaster is often seen as having more of a 'Rock n Roll' attitude than the Strat. Perhaps it's down to its slightly more powerful sound, but it could also be it's 'wrench-like' utilitarian design. There's no 'extras' on a Tele, and no curves to soften the attack, either. It's obvious that a Telecaster means business, whether you are playing Country or Punk. In fact, Telecasters are guitars you can play anything on, though many people associate them with attitude-filled rhythm playing. This Lake Placid Blue Vintera model pretty much sums up the classic idea of the Telecaster for most, with its brass bridge saddles, single coil pickups and chunky Maple neck.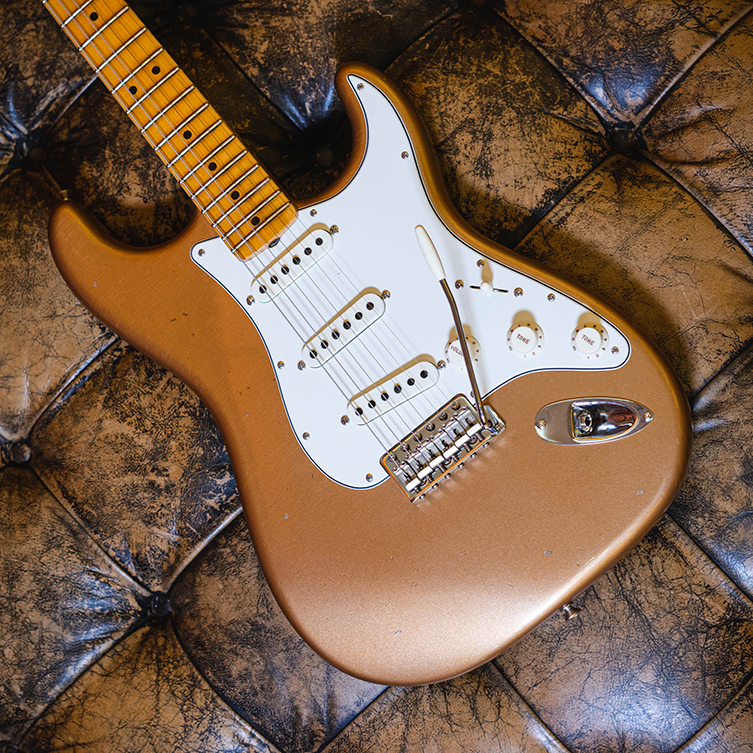 The Stratocaster, on the other hand, is synonymous with refinement, expressive lead playing and, to put it bluntly, most people's idea of what an 'electric guitar' is. It's the most famous and successful guitar design in history. Though obviously able to tackle all genres, Strats have a softer, somewhat more romantic sound that really sums up those classic 'golden age' years of the 50s. Strats are available in a huge range of variations, but most people want the classic spec of three single coil pickups and a vibrato 'whammy bar' bridge. This Custom Shop 1965 Strat in Faded Firemist Gold shown above is as 'Strat' as it gets.
Both of these instruments debuted in the fifties, but Fender set up for business in 1946, hence this year being their official 75th Anniversary. In tribute to this momentous occasion, we thought it would be fun and interesting to chart a (somewhat subjective) path through the decades of popular music and watch some of the world's biggest and best stars doing their thing on Fender guitars. Letting the artists do the talking, more or less. History is made on the stage and the studio, after all, not in a factory.
Endless Greatness
Now, there are just far too many worthwhile and amazing artists out there who've used Fender guitars for us to even scratch the surface here. It's impossible! Fender are the most successful guitar company in history, and most of the world's most famous players have been associated with them at one point or another.
For today, we aim to just carve a little path through over half a century's worth of popular music, stopping at some significant artists on the way. We'll admit right now that some absolutely awesome people are missing from this journey, because there is just not enough space or time to give justice to everyone who deserves it. If your personal Fender hero is absent, please accept our apologies and realise that they were most probably on our short list!
From the Dawn of Rock to the Now of Now
Here, then, is our whistle-stop tour of popular guitar music, seen through the eyes of the artists who made it. We begin in the fifties, when Rock n Roll was a new, corrupting influence on the youth of the day...
Buddy Holly
Buddy Holly's time on earth was certainly brief, but his songs and image had a meteoric effect on culture that can still occasionally be felt today. The world's first rock'n'roll star, Holly was significant because he wrote his own songs, performed them himself, and brought to the world the 'new' idea of teenage angst and heartbreak through the medium of song. He was one of the first musicians to widely use a Stratocaster, and his sound & style directly became what fifties guitar pop music was. A pair of black-framed glasses and a Sunburst Strat is all you need to recognise Buddy Holly.
Bob Dylan Going Electric
Bob Dylan, poet-laureate of Folkies in the 60s, took some amount of outraged abuse from his enormous fanbase for daring to show up on stage with an electric guitar. 'Judas!', one impassioned fan famously yelled as Bob pulled out a straightforward Sunburst Stratocaster for the first time on stage, after already giving the audience an acoustic performance. Crowds booed and jeered, but Dylan's stony determination endured, enhancing his mythos further and elevating his status as a true Rock'n'Roll badass. The fanbase got over it, and Bob – as he always did - moved on. Class.
That video footage is actually quite hard to come by without having to watch a whole documentary, so instead, let's enjoy watching Dylan playing with The Band (his backing band when all the Judas nonsense went down) during their famous Last Waltz performance. This clip also gives you a glimpse of Robbie Robertson's amazing Bronze Strat! (Yes, it was literally dipped in bronze and apparently weighed a metric ton!)
Hendrix Comments on Vietnam
How many people directly associate Fender with Hendrix? Everyone, right? As soon as you see a white Strat, you think of this moment. Nothing much else needs to be said, does it? The man was a Titan, and this hair-raising performance says it all...
Keith Richards Employing his Telecaster
Keith Richards is the ultimate Telecaster rhythm guy, there's no real disputing that. He knows that guitar playing is as much about how you stand as about which notes you choose. Also, he knows that Telecasters are nearly indestructible, and has clear opinions on what how to deal with stage intruders...(we do not recommend trying this at home, friends)
Rory Gallagher
Surely the blueprint for all of Fender's Relic models, Rory Gallagher's Strat took an inhuman level of abuse every night it was played. Gallagher's passionate, intense performances won him everlasting fame, but the demons that fuelled his music also took their toll on his private life. It' s tempting to look at his heroically beaten Strat and draw parallels to his life, but it's maybe fairer to just say that his approach was more physical the most! Whatever lay behind his music, he's still revered as one of the greatest exponents of the Stratocaster there ever was.
Eric Clapton
Given that they both went to the Blues for their main inspiration, Eric Clapton demonstrates probably the entirely opposite approach to playing compared with Rory Gallagher. Laid back to the point of being nicknamed 'Slowhand', Clapton was the poster-boy for multiple generations of guitar fans, some of whom also referred to him as 'God', which is a bit much. Nevertheless, he's a perennial favourite amongst guitar obsessives and casual music fans alike, and his love for the Strat has been enormously influential. He was the first ever artist with a Signature Fender model, and it remains in production to this day.
Pink Floyd
We seem to talk about Jimi Hendrix and Pink Floyd a lot in our guitarguitar blogs, but that's because, simply, they warrant it. Pink Floyd are one of the hugest bands in the world, and entire websites and books have been focussed on the subject of their lead guitarist's superb playing and tone.
David Gilmour is one of the best, and his melodic style appeals to a wide number of people, just like Eric Clapton. Gilmour's solo in Comfortably Numb is often regarded as one of the high watermarks of electric guitar playing, and it was performed on his famous Black Strat. What are Fender's most popular colours for Stratocasters, year in, year out? You guessed it: Olympic White (see Hendrix) and Black. Naturally.
Stevie Ray Vaughan Being a Champion
Talking about influential, more Blues-Rock players cite SRV as a major influence than any other player. His performances were full of crackling, kinetic energy, and his soulful playing is the life goal for many players. Stevie Ray famously used stupendously heavy strings (a .013 on the high E?! Sacre bleu!) and reputedly glued his left-hand fingertips to his right arm before pulling them away for extra skin. This last one could be something of an urban myth, but the fact that it's in dispute at all illustrates his famously ferocious intensity.
One of our favourite videos of SRV is this one below, where he deals with a string break like an unfettered genius. As Tom Waits once said: 'the way you do anything is the way you do everything'. In that case, Stevie Ray Vaughan is solid gold.
The Clash
Joe Strummer was no lead guitarist, but his fury and determination inspired more people to pick up a guitar than any number of flashy shredders. Throughout his career with The Clash, Strummer had one Telecaster, which he spray-painted dark grey. His fingers often bled from his forceful strumming technique (appropriate, given his name) and his direct songwriting approach paved the way for countless political songwriters the world over.
Nile Rodgers Defining Funk Guitar
Playing rhythm in an entirely different way, Nile Rodgers is the first person who springs to mind in terms of feel-good, funky rhythm playing. Rodgers is responsible for so many great funk riffs – from Chic's Le Freak to Daft Punk's Get Lucky, and including Wild Boys by Duran Duran – that his style is now a style in itself. Producers will ask for a 'Nile Rodgers guitar part' and every guitar player knows what that means: clean Strat, using an 'in-between' pickup position, into a clean amp with a very loose (but exactly on the beat) right hand strum. It's one of those sounds that Strats really excel at, and Rodgers in the master.
Iron Maiden
National treasures Iron Maiden have made their world-straddling metal on a consistent diet of hot-rodded Strats and melodic bombast. Utilising no less than three lead guitarists, the Maiden prove that if you stick to what you're doing (and are great at it) then the crowds will come! Dave Murray has his own signature Strat, and fellow Maiden shredder Adrian Smith's Jackson model is a Strat in all but name. Up the Irons!
Nirvana
Rocking equally hard in an entirely different way, Seattle's conquering champions Nirvana made deft use of whichever left-handed Fenders Kurt Cobain could get his hands on. He seemed partial to Mustangs and Jaguar models, as well as Japanese Strats, all of which were presumably cheap and readily available in early 90s Pacific Northwest America. Kurt would nearly always swap out the bridge position pickup of his guitars for something more powerful, which would often be either a DiMarzio or Seymour Duncan humbucker.
Kurt even went on to create his own 'idiosyncratic' guitar for Fender – the Jagstang – which was literally the result of cropping a photo of a Mustang onto one of a Jaguar. Simple and effective, just like his music.
Jeff Buckley
Who knows what might have become of Jeff Buckley and his supernatural talents, had he not decided to go for a swim in the Mississippi that fateful day in 1997. Instead, we have one magnificent album, one unfinished album and a handful of live performances. Upon this small offering, a sizeable legend has sprung, and it always comes back to his extraordinary voice, inventive songwriting style and magnificent guitar playing.
Buckley's favourite guitar was a 1983 Telecaster, borrowed from a friend after his room in LA was broken into and burgled. Buckley's most famous recordings, including his cover of Leonard Cohen's Hallelujah, were made with this unusual Tele (featuring a 'toploader' bridge and a bridge pickup swap out), which is now in the possession of Muse's Matt Bellamy.
Radiohead
Oxford's finest sonic adventurers, Radiohead, took guitars and put them into a completely different universe. Although many cite 1997's OK Computer as their zenith, we'd go one back and say that 1995's The Bends is where all the magic began. Proving that imagination is as important as ability, Radiohead guitarists Jonny Greenwood and Ed O'Brien took a holistic approach to guitar playing: they used every inch of their instruments, along with oblique and inventive pedal use, to coax truly otherworldly sounds from their guitars. Nowadays, O'Brien has a signature EOB Strat from Fender, but what we really want to see is a painstaking reissue of Greenwood's famous 90s Telecaster Plus, complete with kill switch and Lace Sensor pickups! Fans of unusual guitar techniques should enjoy Greenwood's habit of pulling his high 'E' string entirely away form the fingerboard and then adding some Whammy pedal to it. It's unorthodox and entirely awesome.
PJ Harvey
Polly Jean Harvey, well known as one of the great songwriters of the 90s, is chameleonic indeed. Equally at home making dark electronic music as she is playing an Autoharp and singing about international conflicts, Harvey is also not afraid to unleash her inner Rock beast. Stories From the City, Stories From the Sea is like one of those timeless rock classics that seems to have always existed. Armed with her black Telecaster, Harvey takes us on a whirlwind tour of gnarly, New-York influenced rock with a gravitas and swagger that we wish we'd see more of. This album is also a great example of using guitars in an effective Rock context without piling on the gain. Tone!
Brad Paisley
Country-shredder Brad Paisley is one of the biggest musical artists in the world. For over 20 years, Paisley has been blending his mainstream-friendly rootsy songwriting with some decidedly 'athletic' Country-style playing, all on a suite of tasty Telecasters. Fender have honoured him with two fantastic, and rather sparkly, signature models, befitting an artist leading the next generation of Country players towards Fender.
Jim Root
At the opposite end of the guitar spectrum, Slipknot's Jim Root is about as heavy hitting a player as it gets! Slipknot have largely defined metal in the 'Post Limp Bizkit' years of this millennium. Their image may be highly calculated, but their music is pure, unbridled ferocity. Root's favourite guitars are his own trio of signature Fenders. He now has three: a Telecaster, a Stratocaster and a Jazzmaster, all of which have high-powered EMG pickups and heavily stripped down aesthetics. It's fair to say they sound nothing like traditional Fenders, but then Jim Root is far from a traditional player! What his guitars are, though, are Fender through and through.
Biffy Clyro
Flying the flag for Alternative riffs, classic Strats and bare-chested rocking are Scotland's Biffy Clyro. Biffy blend accessible pop hooks with the crunch and dynamic of Metal, and even throw in a few Prog-style surprises here and there. Vocalist/guitarist Simon Neil is a classic Strat man, and was honoured a while back with his own Squier Classic Vibe signature model. More of that, say us!
Anna Calvi
If Anna Calvi isn't on your guitar radar yet, you're missing a lot! Calvi, through three albums of cinematic, dramatic music, has proven she has a voice and guitar style unlike anyone else. Her (mainly) clean Telecaster into Vox AC30 sound has more than a hint of Ennio Morricone about it, and she's not afraid to use bursts of expressive atonal noise (via slide and fuzz pedals), too. Dynamic, exotic, timeless and yet very much of the moment, Anna Calvi is an artist to aspire to.
We Could Go On...
Yes, these sublime artists are but a tiny drop in the ocean of Fender users who have made or changed history with their guitar. Space did not allow us to include Hank Marvin, Ritchie Blackmore, Yngwie Malmsteen, John 5, Bruce Springsteen, The Edge, Bonnie Raitt, Jeff Beck and a great, great many more. So it goes: we hope you've had a fun flavour of how diverse and significant Fender has been throughout the years, and the amazing numbers of artists they've helped express themselves.
We think the real takeaway here is to realise that, more or less, the guitar that was used on Buddy Holly's music is the same design used by Iron Maiden! Think about that for a second and imagine how many guitars that could apply to. Not many...
Thanks for reading our historical artist rundown, and be sure to have a browse through our selection of Fender guitars while you're here!
Click to View our Fender Guitars
75th Anniversary Fender Guitars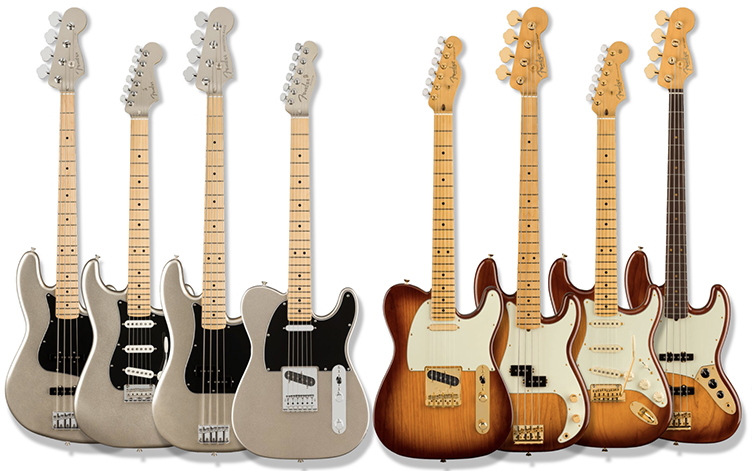 Also, don't forget to look at Fender's special Anniversary instruments! There's a Diamond Anniversary range, which are finished in a beautiful silver/gold colour with matching headstocks, and a 75th Commemorative range, in Bourbon Burst with gold hardware and a special inlaid ingot in the headstock! Whether you are a Strat, Tele, P-Bass or Jazz bass fan, you can have your favourite Fender model in a stunning, limited edition style!