The Butterscotch Blonde Telecaster: Its Finest Players
Published on 30 August 2021
It's a stone-cold classic. You love it and we love it.
We're talking about Leo Fender's original classic, the Blonde Telecaster. Whether you call it Butterscotch, Blonde or a 'Blackguard', we're all referring to the creation from 1950 that's as necessary and timeless today as it was over seventy years ago.
Today's article, however, is not so much a history lesson as it is a celebration of those special players who, over the years, have done their bit to keep the Blonde Tele on the map. It's all about Blondes today, so we're not including iconic Tele people like Jimmy Page or Status Quo. Why? Wrong colour of guitar, basically. Today, in no particular order, we're going for some unadulterated Blonde love!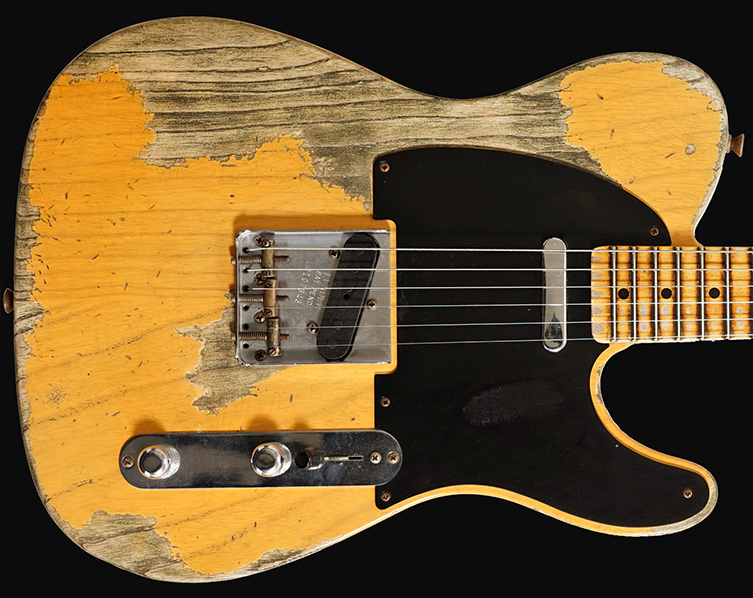 The Boss
Bruce's artfully beaten up Tele is the star of more than one Springsteen album cover, and is undoubtedly the guitar most associated with him. Sometimes he goes wild and plays one in a slightly different colour, but he never strays too far from his first love. Hear it on pretty much everything he's ever done that isn't acoustic.
Keith Richards
Some may associate Keef more with a 72 Tele Custom (that's certainly the one he used to unceremoniously bat a stage-invader with on TV), but to most, it's his collection of vintage and otherwise-relic'd '52 style Teles that evoke the great Rolling Stone the best. One in particular, nicknamed 'Micawber', for reasons we can't satisfactorily uncover (the name may come from Charles Dickens' David Copperfield), seems particularly beloved by both Richards and his fans. It has a neck position PAF humbucker and usually doesn't have a low E string, as Richards uses it for Open G songs. Micawber, like it's owner, has definitely seen better days, but also, like its owner, is a true original with tons of character.
Jeff Buckley
Not all classic Blonde Tele moments come from vintage axes. One prime example would be the one played by Jeff 'More than Just Hallelujah' Buckley. We say 'played' because Buckley never actually owned this incontestably iconic Tele. After suffering a burglary and losing most of his equipment, he was leant the 1983 USA Telecaster to get him through a set of gigs. He just never bothered giving it back, and instead created some of the most beautiful tones and chord voicings in modern music with it.
Buckley added a hotter bridge pickup to this guitar, which also had a 'top-loader' bridge and a mirrored pickguard. Buckley used the guitar right up until his tragic accidental drowning in 1997, after which it was returned to its original owner. It is now owned by Muse's Matt Bellamy, a man who has frequently cited Buckley as a primary musical influence.
Danny Gatton
Similarly inspiring and tragic but in entirely different ways is Danny Gatton. Proving perhaps more than anybody that, in the right hands, a simple Telecaster really can do anything, Gatton developed a reputation as a 'player's player'. Known somewhat excellently within guitar circles as The Humbler (step onto a stage with him at your peril etc), Gatton was loved and revered by a relatively small number of people in the late 80s. However, this is what one of those people had to say about Gatton:
"Danny Gatton comes closer than anyone else to being the best guitar player who ever lived".
That was Steve Vai who said that, and he should know, frankly. Gatton used a variety of Teles but his blonde 1953 model seems to be the one he loved the most. Sadly, his growing reputation and respect fell of deaf ears, primarily his own. Fighting with depression for his entire adult life, Gatton ended his life in 1994, aged 49. What he left behind still resonates fiercely with those who seek his music out.
Roy Buchanan
Another fan of the 1953 Blonde Telecaster was Leroy 'Roy' Buchanan. His beautiful, lyrical style influenced a generation of lead guitarists to play with more melody and feel. His stunning sound came from his Telecaster into a Fender Vibrolux amp, with everything turned right up. Buchanan would then control proceedings with his guitar's volume and tone controls.
He taught a young Joe Bonamassa. He referred to pinched harmonics (he was brilliant at them) as 'overtones' and he called his main '53 Tele 'Nancy'. File Roy Buchanan under 'Good Guy'.
Frank Black
It's not all about lovely lead playing here: as we know, the Butterscotch Blonde Telecaster is one of the meanest rhythm machines in the business, and nobody proves this better than the Pixies' main man Frank Black/Black Francis/Charles Thompson. Whatever you want to call him, he is one of the most influential musicians of the last 40 years. Blending Dust-Bowl Americana with Ufology and Surrealism, Frank Black's writing is as panoramic as it is idiosyncratic.
With Joey Santiago providing some resolutely unorthodox lead guitar on a variety of Gibsons, Black is free to provide contrast, context and propulsion with his glorious vintage Tele tone and tight sense of rhythm. As humble and workmanlike in his approach as he is, he is no less significant than the rest on our list today.
Honourable Mentions
There are undoubtedly more Blonde Tele players out there than our brief list can support, so honourable mentions go out to the following:
Jeff Beck
Bill Frissell
Graham Coxon
Steve Cropper
Mike Stern
Can you think of more? Let us know! Famous Telecaster obsessive John 5 probably has about 8 of them, but he's hardly seen playing a Blonde model, so he is relegated!
As we have seen, the Telecaster knows no genre or style limits, and shows no signs of waning in popularity. Whilst many colours and variations are now available, nothing quite tops the original blonde badass itself, the Butterscotch Telecaster.
Click to View our Blonde Telecasters