Synth Legends Through the Ages
Published on 12 October 2021
Here at guitarguitar, we love all styles of music and all types of instrument. Whilst you can probably guess our main passion from the company name, there's (sometimes) more to music than just guitars. For some, nothing beats classic synthesizers. They are almost as significant to guitars in the development of popular music, and occupy a space no other instruments can reach.
From early analog experiments to modern sonic deconstructions, we love the power and flexibility that synths give us over our music. We ourselves use plugins every day, we love our synth hardware and we really love old vintage units, both analog and digital! But what about the musicians? Those brave pioneers who ventured forth to discover all that the instrument had to offer? These keen minds who paved the paths we now intrepidly walk?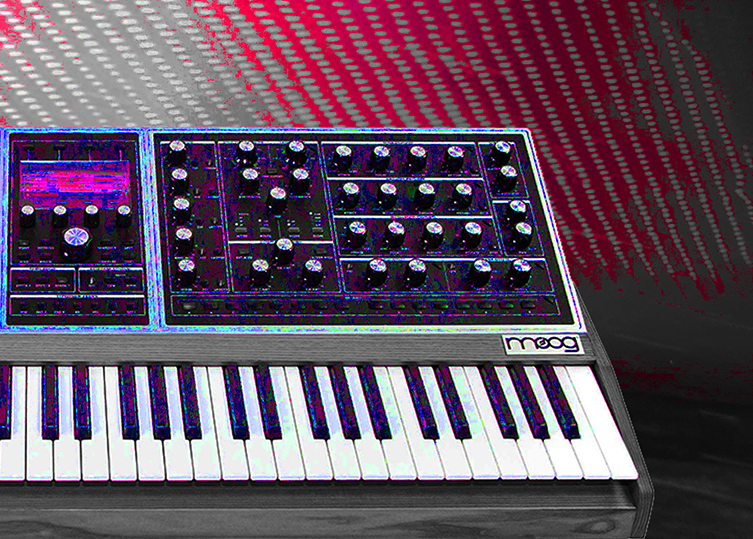 Legendary Synth Pioneers
Today, we honour these creators, these keyboard wizards and synth warriors. As usual, we'll go semi-chronologically, and we'll include a signature tune from each musician. Venture with us then, across the rainbow tides of analog waveforms, as we begin our own synth odyssey...
Wendy Carlos
Wendy Carlos helped develop the original Moog synthesizer. What more do you need to know? More? Okay. Carlos showed the world the transformational potential of synths when she re-interpreted Bach's classic orchestral compositions on a Moog Modular synth for the Switched-on Bach record. She also created soundtracks for none other than Stanley Kubrick, contributing to both the Clockwork Orange and Shining scores. Not only that, she also created the super-influential Tron soundtrack, too. Influential? Not half.
Keith Emerson
Continuing that idea of classical interpretation via machines was Keith Emerson, whose wall of patch bays and analog modules (known as the 'Monster Moog') defined the image of a synth god to multiple generations. Finding fame with The Nice, we went on to form the monolithic Emerson, Lake and Palmer, who are bizarrely half-forgotten these days. This wasn't the case in the 70s, though, when albums like Brain Salad Surgery proved that not only were ELP sonically leading the way for synth-laden prog, they could also spot influential artists, too: HR Giger painted the cover of this record, a full 5 years before Ridley Scott hired him to create the Alien. Famous for his synth interpretations of Copland and Mussorgsky, it is Emerson's own compositions that stand out.
Despite the sad end to Emerson's story, it's worth remembering him at his best, on stage, under a spotlight, behind his armada of synths, bringing forth another symphonic masterpiece of sound.
Klaus Schultze
Klaus Schultze is responsible for a lot. An early member of Tangerine Dream, which in itself is worthy of his inclusion here, Schultze has done much to propagate and define ambient music, introduced electronic elements to film scores, collaborated with Alphaville and Dead Can Dance's Lisa Gerard, released over 60 solo albums and...the list goes on. His open attitude towards juxtaposition and composition have become influential on other pioneers like Brian Eno, and that's before we even get into his musical alter-ego, Richard Wahnfried. Busy man!
Stevie Wonder
Stevie Wonder's songwriting ability is so often the focus of his accolades, it's sometimes easy to forget that he is a masterful player, and a significant figure in popularising the sounds of keyboard and synth instruments in the seventies.
It's true that most of his songs use electric pianos over outright synthesizers, but his legendary TONTO mainframe (which stands for The Original New Timbral Orchestra) opened up his sound insurmountably on records like Talking Book and Innvervisions. It's said that Wonder was so inspired by the colossal tone machine that, in one particularly prolific weekend, he penned no less than SEVENTEEN songs!
However much the TONTO cost to own, it surely paid for itself, and more, in inspiration.
Kraftwerk
Where would the world be without Kraftwerk? It's hard to overstate the immediate and long-term impact these 'robots' have had on culture at large since the early seventies. Growing up in a re-built Dusseldorf, Kraftwerk wrote modernist anthems on machines that were often built or at least modified by the band members themselves. Kraftwerk used machines to make optimistic, quietly triumphant, utterly futuristic music that heralded a new bright beginning for post-war Germany. Defiantly European in sound, the blueprint laid down by Kraftwerk on records like Computer World, Autobahn and The Man Machine are still the high watermark for iconic and accessible electronic music.
Rick Wakeman
Rick Wakeman, the irascible Yes legend, is unique in many ways. As the cape-wearing Merlin of the Prog-rock era, he entranced multiple generations with his high-fantasy synth lines that have added vast horizons to Yes' already grandiose songs. His skilful playing and visionary parts make up a large part of what people think of as the classic, definitive Yes sound.
There's more: his solo tour King Arthur on Ice (you read that correctly) is the kind of stuff that can only be dreamt up by legends. That said, Wakeman's attitude is nothing if not practical: stories about of him sauntering offstage mid-song during Yes gigs to bring back pints and even curries to munch on whilst other players were soloing, for example! How often do you see that?
Wakeman is something of an institution these days, and he always scores points for being the piano player on Bowie's Life on Mars. Sit down and eat your curry, Rick: you've done enough!
Vangelis
Greek synth hero Vangelis did more than almost anyone else to bring forth the cinematic and 'epic' possibilities of the synthesizer, particularly in his solo records like China and his movie scores for Chariots of Fire and Blade Runner.
Vangelis' use of the Yamaha CS80 remains quasi-mythical: his ability to coax amazingly expressive textures and tones from it have yet to be surpassed. Until his Oscar win for Chariots of Fire, synths were looked at as useful appendages to more conventional orchestral set ups. Afterwards, every composer in Hollywood rushed out, bought one and started learning about subtractive synthesis! For many, his Blade Runner soundtrack is the definitive electronic film score. For others, his music is suitable for any adventurous trek. The tune below was number one in Germany for aaaaages.
Jean Michel Jarre
Often spoken about in relative terms to Vangelis is French synth-whizz Jean Michel Jarre. In fact, the two are quite unlike each other, save for a shared use of synthesizers. Jarre, whose hits like Oxygene Pt 4 are the type of songs you don't realise you already know, has innovated with technology-based music for over 50 years. His early career as a painter spills over into his lavish, laser-strewn live shows, where his artistic eye has served to make his performances as iconic as his music.
As with Vangelis, there's a huge body or work to dive into, much more than the few enormo-hits you already know and hum!
Brian Eno
Justly celebrated as a producer, ideas man and 'thinker', Brian Eno is easily one of the most influential synth-botherers in music, too. An early stint as Roxy Music's resident knob twiddler (he manipulated the sounds of the other musicians as much as he played his own) segued to a still-going career as solo artist and boffin-for-hire.
His production roles for U2, James and Coldplay are renowned of course, but it's his creative sonic architecture throughout David Bowie's Kraftwerk-inspired Berlin Trilogy that elicits the most praise. That, and his uniquely ethereal soundscapes used in his Apollo record, which has since gone on to be used by Danny Boyle and a host of other filmmakers.
Eno's influence had been obvious or it can be subtle, but it always permeates.
Gary Numan
Subtle isn't a term you'd apply to synth-rock pioneer Gary Numan's contributions to music. His game-changing use of the Minimoog, and, later, the Polymoog, have perhaps been the most influential of all. Entire genres of music (and fashion) have emerged from under his cold, android stare and skyscraping, slightly hostile synth work. Interestingly, none of the pretenders' music has quite hit the bullseye in terms of quality or longevity like Numan's own evergreen output.
The classic 'Machine trilogy' of Moog-powered records (Replicas, The Pleasure Principle & Telekon) all inhabit that same icy future that's somehow both instantly retro and ahead of its time, occupying a space in that oddly satisfying 'future that never was'.
Aphex Twin
There are books written of the madcap genius and mystery of Richard James, otherwise known as Aphex Twin. Coming through during the vital and energetic 1980s rave and free party scene, James cut his teeth DJing at those events, building unorthodox instruments out of machine code from a Sinclair Spectrum, old analogue synths and 'junk' in his spare time.
After creating a trilogy of the some of the best loved ambient music around (Selected Ambient Works 85-92 and Volume II), James went entirely in the other direction, elevating white noise and dissonance to a fine art with, frankly, terrifying releases like Come to Daddy.
He has created records where robotic machines have played all the parts, he has used drills and egg whisks at DJ gigs to get some unique atonal sounds, and he has done all of this with the most minimal of self-promotion. If ever there was an iconoclastic savant of the electronic age, it would be Aphex Twin.
Trent Reznor
Equally fond of dissonant noise, but choosing to focus on a more overtly ambitious scale, head Nine Inch Nail Trent Reznor is a famous synth head. Though NIN are known for their noisy, doomy sound, there's a wide streak of poppy keyboards on records like The Downward Spiral and Year Zero to match the abrasive textures. From the band's early days Reznor made good use of his downtime as a studio engineer to program synths, sample records and put together his own flavour of synth-based rock music. Sequential Circuits Prophets and the omnipresent Minimoog seem to have been favourites, but it's fair to say that Reznor's current synth arsenal is comprehensive, to say the least.
Outside NIN, Reznor has won two Oscars as a film soundtrack composer, thereby most definitely justifying the extensive outlay for his synth army. Good work, that man!
Hans Zimmer
Talking about Oscars, one of today's most prominent synth players is German composer Hans Zimmer. It's true that much of his output is orchestral, but the amount of synth work blending in there is very high, and in fact characterises his signature bombastic style.
From early-ish days scoring The Lion King (which won him his Oscar, and no, we don't mean the Elton John tunes), to watershed moments like the influential Gladiator score and onto modern days classics like Inception, Zimmer's sound has become the sound of Hollywood. It's direct, emotional and very accessible, to the point where it's now becoming very difficult for composers not to sound like either him or John Williams!
Like Reznor, Zimmer has a stupefying collection of vintage analogue and modular gear, and, also like Reznor, he's just as likely to opt for a simple software plugin when the situations merits it. Great sound is great sound, no matter its source.
We look forward to hearing his latest music in Denis Villeneuve's big screen adaptation of Dune, some of which you can hear below.
Honourable Mentions
As ever, we end our rundown today with a list of those who certainly deserve to be on the list, were there simply space for them. The following have all made incredible offerings to the gods of synthesis, and for that we are in their debt:
John Carpenter (Horror Legend)
Dave Greenfield (The Stranglers)
Tony Banks (Genesis)
Rick Wright (Pink Floyd)
Jordan Rudess (Dream Theater)
Edgar Froese (Tangerine Dream)
Bernie Worrall (Parliament)
Martin Gore (Depeche Mode)
As ever, thanks for reading our list of Synth Legends, and do let us know who we missed out on! For more content, head over to our Interviews and Guides or check out our Synths and enjoy!
Ray McClelland