Epiphone: The Best of 2021
Published on 01 November 2021
Have you been keeping up with Epiphone this year?
We won't blame you if you've been finding it difficult: they've been knocking it out of the park so often with amazing new releases, it's hard to keep up! 2021 will definitely be looked back in years to come as a halcyon year for the brand: the year they simultaneously aligned closer to their parent brand, Gibson, whilst also stepping out from under that parent's overwhelmingly large shadow.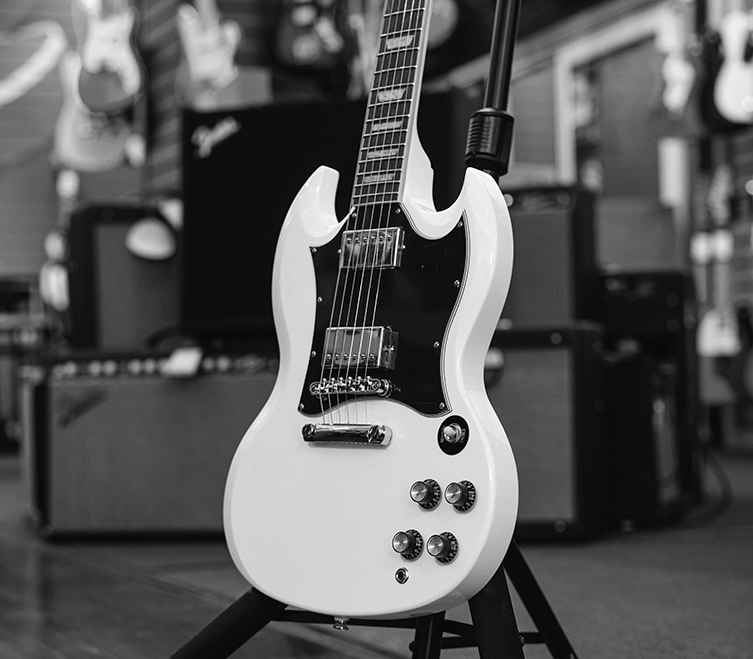 Epiphone are being seen as their own legitimate choice more now than ever. Whilst still very much the affordable 'genuine replicas' of official Gibson models, Epiphone are proving themselves in many ways to be the sub-thousand pound brand to beat in general. When it comes to authentic vintage looks and classic tones, Epiphone have very little competition from the other imported brands, none of whom of course have permission to use the 'proper' body shapes like Epiphone can, either. In other words, an Epiphone Les Paul is not a Les Paul copy, it's a Les Paul. It isn't a Gibson, but it's still official.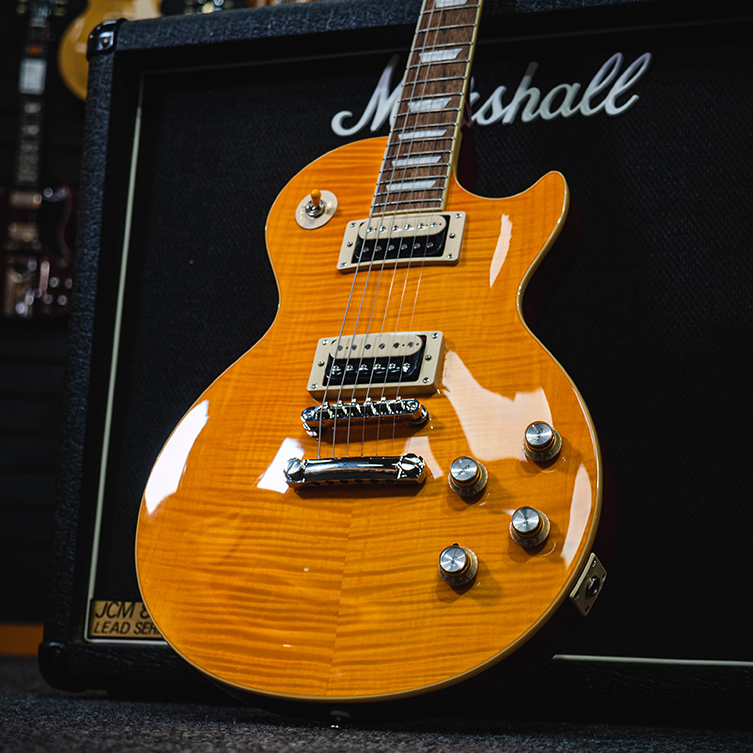 Today, we've picked out five of our current favourites that hopefully support our point of view. Dive in with us, and get up to speed on the latest from a brand we all know and love.
Epiphone 50s Les Paul Standard in Vintage Sunburst
At any given point, a good inspection of Epiphone's Les Paul Standard model will be a fair way to assess the overall vibe and quality of the company's output at large. As their most popular take on the brand's most famous guitar, it's the main touchstone for most players.
Out choice today is for the 50s variant in Vintage Sunburst.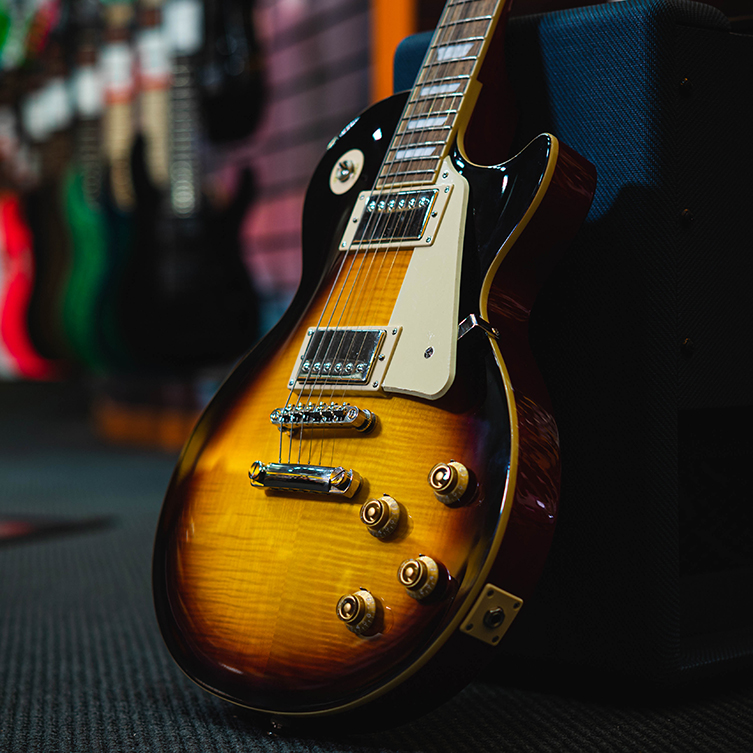 The first thing we notice is the reassuring weight. Now, we are not particularly on board with the 'heavy is better' mentality for Les Pauls, but a little heft in the more affordable models always seems reassuring to us! The top has been given a veneer of lightly figured Maple, which always helps sell those British Invasion vibes. The fit and finish look great: there are no nasty frets or wobbly control knobs here.

The neck on this 50s example is based loosely on the fabled '59 profile, and whilst we'd not says that it strictly competes with any 'Pearly Gates' aspirants out there, it most definitely falls into that deliciously chunky area so beloved of LP aficionados. Add the set of creamy ProBuckers to this overall mix and you have one very tone-some vintage style Les Paul. The feel is convincingly different to contemporary speed freak designs, and the bite and sustain of a great Les Paul is definitely in evidence. If this guitar is anything to go by, we are in for a treat with current Epiphone guitars!
Epiphone Slash Les Paul in Appetite Burst
Staying on the subject of Les Pauls, our next choice will be more than familiar to those who have a bit of an appetite for destruction! Ouch! Anyway, we were extremely impressed with these special Slash signature models when they first arrived. The intervening months have not dulled that opinion at all: in fact, we firmly believe these to be amongst the most effective and rewarding 'rock' experiences you can have in this price bracket.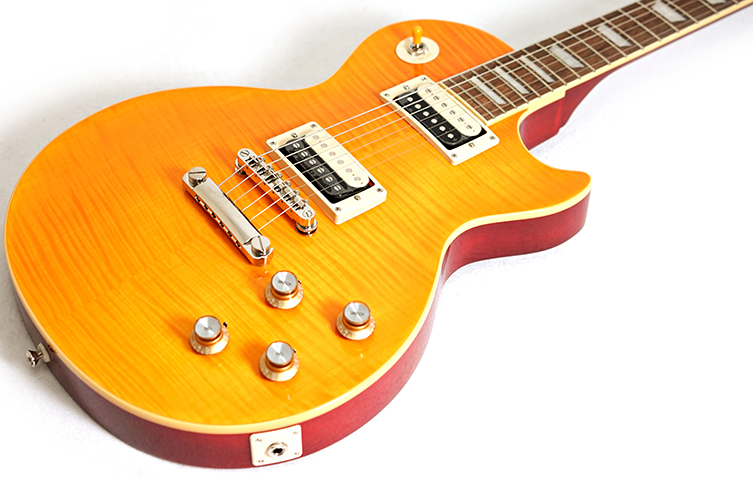 Slash hasn't dialled it in: he has been involved with the development for these guitars just as intensely as he was for the USA Gibson models. Slash supervised the exact neck carve (again, a nice chunky profile), the specific pickups (hotter than PAF but with similar characteristics and responses) and included his extra personal touches on the headstock with his Skully character transferred on the back and his signature on the truss rod cover.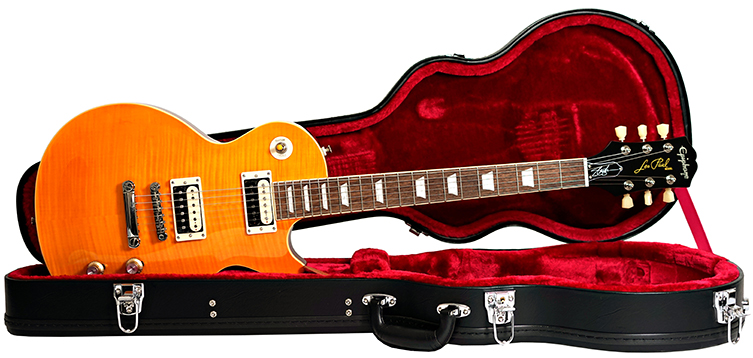 We've said this before, but you needn't be a Slash acolyte to love this instrument: it's simply an excellent Les Paul guitar, with a lovely look, classic feel and roaring voice. Whatever style you play, if you seek a humbucker guitar, this one is tough to beat!
Epiphone Inspired by Gibson ES-335
One of Epiphone's biggest markets has always been with semi-acoustics. Their previous Dot 335 and Sheraton guitars were the mainstay of the Indie brigade for over 20 years, and some saw the discontinuation of those beloved models as something of a concern.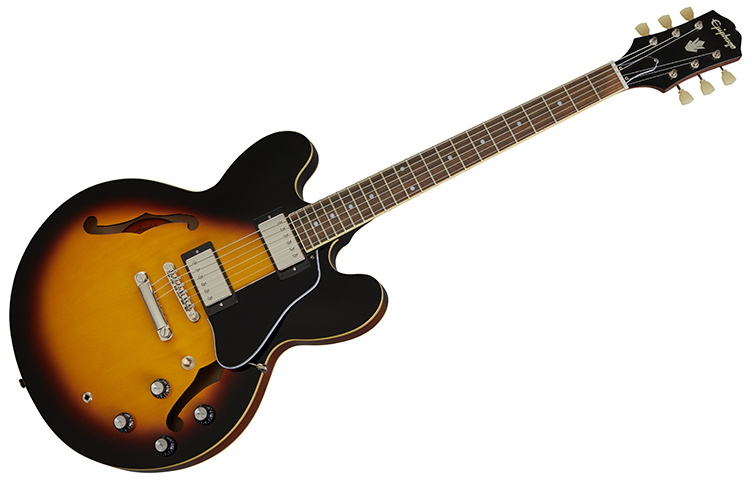 They needn't have worried: this replacement model, the Inspired by Gibson ES-335, is a star attraction indeed. Nothing too wild has been changed, really: this model is more a tightened-up remake than anything. The traditional layered maple construction is use here, with the same 'Kalamazoo' headstock design as the rest of the new range. You can have either of the two most famous finishes – Cherry or Vintage Sunburst – depending on how 'Jazz or Blues' you are.

A set of Alnico Classic pickups evoke the inviting bloom and colour of great historical semis, and once again, we're given a rounded neck profile for a more vintage feel. This is one of those guitars that will be at home in any non-metal genre. Never tried one? Today's the day then!
Epiphone Flying V Prophecy
Talking about metal...how about this beast? Sometimes Epiphone get it so right with a design, and this is one of those occasions. Whilst we'd admit that previous incarnations of their long standing, hard-rockin' Prophecy range (we still haven't learned what this prophecy even is...more riffs?) raised an eyebrow or two with us, there is no hint of abalone control knobs or lightning bolt inlays here, we're happy to say. This new Prophecy range has some of the best looking Epi's we've ever seen.
So, we picked the Flying V today, because it's one of Gibson's most famous shapes, and because it's objectively awesome. You can have one of two finishes: Aged Black or Yellow Tiger, which adds a AAA Maple veneer to the top. Both finishes are adorned with multiple-ply binding, Ebony necks, block inlays and a sense of lean, mean, built-for-mayhem attitude.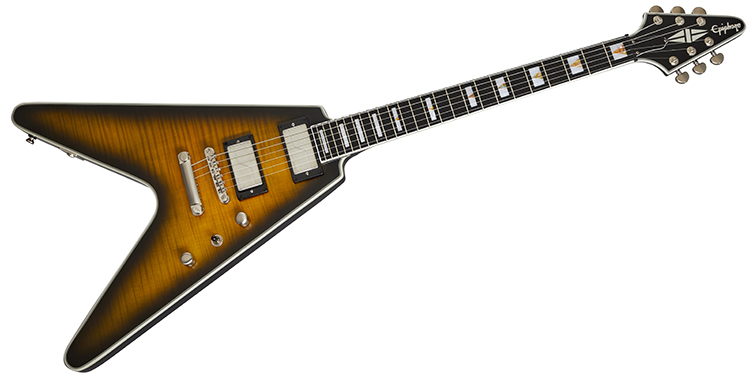 It's not just handsome looks, though: there is some serious up-to-the-minute firepower onboard, too. We're talking proper Fishman Fluence active pickups, with a selection of 3 tones available from sensible to scream. Hard rockers are going to need a great excuse not to consult the Epiphone Prophecies on their journey.
Epiphone SG Standard in Alpine White
And finally, what would an Epiphone roundup be without an SG? A perennial favourite, and not just because of AC/DC, the SG sums up much of what rock guitars should be: cool, easy to play, slightly mad and full of barking tone. This lovely Alpine White model obliges on all counts.

An Epiphone SG Standard has long been the 'first decent guitar' for many, many guitarists. Lighter on the shoulder than a Les Paul – and slightly cheaper too – the SG Standard is actually a more useful guitar in many ways. The slimmer body contributes to a more pleasant clean tone with less low end than a typical LP, though we concede that this is somewhat subjective. None the less, players requiring that signature Gibson output and sustain, but with added versatility, tend to congregate around the charms of an SG. You can still rock hard, but there's more potential for other stuff too.
Plus, y'know, Black Sabbath and AC/DC...
This Epiphone SG has the same tasty alnico pickups as the 335 we looked at earlier, and features a slimmer neck than most of today's choices. CTS electronics abide inside the guitar, making for a high quality setup across the board. Add to that the attention grabbing finish (time honoured favourites Cherry and Ebony are available too), and you have some serious fireworks for your money.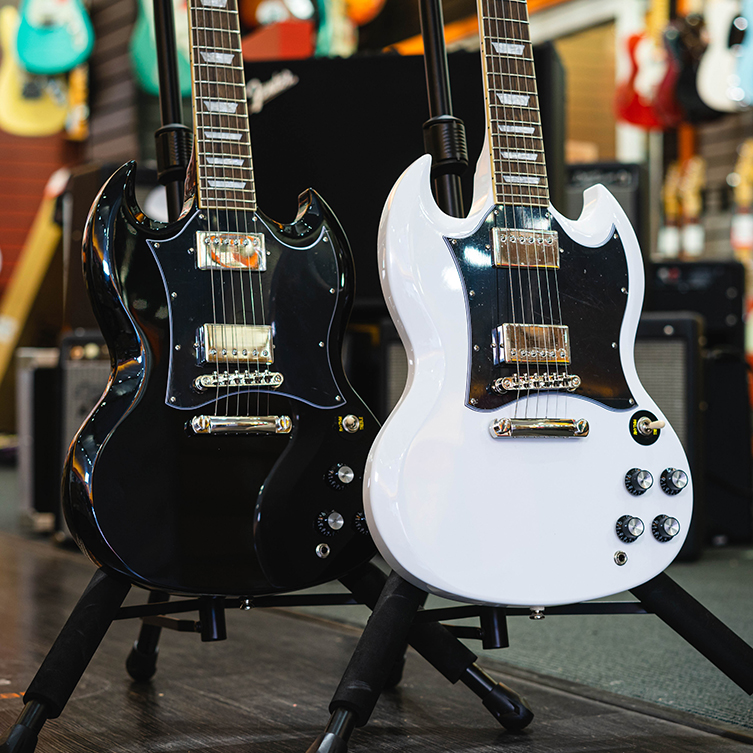 Meet the Family
That was just five examples of Epiphones new range that we happened to like. There are so many more excellent instruments in the overall family: more classic replicas, some more contemporary re-imaginings, and even a growing roster of artist models. Epiphone are making full use of their heritage by offering distinctly similar lines to their Gibson 'parents', but they are also bringing new takes and fresh combinations to the market, too, and this diversity is what lies at the heart of the excitement. Diversity, authenticity, and above all else, quality, are making Epiphone the guitars to be seen with right now.
Click to View our Epiphone Selection
Ray McClelland