Joe Balaguer Live Interview + Q&A
Published on 24 November 2021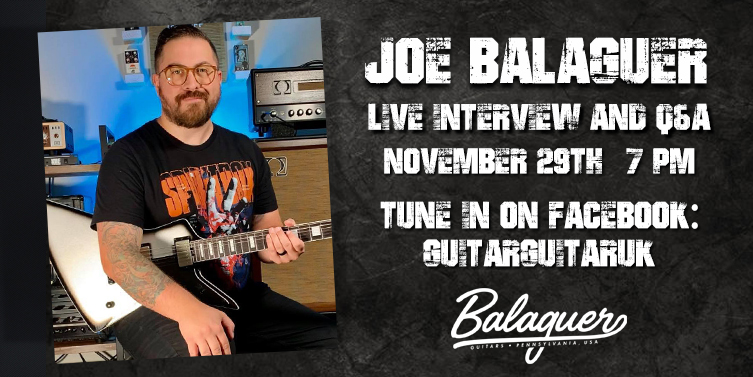 In recent years, more boutique brands than ever have began rising through the ranks and bringing their own visions of the electric guitar to life. Smaller builders are really getting their share of the spotlight these days and its fantastic to see these passionate, guitarist led companies get the attention they deserve. One of the most impressive for us, are a brand who have really crafted a niche for themselves in the industry: the good folks at Balaguer. Combining vintage style with modern features and appointments, their guitars are totally unique and have a classy feel to them that leaves a lasting impression on every player who plugs one in. They've already produced an impressive range of models at nearly every budget but that doesn't stop them from continuing to innovate. Balaguer are constantly developing new ideas and with some exciting designs in the pipeline, we were keen to catch up with President and Head Luthier Joe Balaguer to get a rundown on what he's been working on.
Live Interview and Q&A with Joe Balaguer
On the 29th of November at 7:00PM, Joe Balaguer is joining us for an exclusive interview to run through the awesome Standard Series which arrived with us recently. We'll be chatting with him about the brand's build process, what makes their guitars special, life as a luthier and if you're lucky, we might even take a sneak peek at what models we can expect from them over the next few months. We cannot wait to get the gossip from Joe and give you all a taste of what's to come, so join us in exploring one of the most exciting up and coming brands in the industry. The stream will be a great chance to ask any questions you have too, so make sure you get involved in the comments. This one is going to be a blast, don't miss it.
Head to our Facebook page now.