Taylor GS Mini: The World's Favourite Acoustic Guitar (Updated March 2023)
Published on 21 March 2023
It's the best-selling acoustic guitar of the past few years, regardless of price point. It's a downsized player's guitar that packs a punch and fills a room with sound. It's a travelling companion that you can store in an overhead luggage compartment or sling in the boot of your car.
It's the Taylor GS Mini, and we love it! Evidently, a great many of you do, too.
What is a Taylor GS Mini?
For those who are yet to acquaint themselves with the Taylor GS Mini, here's a brief description and breakdown of the model that's caused a sensation throughout guitar circles these last few years.
The Taylor GS Mini is a downsized acoustic guitar, made to Taylor's own Grand Symphony body shape, hence the 'GS' in the guitar's title. The Grand Symphony shape is rounder, both in the shoulders and in the waist, as it were, than the likes of a Dreadnought. Such a shape offers more in terms of frequencies: you tend to get a fuller, bigger sound. When designing the GS Mini, Taylor designer Andy Powers reasoned that a downsized Grand Symphony would still project well and fill a room with sound, despite its smaller physical size.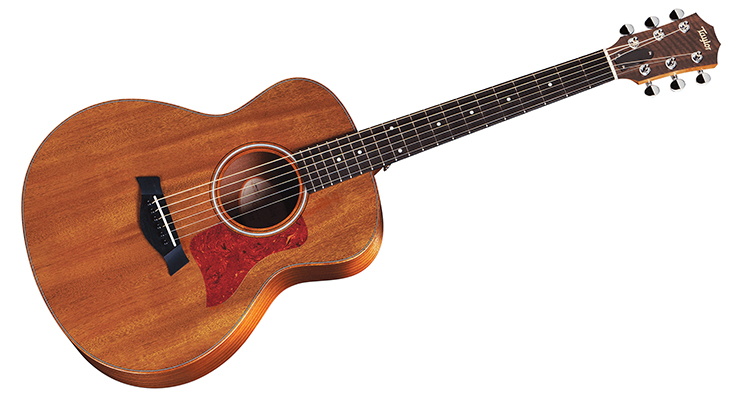 His theory proved correct, as the GS Mini is surprisingly loud and articulate, making it a fantastic guitar for home playing, and a lot more besides. Taylor describe the guitar as an 'acoustic cannon', and whilst there's an element of fun in there, the comment is pretty much right on the money! The GS Mini packs quite a punch, especially considering its relatively diminutive size. It is available in a range of wood choices, which we'll look at soon, but all GS Mini variations preserve a loud, clear and dynamic sound.
So, it's downsized, but in reality, it's still more-or-less a full-sized guitar. The body may be smaller than a standard dreadnought (and significantly smaller than a Taylor Grand Symphony since that is one of the brand's largest designs) but the concept is more about making the dimensions more portable and manageable to a wide variety of players than to produce a ½ or ¾ sized guitar, which it is not.
The neck itself, where all the playing occurs of course - has a scale length of 23.5", so it's only an inch or less shorter across the entire playable length of the string than a standard acoustic guitar. It feels smaller for sure, but never in an off-putting way: GS Minis feel really snug and intimate to the player. They are closer in at both the left hand playing position and under the right arm when you have it on your lap. This all adds to the addictive, eminently 'pick-uppable' feel, which is a significant factor when choosing a new instrument.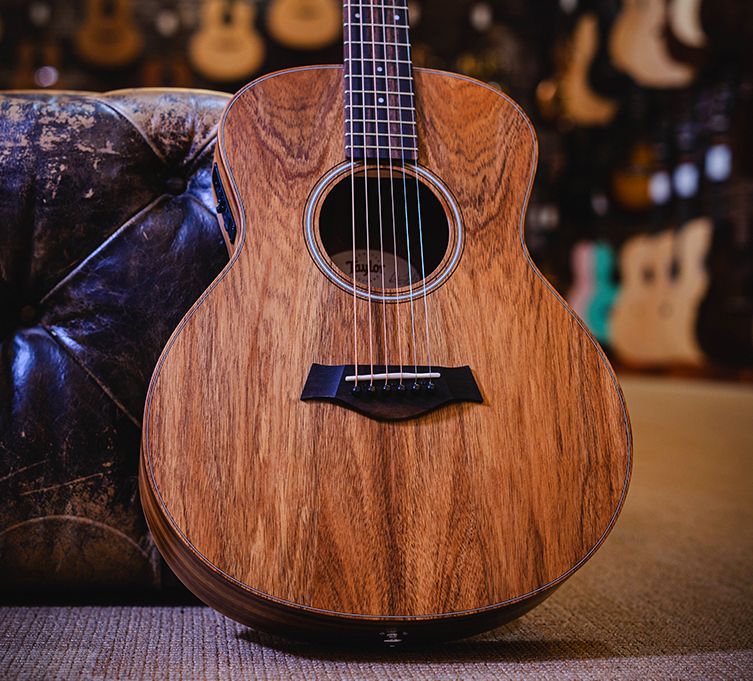 More Than a Travel Guitar
The Taylor GS Mini is the ultimate travel guitar, thanks to its smaller dimensions, easy playability and impressive tone. It's small enough to carry around, handy enough to grab and strum idly, and always delivers a quality sound and playing experience. But it's not just a travel guitar. In fact, it's pretty much everything most players will need from an acoustic guitar, so it comes as no surprise to learn that many guitarists are using this as their main instrument. Buskers love it (it's easy to hop on and off public transport with the included gig bag) but so do gigging performers, thanks to the 'Mini-e' models that come fitted with a custom made pickup system. The GS Mini is a great go-to songwriting tool, a fantastic instrument to record (its clear, punchy tones sit well in a mix) and an all-round handy choice for people who like to have a guitar close by. It's so much more than a nice option for taking on your travels, though it is most undoubtedly that, too.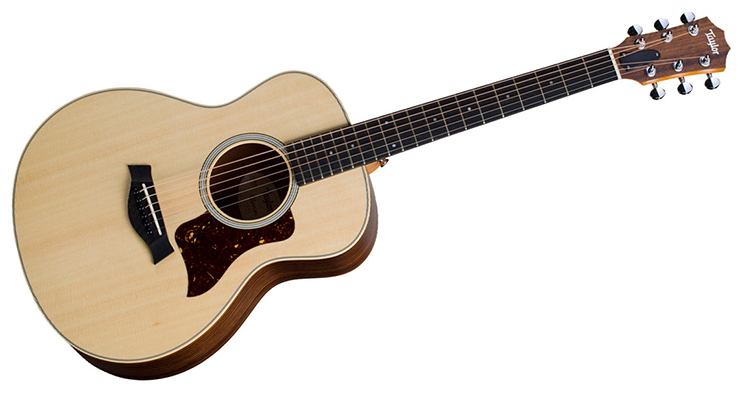 The GS Mini Mahogany
As mentioned earlier, there are a variety of GS Mini models to choose from. The most popular one, and perhaps the one that we'd call the current 'definitive' model is the GS Mini Mahogany. As the name suggests, this guitar is made with a solid Exotic Mahogany top, matched with a layered Sapele body. The solid top, as we all know, is the source of every acoustic guitar's tone: it takes the energy from the strings being played, moves those resonances through the timber and into the hollow guitar body. The body shapes the sound, colours it and sends it out through the soundhole to your ears. Having a solid top means those vibrations retain more of their energy, which translates directly into a richer and more pleasing tone. Mahogany is a wonderful tonewood, with plenty of focus and thickness available. Used on a GS Mini, it helps bring depth to the sound and balances the projection with some lower range response.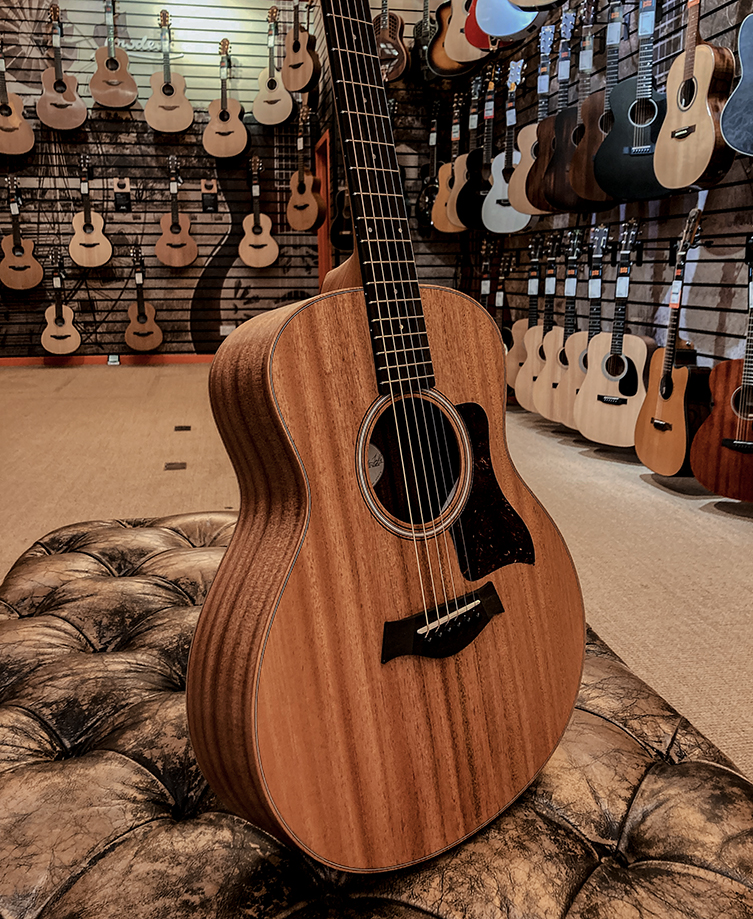 The layered Sapele body emphasises similar frequencies (Sapele is not unlike Mahogany), but its layered nature means that costs can be kept down. An added bonus is the additional strength and rigidity offered by the layered construction. It's a light but solidly made instrument! The 20 fret neck has an Ebony fingerboard, providing an elegant surface to play on and illustrating Taylor's commitment to using quality materials on instruments from all price ranges.
The GS Mini Mahogany is where to start on your GS Mini adventure.
Other Flavours of GS Mini
If the Mahogany GS Mini is the 'main' model, what others are out there?
The most visually striking alternative is the GS Mini Koa. Koa is quite a famous wood in guitar circles these days, mainly because it's so eye-catching and therefore often used in guitar building. Hailing only from the tropical US islands of Hawaii, Koa offers strong sounds and stronger visuals. Sounding not unlike a midway point between Mahogany and Rosewood, Koa tends to produce both warm and airy tones, with very nice note separation. Koa often has extremely vivid marking and grain patterns too, so guitars built using Koa often show this off on the instrument's top.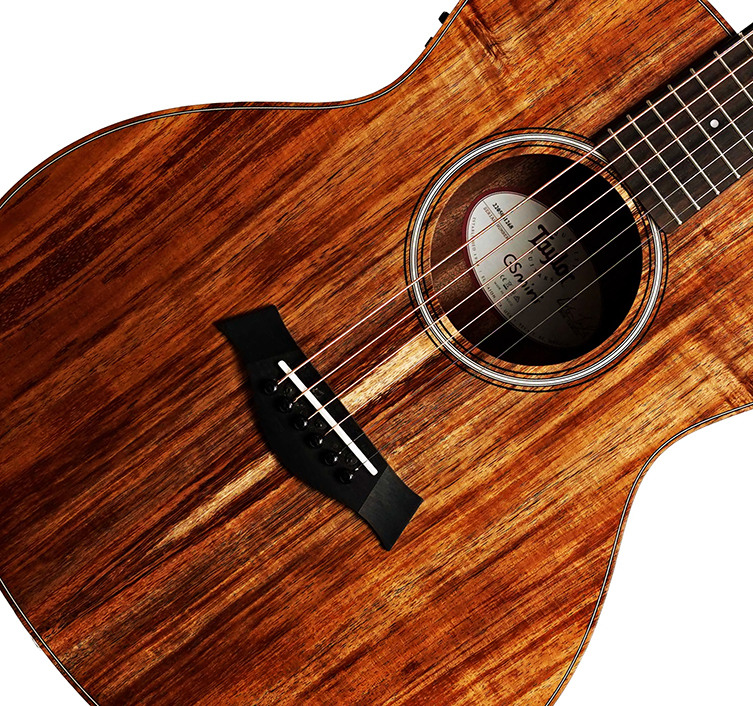 At guitarguitar, we tend to photograph guitars with Koa individually, so that you can literally choose your favourite top from any guitars that are available in multiples. Thus, you'll see individual listings for each of our GS Mini Koa guitars! Check out the examples below from our current stock to see how wildly different - and equally stunning - these guitars can look…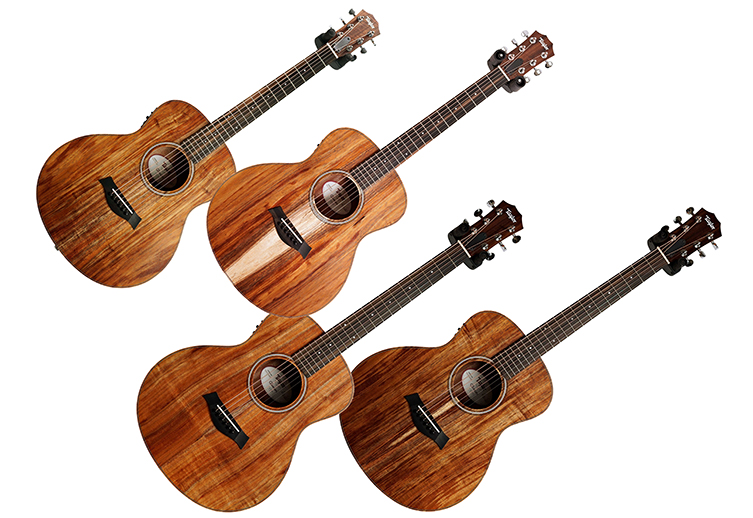 Another great variation on the theme is the GS Mini Rosewood. This uses the time-honoured combination of solid Sitka Spruce for the top and layered Rosewood for the body. The Spruce and Rosewood pairing has, over the decades, produced some of the best loved acoustic guitar sounds ever recorded, so it's clearly a winning choice! The quick brightness of Spruce is an excellent foil to the thicker, denser sound of Rosewood. Together, you get a percussive and lively sound, perhaps with less warmth but more top end sparkle when compared to the Mahogany version of this guitar. A pleasing variation for sure, and a good argument to get one of each!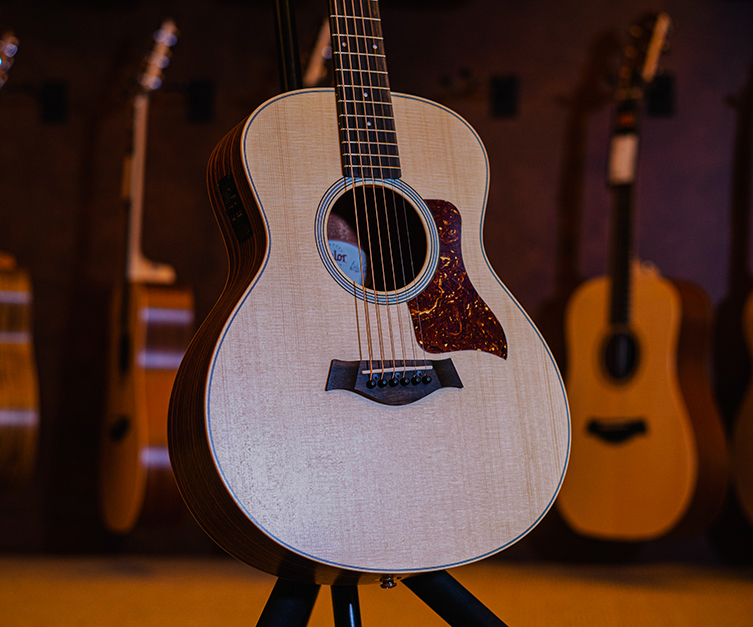 It's well worth noting that each of these models is available with or without a pickup system. Taylor have produced a special ES-B pickup and preamp system for the GS Mini that's subtle and effective. It transforms this little achiever into a real contender for the stage and more. The ES-B system includes a built-in chromatic tuner for extra convenience. If you want to include a pickup in your GS Mini purchase, just look out for the models that have 'Mini-e' in the title, such as the GS Mini-e Mahogany.
Taylor GS Mini-e Rosewood Plus
Spruce and Rosewood together make one of the best tonewood combinations in guitar-building. Taylor take advantage of this classic combo with their GS Mini-e Rosewood Plus guitar, using solid Sitka spruce for the top and layered East Indian Rosewood for the back and sides.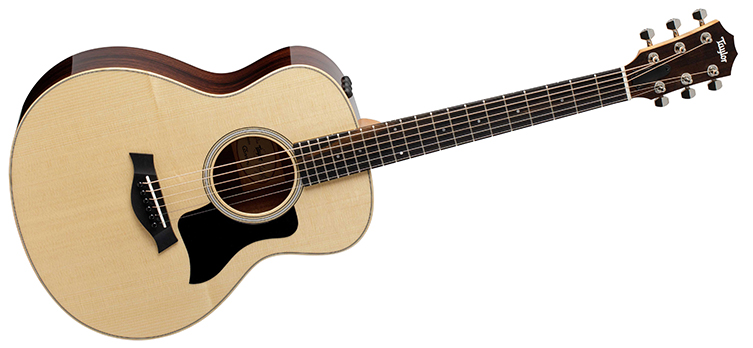 Volume and projection are the main talking points here, with Taylor providing an altogether bigger sounding instrument than perhaps any other GS Mini model, without altering those famously compact dimensions. Other GS Mini models exist featuring Spruce and Rosewood, but this is East Indian Rosewood, one of the most prized tonewoods on the planet. In its layered form here, you still enjoy much of the tonal benefits, as well as the additional strength offered by the layered construction. We think this is a very impressive instrument indeed, and one well worth investigating further.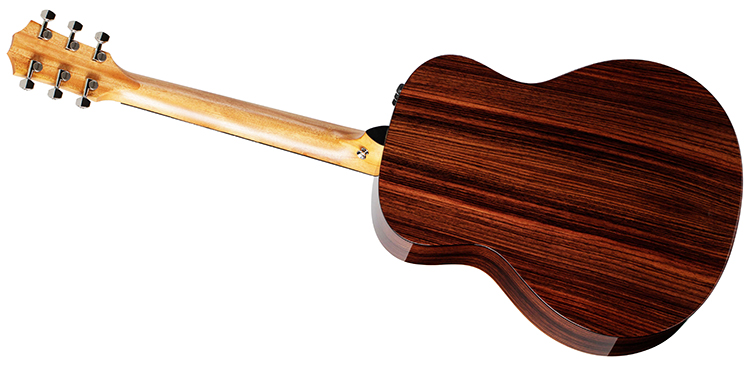 Taylor GS Mini Caramel/Rosewood Ltd Ed
Looking for something a little different? Well, if you hurry, you may be able to grab yourself one of these Taylor GS Mini-e Ltd Ed Caramel Burst models! How gorgeous is that Caramel Burst finish? It's on a solid Sitka Spruce top, so you'll be able to enjoy some crispy, zingy high end tone, with layered sapele adding mids and focus to the tone.
This limited edition GS Mini is a full-on electro model, so you can turn up to the gig or session and plug straight in using the ES-B electronics, which also features a built in tuner. Spruce and Sapele were the two original tonewoods selections for the GS Mini back when it first debuted, and the combo remains an enticing tonal proposition.
Which GS Mini is Right for Me?
With so many GS Mini varieties available, how do you know which to go for? Well, as ever, the easy answer is to travel to a guitarguitar, pick out a few different varieties, and get playing! The different tonewoods will all add their own flavours to the mix, so trying them against each other is the best way of determining which your ear prefers.
Broadly speaking, the guitar's top is doing all of the 'heavy lifting' when it comes to the overall tone and response of an acoustic guitar. The black and sides certainly matter, but their job is perhaps more supportive than defining. Certainly, that's how we'd recommend you look at things when you are shopping for a new Taylor GS Mini.
In terms of tops, you can have spruce (bright, lively), Mahogany (thicker sounding) or Koa (very similar sonically to mahogany). Once you figure that out - and we understand looks will play a part here, especially if you're eyeing up the Koa model - you can move forward.
Not every GS Mini is available in variations, though, so let's be general here. The spruce and rosewood combo has most of the qualities you'd want in an acoustic guitar. Try the GS Mini Rosewood and compare it with the Rosewood Plus model since it has layers of East Indian rosewood, which is highly coveted. 'Min-e' models are available for those who want to plug in.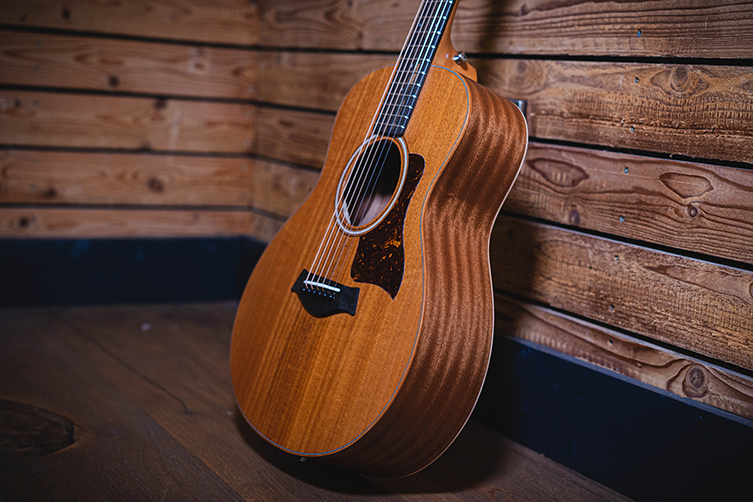 For a warmer, more strident sound with a tighter low end, try the Taylor GS Mini Mahogany. If it's too plain looking for you, compare the sound with a GS Mini Koa and see how you feel. The GS Mini Mahogany uses layered sapele for the back and sides, and that's another timber that has similar sonic properties to mahogany, so the warmth will be there in each of these options.
Aside from these guidance points, only you can really decide which GS Mini is the one for you. There's a good level of choice right now and the good news is, they are all quite excellent instruments; it's just a matter of finding the one that speaks to you. Get playing!
It's a tough life, isn't it?
A Guitar for Every Person, a Guitar for Every Occasion
The Taylor GS Mini is your faithful music-making companion. Always at your side, practical, portable, ready to play and always sounding excellent, this is an instrument to use and treasure. It'll travel with you into town, to the beach, up a mountain or even just to the couch. It's a proper Taylor guitar, built with all the skill, love and finesse you've come to expect from the brand. It's the most popular acoustic guitar in the world right now, and there is no mystery as to why: it's simply excellent.