Ultimate Hard Rock Workout Music
Published on 13 January 2022
January is one tough month. The skies are grey, the night draws in fast and long, and we're all feeling that sluggish lethargy brought on by too many mince pies and shandy over the festive period. January is when we hit the ground with a bump and realise we need to get exercising again. We know, we know: the wind howls extra-hard during those dark mornings and we'd much rather pull our duvets in close rather than leap up like a ninja and put on our running shoes or gym gear.
But wait! Guitarguitar is here to help you! We're all in this boat together, and it's no good to give in to the temptations of the lazy: we must find our inner warrior spirit in order to beat those January blues!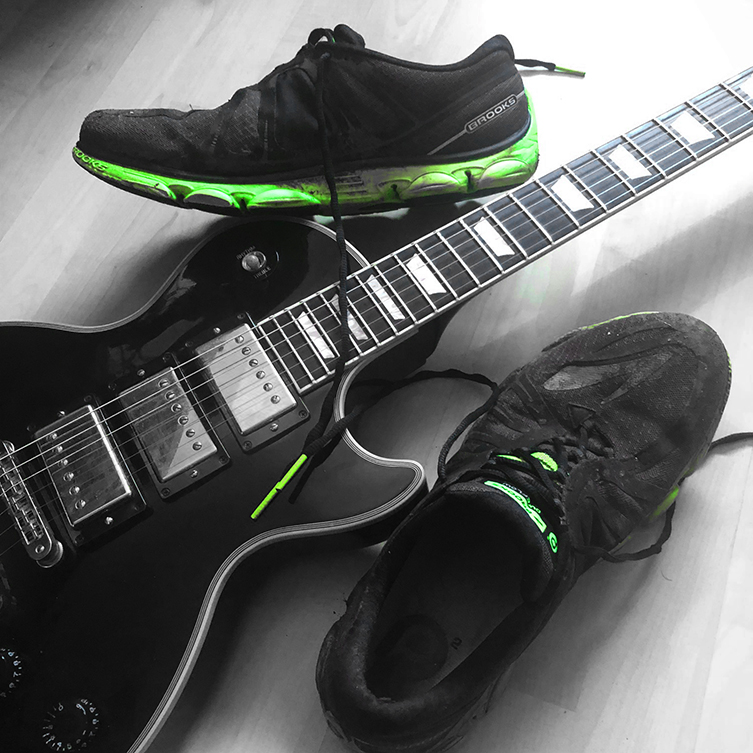 Motivational music is an extremely important part of the workout process, so we've put together a list of the most powerful, the most winning, or just the flat-out hardest rocking tunes we could find, in order to give you the best chance at achieving epic results! Be it in the gym, on a track, in the park or on the streets, we're giving you the motivational tools to achieve! So, don your best sweatband, do some proper warmup stretches, and play each of these tunes for maximum effect! And don't skip any of these songs either! What are you, a loser?
Back in Black - AC/DC
What better way to announce to the world that you're back than with this motivational Hard Rock classic? Songs where the singer announces he's back are always a win, and this legendary riff monster will get your session started at a good pace. Pound those streets, and when passersby see you go, they'll say to themselves 'He's back! He's Baaa-haaa-hack!' Just keep on running, and leave them staring in awe.
The Touch - Stan Bush
Possibly the most motivational tune ever, this 80s Hard Rock enabler was initially written for Transformers the Movie, which hardly matters right now: you have work to do! What matters is the infectiously upbeat music and the fist-pumping message shared within: 'When all hell's breaking loose, you'll be riding the eye of the storm'. Did you just feel that shiver up your spine, too? Good, it's working its magic! 'You're at your best when the going gets tough, you've been put to the test but it's never enough!' The guy in the song is singing about YOU! Feel it! Keep going!
Pump It - Eskimo Callboy
Okay, you've now settled into a good solid groove, whether you're lifting, pulling or running. You feel powerful and motivated, and you just want to keep that momentum. Time for an energetic song that kids on it's a joke but is actually not: it has been carefully designed to match your efforts, keep your pace and paint a winning smile on your face as you do it. Nobody can stop you and you know it!
Extermination - Upon a Burning Body
Those weights are starting to feel pretty heavy now. You've been going at it hard, but you've got plenty more to give. It's time for something brutally hard, with riffs that simply won't give in, just like you. We have it on good authority that this track makes you lift more, last longer and supplies you with an extra ounce of grit in your expression as you stare down lesser humans in the gym. Let them watch. When they all listen to this track too, you'll know your influence is absolute, but for now, you're far from done. Get going! Another set!
Know Your Enemy - Rage Against the Machine
Yes, you know your enemies: fatigue, breathlessness, ache, pain, demoralisation. Your enemy is that voice in your head that says 'this is far enough, go back home now and eat a pie'. Pah! Drown out that noise with this blast of righteous fury! You're starting to feel it now, but Rage Against the Machine have your back. Tell those tired muscles of yours that 'Time…has…come…to…PAAAAAAAAAY!'
For a bonus burst of endorphins, time your (brief) recovery period to the point when the guitar drops out, leaving the bass to play the breakdown: tense yourself to sprint just as the band kicks back in for a triumphant boost that's unmatched. Go!
No Easy Way Out - Robert Tepper
You're starting to struggle. Those reps at the bench are taking their toll. That road ahead looks long and unforgiving. Your thoughts turn to your inspirational spirit guide - it's Rocky Balboa, obviously - and his tear-stained trip down memory lane, running on sandy beaches with Apollo Creed. Ahh, the emotion! Take that power and harness it with help from this accompanying tune. It feels your pain and tells you you can make it through this, but it won't be easy! Dig deep, push ahead, and you'll get there.
Eye of the Tiger - Survivor
This is it. You're close to the end, you've given it your all and you don't know if you've got anything left to give. Everyone else has left the gym, it's just you and the janitor. Nobody else is on your route, but you've got one last steep hill to run up before your soul can call it a day. Will you walk up that hill like a loser, instead of running like a champion? Will you sit on the weight bench and look at your phone for two minutes instead of lifting that last set of reps?
Who are you kidding? Take a second to centre yourself, focus on what's important, and put on this song. Listen to that muted guitar riff, as incessant as your heartbeat. Feel those big distorted chords crash in, breaking your apathy in two, showing you the way forward and wiping out all doubt in your mind. You now have the eye of the tiger - you ALWAYS had the eye of the tiger - and that steep hill ahead of you is NOTHING. That last set of reps is NOTHING. You've risen up to the challenge of your bitterest rival. That rival is yourself, you cry as you charge ahead, silencing the inner naysayers and reaching that summit. Laziness may one day win, but that day is not today.
You're nearly there, you just need something glorious to end your epic win on…
Chariots of Fire - Vangelis
The session is so very nearly over, and you've bested your best. You feel incredible, like you could just keep going for another hour! Suddenly, you realise you are moving in slow motion, and the sky above you beams with heavenly light. Invisible crowds cheer as you open your arms and run through the tape at the finishing line. Glory is yours. Make sure you actually open your arms in real life, it's no good to merely imagine it. You're living this win, you've earned it!
Are people looking at you? What's new? They just wish they had what you have, which is both the 'Eye of the Tiger' and 'The Touch'. You're not like other people, and today you've proven it. Not just to your admirers, but to yourself. Well done. Now make sure you warm down properly and stretch again or you'll be hurting tomorrow. Winners take the pain, but only when they have to. Breathe deep, you winner. You've conquered. We're proud of you.
Ray McClelland