A Closer Look: Ibanez J Custom
Published on 09 February 2022
Ibanez J-Custom.
For exclusive, high-end, performance instruments, there is no substitute. Since the mid 90s, Ibanez have offered their absolute top instruments to Western markets in the form of J Custom. Focusing on the renowned RG design, each instrument serves as living testament to Ibanez's J Custom ethos:
"Envisioned to be the finest Japanese-made guitar in history".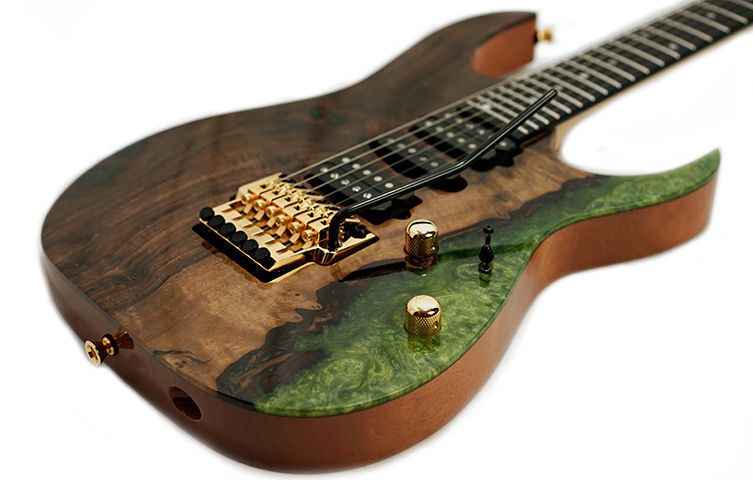 A tall order for some, but anyone with experience of Ibanez's instruments - from any of their numerous ranges - will understand that their commitment to quality is no mere marketing spiel. Ibanez have always matched innovation with consistent reliability, and the further up the range one travels, the higher that bar is set.
This is the top of that bar. Ibanez J Custom. We've recently taken stock of a few select guitars from this most lauded of stables, and we'd love to show you some of them today, but before we delve into those, let us understand a little more about the J Custom idea itself…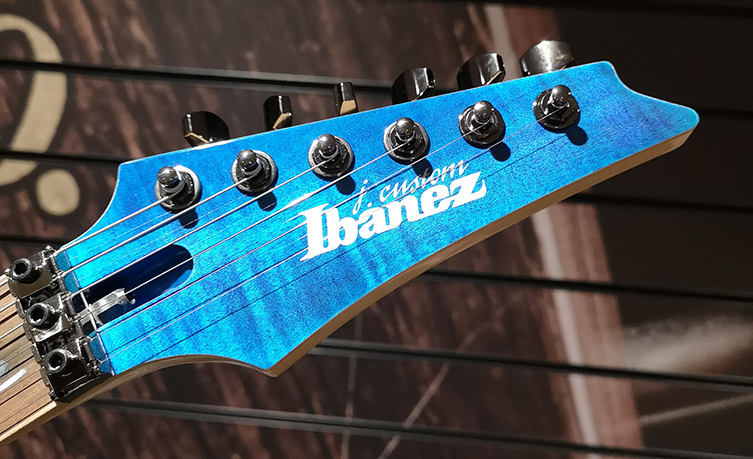 What is J Custom?
Cast your mind back to the heady days of the 1980s, when gunslinging hair metal reigned supreme in the guitar world. Ibanez - a brand who achieved notoriety throughout the 70s for offering 'clone' guitars of famous designs that were arguably better than the originals - began working with some of the hottest players in Los Angeles on original models.
Hitherto made in Japan only, Ibanez set up a high-end LA Custom shop in order to build instruments such as the JEM for Steve Vai, which later spawned the RG we all know today. This LA Custom Shop allowed Ibanez to be situated in the heart of shredders' paradise, where competing brands like Charvel and Jackson also had their headquarters. The Ibanez USA Custom Series were a select range of very limited run instruments hand-made in Los Angeles, with all other Ibanez models being made in their top-end facilities in Japan. Most of these top-tier Japanese guitars were never offered for sale in the West, and so the guitars duly accrued mythical status amongst shredders of the day.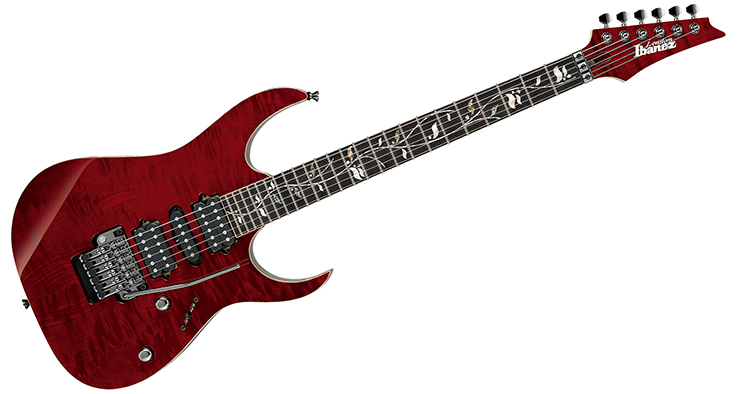 In 1996, the USA Custom Series was discontinued in favour of J Custom, including a move back to Japan for the Custom Shop. Ibanez J Custom guitars were - and are - created by master luthiers in celebrated facilities such as the Fuji Gen Gakki and Sugi Musical Instruments Ltd. The guitars bearing the J Custom logo are the very best that Ibanez have to offer: the best timbers, the highest quality components and the most skillful master artisans, all brought together to achieve that previously quoted mission of the 'finest Japanese-made guitar in history".
The J Custom Difference
Today, the J Custom team take orders for as little as two months a year, then they close their books for the remaining months of that year. As few as 12 guitars are produced a month, which is staggeringly low for what is effectively the 3rd biggest guitar brand in the world's Custom Shop! As a result, every instrument is built with an unparalleled level of precision, attitude to detail and hand-finishing. All that extra time afforded to each individual instrument shows in a myriad of ways, from the neck join to the finishing, the wiring to the fretwork.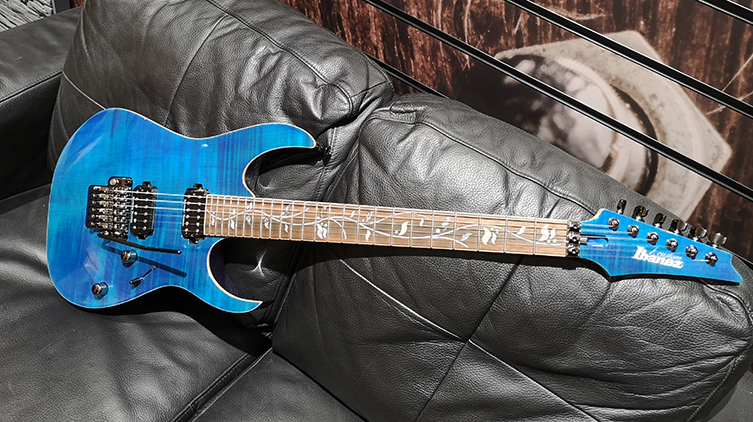 As mentioned, J Custom instruments focus on RG-shaped designs, and feature thick, figured tops, multi-piece necks, hand-shaped fretwork and pickups from the world's top manufacturers. Intricate inlay work and binding are regular features too, as are striking finish options. In short, these are spectacular guitars with the very best hardware and finishing that Ibanez offer. All of the photos in today's blog are of J Custom guitars that are currently, as we type, in stock at guitarguitar. Shall we look at a couple in more detail?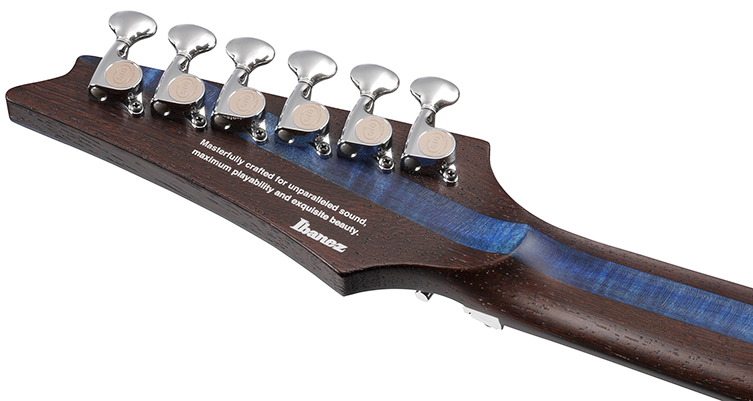 Ibanez J Custom JCRG2102 Walnut and Green Resin
Now, that is a top you don't see every day! What a thing of beauty! The green parts are actually resin, shaped alongside a thick slice of choice Walnut to create a uniquely beautiful look. This top sits on a body of African Mahogany and helps produce a very thick, rich tone. It's a stunning talking point for sure, but the JCRG2102 is all about delivering on the business end, too.

The neck is made of Maple and Wenge and has been hand smoothed to perfection. Ibanez refers to this, quite appropriately, as a 'Velvetouch' neck. The fingerboard is made from delicious ebony and sports 24 stainless steel frets over its 17" radius for a playing feel that's as effortless as it is luxurious.
Ibanez's J custom team have gone for a timeless set of performance pickups in the guise of three DiMarzio units. As we know, DiMarzio are an overwhelmingly popular choice for players looking to inherit the power and glory of 80s and 90s technical rock playing. Here we have a Tone Zone humbucker (not a lot of people know this, but the Tone Zone was one of the final three pickup prototypes designed for a certain Mr Van Halen before he settled on the units that lived in his Music Man sig), a True Velvet single coil pickup and an Air Norton in the neck. To say that this layout is comprehensive is somewhat under-explaining the sonic breadth available here by quite a degree: you can cover an enormous range of tones with the JCRG1202, and stand out from the crowd quite wonderfully whilst doing so.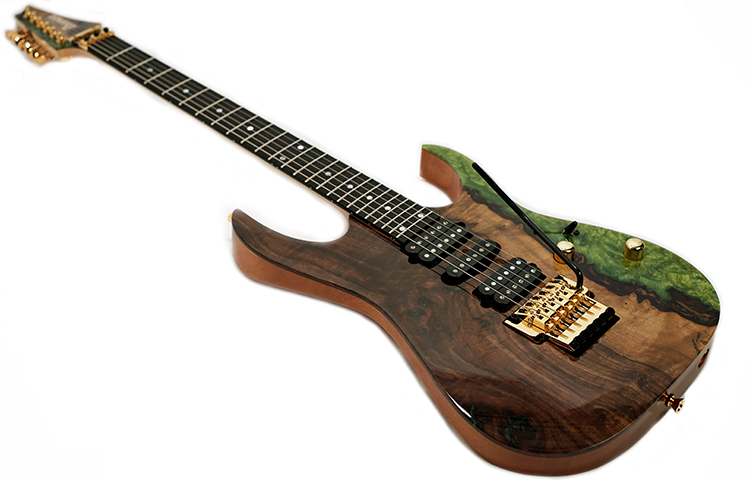 Ibanez J Custom RG8420ZD
Talking about standing out from the crowd, how about an intricate Tree of Life inlay? Yes, it's not only Steve Vai who gets to have this stunning addition to his fretboards! The J Custom RG8420ZD, shown here in Royal Blue Sapphire, is a jewel in any player or collector's crown. This time, the sumptuous African Mahogany body is topped with a thick layer of 'AAA'-graded flame maple. It's a majestic look indeed, especially when partnered with those to-die-for inlays on the bound Macassar Ebony board. It's both elegant and over-the-top, which is something of a J Custom speciality!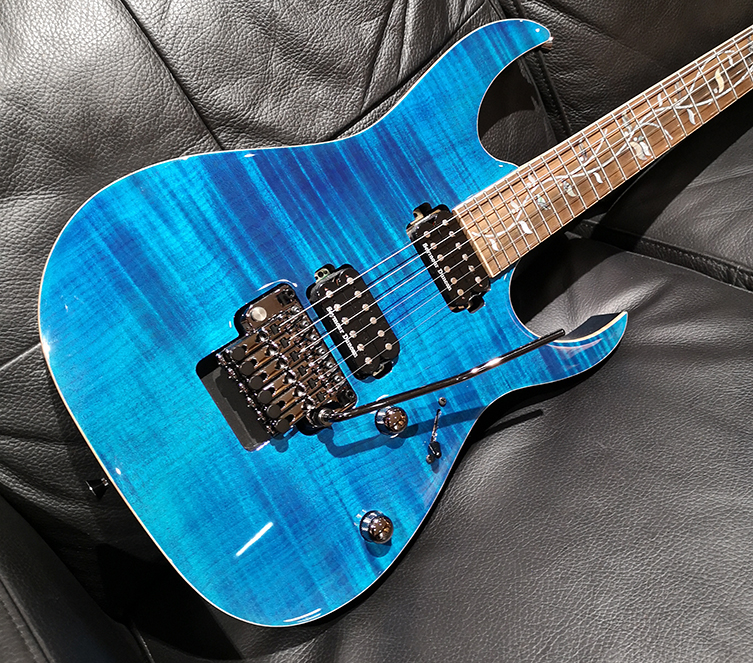 The Ibanez J Custom team have selected a pair of Seymour Duncan humbuckers to fuel the sonic fires this time. The Custom 5 unit in the bridge position sounds extra chunky and the Jazz in the neck is crisp and defined, which is always a pleasant surprise for us, given its title! Together, they offer quality tones for days, especially when matched with the breathtaking body woods.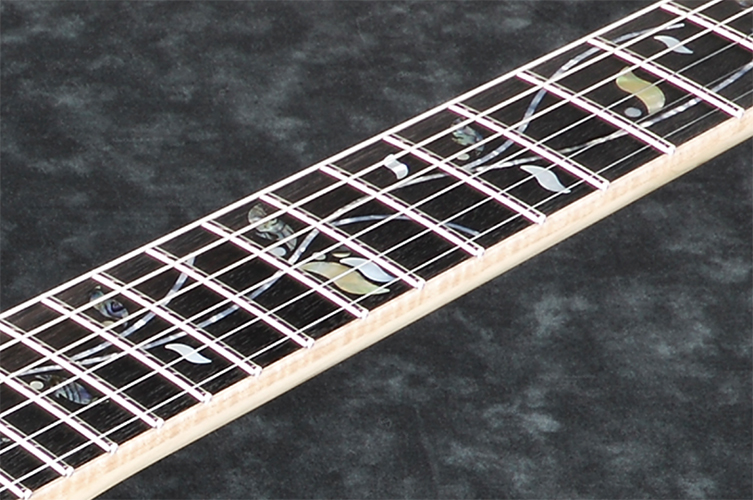 We should briefly mention the bridge, too. What looks like a standard Ibanez-produced take on the Floyd Rose tremolo (all 'Edge' and other bridges like this are still licensed from Floyd's original patents) is actually the Edge-Zero ZPS3 bridge. This particular invention is made from Duralumin, a lightweight and super strong aluminium alloy used in the aircraft industry. If you've ever suffered the 'made of toffee' feel of cheap locking trems, you owe it to yourself to test drive one of these: it's what Floyd Rose trems should all feel like! The response is fantastic, and as a bonus, it's so stable that even a broken string won't throw you out of tune! How about that?
Ibanez J Custom JCRG2104 Flamed Chestnut
There's no Tree of Life this time, but the JCRG2104 brings an equally impressive look to the fore courtesy of its unique flamed chestnut top. We don't often see this particular timber being used decoratively, and going by the evidence here, that's something we need to have remedied! It's a stunningly deep grain, with several dimensions shimmering beneath that blue finish, all of them catching the eye at different points.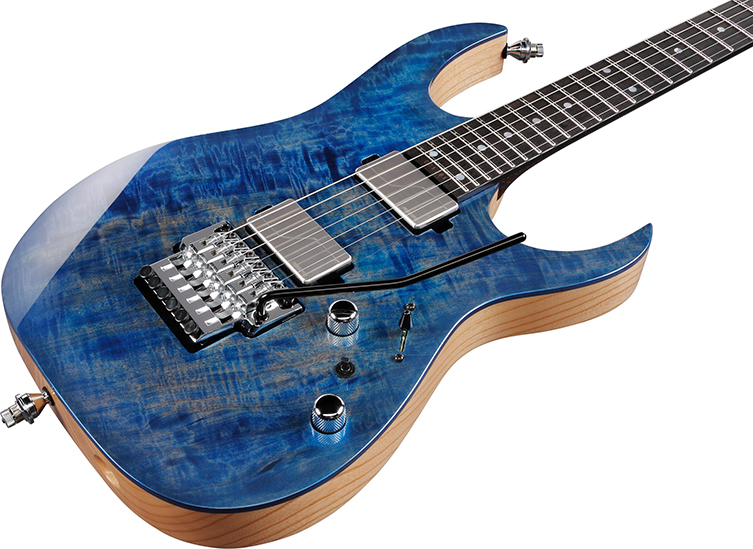 The flamed chestnut sits atop a body of swamp ash, a wood that has been a clear favourite of tone-mongers for decades. Swamp ash is a rare timber and a highly resonant one: you get great cut, sustain and harmonic overtones from a nice piece of Swamp Ash, which is perfect for expressive lead and rhythm playing.
The flames continue on the neck, which uses multiple pieces of flame maple and wenge to provide a strong and smooth surface to grab. An ebony board here shows off the J Custom builders' skill at fret work, with absolutely perfect finishing on the ends of these stainless steel frets. A thousand tiny details add up to make all the difference here, and your left hand will take it all in instinctively.

Instead of tried and proven pickups like the DiMarzios and Seymour Duncans we've encountered today, the JCRG2104 uses a set of up-to-the-minute Fishman Fluence Modern humbuckers. They are currently the pickups of the moment, and, as active units, have quite a different sonic palette from the passive units we've thus far taken in. In fact, each Fluence pickup is switchable to provide two quite different tones, each with a different feel, response and character. In this case, the Modern units here are ceramic and are switchable between 'Active High Output' (huge crunch with a tight low end) and 'Passive Attack' (still high output but with more dynamic variation and a somewhat more 'organic' sound). Between these two modes, all rock sounds are catered for masterfully. All in all, this is a tool of both striking beauty and devastating effectiveness.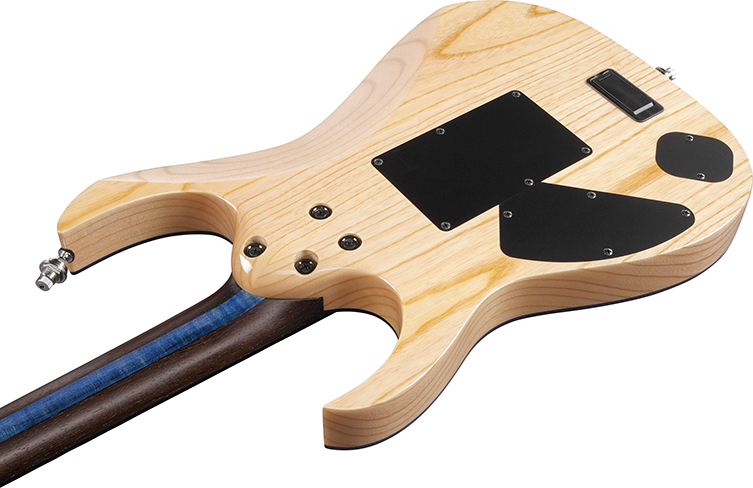 J Custom: the Ultimate Rock Guitar
Ibanez set out to make the finest Japanese-made guitar in history, and if you like your guitars built to rock, we think they've achieved that goal with aplomb. Ibanez's J Custom department have perhaps done more than any other brand to put Japanese luthiering on the worldwide pedestal that it deserves, and it's satisfying to see those stringent quality measures firmly in place in 2022, not to mention their taste for the 'progressive' in terms of visuals.
Yes, there is far more to boutique guitar building than artfully distressed Strat clones, and Ibanez J Custom are ample proof. For those about to rock, make sure you experience the wizardry of Ibanez J Custom. We salute you!
Click to View our Selection of Ibanez J Custom Guitars
Ray McClelland