What is a Resonator Guitar? Our Experts Explain
Published on 01 August 2022
What is a resonator guitar?
Have you ever played a resonator? Or has the closest you've been to one a loving gaze at the Brothers in Arms front cover? If the latter is the case for you, then let us use today's blog to introduce you to a guitar concept like no other!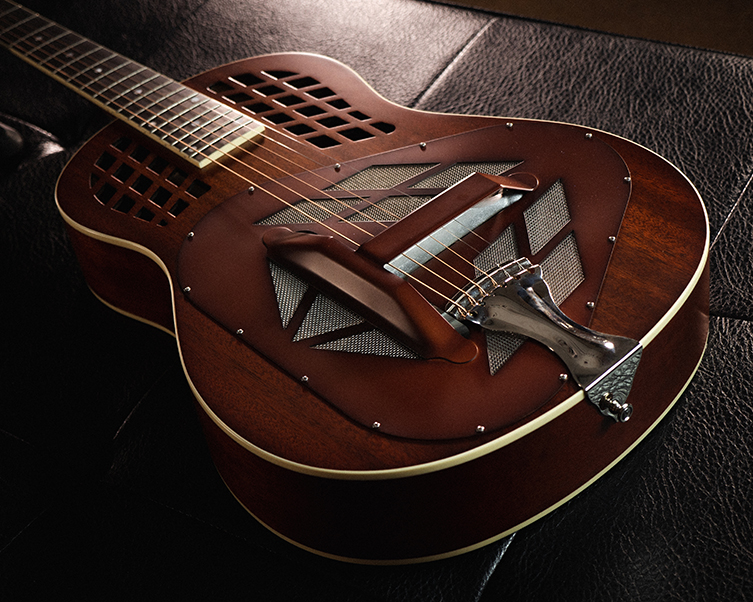 Resonator guitars are instruments that we, as guitarists, are all at least somewhat familiar with, though many of us have never played one. People understand that they look like fancy metal-bodied acoustic guitars, but that there's something unusual and special about them. For many, this is as far as they get, so today we'll go a little further into the world of the resonator. We'll look at what they are, how they work, their history, and some of the more notable users. We'll highlight some of the features and differences of certain models, and even recommend a few to you later on!
Resonator Guitars
So, once again: what is a resonator guitar? Well, generally speaking, it's a type of acoustic guitar that uses specially 'spun' metal cones placed inside the body to pick up the sound of the string and amplify it. This is instead of the typical bracing and 'soundbox' (carefully shaped empty space) of a standard acoustic guitar such as a dreadnought or jumbo. It's a significant difference, and it's what gives resonators their highly distinctive bite and sound. The string vibration goes through the bridge and into one or more of these spun metal resonator cones, creating the sound as it does so. The resulting tone is generally on the loud side when compared to an acoustic guitar, and therein explains the reason for their existence! In a pre-electric guitar world, resonators answered a need for a louder guitar in order to compete with ever-louder bands and groups.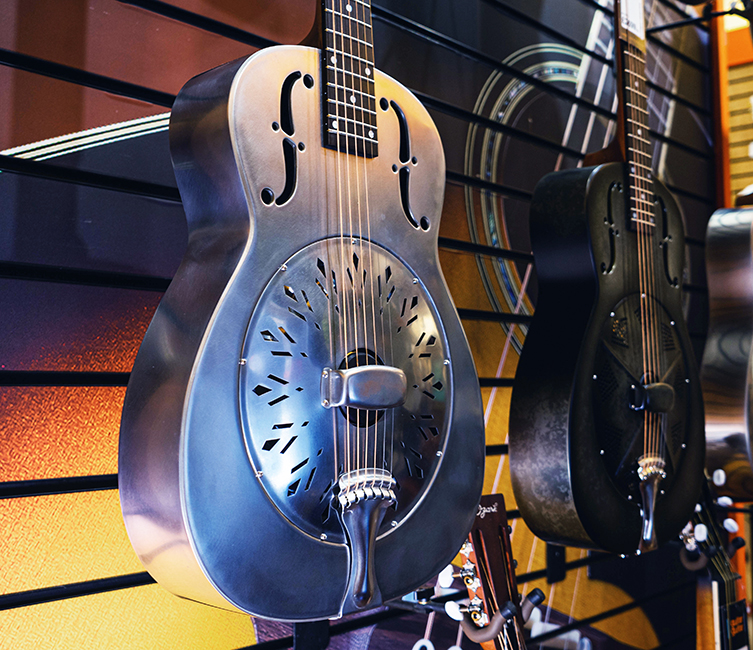 How Does a Resonator Guitar Work?
Some resonators are made with wooden bodies and some have metal bodies, but all of them use those metal cones to make their sound. The number of cones inside the body is generally either one or three, with the greater number adding to the overall volume as well as (some say) a more complex sound. This is where the term tricone comes into play, and you'll also hear about spider resonators, which are so-called due to the method of attaching the cone to the body via a set of metal spokes. It looks more like a wheel to us than a spider, but that's tradition for you!
Talking of tradition, resonator guitars were invented in either 1927 or 1932 (we've found conflicting reports) by National Guitars, who still make them today. They are mainly known for tricone styles, whereas brands such as Dobro are famous for single cone resonators (also known as biscuit resonators, for which we have no real explanation) and spider models.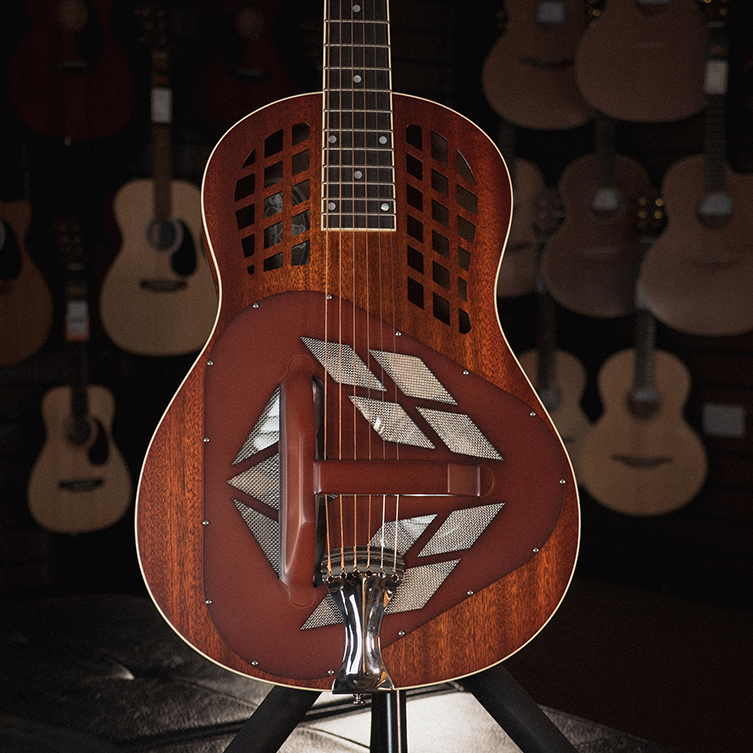 Resonators can have two different types of necks, and these differentials are represented in the terms we use to refer to the instruments themselves. Round neck resonators have normal guitar necks, basically, and square neck resonators have much larger necks that are entirely squared off at the back. These are intended for laying across the lap and playing flat, in a method akin to a lap steel (ahh, terminology!), whereas round neck resonators can be used either like that or played 'normally' like a guitar.
Playing a Resonator Guitar
So, we've just mentioned the main decision you'll face when playing a resonator: lay it on your lap or play it like a guitar? Round neck models can do either, and you can use a device called a nut extender to raise the action for slide, but it does put extra stress on the neck to be changed back and forth often, so do keep that in mind. Do also keep in mind that most players simply stick with a pretty high action for the benefit of slide playing, making do with a slight compromise in feel when fretting notes, in order to make their resonator more versatile. Never underestimate the hassle factor!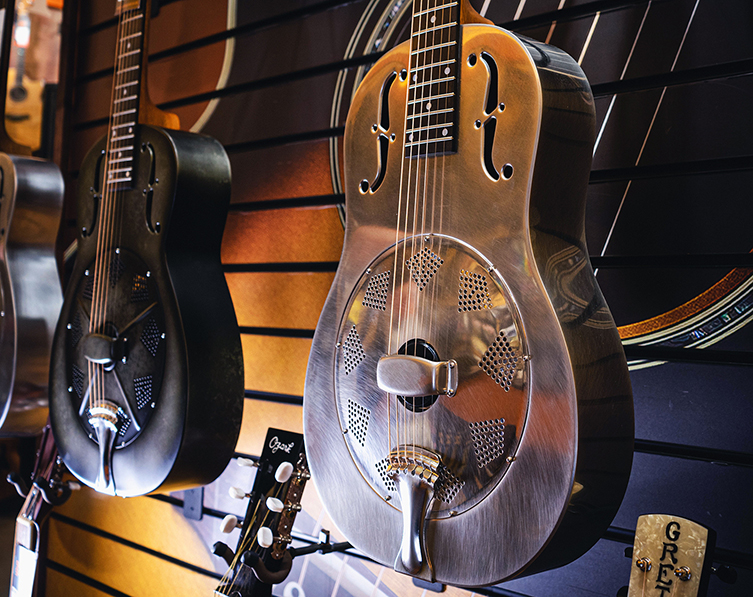 So, round neck resonators can therefore be fretted and chorded, just like a normal guitar. Traditionally, round neck resonators are tuned to either standard tuning, open G or open D, because most players still use them primarily to play slide with. Blues players, for example, tend to go for a round neck model, since they might need to play rhythms and riffs as well as slide.
Square neck resonators, on the other hand, are used explicitly for slide playing to the extent that they often don't even have frets! The strong necks and up-pointing tuners lead many guitarists to believe that these resonators intonate better and stand up better to more radical tunings. A typical square neck tuning is G-B-D-G-B-D, but there are no real rules. These resonators are laid flat on the player's lap, and played with either a slide or tone bar.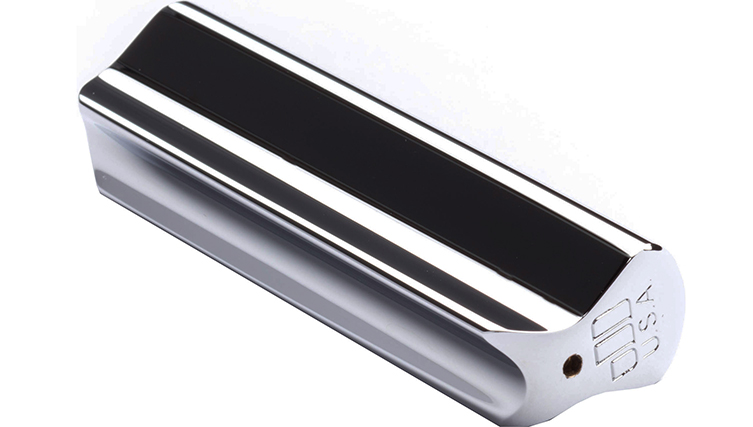 Traditionally, square neck resonators are played by bluegrass and country players but again, it's not like there's a decree ruling it! It's fun to try both and see how each 'resonates' (sorry) with you as a player.
Famous Resonator Players
As mentioned, resonators are most often seen in the hands of bluegrass, blues and country players. Without claiming any overt authority, here are some examples of world famous resonator players from a number of these genres over the years…
Mike Aldridge (1938-2012)
The late Mike Alrdrige is considered a master of resonator playing. More of a Dobro player, his band The Seldom Scene are legends in certain circles. A huge influence on other bluegrass and country artists, Aldridge actually didn't begin playing full-time until he was in his forties. Mike preferred a square neck Dobro, but frequently played it standing up, proving that it's really all about what you want to do, not what you're expected to do!
Cindy Cashdollar
Five-time Grammy winner Cindy Cashdollar (real name: Cindy Cashdollar) is a superb steel and slide player from upstate New York. Music was in the family blood for Cindy, and she has continued the tradition via her own record label, Silver Shot Records. Cindy mainly plays a steel bodied National Tricone model, and has played with every legend in the book, from Dolly Parton to members of The Band.
Jerry Douglas
Jerry Douglas is another resophonic player who has amassed a garageful of Grammy records (14 at last count) and is well known both for his day job as part of Allison Krauss' band, Union Station, as well as a whole other career as songwriter, session man and record producer. He's been on over 1500 records and has been described as being 'to the resonator guitar what Jimi Hendrix was to the electric guitar'. Now, that was on his own website's bio, but we'll still go with that!
How to Choose a Resonator Guitar
So, you love the look and sound of resonator guitars and have decided to go for one of your own! Well done, it's a fantastic world to dive into, on instruments that are undeniably beautiful.
However, you are not quite sure which model to go for so the question remains: how to choose a resonator guitar?! We can help here by looking at a few models that we currently stock, taking in some of the inherent differences of each model. What we can't do is replace the experience of trying them out for yourself, so we recommend reading this blog and then heading into your nearest guitarguitar store and experiencing these instruments first hand.
National NRP 14 Fret Steel
Handmade in Los Angeles since the 1930s, National guitars are the defining resonator brand. This 14 fret round neck model is a tricone resonator, so you'll get the full, rich resophonic sound and experience. Play it like a guitar or lay it flat: the National NRP 14 fret Steel model lets you do it all with a fully authentic look and sound. The resonance is amazing!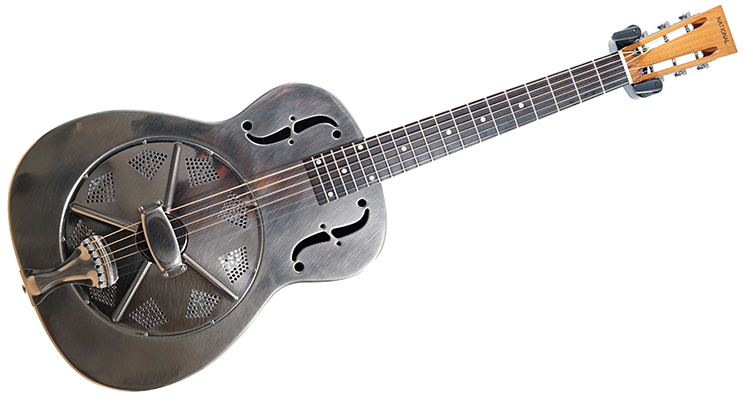 The body is made with steel, then it's nicked-plated and hand rubbed to get that beautiful, slightly distressed rubbed steel look. National are the inventors of the resonator guitar, but they are also the greatest, most unsurpassed practitioners of it, so it's well worth going straight to the source for this type of instrument. There's nothing quite like a steel bodied National Tricone resonator, and every guitar player should experience one at some point.
National T-14 Brass with Pickup
Our next choice is also from National, though it's somewhat different to the one we just saw. The National Reso-Phonic T-14 Cutaway is actually a 'new' model, having been on release since only 2018. This has a brass body as opposed to steel, which alters more than just the look. Brass and steel are sometimes compared to chocolate and strawberry flavours of ice cream: both are equally nice but they aren't the same! Brass is a softer metal and so delivers - to most ears at least - a correspondingly softer, warmer sound than steel. It's slightly quieter too, and some would say sweeter. Not everybody wants a resonator to be sweeter sounding, of course, and that's why it's important to experience the sound of both in order to let your ear pick its own favourite.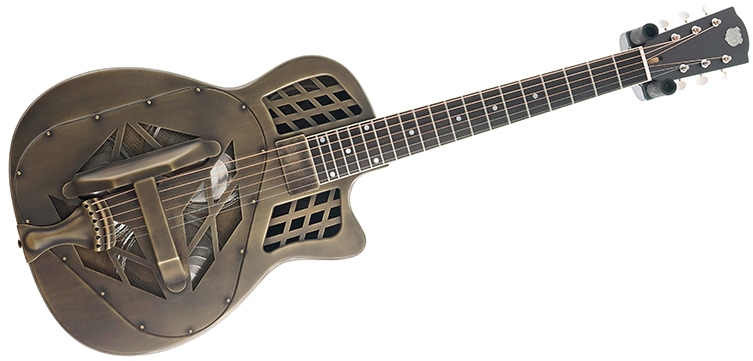 This lovely National has a cutaway body shape and also sports a fitted 'slimline' neck pickup, which is actually a humbucker. You get a nice blend of quiet operation mixed with a detailed and nuanced reproduction of the very resonances and overtones that make the instrument special in the first place. This removes the hassle of mic'ing it up live, and makes for an altogether more versatile instrument.
Epiphone Dobro Hound Dog Deluxe
If you want to try out the resonator life but are not sufficiently well-heeled to afford a National, this next choice may just do the trick. Dobro were historically National's big competitor, and with Gibson now owning the brand, it's possible to get some very affordable Dobro branded guitars via Epiphone, Gibson's imported sub-brand.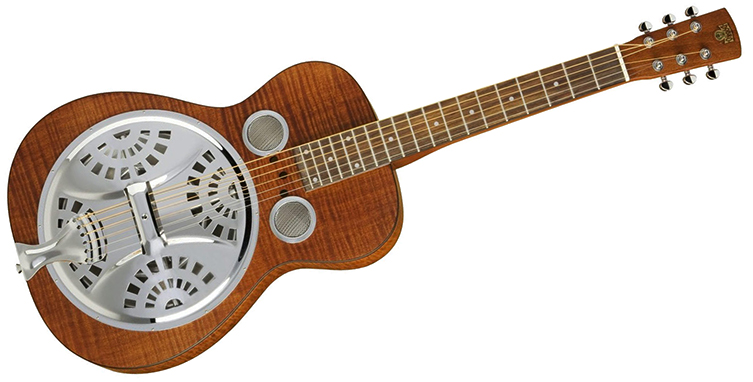 The Epiphone Dobro Hound Dog Deluxe is a round shoulder, single cone resonator with an attractive veneer of flamed maple on the top to accompany the steel. It's a comfortable and playable instrument for sure, and the fitted Fishman resonator pickup ensures that you'll sound authentic on stage, too.
A Wonderful Alternative
Resonator guitars are a wonderful alternative to standard guitars. They open up a whole new sound and playing style for you, but allow you to fully transfer your existing skills and knowledge, so there's none of those difficult 'new instrument' hurdles in place. That said, becoming a master on one takes a lot of dedication, so if you're looking for a new focus for your playing, resonators may provide exactly that.
They are a new colour for your palette if you record and produce music, and they have their own attitude and sensibility that's just fun to get to grips with. A resonator sounds like no other instrument, and despite its closeness to a guitar in so many ways, you may find that you play one with a completely different headspace, which can be very conducive to the creative process, not to mention enjoyment!
We currently have a fantastic selection of USA-made National resonators available, and we stock a full appointment of other brands too, to fit all budgets.
Now all you need to do is figure out which finger to put the slide on…