We Compare Eastman Acoustics: AC vs Traditional
Published on 11 March 2022
Eastman is a guitar brand that deserves your closest attention.
Whether you prefer contemporary designs or are more 'historical' in your tastes, Eastman are making the kinds of guitars that get aficionados from both camps excited. Compared to the big heritage brands, Eastman are new kids on the block, but that hasn't stopped them causing major waves in guitar circles, especially for those who favour beautiful aesthetics, superior workmanship and world-class tone.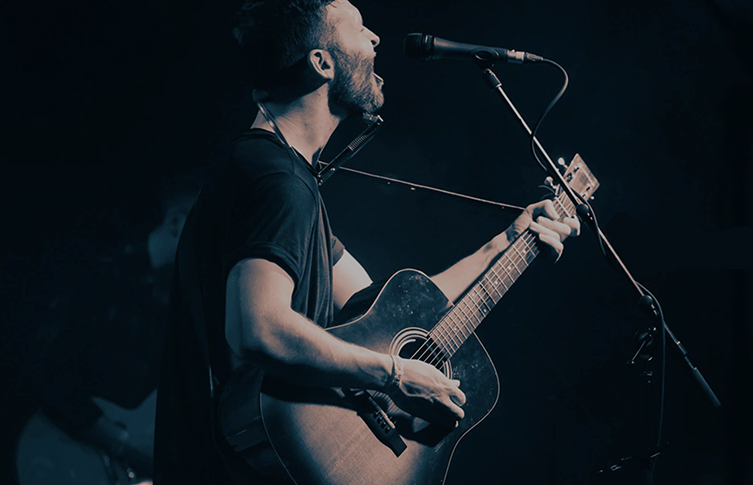 On the occasion of the brand's 30th anniversary, we felt it appropriate to shed a little light on the company, it's background and it's models. Though Eastman make a range of instruments, we'll focus today's article on their superlative acoustic guitars.
Join us as we dive a little into the background of the company and look at their main acoustic ranges, the AC and Traditional series. We'll see how and where Eastman guitars are built, and how they differ from the competition. In preparing for this article, we spoke with Eastman's Product Development Manager Pepijn 't Hart in order to get the inside perspective directly from the company.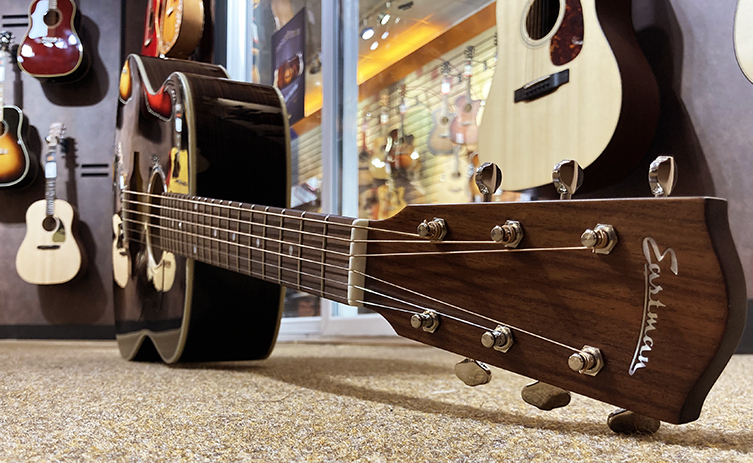 Eastman's Origins: the Handmade Difference
Eastman was started in 1992 by Qian Ni, and is referred to by Eastman themselves as an 'American/Chinese' company. Initially, Eastman created violins, using the time-honoured hand-tooled techniques pioneered by Stradivari. These methods have been carried across to their guitar and mandolin construction too, with each instrument receiving a high level of hands-on building in Beijing, where all Eastman products are created. As Pepijn tells us, "Each craftsman (or woman) does one specific part of the build process – this results in an instrument built by pure specialists, each in their own field of expertise".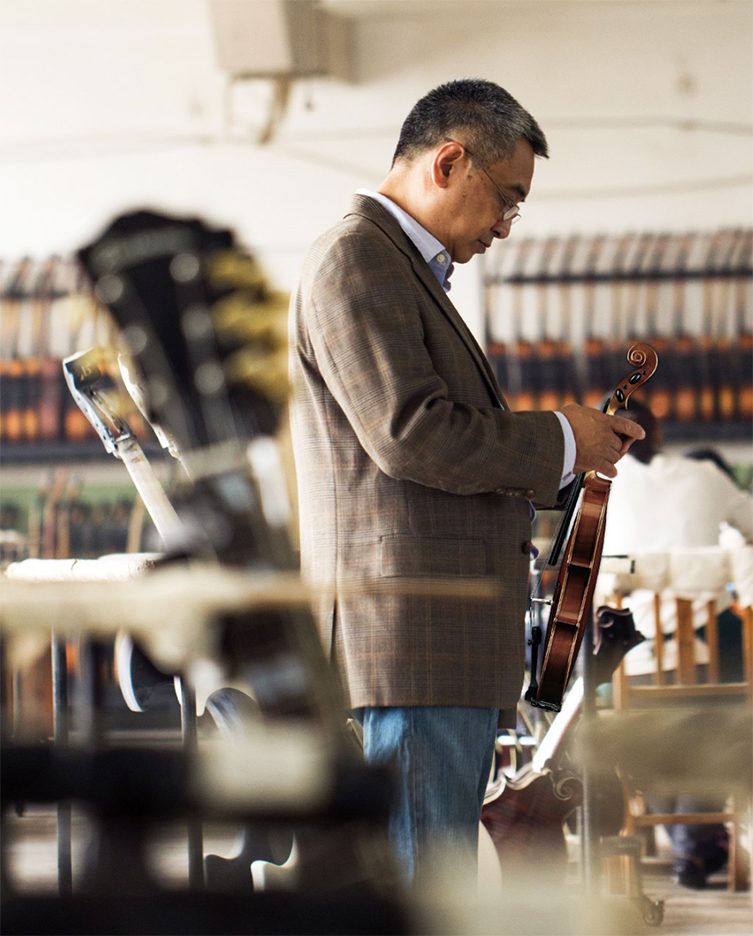 Indeed, human beings seem to be the very centre of the business, as Pepijn also notes: 'It's the people building instruments that define who we are: the Eastman family. It truly is like that, as Eastman is family owned. But also many of our craftsmen and Craftswomen are related, or married too'.
Eastman began building archtop guitars and mandolins in 2004, with acoustic models following later. Today, the company offers a wide range of eye-catching acoustic and electric instruments, and their credo is summed up well by Pipijn: 'At Eastman we want to make the best possible instrument available for everybody – Custom shop quality within everyone's reach'.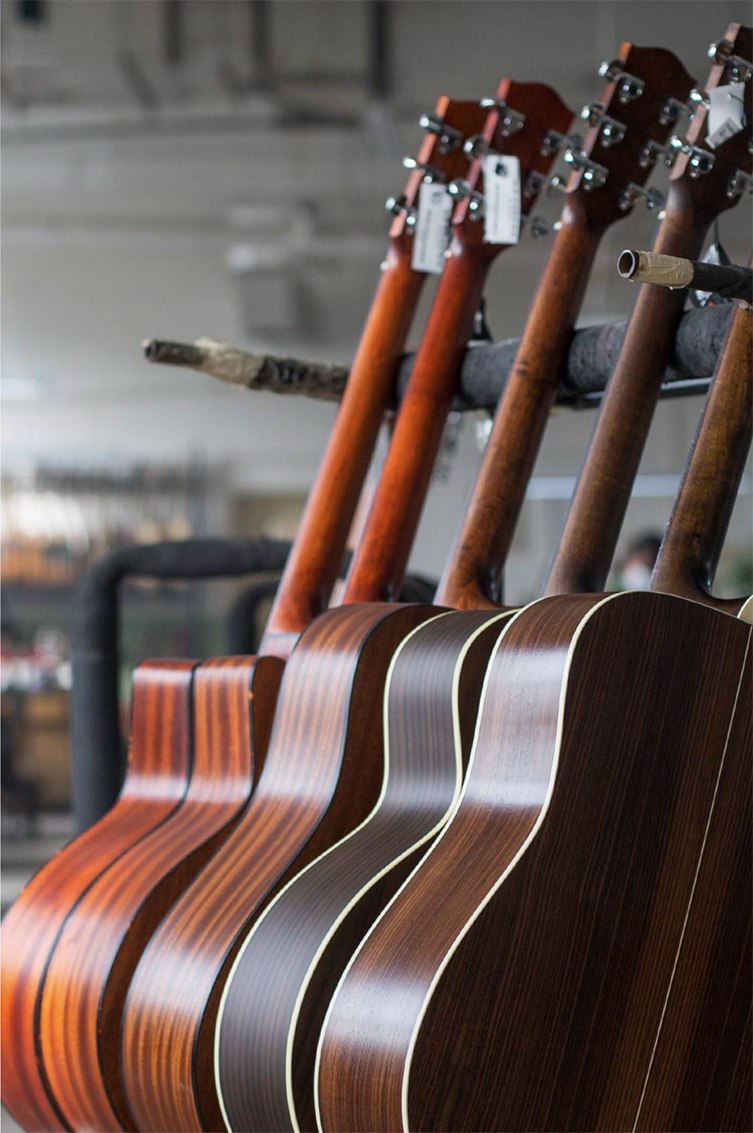 The Acoustic Ranges
Eastman divide their acoustic guitars into three main ranges: PCH, Traditional and AC. We'll be looking at examples from the Traditional and AC ranges in this blog but we'd mention that their PCH range (which stands for Pacific Coast Highway) are a remarkably affordable series of what Eastman determine to be 'the best possible starter guitars in the world'.
The Traditional range uses shapes and builds based on historic acoustic guitar models like the parlour, 00, OM, dreadnought and Jumbo. These are built in the manner described above, using high grade woods, sourced 'from the best wood suppliers in the world'. Eastman's Traditional guitars will appeal to those who want an expertly built instrument that pays tribute to the 'traditional body shapes that built the history of steel string guitars'.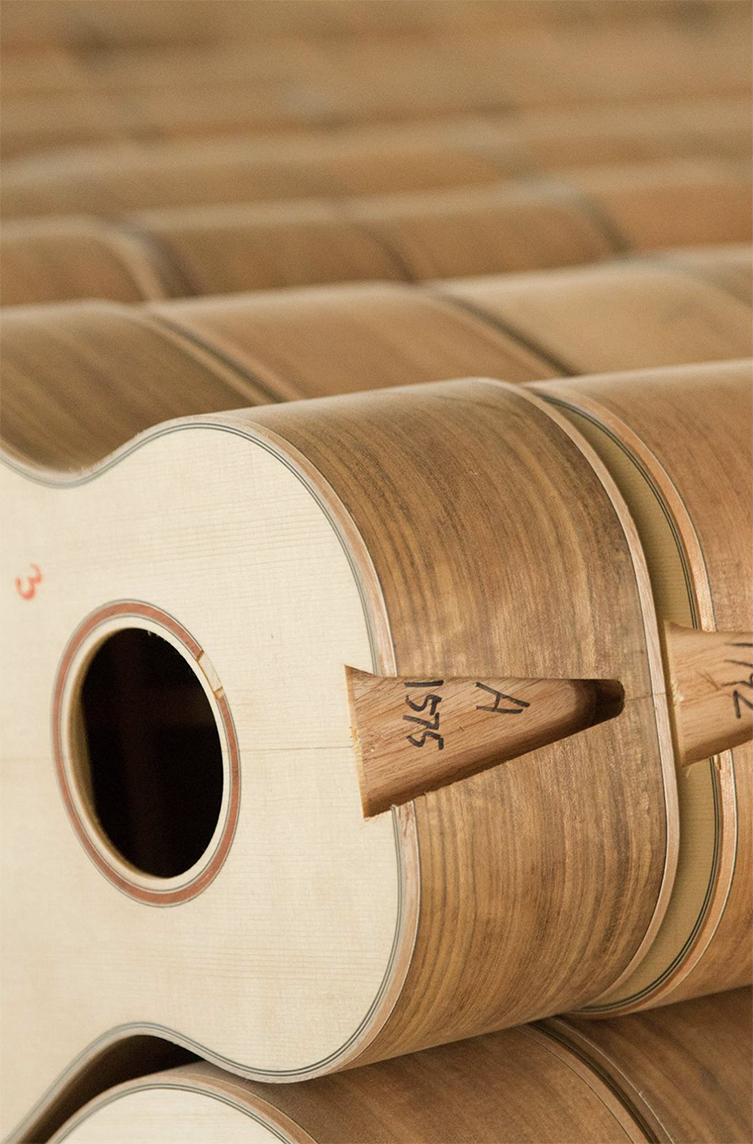 Eastman's AC range, on the other hand, is placed more firmly in modernity. AC stands for Auditorium Cutaway and gives a clue to the main design element: a Grand Auditorium body shape. This shape is an excellent all-rounder, capable of great expression whether strummed or fingerpicked. Eastman's AC guitars are where you'll find pickup systems, intricate inlay work, bevels in the body and also soundports, which we'll see a little more of right now…
Eastman AC722ce
Taking a Grand Auditorium model as our first example today, we've opted for the popular Eastman AC722ce. This is a beautiful guitar, and a good example of the AC range' overall style.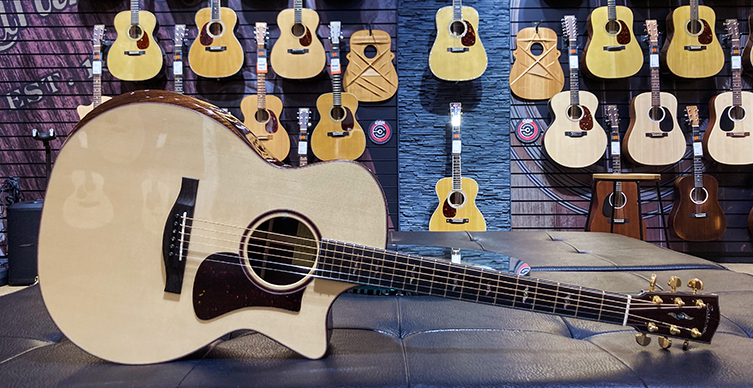 The attention to detail is remarkable: you'll see our close up picture of the gorgeous turquoise purfling detail as just one indicator of the artistry on offer. Next, take in the beautiful bevel in the lower bout of the body: it's built for comfort, of course, but it also adds an elegance to the instrument's looks, as do the abalone fingerboard inlays. It's a simple, clean, tasteful look that's subtly stunning.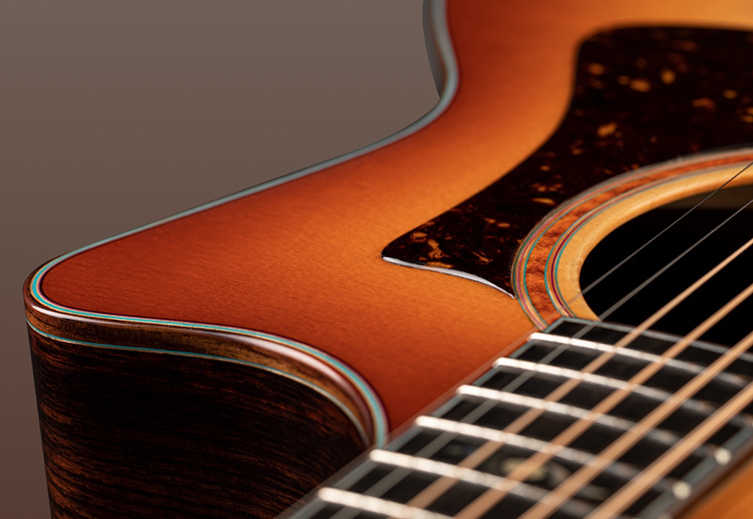 In terms of timbers, the European (Alpine) Spruce top is matched with Indian Rosewood to create a bright and resonant tone with plenty of definition and dimension. Spruce and Rosewood are a time-honoured combination for achieving expressive tone and great projection, and these varieties of timber are of the highest quality. All-solid guitars like this just vibrate better, and the higher the timber quality is, the better your notes will sound and interact with each other. This guitar positively sings!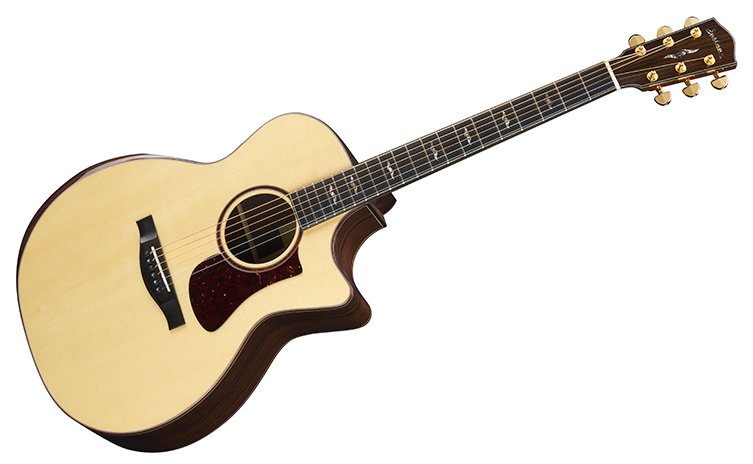 Given that the Eastman AC722ce is built for performers, there is a Venetian cutaway to allow unparalleled reach to upper frets, and a quality LR Baggs pickup system fitted for a plugged in tone that impresses as much as the guitar's natural voice.
Eastman E20SS
Our next Eastman choice is from the Traditional range. As you can see, this beautifully finished model is a slope-shouldered dreadnought, and it evokes that halcyon Golden Age quite effortlessly.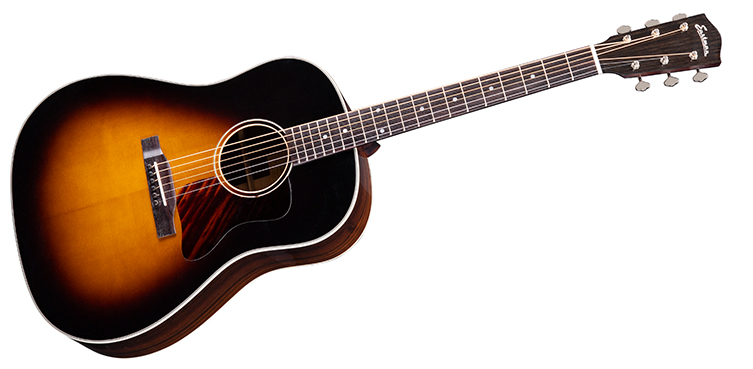 Whilst the Eastman E20SS also has a Spruce top, it's interesting to note that this variety is Adirondack Spruce from the USA. This is a much stiffer timber, and so is correspondingly louder, giving the instrument a whole other character compared with the AC model we've just looked at. It's easy to read 'Spruce' and not consider it any further, but these two Spruce topped, Rosewood bodied guitars are significantly different sounding! Both feature hand-scalloped bracing and precision tap-tuned tops, but both still very much have their own identity.
With this traditional Eastman E20SS, that extra volume and larger dreadnought body size come together to make for an instrument that excels in ensemble situations. You'll stand out in a group setting with lots of lively dynamics and tone! This is a great style for singer-songwriters who want to fill a room with sound, but who do not require the huge sonics of a Jumbo.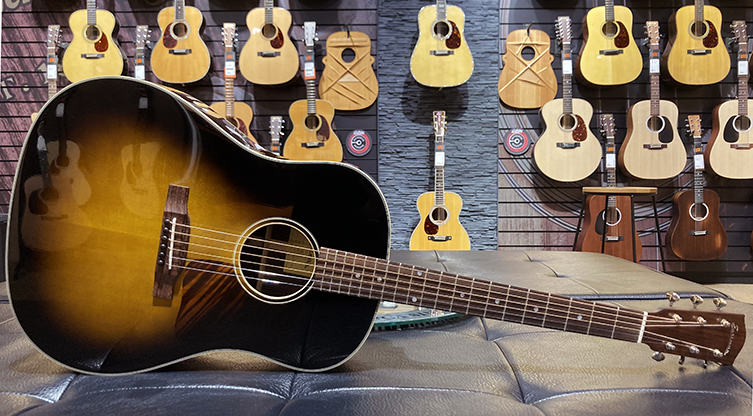 The E20SS keeps things traditional with it's pickup-free design, slope-shouldered looks and beautiful tobacco Sunburst finish. This is an all-solid timber, meticulously crafted instrument that will resonate and mature for decades to come. It's truly a guitar for life: a songwriting companion, a casual strummer and a top-flight recording instrument.
Eastman Guitars
There is far more to the Eastman brand than acoustic guitars, for sure, but it's an area in which they certainly excel. We are delighted to be able to sell them in our stores and online, and we invite you to try one out next time you're jonesing for a new acoustic guitar. Whether it's a vintage-style 'historic' classic or a contemporary tone machine you want, Eastman has you more than covered. We'll leave the final words to Eastman founder Quian Ni himself:
"As a musician, I founded our company with the hope of providing world class instruments for musicians. I personally enjoy the process of working with our luthiers and production team nearly every day to develop new products and improve what we currently manufacture. Eastman is a family business, and I feel very honoured to be able to be part of such a wonderful company."
Click to View our Eastman Acoustic Guitars
Ray McClelland