Famous Guitars: The Story of the Hitmaker
Published on 05 April 2022
There are very few guitars responsible for as many hits as Nile Rodgers Hitmaker. Its sound has been a key ingredient that Rodgers has injected into the production of many artists' songs over his decades-long career. His musical input is still greatly sought after, and his iconic guitar is still being used to help pump out hits to this day.
Origin of the Hitmaker
Rodgers first came across his Strat in 1973 when he made a trade at a small shop in Miami Beach, Florida. Little did he know that he had just found a lifelong companion. The guitar was already slightly unusual in that it was a 1960 model retrofitted with a 59 neck. It was also exceptionally lightweight.
The guitar wasn't originally white; Rodgers, an avid Hendrix fan, stripped it and gave it its white finish. He also added the mirror scratchplate in an attempt to add a little more of a show business aesthetic. He noted that the mirrored surface would make the lights dance off his guitar, and he would often use it to redirect the spots back into the crowd.
The speed knobs have become an integral part of the overall look of the Hitmaker. Interestingly, the speed knobs were added out of necessity. In the formative years of Rodgers' career, he would be required to perform a lot of other people's music of the day, and that music often required the popular fade-in guitar effects achieved by rolling the volume pot on the guitar. The speed knobs were installed to help him achieve this sound.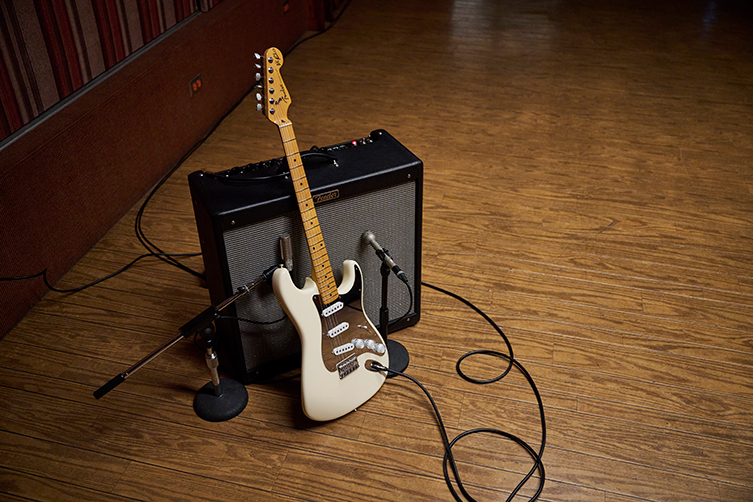 The Name
It was Nile Rodgers himself who dubbed his guitar the Hitmaker. Some guitars possess an almost mythical ability to inspire their players, and this guitar came to inspire Rodgers at a pinnacle moment in music history. His band Chic were pumping out hits that were being pushed hard by the world-renowned New York club Studio 54. Studio 54 was the place to be in the '70s, and it became an exclusive place where huge names would gather to let down their hair.
Rodgers recalls a story that perfectly embodies the comings together of the right time, place, people, and instruments required to make a hit.
Grace Jones had become a fan of Chic's second single, and she decided that Nile Rodgers should be a co-producer on her next record. So she invited him down to Studio 54 to meet her and discuss the arrangement, but upon arrival at the club, Rodgers was turned away by the bouncer on the door.
Knowing he wasn't getting in that night, he decided to head back, pick up his strat, and start vibing a song with his band about his experience that night. The song would evolve and grow to be Le Freak, one of his biggest hits of all time.
The guitar would co-star in almost all of Nile's guitar contributions to hit records. The list is long and comprehensive, but a few highlights include; David Bowie's "Let's Dance", Madonna's "Like a Virgin", Sister Sledge's "We Are Family", Diana Ross's "I'm Coming Out", Duran Duran's "Notorious", and Daft Punk's "Get Lucky."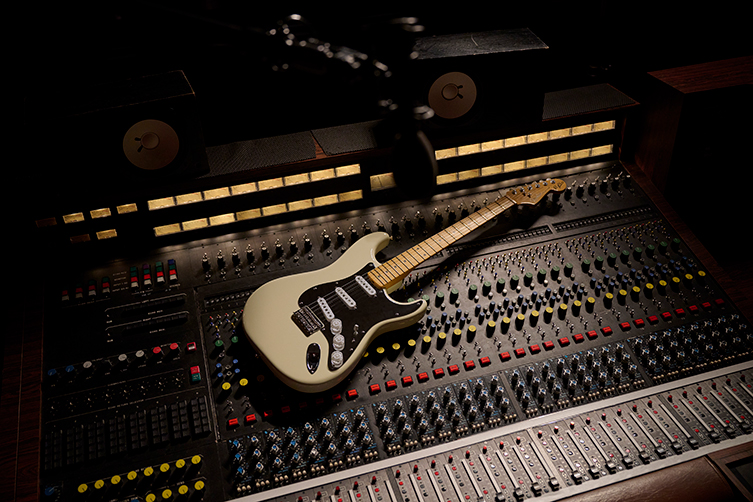 Own the legendary guitar
Fender have worked hard to bring life to an authentic tribute of the legendary Hitmaker Strat. Special attention has been paid to the unique qualities that have set this guitar apart from the pack. Due to the handcrafted nature of Fender guitars during the 60s, each and every body had a slightly different shape. The uniquely thinner 60's alder body of the Hitmaker also had notably deeper contours. These features have been carefully mapped out and replicated in this new tribute.
Fender have gone the extra mile, creating a guitar that not only looks like the Hitmaker but sounds and feels like it too. The 59 neck profile gives you an accurate feel of the original, whilst specially voiced Hitmaker single coils have been designed to bring the iconic quack out of this strat.
To top it off, the guitar comes with a vintage-style case with Hitmaker embroidered into the interior.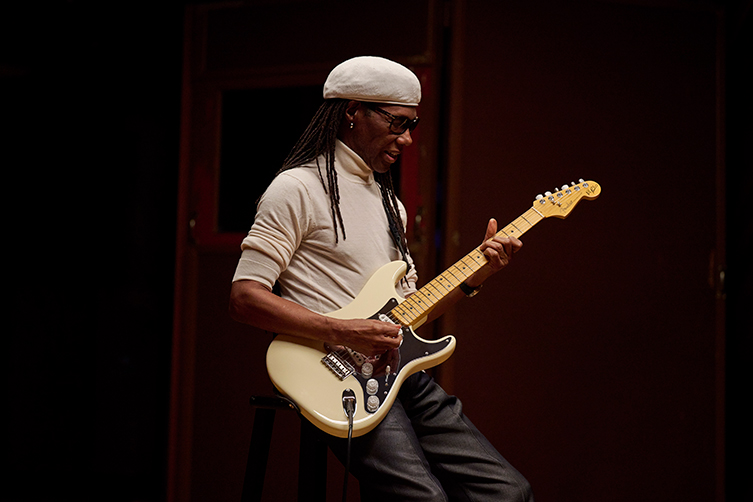 Nile Rodgers puts a huge amount of his sound down to his iconic guitar. The two of them have worked side by side in an inseparable bond between man and guitar. He sums it best in his own words "I would have bought more than two hundred of these things in my life trying to find one, and finally the only way I could find another is Fender had to make it."