RAMMSTEIN: Top Ten Songs
Published on 23 May 2022
They write songs about some extremely controversial subjects, they shoot actual fire at their audiences and they do it all to a soundtrack of sledgehammer guitar riffs mixed with techno keyboards and arresting baritone vocals. In German.
Who else could it be but Berlin's finest, Rammstein? Named after a national disaster at an airshow (obviously) and expertly toeing the line between intelligent, hyper-sharp subversion and juvenile delinquency, Rammstein are a band that you can't really have a mild opinion on. For nearly thirty years, these turbo Teutonics have brought an aesthetic that's as uncompromising as their sound. They may look like the world's evilest boy band in their press photos, but go to a Rammstein show and you'll see them setting each other alight, being cooked in giant pots and (ahem) performing some less descriptively acceptable routines, all in the name of a good show.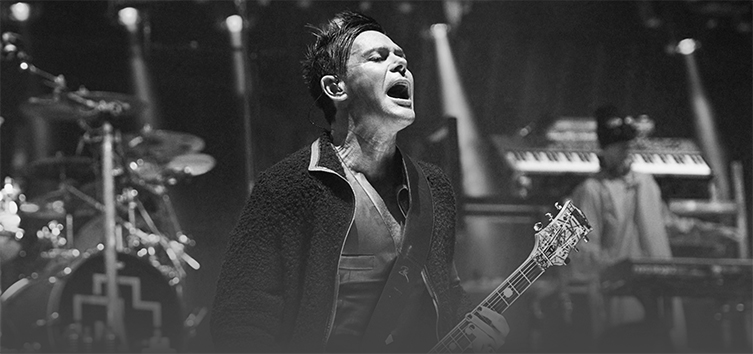 And a good show is exactly what Rammstein put on. They are one of the world's biggest metal bands (and a bunch of masochistic pyromaniacs to boot), so live performances are essential for anyone who enjoys a loud, theatrical blast of operatic, industrial metal. Don't we all?
Rammstein released their newest album, Zeit (which translates as 'Time') in April and announced a whole slew of new worldwide arena and stadium gigs in support. What a fine time, then, to look back over Rammstein's career so far and pick out ten gems from their unstoppable catalogue! In no particular order, here is the definitive sound of the neue deutsche härte!
Mein Herz Brennt (My Heart Burns)
Our first choice today is the fantastically dramatic opening track to Rammstein's career-changing third album, Mutter. Here is where the quintet collectively upped the ante in terms of scope, sonics and size. The orchestral parts became something of a calling card for the band, but this was the first time they used them so deliberately in the mix. The guitars, as always, sound like actual fire, or blow torches, or anything else absurdly hot and dangerous. As a starting track, this is some statement of intent.
Mein Teil (My Part)
When we mentioned earlier about controversial subject matter, this was one of the (number of) tunes from the band that instantly sprang to mind. It's based on a true life story of cannibalism and murder, by two quite clearly crazy yet consenting individuals. We never said Rammstein were a wholesome band, now, did we?
Musically though, it's a titan, beginning with an absolute barn-burner of a riff accompanied by some decidedly sinister choral vocal samples. Guitarists Richard Z Kruspe and Paul Landers tend to play exactly the same riffs at all times, with what we'd describe as extremely 'expensive' high gain tones. In fact, Landers uses a DI'd Sansamp for everything, leaving Kruspe to spend his cash on boutique tube amps and mics. Together, it makes the Rammstein sound and it's obviously one of the best metal sounds out there.
As for the 'solo', we'll leave it to your imagination as to what type of device was employed to make that screaming sound. Needless to say, it's very 'Rammstein'...
Rammstein (Battering Ram)
This dark tune is from Rammstein's debut album, Herzeleid ('Heartache'), and tells the tale of the airshow disaster from which the band took their name. 'Rammstein, ein mensch brennt' (Rammstein, a man burns) is quite a way to start a tune! Although the word 'Rammstein' translates as 'battering ram' - 'ram stone' if we are being literal - the name also references Ramstein airport, where the incident occurred in 1984.
In concerts, this is the song in which Till would don a chainmail greatcoat and set fire to himself, proving to one and all that there is no room for compromises in his band. Film director David Lynch obviously approved, giving this tune and Heirate Mich ('Marry me') lots of space in his movie Lost Highway.
Bück Dich (Bend Down)
Rammstein's second album, Sehnsucht (Longing), built on the already uncompromising sound of their debut record and brought them to international fame. Mutter transformed them into legends, but this is the record that made everyone stand up and pay attention.
It doesn't take too much of an imagination to catch on to the meaning of Bück Dich. It's one of an increasing number of sado-masochistic tunes exploring the dynamics of power and consent in relationships. If you don't speak German, of course, this is less apparent. What's crystal clear, thankfully, is the stomping drums, queasy electronics and horrifyingly brutal riff. Also, is it just us or does vocalist Till Lindemann sound even scarier than usual on this one?
The live performance of this tune courted massive amounts of controversy in middle-America, where obscenity charges were levelled at the band throughout their tour. We'll let you investigate that little story for yourself, with the caveat that they were being deliberately provocative at a time when nobody was quite ready for it…
Links 2-3-4 (Left 2-3-4)
One does have to have a sense of humour when listening to Rammstein, but the fact remains that a lot of people take their provocative behaviour quite seriously. They've often been accused of sounding like Fascists, or Nazis or a bunch of other half-formulated noise from uninformed, knee-jerk complainers.
How do the band respond? Sometimes it's like this, where they make a song with an overtly militaristic marching beat, nick a riff from Ministry and declare themselves in no uncertain terms to be left-wing. In addition, the pyric for 'two' is changed on purpose from 'zwei' to 'zwo', an alternative pronunciation used in the German military. The chorus - 'My heart beats Left, 2, 3, 4' is also an adaptation of Einheitsfrontlied, a song written by Bertold Brecht in response to the rise in Naziism in 1930s Germany. It's a subtle reference for foreign audiences, but it's there.
What isn't subtle is the sound of the tune! When making political points, it's always better to attach them to gigantic riffs and flame throwers than to delicate protest songs. Proof right here!
Du Hast (You Have/You Hate)
Rammstein's biggest pre-Sonne hit was Du Hast, which saw the band appear on The Matrix soundtrack (though not in the movie) and perform at the MTV awards, back when MTV was a music channel.
Tapping another riff from Ministry, Du Hast is a direct, simple and wholly effective demonstration of the Rammstein sound. The title and lyric deliberately played on the German similarity between the words 'have' and 'hate': confusingly, the title is definitely 'Have' but the English language version (something the band have hardly ever done, which is a good decision) has Till singing 'hate'. Contrary? Not these guys!
Sonne (sun)
Best Rammstein riff ever? In onomatopoeic terms, Sonne's riff is easily the one most like an actual battering ram. No bumping from Ministry this time, as the band created a sound entirely unlike other metal bands. Sonne built on that quite unstoppable riff with dramatic low piano tones and a manipulated female vocal sample, whilst giving it all enough space to sound even heavier than before.
The video appeared just at the right time of MTV's history to help give the band the push they needed to be world-dominating, as opposed to merely huge in Europe. Also, who wouldn't want that guitar sound?
Stripped
As we mentioned earlier, Rammstein have almost never sung in English, or at least not for an entire tune. Certain songs (Amerika, for example) blend in a little English during the chorus, and one or two Sehnsucht-era singles were re-recorded with English vocals in a misguided attempt to sell the band to an American audience.
That said, this initially incongruous Depeche Mode cover sees the band tackle a whole tune in English for the first time. Depeche Mode is actually a great fit for the band, who have always invested heavily in electronic textures within their music, not to mention populated a similarly dark aesthetic. It hopefully goes without saying that Rammstein bolted a quite enormous riff onto this melancholic synthpop track too, transforming it into the enduring live staple it is to this day.
Ich Tu Dir Weh (I Hurt You)
Some slightly more latter-period Rammstein now, and the band still seem to get censored regularly, as if it's somehow expected of them. Ich Tu Dir Weh, a single from the hit album Lebe Is For Ala Dah (Love is For Everyone), was banned in Germany for a while due to the sadomasochistic content of the lyrics. On top of that, the record itself was banned from being displayed in public, though the German government eventually relented on both fronts.
It didn't stop the song being a big hit though, and for non German speaking fans, there was something of a mystery as to what all the fuss was about. Indeed, in most ways, Ich Tu Dir Weh is simply another classic Rammstein stomp, with a riff to die for and an eye-catching video.
Deutschland (Germany)
After taking a short ten year break, Rammstein returned in 2020 with a video that outdoes anything the band had yet released. There's far too much in the near-ten minute mini-movie to dissect here, but it's clear that the members have very conflicted, polarising thoughts about their home country. The quite unforgettable video takes in Germany's entire history, from the Roman era, through medieval times and into the future, along the way taking in witch hunting, cannibalisation of the personification of Germany, Nazi executions and the Baader Meinhof gang. Controversial isn't even the word.
Musically, the song blends Rammstein's usual elements of crunching ESP guitars and euro-dance-friendly keyboard lines, while the lyrics expand on the duality of Germany as a country: 'Germany, my heart in flames, want to love you, want to damn you'. Only Rammstein have the nerve, insight and budget to make a statement like this.
The Rammstein Sound
Guitarists looking to emulate the enormous sound of Rammstein can employ a number of tactics. Firstly, both guitarists Paul Landers and Richard Z Kruspe play exactly the same parts almost all the time. The resulting sound is far more like one huge sound than a pair of interlinked instruments.
Kruspe is a longtime ESP endorsee and uses a range of boutique high-gain valve amps from makers like Mesa/Boogie and Diezel. Landers, on the other hand, employs a Gibson Les Paul through his signature Tech 21 Sansamp Fly Rig. Each player has active EMG pickups for maximum output and minimum noise. This combination - the fat sound of the valves along with the fast, hard solid state sound - helps give the necessary sonic texture and aggression required.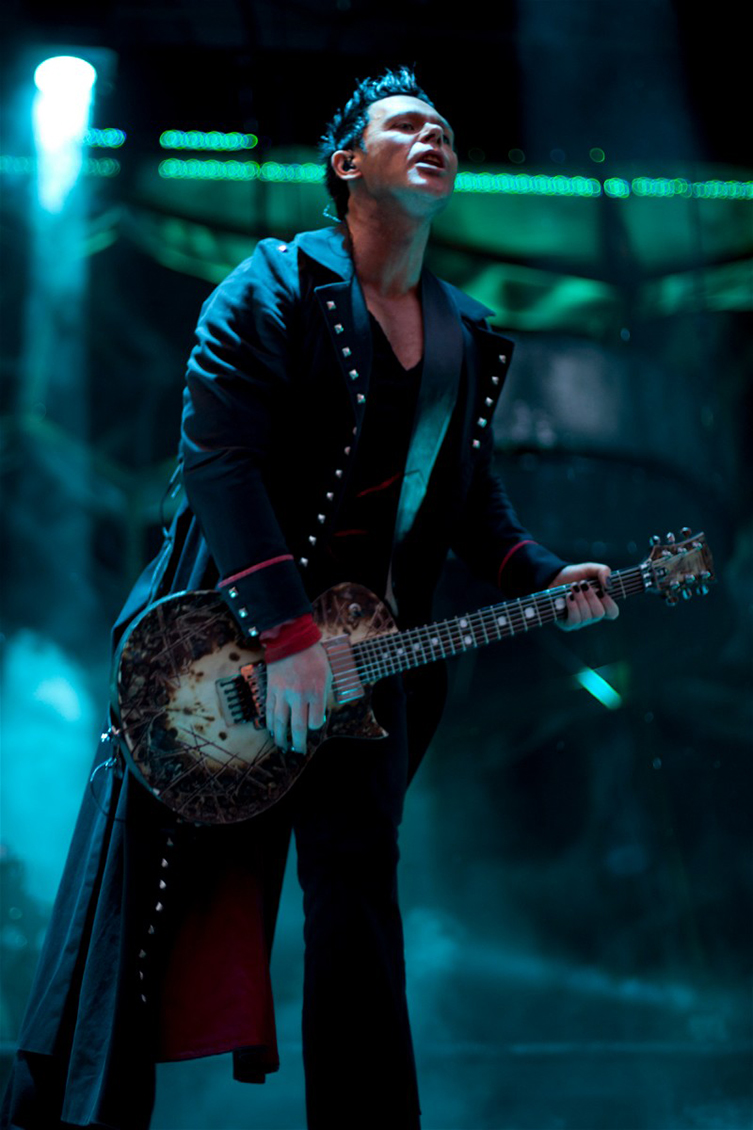 Other than that, it's a case of keeping the riffs simple, direct and expertly employed. Solos are kept to a minimum, and flamethrowers attached to guitars are not only encouraged, they are essential! Drop C tuning is employed these days, though the older stuff is in standard tuning. Adopt a menacing expression, keep your right hand muting techniques tight and you'll soon conquer the world on your own terms, much like Rammstein themselves.
What did you think of our choices today? Did we miss some classics? Hopefully when Rammstein play a stadium near you soon, you'll get all of these and more!