Positive Grid SPARK MINI!
Published on 04 July 2022
Has your playing lost a little of its 'spark'?
If so, have you tried a Spark amplifier yet?
Positive Grid's little lunchbox-sized tone machine blew the guitar-playing world away when it was released a couple of years ago. Using a combination of app-based control with a specially designed real-world amplifier, the Spark brought players a best-of-both-worlds experience that, for once, actually lived up to the hype. It quickly became the best selling amplifier we sold at guitarguitar, and has steadily remained that way ever since.
This is why we're more than a little excited to bring you the new Spark Mini.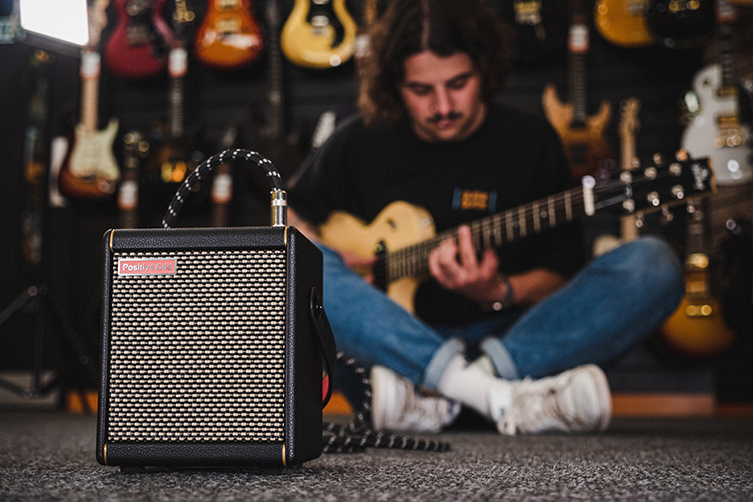 The Positive Grid Spark Mini
So, the Spark Mini is a brand new take on the Spark technology. As the name suggests, it's smaller and even more portable than the hardly-cumbersome Spark, and features a slimmed-down control panel without sacrificing any relevant features. If you are looking for a tiny box of tone to take anywhere, this has just become the amp to beat!
So, briefly, what is it? Okay, it's a rechargeable (8 hours' typical play from a standard USB-C) amp and learning tool that delivers world-class tones for electric guitar, acoustic guitar and bass. Yes, there is indeed one 'house amp' to rule them all!
It's not just for the house, though! Once you've charged up the Spark Mini, grab it by its handy carry strap and you can bring it with you wherever you go! As you'll read a little later, it's more than just a guitar amplifier.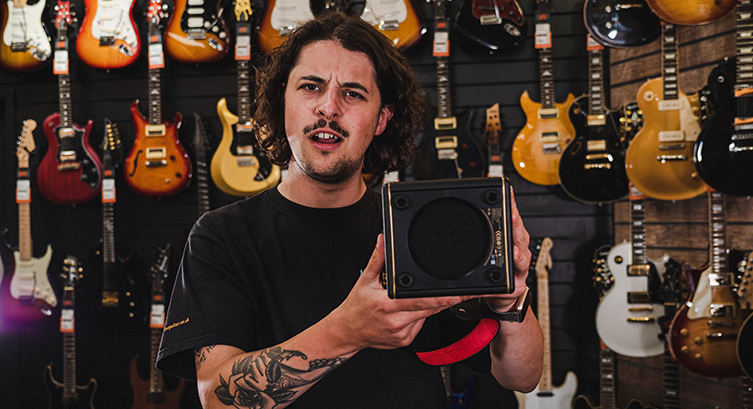 The Spark Mini uses a custom-designed pair of 2" speakers and a passive radiator (another sub-like speaker on the bottom, facing down) to deliver full-bodied tone, the way only Positive Grid can. As market leaders in virtual amp technology, their recreations of vintage and modern amplifiers are second to none (not to forget the amazing virtual pedals too!), and you can enjoy these through the Spark Mini, thanks to the Spark phone app.
Spark App
The amp controls themselves (which we'll look at in a sec) are relatively basic, because most of the decisions are made via Spark's own app. Download this and you're in business! The app is where you set up your chain, so you can select your amp head, pedal selection and the rest, all in an order that you prefer. Change up settings in real time, save your favourites and generally tinker around with an Aladdin's cave of boutique gear, all through a very simple graphic-based interface.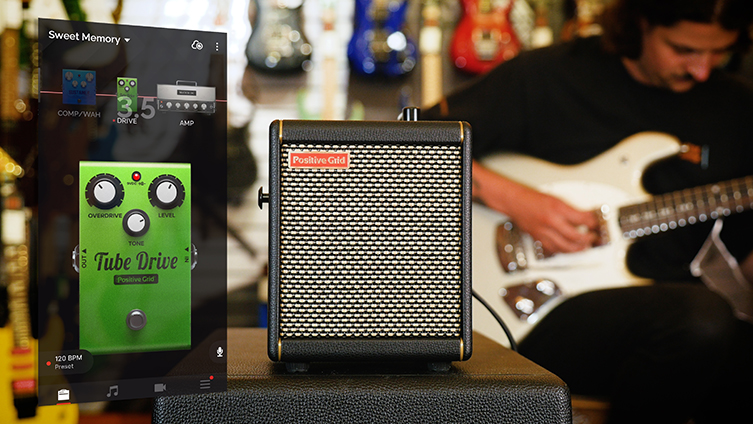 The choices are many, and all of them sound incredible. We've had a lot of fun with the 'Insane' amp, which is a very faithful take on a certain high gain amp whose name is a four-digit number, if you follow us? Pairing that with a 'green Tube Drive' pedal got us into hard rock heaven in seconds, with a little ambient delay and reverb after the amp section just to pepper the sound somewhat.
The same applied for clean amps, where boutique aficionados will instantly be able to tell the rig they're playing through by the graphical representation on the screen. All tastes are catered for here!
Tons of Features
The Spark Mini's primary purpose is as an amp for playing guitar or bass at home, but there's more to it, too. Check out these features!
The Smart Jam feature supplies appropriate sounding drum and bass parts to whatever you're playing, transforming your lonely session into a multi-faceted jam!
Create videos and send them to your social media account with the Video Capture tool. You'll sound like a million bucks because all of your tones will be from the Spark Mini, so no additional production is required. Talk about labour-saving?
Stream audio via Bluetooth and either play along with the music so that it sounds like you're 'in' the recording, or simply use the Spark Mini as a great quality speaker for blasting your favourite tunes! It's like the hub for your musical needs!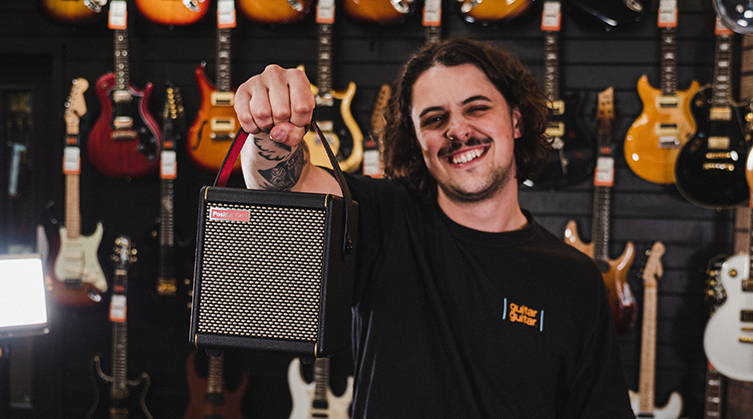 On top of that, the Spark Mini app allows you to take songs that are streaming, and loop sections, have the chords displayed on your device's screen, slow down the tempo to help you learn…there are loads of features for you, if you desire them. The main take away from this though, is that the sounds themselves are first class, for guitarists of all calibres. The rest is awesome, but Positive Grid have hit hardest where it counts, and delivered exceptional tones for you to use on a daily basis.
Simple and Easy to Use
As we mentioned earlier, there isn't too much in the way of actual controls on the amps itself. The brief top panel gives you control knobs for selecting a Preset (Custom, Solo, Lead and Rhythm, all of which are of course your choice), Guitar volume and Music volume. That's it for the front panel, save for a quarter inch input jack, of course! Everything else is handled from the app, from drive levels to EQ choices and so on. It certainly helps keep the physical size to a minimum!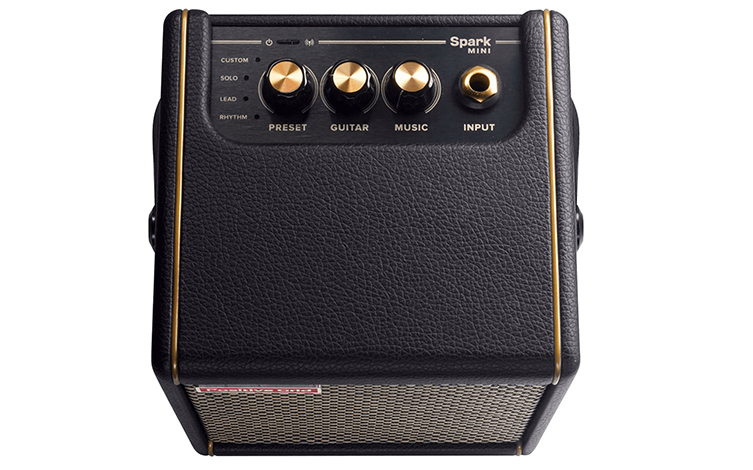 On the back, you'll find inputs and outputs for headphones (or a line out), auxiliary in, the USB connection and a button to pair the Bluetooth. All in all, it's a simple, streamlined affair that encourages you to quickly set up and get playing, which is surely the whole point!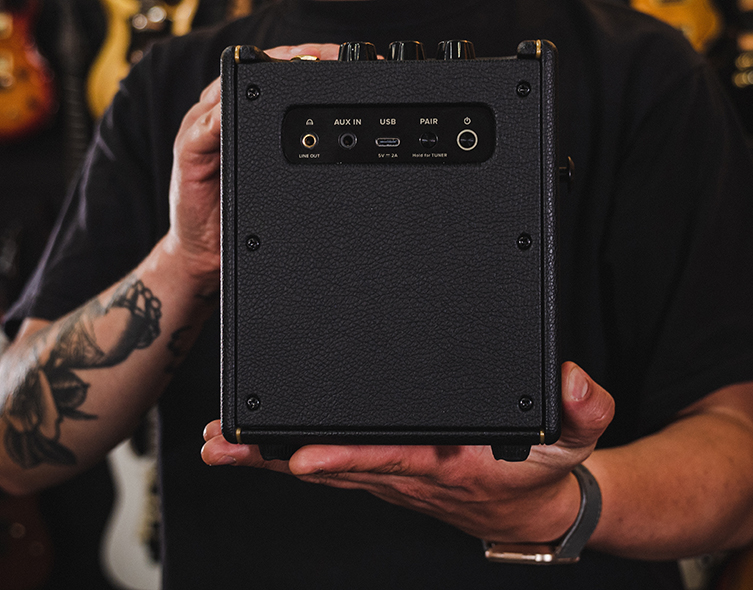 You Already Know It's Brilliant
Anyone who has had the pleasure and fun of trying the original Spark amp will be able to attest to how 'real' the experience is, and how great your time playing is when you're plugged into one. Well, this new Spark Mini builds on that experience, offering the same sonic punch in a smaller, more convenient footprint.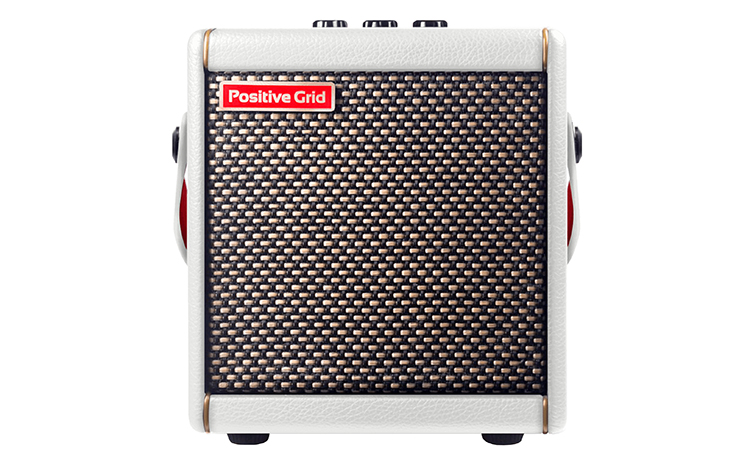 It's really as simple as this: if you play electric guitars in your home and have a phone, you will absolutely benefit from owning one of these! How you use it is up to you, but you will sound brilliant, quickly. Easy!
The Spark Mini is available in both black and white, and you can buy one NOW!