The BEST Guitar Albums EVER!
Published on 21 July 2022
Appetite for Destruction is 35 years old today.
Can you believe that? The album that took edgy hard rock from the streets of North Hollywood and blasted it into the Stratosphere, G'n'R's finest long player is still a benchmark for sweaty, attitude-filled rock. Guitarists love it for sure, but so do millions of non-playing music fans and everyday people who have turned to it for party tunes and driving anthems ever since. It's just a part of our worldwide culture now, threaded through so many other situations and mediums that we all nowadays know the album inside out, even if we've never chosen to consciously put it on for a listen.
That got us thinking: what other albums are like that? Albums performed mainly with guitars, which have reached a massive global audience? Basically, what are the best guitar albums ever? It's one of the massively open-ended questions that can never hope to achieve satisfying answers for everyone, especially if you limit it to ten solitary choices out of the millions that must now exist.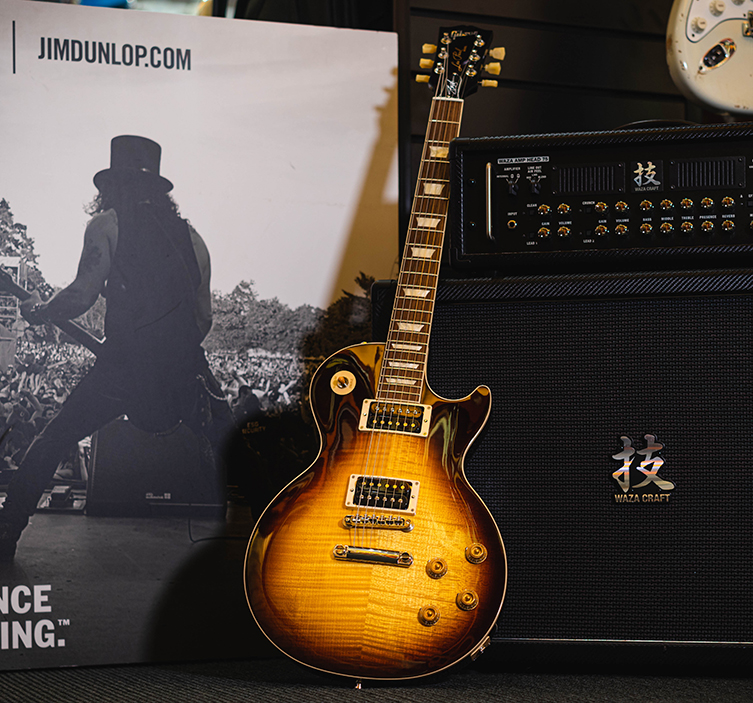 Not an easy prospect! But we still figured we'd have a shot! Why not? We made the decision that worldwide influence was an important factor, and that such an audience be more than just fellow musicians. To that end, we've opted to dismiss the likes of Texas Flood, Surfing with the Alien and Passion and Warfare because, though undoubtedly incredible, they are very niche albums that tend to appeal to a much more select 'guitar freak' audience than the universal love enjoyed by a band like, say, Led Zeppelin. We're going for the big game-changers, here!
Anyway, this here is our much-debated and fought-over list. Have a read, check out the vids and have a think: what would be on yours?
Appetite for Destruction - Guns 'n' Roses
We may as well start with this rock juggernaut, since its 35th anniversary was the inspiration for our list in the first place! This is one of the biggest selling debut albums of all time, and it was made by a team of mad LA miscreants who weren't even trusted to survive the process, such were the levels of debauched hedonism in their lives at that point.
It's a remarkable record in every respect, with a non-stop rollercoaster of hits like Welcome to the Jungle and Paradise City laying the blueprint for the next decade of hard rock, and then some.
It put Slash's top hat, cigarette and Les Paul combo on the map as a legitimately iconic rock image, and Axl Rose as a vocalist par excellence, not to mention as a hell-raising prima donna. The standard was, in fact, so high that the band arguably never matched the highs of their debut, but really: how many bands ever put out something like this?
Axis: Bold As Love - Jimi Hendrix
It's difficult to pick a particular record to represent Hendrix as a definitive statement. Each one he made was pretty different, and each one is an equally valid document of the man's otherworldly greatness. No single record contains the full story, and none contribute more than the rest to his legacy. With all that said, we often see Electric Ladyland included in these run-downs, and feel like it's time to champion another, more subtle side of Jimi.
We've gone for the flawless gem that is Axis: Bold As Love, and a quick mental scan of its many virtues will surely have you agreeing with us. His least histrionic record, Axis still pours out plenty of guitar playing gold dust (not least on the iridescent title tune), in perhaps a more influential manner than on other records. He's more accessible here than on Voodoo Child, and that's a big part of the charm for sure.
It's on Axis that Hendrix's songwriting shines through, propelled and assisted by his supernaturally capable chops, not used as excuses for them. Songs like One Rainy Wish, Castles Made of Sand and of course the ineffable Little Wing display a whole universe of colour and emotion, the likes of which we'd never really hear again in such a form. His chordal lead playing influences players to this day, and his adventurous arrangements are still light years ahead of those pretenders who only hear the blues-rock solos. Still the master, then!
Master of Puppets - Metallica
It's the song of the minute thanks to a scene-stealing moment in Netflix's Stranger Things, but Master of Puppets being titanically great is hardly a revelation. Since it burst out of its fiery gates in 1986, MoP has been well-known as a landmark thrash metal record. Slightly faster and more brutal than Metallica's previous record, the already fast and brutal Ride the Lightning, MoP delivered riff after riff of punishing magnificence. Several songs, such as the title track along with Battery and Welcome Home (Sanitarium), are concert mainstays to this day.
Hetfield undoubtedly shines on this record, but Hammett unleashes several of his most unforgettable moments too, all wrapped up in an energising 54 minutes that have hardly aged in the intervening 36 years. Unstoppable.
Nevermind - Nirvana
Was there ever a more direct songwriter than Kurt Cobain? His songs brought a version of 'the Seattle sound' to the world with such great effect that nobody even noticed how different Nirvana sounded from their grunge compatriots. Cobain's hook for a melody and sense for dynamics (openly stolen from the Pixies) made Nirvana's music more immediate and vital than anything else out there at the time.
There's a quote somewhere from Cobain saying that Nirvana were like Abba being assaulted by Black Flag, and that has remained a pretty apt description of their sound. Nevermind was their huge moment (maybe too huge, given the trajectory of Cobain's life subsequently), and over three decades on, it's still a sound that impresses and influences. Away from the hit singles (which are quite odd songs in their own right), you'll find an artful record that's a million miles away from cookie-cutter hard rock, whilst still proving accessible to a massively wide audience.
Back in Black - AC/DC
This towering monument of sheer rock is a record almost everyone can agree on. There's not much to go wrong here, because it's just bare-bones genius, performed with panache but very little fuss. The title track has perhaps the most played riff in guitar shops EVER, knocking Stairway off the top spot for sure, but it's the 'I'm BACK' chorus that seals the deal on rock immortality here.
AC/DC may not be the band to go to for worldly wisdom, but when it's beer o'clock and time to rock, this record hits the mark in every town on the planet. It's infectious, it's life-affirming, and it's everything that's great about rock music. We could say more, but why bother? Click the video below and get ready to rock! We salute you!
Queen - A Kind of Magic
If you prefer your rock to be no less rocking than AC/DC but considerably more theatrical, Freddie Mercury is surely your guy. Rock's greatest frontman was a force of nature both onstage and in the studio, proving for once and all that hard rock could also be poppy, orchestral, deeply over the top and subtle at the same time, which is no easy feat by any means. To do all this and fill endless stadiums across the world only proves the point, really.
A Kind of Magic is perhaps Queen's most overtly rocking album, hence its inclusion today. Written more or less directly as a soundtrack to preposterous 80s fantasy flick Highlander, A Kind of Magic sees Queen at their most epically thunderous (Princes of the Universe) and elegiac (Who Wants to Live Forever), making the whole record an exceedingly diverse listen. Well, it's Queen, isn't it?
This was their first album release following their triumphant Live Aid performance, and there's a confidence and imagination here that rewards the listener endlessly. Modern rock bands really aren't trying hard enough, are they?
Endless extra points go to Mr Mercury in the video below for ably adapting his signature tiny mic stand into a sword for a thrilling bit of swashbuckling. Legend.
Led Zeppelin - Led Zeppelin
The shadow of Page, Plant & Co's airship looms high and heavy over all of rock music. Led Zeppelin came, conquered, and left a body of work that continues to resonate over 40 years after they more or less called it a day.
Like Queen, Led Zep were a band filled with supersonically talented musicians, who created their own semi-mythological world within their music and who enjoyed more than a bit of flamboyant flash. It's all here on their debut record, which is filled with an embarrassment of riches. From the proto-metal of Communication Breakdown to the epic journey of Dazed and Confused, this album contains dazzling moment after dazzling moment.
It's all well-documented now, but it's still worth mentioning that Page also served as the record's producer on top of his writing, riffing and posing duties, and that's something that continued throughout Zep's history. Mastermind status achieved! From the first crunching chord of Good Times, Bad Times onward, this 53 year old album is as sprightly and essential as ever.
1984 - Van Halen
After the death of John Bonham, Led Zeppelin wisely declined to continue, understanding how essential Bonzo was to their mighty sound. Who, then, to fill their sizeable loafers and claim the crown as kings of hard rock?
The answer quite clearly came in 1978, a full 6 years before the album we've chosen today. Yes, those cheeky party animals from Pasadena shot out of the starting blocks and redefined rock god excess from the get-go. Their seismic effect on music was already felt before Led Zep threw in the towel, but it was on 1984, their sixth record, that their apotheosis occurred.
Everyone knows Jump, of course, and every guitarist pretends they can play the Hot For Teacher intro properly, but as always, these are just moments: it's the overall collection of songs and their sequencing that really wins the contest here. From ultimate driving anthem Panama to those aforementioned classics (and deep cuts like I'll Wait and Top Jimmy), it's a breathless, kaleidoscopic trip and a half. Inventive and well-played for sure, but also fun and full of ear-worm melodies that positively popped in the age of MTV.
Was it the addition of synths that made this record more palatable to a huge(r) audience? It's hard to say, especially given how wild the guitar side of things is, but 1984 hit ten million sales over twenty years ago, so whatever Diamond Dave and the guys decided to do, it was a sound choice.
Vulgar Display of Power - Pantera
Pantera were (are) easily as influential as Metallica. Between these two bands, you can almost draw an invisible line between how metal bands sounded before and after. Since Pantera came along, loud blues riffs essentially had no place in hard music (a fact that Metallica maybe forgot during that mostly regrettable mid-90s period), but atonality, impossible levels of distortion and a huge dose of sheer groove were the focal points instead.
We're obviously a little biassed as guitarists, but on repeated listenings, it becomes increasingly clear just what a one-in-a-million musician Dimebag Darrell really was. He had that perfect mix of being able to fulfil listener expectations whilst also pulling the carpet out from under their feet, a trick that most players still don't know how to approach, let alone master. His riffs were more unique, his solos were more creative and his timing was incredible. He's missed.
Vulgar Display of Power is what we'd refer to as Pantera's second album, and though that's technically not the case, fans will understand our distinction. Vulgar builds on the blueprint created on creative reset album Cowboys From Hell, but ups the scale, ferocity and sheer quality considerably. Modern metal quite literally begins here.
Californication - Red Hot Chili Peppers
The Chilis seem to be quite a divisive band amongst music fans. Some see them as spiritual inheritors of some musical midpoint between George Clinton and the Beach Boys, whereas others only hear bad 'dad-rapping' and generic funk with admittedly superb bass playing. We steer far more towards the former opinion, and it seems a vast audience agree with that, given the band's enduring popularity.
They've certainly had a colourful career (take a deep breath before you read Anthony Keidis' autobiography, basically) but there's a palpable potency to their blend of funky workouts and Californian harmonies that contains a very specific magic. Nowhere was this more successfully administered than on 1999's Californication album. This record was a reboot-of-sorts, as the band said goodbye to ex-Jane's Addiction guitarist Dave Navarro in favour of reconnecting with a recently-cleaned up John Frusciante, whom Navarro initially replaced.
We told you it was a colourful career!
This decision bore some sweet-tasting fruit indeed. Pre-album single Scar Tissue summed up a wistfully elegiac California coastline in a way that previous Chilis tunes had only hinted at, and in hindsight was something of a statement of intent. When the record finally landed, it was obviously something special, despite audio-bores complaining about the production. From the first fuzzed-up bass note on album opener All Around the World to the final delicate strums of Road Trippin', Californication essentially sums up everything about the band in one vital record. Loudness wars? Get over all that, just put it on and take in the tunes!
The Inevitable Excuses
So, there's our top ten Best Guitar Albums Ever! list. We know, we know. What were we thinking? Where's Pink Floyd, Clapton, Muse, Rolling Stones etc etc. We thought of all of these artists, and hotly debated their inclusion, but we genuinely think that our final list reflects the best guitar-centric albums that reached a massive audience and changed culture in a significant way. Yngwie's a phenomenal player but the world at large doesn't care too much, so we went with what we believe is a good cross-genre collection of records that made culture's tectonic plates shift off-axis.
Anyway, since there were only ten spaces in our list, we feel like it's worth adding some Honourable Mentions here, if only to bend our own rules somewhat…
The Wall - Pink Floyd

Layla - Derek & the Dominoes

Abraxas - Santana

Black Sabbath - Paranoid

Achtung Baby - U2

The Bends - Radiohead

Elephant - The White Stripes

The Rise & Fall of Ziggy Stardust & the Spiders of Mars - David Bowie

New Jersey - Bon Jovi

Rage Against the Machine - Rage Against the Machine

The Stones, The Beatles, The Doors, The Kinks and loads more…
Which albums would you swap out of our top ten? What deserves to be there and which ones are ridiculous choices on our part? Let us know!
So, what did we learn from this? Well, apart from the fact that it is quite impossible to whittle down all of history's great guitar records to a mere, paltry ten, we'd say what kept creeping in were the words 'accessible' and 'memorable'. Regardless of genre or heaviness, these two terms seem to be the ones that matter most. Pantera are monstrously heavy, but in a way that can be taken in easily. Eddie Van Halen was one of the most ludicrously flash guitarists ever, but he kept it to short bursts on what were otherwise extremely catchy tunes. Guns 'n' Roses, of course, sit somewhere in the middle, and their abrasive attitude is only that way to an accessible degree: it's enough to get people interested, but not to put them off.
Therein lies the magic.