Best Rock Biographies
Published on 02 November 2022
Musicians love reading about other musicians. Whether it's to better understand the mind of someone we admire, to learn some behaviours which may come in handy in our own lives, or merely to take in the details of somebody's lurid downfall, we all want to know more about these people than what the music itself gives us.
These books tend to fall into three categories: general books about a scene or time (i.e. Hotel California by Barney Hoskyns, about the Laurel Canyon scene), biographies written by a third party (innumerable, but basically any book on David Bowie, since he never wrote one himself) and then the third kind: the autobiography. Autobiographies are of course when the artist themselves have penned the pages, or at least heavily collaborated in doing so.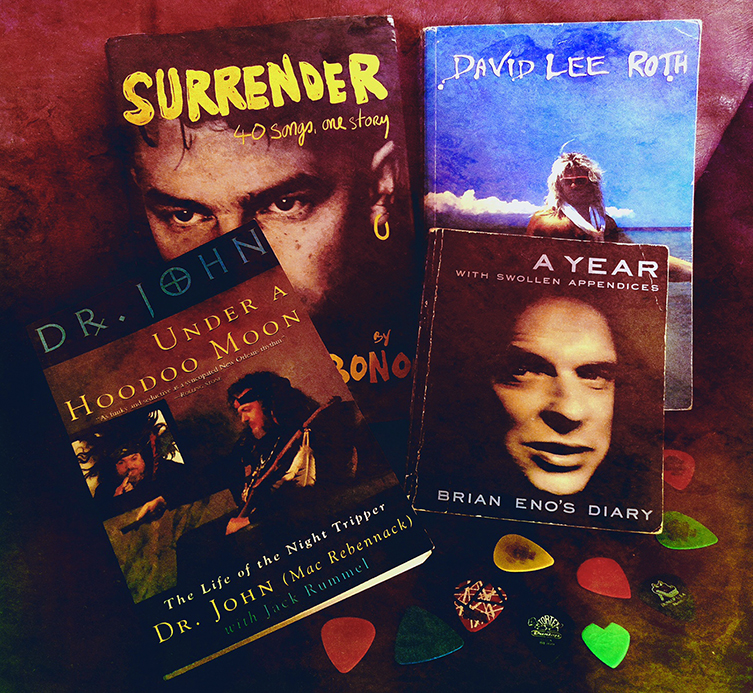 Sometimes these are written with a co-writer (or an uncredited ghostwriter), and at times can amount to being an edited collection of interviews. When this format works, it really works (check out Scar Tissue, below) but when it doesn't, it feels overly pruned of depth and analysis (Tony Iommi's Iron Man book left us wanting much more from the great man).
It's often when these books are entirely penned without a ghostwriter (at least officially) that they begin to be very valuable and intriguing documents. Given the caveat that all books like this are reviewed and edited before they hit the shoves, there is still an undeniable closeness that occurs between the author and the reader. We learn about their world and their life directly, with their own words. This can be an extremely rewarding experience for both parties.
Best Rock Biographies
Christmas is fast approaching, and books make excellent non-guitar presents, so we figured we'd take a brief dive into the world of the rock autobiography and select a few of the ones we've particularly liked. We've drawn a line under those other types of music books - the general scene/era books and the third party biographies - to concentrate on those which have first-person input (at least) from the subject themselves. There are just too many otherwise! These are in no particular order, and will hopefully ignite your imagination to check out other fantastic musician autobiographies!
Bono - Surrender
Our first choice today was the book that served as inspiration for this blog. The U2 frontman and political activist has lived quite a life, to say the very least, and has long since rebuffed the notion of an autobiography…(movie trailer voice) until now.
Surrender is Bono's tale from the suburbs of Dublin to well beyond the world's stadiums. Indeed, so filled with activity has the erstwhile Paul Hewson's life been, he's obliged to skip only briefly through huge subjects like dodging bullets in El Salvador, or getting death threats for writing Pride (In the Name of Love) in order to make sure he has space for stories about international debt cancellation, campaigning for justice over the AIDS pandemic in Africa, and tons more. It's a big book, but it could actually have been bigger.
That's before we even get to the music! There's plenty of that, too, and his author's voice is a refreshingly humble one, given his megastar status. Self-aware, quick to praise others and find fault in himself, Surrender is perhaps less preachy than many of Bono's critics would anticipate, if only because he's good at looking in his own rearview mirror with a critical and honest eye.
Whilst at times the name checking can seem relentless (he's in the White House more often than he's at home, it can seem), the context at least calls for it. After all, people like Nelson Mandela, Frank Sinatra and Helena Christensen are the people who have populated his life's orbit and so are the natural characters of his story. His humility about it all (including his anger issues and occasional arrogance) paints a more fully rounded picture that compensates for the odd moment of grandeur.
Fans will love the candid, forthright and yet compassionate voice he writes with, and doubters will perhaps rethink certain elements of the man's public face. In how many other books will you read stories about the Pope nicking the author's sunglasses, and in the same volume both praise Tony Blair for his work on the Good Friday agreement and straight after, condemn him for siding with the US on the Iraq war? This dualism is at play throughout Surrender, and, thankfully, our guide through it is both aware and acknowledging of it all.
Bob Dylan - Chronicles Vol 1
It's the book that rock fans always wanted but knew better than to hope for. Surely the elusive, mercurial Bob Dylan - that most enigmatic and influential of rock titans - would never write his own memoirs, would he? There's already been a shelf-full of writings on Dylan! Well, in a move that was very typically 'Dylan', he denied the whole enterprise until one day Chronicles Vol 1 appeared on shelves. Understandably, it caused a wave of excitement, with Dylan devotees across the world falling over themselves to throw gushing descriptive terms at their hero's unexpected tome.
After the hype-dust settled, what remained was a book that fully - if cryptically - lived up to those lofty hopes. As well crafted as you may expect from such a celebrated wordsmith, Dylan typically revealed only a tiny amount of his inner-self, but did so with pages that positively glowed. Also typically 'Dylan' was his addition of the 'Vol 1' in the title: in the 17 years since its' publication, there has been zero news of a follow-up. Of course, knowing Dylan (as we don't really) it could land in bookshops tomorrow!
Nile Rodgers - Le Freak
Nile Rodgers' life sounds like the polar opposite of his early life. Where Chic's music is vivacious and full of optimism, Rodgers' formative years were filled with dangerous adults, fear, drugs and hopelessness. It's a massive triumph - in so many ways - that he not only broke out of that situation, but soared up into the firmament as one of pop's great producers, players and innovators.
As we all surely know, Nile Rodgers is far more than the mastermind of some of disco and funk's most well-known hits: he has also transformed the career of David Bowie (with uber-huge album Let's Dance), put Madonna on her way to global dominance and helped Duran Duran become more than a fad. Le Freak documents all of this, along with his later life drug and cancer ordeals, and says it all without either glorifying nor becoming overtly maudlin. Indeed, his overpowering lust for life informs every page, and leaves the reader feeling like they've spent some quality time with someone very special indeed.
Mark Lanegan - Sing Backwards and Weep
From the joyful triumph over adversity that is Nile Rodgers' book, we now sharply contrast it with the late, great Mark Lanegan's autobiography. Influential grunge forefather and owner of the world's grittiest baritone, Lanegan's life was filled with amazing music but dogged by substance abuse and a sometimes nihilistic worldview.
Sing Backwards and Weep is a fascinating if harrowing read, taking us from his early Seattle days with the Screaming Trees, through to international success and collaborations with Queens of the Stone Age. There's plenty here for Nirvana fans, too, certainly given how close Lanegan was to the late Kurt Cobain: there are, in fact, lamentable details from Cobain's last days that have been hitherto unspoken.
When this book was released in 2020, it was a stark, honest and eye-opening account of addiction, crime and repentance, all told with world-weary perspective and authority. In light of the man's passing, it's even more bittersweet and cautionary. As more and more of grunge's leading lights leave us prematurely, we can but look back and acknowledge the rich musical gifts they left us, at least. This book serves as a melancholic epitaph to a rare talent hamstrung by addiction and its accompanying ordeals.
Billie Holiday - Lady Sings the Blues
Billie Holiday was of course a supremely gifted and influential singer who pioneered several vocal techniques that have lasted now for almost a century. She was a pioneer in many more ways too (including fighting social, gender and racial bigotry in her career and private life) but was also a victim of terrible racism, abuse, alcoholism and addiction throughout her life.
This is all documented in Lady Sings the Blues, her autobiography from 1956.
Co-authored by William Dufty, there was initially some concern regarding authenticity of certain details within the text, but a modern analysis has proven those concerns to be unfounded. Released three years before her death at the age of only 44, Lady Sings the Blues tells of her troubling early years in Harlem, underscored by abuse and jobs in a brothel, before her singing career took off and stardom ensued. Throughout, Holiday is candid about her alcohol and heroin problems, but there is a balance of triumph in the pages that counteracts the sadness. If you've ever been curious about the life behind the incredible voice, this book will no doubt be the first and only place you need to go for it all.
Anthony Keidis - Scar Tissue
It hopefully goes without saying that heroin is a terrible, destructive thing that robs us of wonderful people and wonderful music. We've seen this already with our last two choices, but this biography choice has a slightly different angle on it all. Anthony Keidis, the Red Hot Chili Peppers' frontman, is possibly the worst advert for staying off heroin that there could ever be.
His book, Scar Tissue, is definitely as 'warts and all' as it gets, with plenty of terrible behaviour, crime, infidelity and general delinquency of the highest order.
The crucial difference is, for some reason, Keidis seems to always land firmly on his feet. No matter how bad his personal life gets, or how much of a liability he becomes to his bandmates, his success increases and increases. He's surely the exception to the rule, but it does somewhat beggar belief at points.
Still, his writing voice is as charming as it is honest. He doesn't pull any punches to make himself look better, and he doesn't (often) blame anybody else for the situations he finds himself in. One does wonder how much more he could have achieved from having been clean and sober more often, but his megastar status is pretty hard to out-do in terms of success. We'd not go anything like as far as to say that his success justifies the decisions he made throughout his life, but it's a fact that he has conquered a litany of demons to remain at the top of the rock star tree.
Plus, this is a thrilling read, for all of the salacious, vicarius reasons you'd expect.
Skin - It Takes Blood and Guts
Skunk Anansie stormed the British music scene with such confrontational confidence in the mid 90s, it was as if they'd arrived fully formed. Not so, as frontwoman Skin's autobiography tells. Growing up in Brixton of the late 70s and 80s, Skin (less well known as Deborah Ann Dyer) experienced a strict upbringing before finding outlets in both punk rock and Shakespeare.
Undoubtedly one of the most important forces in modern rock, Skin faced racism, intolerance, aggression and derision whilst becoming the unstoppable frontwoman we know today. As a trailblazer for Black women, Queer and non-binary people and anyone else feeling claustrophobic about the narrow, white, male gaze of rock music, Skin is an enormously important figure. For anyone who loves force-of-nature charisma and performers who refuse to compromise, Skin is one of the very best. Her book is forthright, descriptive, eye-opening and empowering, just like her music. It Takes Blood and Guts is a pretty outstanding read.
Brian Eno - A Year (With Swollen Appendices)
In typically elliptical fashion, Brian Eno's response to a request for an autobiography was to instead offer up a year's worth of detailed diary entries. In this novel context, we are actually able to discern much about the celebrated musician/producer's character and personality. Through the year of 1994, and working with such artists as David Bowie, James and U2, we get to learn about his working processes, his interactions and his interior thoughts about all of this and much more.
Sometimes, these can be relatively pedestrian, such as his opinions on how his morning commute went, or a preparation for some speech or other. However, these seemingly innocuous activities, when passed through Eno's unorthodox brain filters, emerge as mini meditations of a restless and impressive mind. Gently playful and often oblique - just like his famous Strategy cards, some of which are explained within - A Year with Swollen Appendices is a unique window into a unique mind, and one that has played a significant role on the shaping of popular music's landscape.
As for the 'swollen appendices' part, they take up about a third of the book, so he's not wrong about them being swollen! The subject matter (and tone) is diverse, frequently humorous and also engaging.
David Lee Roth - Crazy From the Heat
From a famously cerebral boffin to a surprisingly cerebral circus ringmaster, the ex-Van Halen frontman's autobiography is as fun, revealing and breathless as you'd expect.
Crazy From the Heat was written in the mid 90s, when Diamond Dave was still firmly expelled from the VH camp, and there is a fair amount of (admittedly entertaining) bitching about his old bandmates to be found here.
However, as the saying goes, you can't keep a good dog down, and Roth is otherwise a most amiable host to his own life's proceedings. Ever the instigator, ever the raconteur, Roth gives up the goods in some style, playing the role he was surely born for as the charismatic rock Leading Man, as it were. That said, it's in the quieter moments - such as his late night/early morning reflections at Edinburgh castle, disguised in shades and baseball cap - that we get a glimpse behind the curtain to reveal a brief look at the real wizard of Oz. These sections pop up frequently enough amidst the mania, and give the whole story the third dimension it needs to make all the difference. Dave loves having a laugh but he doesn't miss a trick.
Bruce Dickinson - What Does That Button Do?
It's a funny thought, but for some people, being the frontman of one of the most celebrated and flat-out iconic metal bands that have ever existed is not quite enough. Millions of album sales and sold out stadium tours the world over are beyond the dreams of most musicians, but for Iron Maiden's own irascible Bruce Dickinson, it's just another day at the office.
So much is this the case that the man oft-referred to as the 'human air raid siren' has also found time in life to become a fully qualified and functioning airline pilot. And a champion fencer. So busy, in fact, is Bruce that his extra job as a radio DJ barely warrants a mention in this frequently hilarious autobiography.
We hear about Dickinson's early years pre-Maiden, where his self confidence and 'get on with it' attitude found him frequently frustrated by local bands who never had the eyes to match his grand vision. It took the greatness of Iron Maiden to match his expectations!
This attitude comes into significant play in one sobering chapter of Bruce's life, when he was diagnosed with cancer. He tells this tale - and all others - with a most welcome lack of hyperbole or bluster, making little out of his considerable achievements. Attacking things head on, his doggedness and determination seem to be key factors in his vanquishing of all manner of problems. This tone makes his cancer battle and recovery a real triumph, much like the rest of his quite ridiculous life. If you feel like you've underachieved so far in your own life, Dickinson's autobiography will either sink you into an unshakeable depression or be the fire that lights under you and moves you towards greatness.
Dr John - Under a Hoodoo Moon
Mac Rebenack, otherwise known as Dr John the Night Tripper, was the real deal. Steeped in the music and mythology of New Orleans, Dr John's life was a heady mixture of music, crime and an unquenchable thirst for 'tha fonk'.
Starting out as a guitarist, Rebenack famously lost the end of his left ring-digit after counteracting a gun attack with a brick (the hand holding the brick smashed the offender's gun hand into a wall, setting the weapon off) and thereafter switched to the piano. Ultimately, that was a great move for all of us, since his blues/funk/r&b/jazz-inflected style has become world famous.
Mac's story is full of spooky details, from the (actual!!) shrunken head he used to bring onstage with him, to the cornucopia of larger-than-life characters who populated his time at the N'Awlins French Quarter. The book is written in the Doc's signature patois, and he namechecks a litany of incredible yet underappreciated artists, making this book a great one to spring from and investigate new music with.
As the Doc himself says, 'You can't shut the fonk up'.
What Will You Read Next?
So, how many of our autobiography picks have you read? We hope that the blog inspires you to delve deeper into the lives of these fantastic artists, or indeed the many other great musicians who've successfully put pen to paper over the years. As mentioned, there are endless biographies - both great and horrific - out there written by journos and other third parties, but it's the first person insight that makes these particular volumes really special, in our eyes.
Did we miss any great ones? As always, there is only so much time and space available for us to write, but we'd love to hear about great music-related autobiographies that you've come upon! Let us know, and in the meantime, happy reading!