Jerry Cantrell Guitar Gear and Playing Style
Published on 12 January 2023
How many grunge-era guitar heroes are out there these days? Full-on rock legends from the 'Alternative' era who continue to preach the gospel of electric guitar to massive worldwide audiences? Players who have their own inimitable sound and style? Players who don't rely on 'glory days' but continue to release inspired new music?
There aren't that many right now, and that's why it's worth celebrating those who fit the bill.
Jerry Cantrell is such a person.
Grunge
Grunge was always a far wider subject than Kurt Cobain and plaid shirts. The Seattle scene that (eventually) became labelled with the grunge tag was a rich, vital, vein of art and creativity. There actually wasn't too much of an overarching sound, either. Certainly, there was a shared love of post-Sabbath heavy riffing, and a dark angst that permeated much of the music, but play Pearl Jam's Jeremy next to Soundgarden's Rusty Cage and you'll hear two very different Seattle bands, as entwined in friendship as they were.
Probably the most singular of these bands is Alice in Chains. Their riffs were slower, meaner and heavier; their music more angular, more 'other'; and the twin vocal harmonies of Layne Staley and Jerry Cantrell provided a sweet/sour sound that melted your ears whilst bringing more than a hint of doom. Needless to say, they became influential superstars.
We say 'were', since Staley tragically fell victim to a fatal drug addiction, but Alice in Chains' story is far from over. With newer co-vocalist William Duvall, Alice in Chains continue to record and tour, bringing their dark brand of metal-inflected rock to the world with the same intensity as ever.
Indeed, it seems that Alice in Chains and Pearl Jam are Grunge's survivors. Chris Cornell, Mike Starr, Mark Lanegan, Andrew Wood, Scott Weiland (not from the Seattle scene but he deserves inclusion) are all leading grunge figures who succumbed at a too-young age. Indeed, no scene has collectively suffered as much, and it makes those who've weathered the storm that much more mighty.
Jerry Cantrell
Jerry Cantrell, our focus for today's blog, is such a survivor. The Alice in Chains guitarist, co-vocalist and principal writer has an incredible body of work out there, including multiple Grammy winning records with AIC and a slew of solo albums. As one of the most visible and gifted players from the Seattle scene, Cantrell has put a huge stamp on the sound that culture later dictated to be 'grunge'.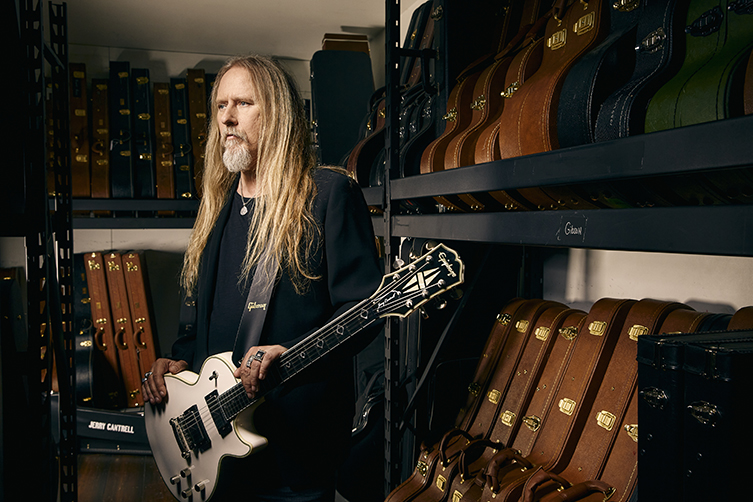 In reality, his songwriting and playing styles are more complex and oblique than that genre term might indicate, with dynamics, odd time signatures and non-standard note choices amount to a sound that is very familiar but just a bit 'off', a great place to be musically!
Today, we're paying tribute to some of Jerry's great moments, in a career that's littered with them. Given that he's such a gearhead, we'll bring that into things too, and talk about his prized Gibsons, amps, effects and more.
Riffs
Central to Cantrell's playing style is his approach to riffs. Thick, slow and doom-laden, his riffs are instantly distinctive and give Alice in Chains songs a real identity. Drop D (or drop C sharp) is often employed, and Cantrell makes great use of semitones and unusual bends. Taking the semitones first, check out this barnburner of a riff from Dam That River, which uses ascending and descending chromatic notes in addition to a good example of subverting normal 4/4 time (this is 6/4):
Lots of Alice in Chains riffs use this same approach, and Cantrell himself says it's just how he writes:
"I really don't know where that comes from; it just comes naturally to me. I could sit down and figure it out, but what's the use? Off-time stuff is just more exciting — it takes people by surprise when you shift gears like that before they even know what the hell hit 'em. It's also effective when you slow something down and then slam 'em into the dash. A lot of Alice stuff is written that way"
Them Bones, also from Dirt, adds extra drama to this approach by using light and shade - in this case, high register notes juxtaposed with super low ones - for the intro riff. Notice how those higher notes are dropped for the verse when the vocal comes in, but the off-kilter time signature remains:
Bends are a huge deal for Cantrell, and not just in his solos. Some of his most memorable riffs utilise low register bends in unique ways to give us riffs that, once again, are familiar but fresh. Our first example here is so simple and yet so effective: Cantrell focuses on just two notes, bending them in a syncopated manner to bring a lurchy, seasick feel to the tune:
The bends of Check My Brain's riff were achieved with good left hand technique, but the ones in the song Rain When I Die are made using the guitar's whammy bar, pulling up sharp on open notes for a pretty menacing sound. A cool compositional thing to note here is how Cantrell's guitar acts as a sort of counterpoint harmony to the twin vocals: the voices go up and down in pitch whilst the guitar hangs on the low D before raising it slowly up a semitone. This gives the music a queasy sort of anchoring, and again has that signature 'seasick' feeling.
Jerry's Electric Guitars
A well-known gear aficionado, Jerry has employed a number of notable guitars across his solo and AIC careers. First up is his G&L Rampage guitar, known as the 'Blue Dress' guitar due to a somewhat spicy sticker Jerry added.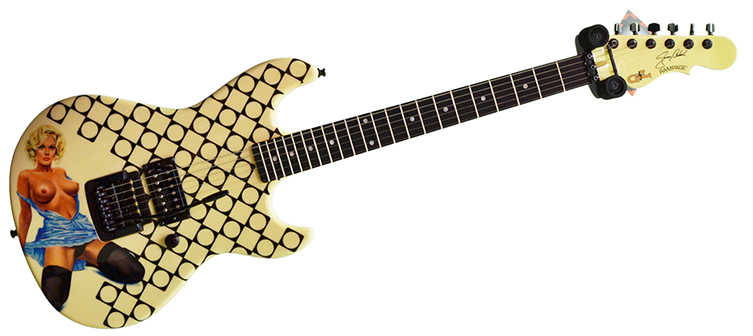 This guitar was an early career favourite for Cantrell, and it's very likely the guitar we heard earlier performing those whammy bar raises on Rain When I Die. This single pickup Superstrat has a Kahler tremolo, which is sunken somewhat into the body to make Cantrell's right hand playing position more comfortable.
G&L have created a few special edition replicas over the years, understandably maximising the association.
Gibson Les Paul Custom
Apart from his Blue Dress Rampage, Cantrell is most associated with Les Paul Customs. It makes perfect sense, given the depth and thickness of his tone, not to mention how much he bends notes down near the guitar's nut! The Les Paul seems tailor made for Jerry's style.
Gibson have recently wised-up and made him a proper brand ambassador, with a slew of signature instruments on release that pay tribute to either his favoured models, or indeed new varieties.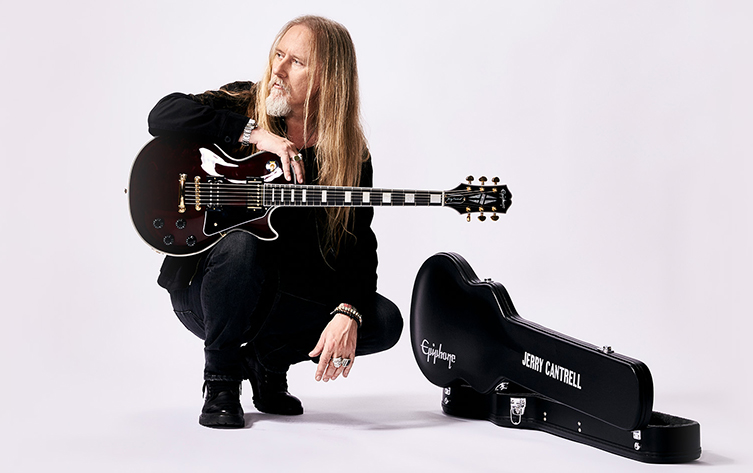 One that's pretty well known to AIC fans would be the 'Wino', a wine red Les Paul Custom with modded pickups. Jerry bought his in the 90s and it has been used heavily, both live and in the studio. Gibson Custom Shop released a replica Wino a year or two back and now a more affordable Epiphone take is available, too!
The Epiphone Wino Les Paul Custom is a wonderful take on the instrument: it has a thick mahogany body (with maple cap), an ebony fingerboard and a pair of specially designed pickups. The 98T Pro is a hot bridge unit, and the Alnico Classic Pro in the neck is a lovely PAF-styled unit that provides a delicious vintage palette. Subtle Cantrell accents such as his 'JJ' logo on the headstock make this guitar a contender for all fans of the Les Paul, not just grunge acolytes!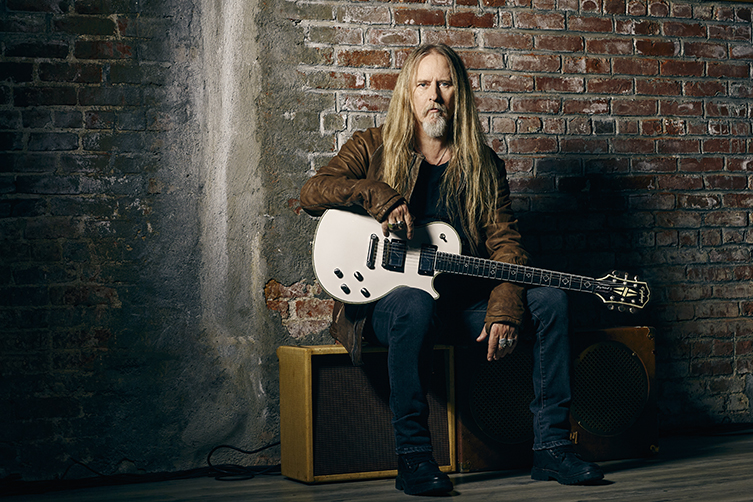 Unusually for Epiphone, there is currently another signature Jerry Cantrell Les Paul available! The Epiphone Prophecy Jerry Cantrell Signature is a fresh design rather than a replica of an existing guitar, though he has often played a cream Les Paul Custom in the past (one of which was decorated with cigarette burns, believe it or not!), so there's maybe a little nod to that here.
This Les Paul is a take on an earlier 'Prophecy' model, distinguishable by the 24 fret count and more modern aesthetic. Jerry's logo is adopted into fret markers here, and the firepower comes from a set of cutting edge Fishman Fluence pickups.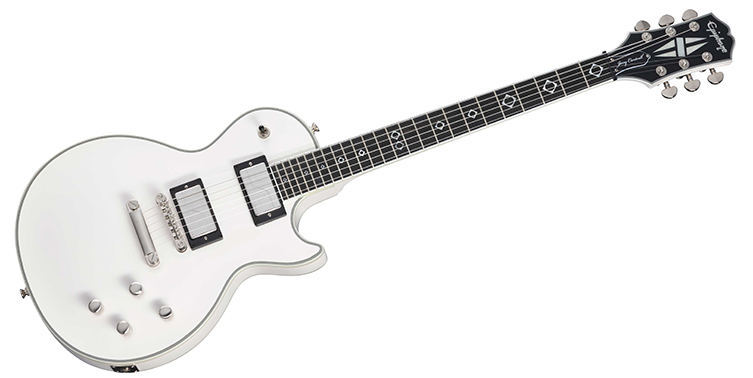 Fluence pickups are active units with switchable options for a variety of tones, all of which are top class. On this particular guitar, there are two push/pull controls: one for changing the pickup's 'voice' from vintage to contemporary, and the other to operate a traditional coil tap. In this manner, you can change from Jerry's cleanest, most laid-back tones to his most mightily chunky, without compromising either. From a Les Paul! What could be better?
Amp Crankin'
Jerry's main distorted tone is thick, luxurious and full of hard rock texture. It's high gain, but with a vintage sensibility that's more 'hot-rodded' and less 'cyber metal', if you follow us! To achieve that level of tone, it's gotta be Friedman, the US amp modder/builder who made his name in the 80s by injecting extra heat and filth into the circuits of vintage Marshall plexi heads. Today, Friedman amps build their own models and Jerry is a featured artist.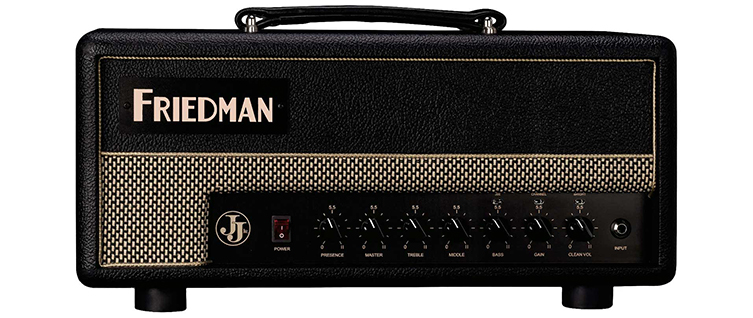 Jerry actually has two amps available from Friedman, including a 100 watt monster and a more manageable JJ Junior 20w head which also comes as a combo. Both models bring that thick, expressive chunk with plenty of texture and sustain on the lead channel, and a Vox-like clean channel. You even get a 'JBE' switch for an extra kick of saturated gain.
Light and Shade
As mentioned before, the concept of light and shade is important to Cantrell's writing, as it is to all practitioners of heavier rock. You need some relief from the riffs in order for the music to retain its power. Songs like Your Decision show a more restrained dynamic compared to other AIC songs, and even show it works up a bit of steam on its own right, it's never full, high-octane. As a moody, reflective piece that arrives mid-album, it's the perfect tonic in between heavier tracks.
There's judicious use of acoustic guitars here, and Cantrell again favours Gibson models. It's all simple first position chords here, but their inclusion grounds the music in a sort of American rock tradition, with little hints of Americana/country. This all gels well with the band's riffier fare, helping to paint a sound that's nuanced and layered, yet accessible. It's no surprise that one of their most famous records is their MTV Unplugged album!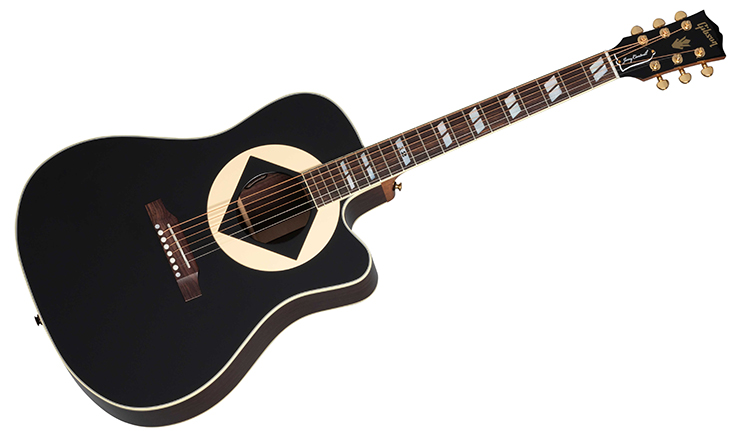 In terms of actual guitars Cantrell has used lots of models including a Hummingbird (and a Guild jumbo) but he now has a beautiful signature model, named the Atone. The Gibson Atone Songwriter has a slightly thinner body than equivalent models, to add a little extra comfort. There's a choice LR Baggs pickup and a pickguard designed after Jerry's circle/square logo. Overall, it's a good looker and an eminently practical instrument to boot.
Effects & Accessories
For the most part, Jerry adopts a 'less is more' approach to effects. Certain songs like Rooster have modulation effects on the clean intro guitar (flangers and choruses will both get you in the ballpark), but that seems to be more apparent on the band's earlier releases.
One effect that he's well into though, is wah. He's a fiend for it, and you'll hear his masterful wah use throughout his career. Dunlop have issued a number of signature wahs for him in the past, and the most recent is the Dunlop JC95FFS FireFly Crybaby, a new model made in celebration of Cantrell's latest solo album, Brighten. This new pedal has glow-in-the-dark elements for easy stage use and a fine-tuning knob on the side for dialling in the toe-down frequency.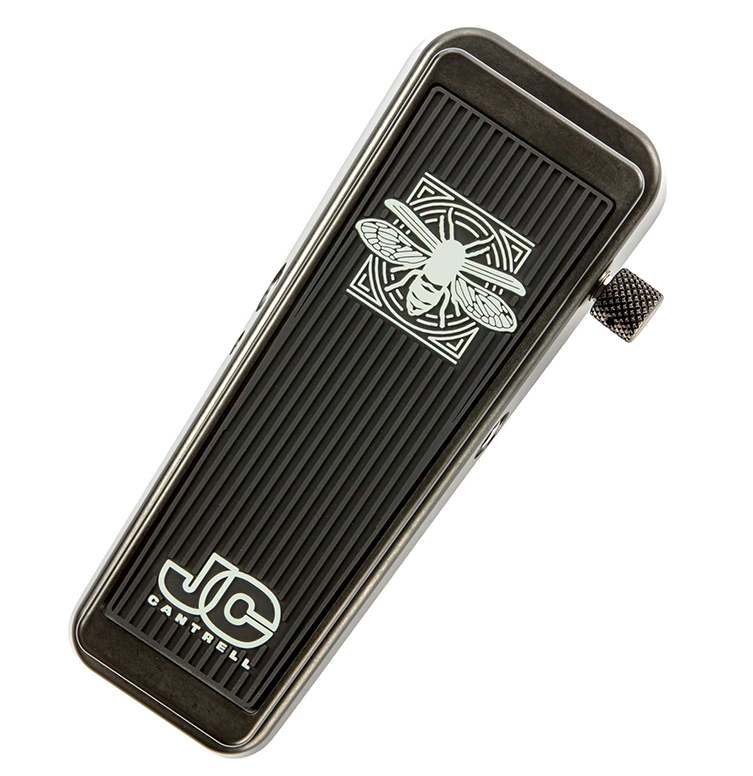 In terms of strings and picks, it seems that Jerry uses a range of products but a safe middle ground would be gauge 10-52 strings and a Tortex .88mm pick. Aside from that, it's all about the dynamic playing, menacing vibe and platinum-selling songs!
An Alternative Legend
Jerry Cantrell is the real deal, and has supplied us all with intense, excellent music for decades. It's great to see him given the respect he deserves from major brands such as Gibson, Dunlop and Friedman. Whether you want to nail his style and tone or just think he has great taste in gear, there's some great guitars, amps and pedals out there that'll get you close to the legend.