Learn to SHRED with Edoardo Taddei at guitarguitar Epsom
Published on 17 April 2023
You want to learn to SHRED but you're not quite sure where to start? Then this clinic is for YOU!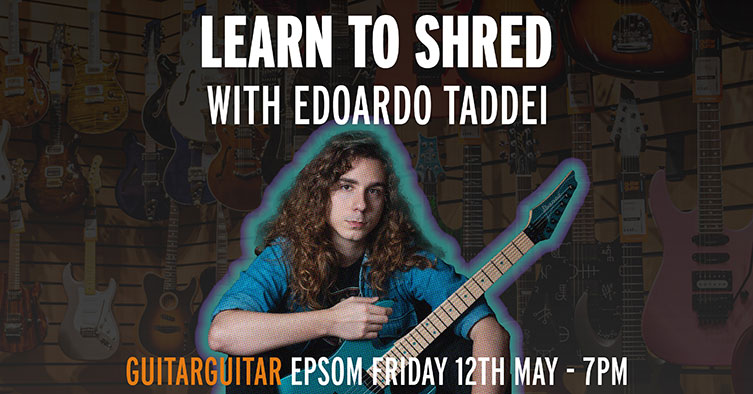 We've teamed up with Ibanez and a young shredder with a very impressive curriculum vitae, Edoardo Taddei, who will be joining us to host a clinic on shred guitar techniques. Edoardo is an Ibanez endorsed artist who is currently on tour with his neo-classical metal band Master Boot Record.
This young Italian maestro is not just a guitar teacher but also a composer, session musician and transcriber. With classical, jazz and metal at core of his skillset, Edoardo will teach you the basics of shred guitar, show you some of the best exercises to gain speed on the fretboard and play through a few of his own compositions to show you just what you can achieve if you follow in his steps. You can watch, listen, take notes, ask questions and participate: try an Ibanez in our store with freshly learned chops and you'll be shredding in no time!
The Details
Powered by Ibanez guitars, Edoardo will host a clinic on the secrets of shred guitar at our Epsom branch on Friday, the 12th of May at 7:00 PM. This clinic is FREE but spaces are limited and shredding is at the peak of popularity right now so this is going to get filled up veeeery quickly!