ESP School of Metal at guitarguitar
Published on 17 April 2023
So you've graduated from the School of Rock… now it's time for the ESP School of Metal!
The coolest metal teachers in the industry are coming to a guitarguitar near you: Birmingham and Glasgow, brace yourselves for this will be one MIGHTY event!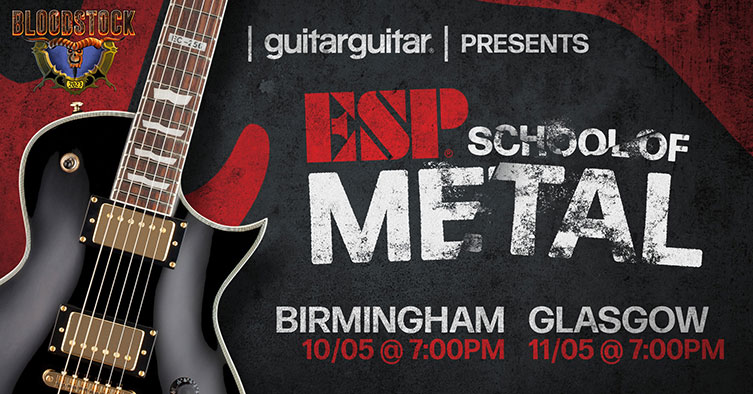 ESP shredders, Pat and Jamie, will host a one-of-a-kind workshop during which they'll lecture you on all things metal: tricks and tips on how to sound like your metal heroes, ways to harness the shred energy and call upon the heaviest of tones that the human ear can handle. Intricate 16th notes, down-tuning, pinch harmonics, ferocious palm muting…yup, you'll learn it all. So pack your gig bag and grab your favourite pick because you will be an active participant in this metal zone class (no amps necessary).
Pat and Jamie will be talking you through intermediate to advanced techniques. Students will have a chance to tailor their questions to their own playing. There will be play along activities and personalised tips. And before you know it, you will be a graduate of the ESP School of Metal!
Check out the ESP community page here.
The Details
ESP brings their School of Metal to 2 guitarguitar locations:
Birmingham - Wednesday 10th May - BOOK HERE
Glasgow - Thursday 11th May - BOOK HERE
Each event starts at 7:00 PM and lasts for a duration of 90 minutes.
To further ignite your inner metal passion, ESP are giving away a brand new LTD EC-256 in Black!
Simply fill in the competition entry slip handed to you by a member of staff upon arrival and keep your fingers crossed! Pat and Jamie will draw one lucky winner at the end of each workshop.
But... that's not all...
ESP will be one of the main sponsors of Bloodstock Festival 2023! And as an extra special treat, each clinic will also feature a giveaway of two guest tickets to the Bloodstock Open Air Festival this summer!
Get your horns up in the air!!!