Martin Road Series: the Perfect Gigging Player's Choice
Published on 05 September 2023
Is it time for you to join the Martin family? Are you ready to step up to one of the most prestigious and beloved guitar brands in history? If so, then you'll be more than excited to hear about the Martin Road Series, because the models in this range may be exactly what you are looking for…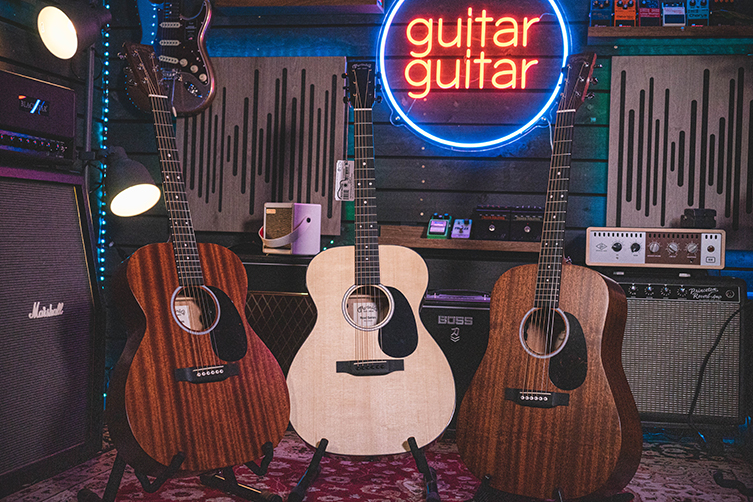 Martin Road Series
So, what exactly is the Martin Road Series? Simply put, it's the best entry point into the world of Martin guitars, with a range comprised of dreadnoughts, 000 guitars and even their new 'SC' offset body shape. The majority of these have been built using all-solid timbers, and those that don't use a quality layered technique for the bodies, as a vast upgrade to the HPL (High-pressure-laminate) process used on some more affordable instruments.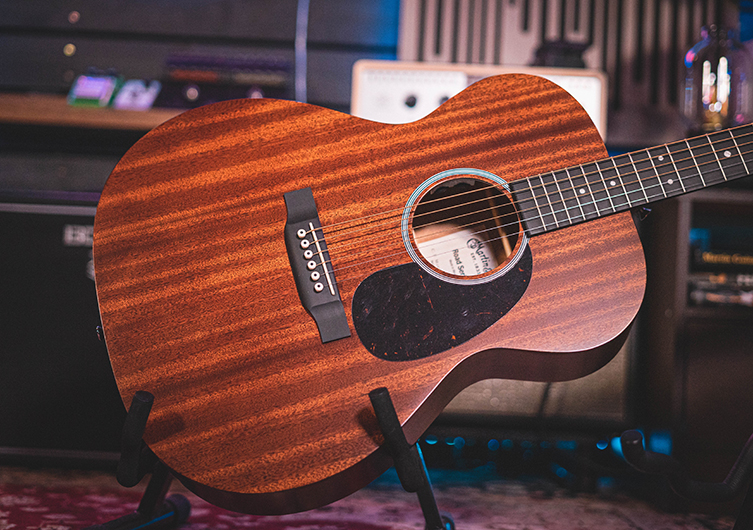 In addition to this, all models are gig-ready, fitted with Fishman electronics. No mere afterthought, Martin have ensured to include a brand who are market leaders in acoustic pickup technology, and to use a system that features a soundhole-mounted tuner: what you need, where you need it! We love this, as it speaks directly to the nature of the Road Series as performer's guitars.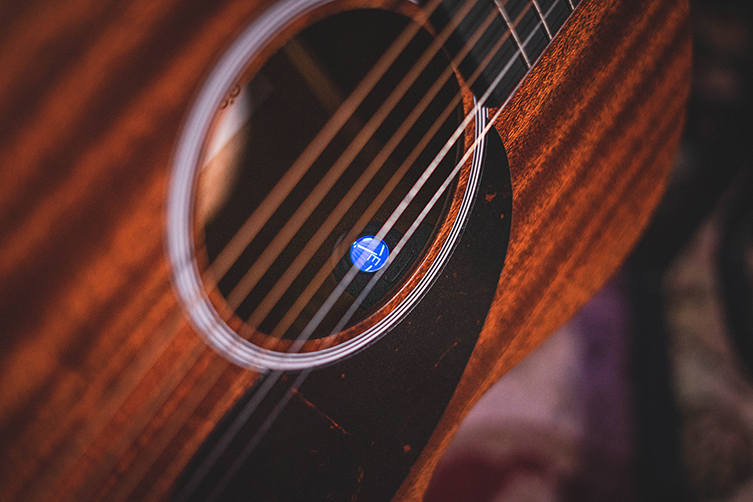 In the words of Martin themselves, these are for : 'working musicians or up-and-coming players looking for a guitar they can grow into'. The emphasis is very much on stepping up, and these are some very attractive models to consider for any serious players looking to enter the realm of pro-level guitars.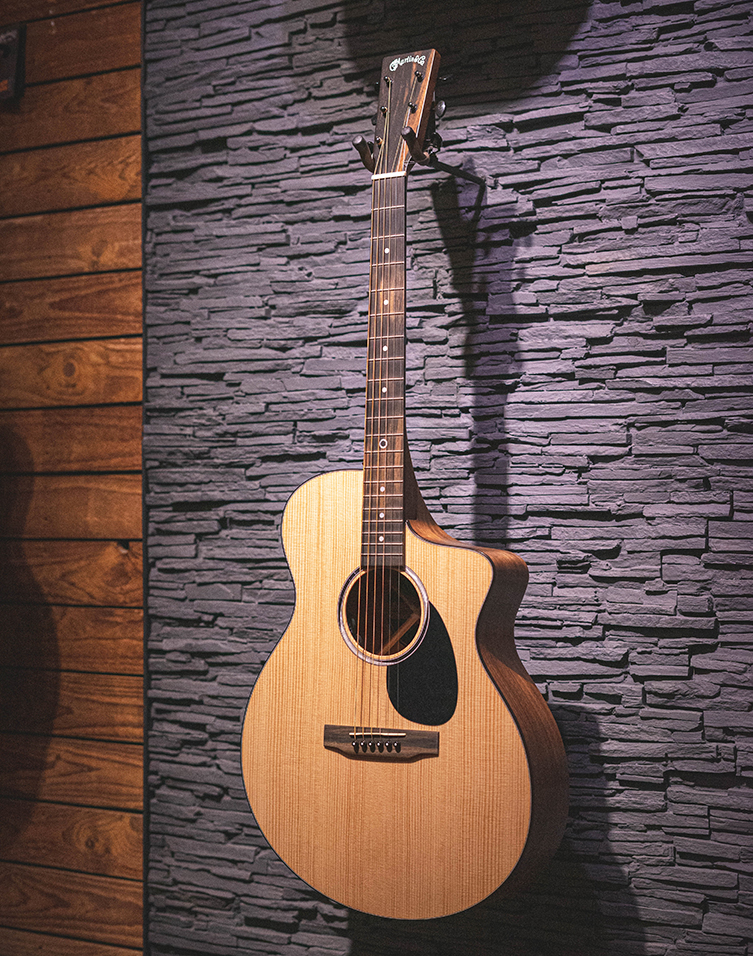 A Closer Look at the Martin Road Series
So, as we've seen, the Road Series are made either with all-solid timbers, or in the case of certain models (such as the SC-10E Sapele, for example) a solid top and finely layered wood for the back and sides. Guitars with lighter tops will of course have solid spruce for their soundboard, whilst the darker models use sapele, which is an abundant timber closely associated in tone terms with Mahogany. Both are routinely used in guitar building, with Spruce bringing a brighter, more percussive sound compared with the warmer finesse of sapele. Exotic woods used with the layered bodies include ziricote and koa.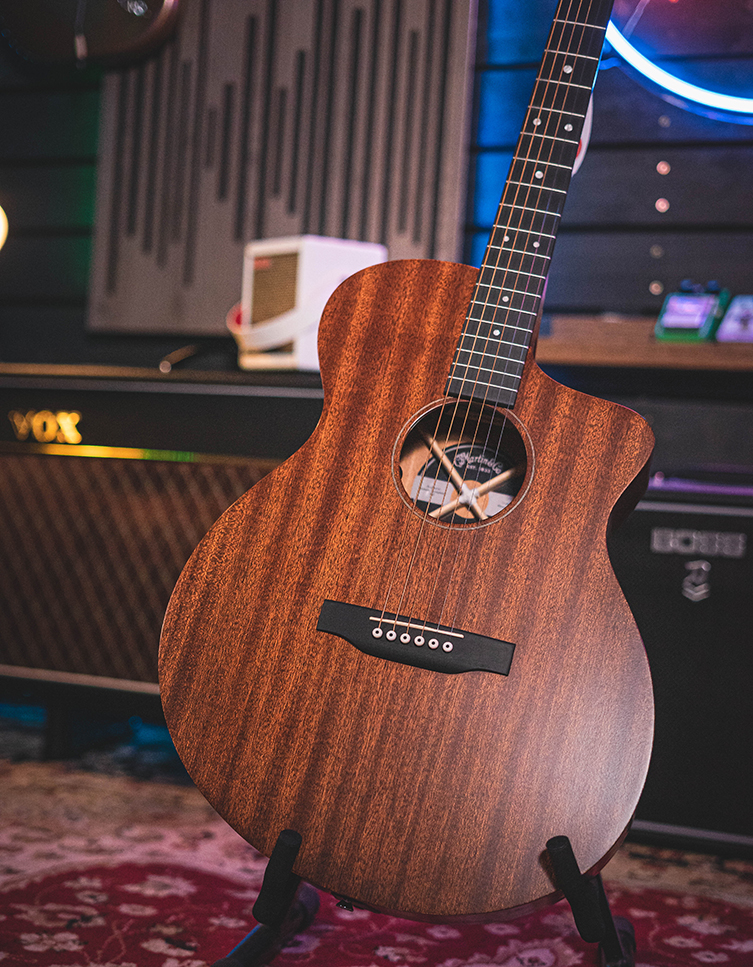 Martin Road Series Naming Conventions
The Road Series comprises a number of models that are either dreadnoughts (models with names beginning in a 'D'), orchestral models (models beginning '000') or offset SC models.
On top of that, there's a numeric to cover the aesthetic: a '10' denotes black binding with an all-satin finish; '12' refers to black binding and an all-gloss finish; and '13' is for cream binding and all-gloss finishing. Therefore, a Martin 00012E Koa would be an Orchestral model (000) with black binding, gloss finish and a layered back & sides with a veneer of Koa. Just like this one…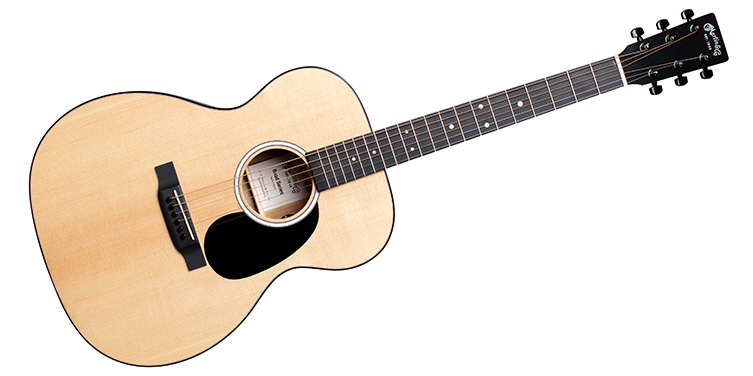 Let's now zoom our lens in slightly towards one or two of these guitars, and see what's happening.
Martin SC-10E Sapele
First up is this eye-catching offset, the SC-10E Sapele. This design is still pretty new to Martin, and to be fair, there really aren't many offset acoustic guitars out there at all. The idea behind the shape - apart from simply furthering the possibilities of the acoustic guitar in the 21st century - are about comfort and longevity: the shape makes sitting for long sessions easier, as does the patented Sure-Align neck. Special scalloping in the guitar's bracing balances the tone, making for a pretty future-forward instrument from this most traditional of brands.
We've seen the SC with a spruce top already, but this Road series SC-102E 02 offers the sapele experience for not only the top, but the back and sides too. I particularly love this because it's a similar situation to the 'depression-era' mahogany Martin 15 series originally from the 30s, but built into a thoroughly new design. Perfect mix of history and futurism? It's definitely close!
Martin D-10E
Talking of the 15-series, the comparison is even more overt here with this classic Martin D-10E. Looking every inch the historical Martin dreadnought, this D-10E again uses sapele for the top, back and sides to offer up a warmer, smoother voice. Still, due to the dreadnought shape and specially shaped inner bracings, this is an instrument with depth, volume and richness. If you have found yourself turning your tone control back in the past, maybe you'd prefer the more midrange-focussed tones of a sapele guitar, and this one would be a prime contender.
You get Martin's high performance neck carve here, and you get that excellent Fishman XT pickup system, so all in all, it's a sound choice for players of all styles and skill levels looking for Martin quality at a very reasonable price.
A Solid Upgrade
Let's talk about timber and 'seasoning' for a second, shall we? In terms of producing quality tone, all-solid timbers are the best. This is because solid wood resonates more due to the vibrations being freer, and so the guitar has more 'raw sonic material' to work with and produce tone from. A solid top is the most important element in this, since this is where most tone is created and collected, before being sent into the acoustic space of the hollow body and so on.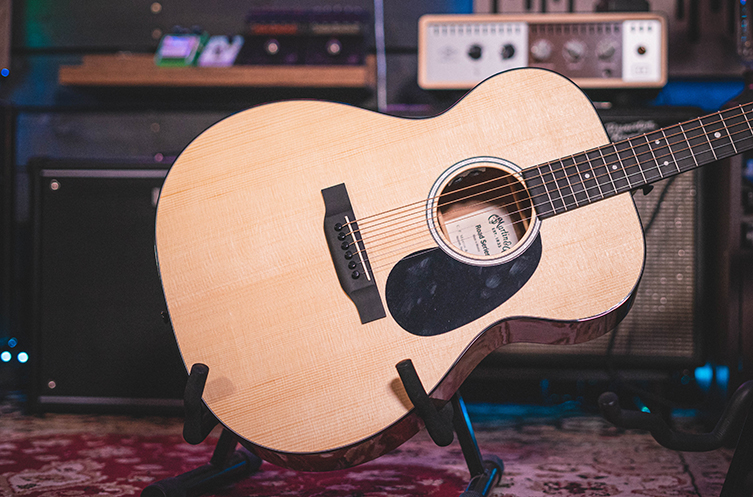 If you have a solid top, or indeed an all-solid instrument, then your guitar will 'season' as you place it. Seasoning here means basically an improvement in the depth and richness of tone that naturally accrues as the years of playing pass. The more you play a solid guitar, the better it will sound, and that's true of the models with the finely layered veneer back & sides too: though not truly solid, they are a significant step up, performance-wise, from previous multi-ply methods. Performers looking for maximum bang for their buck are therefore in for quite the treat when they check out this range!
Great Entry Point to Martin Guitars
I feel like this new range is a very accessible way to own a pro-level Martin acoustic, performance-ready, with specs and designs that are geared towards long-term service. These are workhorses, built in the classic moulds that Martin are famous for, and offered at a point that's well within the means of the dedicated player looking to step up. Exciting? Definitely. Time to hit the road!