Yamaha Synth Demo Day with Luke Juby at guitarguitar Glasgow!
Published on 20 November 2023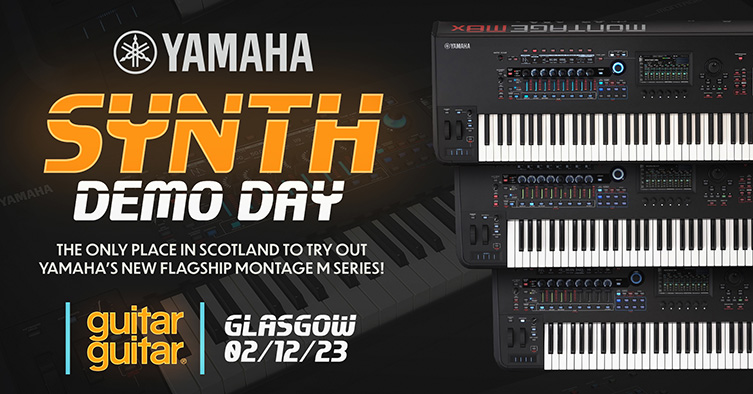 Is synth at the core of your musical creativity?
Are you endlessly looking for ways to re-invent your sound with state-of-the-art instruments?
Look no further. With our fantastic dedicated Yamaha showroom, guitarguitar Glasgow is the only place in Scotland where you can try the latest Montage range and learn all its secrets straight from the expert - Luke Juby!

The Yamaha Montage is a next-generation flagship synthesizer that seamlessly bridges stage and studio workflows with computer connectivity. The Montage range introduces a new era of sound, whilst offering endless possibilities in music creation and it will be the front and centre of our synthesiser Demo Day.
The Details
Yamaha Artist and acclaimed songwriter/session keyboard player, Luke Juby, will host a synth Demo Day at guitarguitar Glasgow on Saturday the 2nd December.
Luke has worked with many artists including Leona Lewis, Olly Murs and Little Mix, and has just finished a worldwide tour with The Script. Luke can also be seen and heard on the UK and US X Factors and Britain's Got Talent, both in front of and behind the camera. Alongside this, Luke also works with Yamaha, helping test and develop new instruments.
You will have a chance to watch, listen and learn as he demonstrates the latest range of Montage synths and other Yamaha products, as well as book a one-to-one session with Luke on the day.
This event will take place throughout the shop opening times (10am - 5:30pm) so all you need to do is just drop-in!
However if you'd rather get a particular time slot guaranteed, all you need to do is phone our Glasgow store on 0141 552 9896 ahead of the day and book.