Seymour Duncan SH-1 N and B 59 Humbucker Set Black - Vintage Blues Set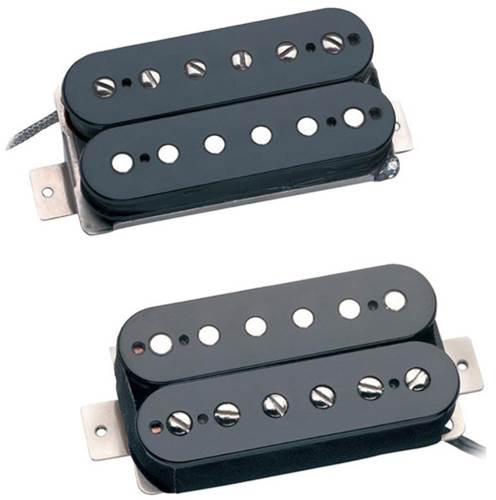 £130.00
Available to Order
This product is temporarily out of stock
We currently have it on order with our supplier. Place your order and we will email you when we have an estimated delivery date.
Manufacturer's ID: 1611108-05B
What we say:
Seymour Duncan are perhaps the most famous brand of guitar pickups in the world. Since the 70s, Seymour and his team have hand built an ever-increasing range of premium pickups for electric guitar, bass and acoustic instruments.
Seymour Duncan use the best copper wire and magnets to create their pickups. Models range from recreations of vintage classics to, more often, original design pickups that bring a whole new world of sound tho the musician. All styles are catered for, from 50s pop to traditional Jazz right through to the most aggressive modern metal.
Changing pickups in your guitar is the quickest and most cost effective way to alter or upgrade your sound. Seymour Duncan will almost certainly have a pickup that's perfect for you with a level of quality that's unmatched.
This classic humbucker set from Seymour Duncan brings together the matched Neck and Bridge variants of their celebrated '59 model pickups. Fans of beautiful vintage sustain and crunch will adore these!
Using alnico V magnets and opting for a lower number of winds, these '59 model pickups are all about capturing the magical 'PAF' tones from late 1950s humbuckers. Detail and character are more important here than output. Clean and lightly overdriven tones practically sing from your guitar with these excellently voiced pickups.
That being said, these Duncan '59s are more than capable of handling high voltage Rock: all styles of Rock lead guitar are handled deftly, making these fantastic upgrades for those looking for excellent all-rounders.
In this set, available here as two open coil black humbuckers, the bridge model is slightly higher in output to make the pair balance well when used together.
Guitarists looking to make an upgrade from stock pickups will find these to be a very wise choice.
Specification
Features:
SH-1 '59 humbuckers
Smooth, thick sound