Novation Launchpad Mini MKII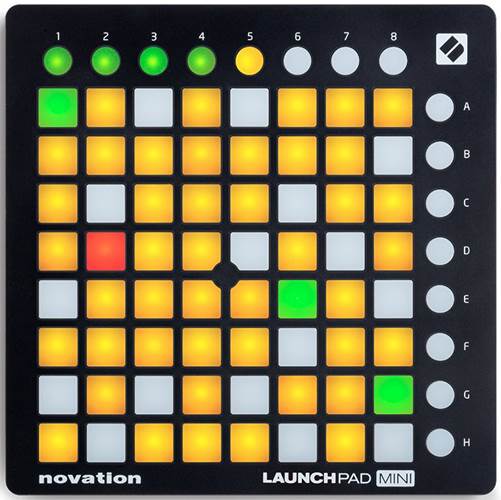 £69.00
Order before 1PM for Delivery Tomorrow
Manufacturer's ID: NOVLPD08
What we say:
This is Novation's smallest Launchpad and its most affordable. Like its bigger brothers it has 64 pads for the main performance arena and a further range of pads on the outside for extra functions and changing modes.
If you use Ableton at all, it is infinitely easier and more fun to have some sort of grid-controller, such is the way Ableton behaves and operates. Use the Launchpad Mini to launch clips, tap in beats, mix levels and a heap of other things. It's straight-forward and intuitive to use and since it's bus powered, it's a simple case of plugging this into your laptop via USB and you're away!
This will also work in conjunction with other Launch products (some musicians and produces just need more!) and you can use this with your iPad too via a Camera Connection kit.
Specification
Like Launchpad, Just Smaller If you use Ableton Live, you need a Launchpad. It displays your session view on 64 multicoloured pads, letting you launch multiple clips at once and control anything else in Live. It's an evolution in creating electronic music and this mini version does all the same cool stuff as the normal Launchpad. It's just as durable and gig-ready, the only difference is that it's even more portable and takes up less space in your bag or on your desk.
Make Something Spectacular As well as launching clips, you can use the mini 64-pad grid to play drum racks, create awesome light show videos and control your mixer. There are also separate buttons around the outside of the grid, which you can use to apply killer FX or assign to whichever triggers and controls you fancy. Just imagine the possibilities if you combine this with Max for Live…
Connect To Just About Anything Launchpad Mini works with anything because it's bus-powered via USB and totally class-compliant. You can use the grid to control FL Studio's performance mode, or grab a Camera Connect Kit and use it with your iPad to control Launchpad App.
If you want to get really experimental, connect multiple Launchpad Minis together or build yourself a fully hands-on Ableton Live studio setup by combining with Launch Control, Launch Control XL or Launchkey.
Helping you find your new sound Music making is all about the journey, and we're always looking for new ways to inspire you along the way. That's why we've created the Sound Collective. Receive free versions of the most innovative software instruments and creative FX from developers we admire, as well as discounts to help you make the most of third-party software, exclusive to Novation customers. All you have to do is register your Novation gear, and one offer will be featured in your Novation account every couple of months.
FEATURES
Control Ableton Live : Get hands-on control of anything in Ableton Live without any set up.  
Get creative: 64 multicoloured mini pads for launching clips, playing drum racks, triggering effects and loads more.  
Size matters: Smallest and lightest Launchpad, perfect for the compact setup.  
Make something spectacular:Create awesome multicoloured Launchpad lightshow videos.
Mix with your grid: Start and stop loops, arm tracks, and control volumes, pans and sends.  
Control FL Studio: Play on the Piano roll, trigger samples and effects, and much more – it's a brand new way to play FL Studio.  
Plug in and play: USB bus powered and totally class-compliant, so it works straight away without any drivers.  
Create a full studio: Combine Launchpads or add other Launch products to control all of Ableton Live at once  
Make music immediately: Includes Ableton Live Lite, Novation Bass Station Virtual Instrument and over 4GB of Loopmasters samples.  
Enjoy two years of warranty: Rely on our two-year warranty if any Novation hardware needs repairing or replacing due to a manufacturing fault.  
Practice rhythm: Use Melodics to hone your pad drumming skills for free.
Get started with Launchpad in seconds: Launchpad Arcade is a place where you can get straight into making music with Launchpad 's familiar clip-based user interface.
Included Software
Ableton Live Lite
4 GB of Loopmasters sounds and samples
Novation Bass Station VST and AU plug-in synthesiser
Sound Collective provides free versions of software and discount coupons regularly
Free Melodics lessons
What's In The Box