Roland R88 Recorder (Ex-Demo) #G1940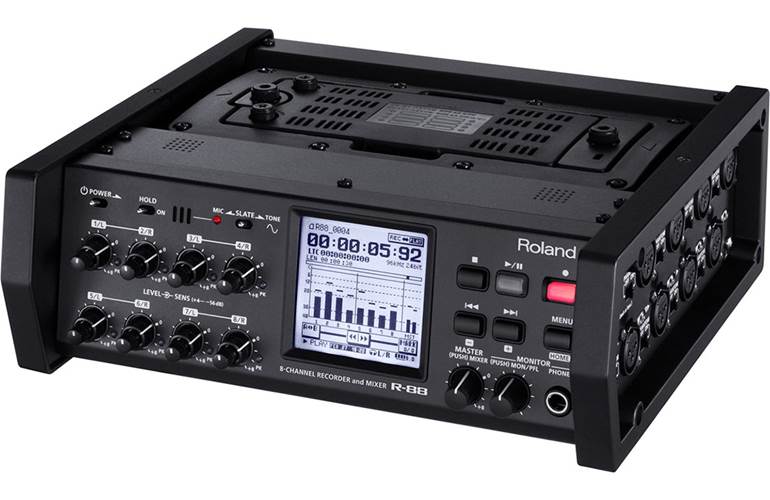 Was
£1,469.00
Save £270.00
£1,199.00
Order before 3PM for FREE Delivery Tomorrow
What we say:
Roland step into the world of Field Recording with their pro spec R-88 Recorder. It's a useful mix of 8 track recorder, audio interface and simple mixer that gives you a great deal of portable power.
With it's ability to save up to all 8 channels as a single WAV file (mix them on the unit) you can really get through rough recordings and more polished, final audio pieces. There are selectable delays and cut-off frequencies for each channel with gain and headphone boost controls available to balance out each channel's sensitivity.
This is the perfect choice for location recording and can use a variety of timecode modes. The inputs and outputs are broadcast quality and the mixer section has a 3 band EQ to control overall tonalities. There is a large touch screen too for direct editing, set up and control. It runs on 8 AA batteries and can take footswitches to control various commands like Start, Stop and Record.
Condition Report
This unit is in very good condition and comes with its original packaging, power supply and manual.
Specification
Surround Field Recording and Monitoring
The surround recording and monitoring workflow consists of a Holophone H2-Pro 7.1 Microphone feeding a Roland R-88 8-channel field recorder which in turn is connected via USB to a PC running a plug-in for DTS Headphone:X technology. Because the Roland R-88 is also an USB audio interface, while it is recording the 7.1 audio data it can simultaneously send all eight channels to a PC for backup recording or in this case, to be further processed using the DTS Headphone:X technology. See more information and photos. The R-4 Pro is a part of our series of audio field recorders. Compare Audio Field Recorders.
Features in V1.10 Update:
Polyphonic WAV Function - ability to save 2,4,6 or 8 channels in a single file
Control the R-88 using MIDI via the Roland UM-ONE mk2 USB MIDI interface - mix with a MIDI-controllable fader unit
Selectable input delay per channel - adjustable by 0.05 - 20 ms - ideal for surround micing
Cut-off frequency per channel - adjustable range 60-250Hz
Sensitivity gain and headphone boost functions
Expanded footswitch parameters
Seamless integration of recording, mixing and an audio interface
The Roland R-88 includes all the features required by location sound professionals including a full on-board mixer, various timecode modes and slate tone/mic for memos. The stereo mix output on the R-88 is perfect for location sound recording applications enabling a stereo mix back to the camera to record reference audio or provides a stereo monitor output while simultaneously recording individual tracks. With 8 discrete outputs you can also embed the audio tracks into a SDI video feed by using a multi-channel SDI audio embedder. It also features professional AES/EBU digital I/O to digitally record from or send to a mixing console or other digital source.
The R-88's built-in mixer is equipped with a 3-band EQ enabling a quality stereo mix to be monitored and/or recorded simultaneously along with each discrete audio track. The large touch screen display enables clear and intuitive device setup and control. You can lock the display and front controls to avoid any accidental operations.
Beyond field applications the R-88 is nicely suited for post-production environments featuring a built-in 10-input/8-output USB audio interface for multi-channel recording. The eight-output ports are especially useful for surround projects. The interface function is also able to provide a backup record mechanism simultaneously recording all tracks to a DAW of choice.
The R-88 supports BWF and iXML metadata including tags such as SCENE, TAKE, TIMECODE_RATE, etc. This enables and intelligent and seamless interchange of data with editing systems such as Final Cut Pro and Pro Tools.
The R-88 is extremely portable weighing less than six pounds including eight AA batteries. Optional accessories include a custom carrying bag, and remote footswitch controllers for start, stop and record, marking functions, etc.
FaderMaster Professional MIDI control of the R-88
With the Roland R-88, you can easily expand your work surface to include a MIDI fader controller. Connect your device to the R-88 using a Roland UM-ONE mk2 USB MIDI interface and mixing becomes a breeze. See the setup guide available which demonstrates the use of the JL Cooper FaderMaster Professional.