JHS Pedals Mini Foot Fuzz V2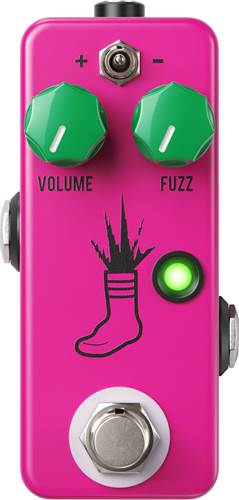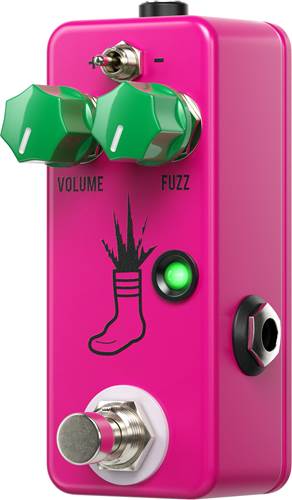 £129.00
Order now for Delivery on Saturday
Make 3 payments of £43.00

No fees.
Learn more
Recommended Bundles
Manufacturer's ID: JHS MINI FOOT FUZZ
What we say:
At A Glance:
One tiny pedal with a giant sound! The Mini Foot Fuzz is built to take up the bare minimum of space on your board, while still delivering mountains of the hairy, splatty goodness that we fuzz addicts know and love.
Features We Love:
Diminutive Scale
Small footprint pedals are ideal for adding effects to an already crowded board, and the Mini Foot Fuzz does just that, while still giving you a wide range of tone.
2 Fuzz Modes
The Mini Foot's toggle gives you access to 2 fuzz modes. The '-' mode gives you a classic era 'ripped-speaker' style fuzz effect, while the '+' mode delivers a modern, clippy, gated style that's packed with over-the-top hair.
Simple, Powerful Controls
2 knobs, nothing complicated, but plenty of range. There's loads of Gain to hand here in any mode with the Fuzz control, while the Volume control balances out the insanity - only if you want to.
Pros:
Super small footprint on your board
Tons of noisy hairy gain or classic era fuzz
What's Included:
JHS Pedals Mini Foot Fuzz V2
Specification
The controls on the Mini Foot Fuzz V2 are as simple as it gets with Volume and Fuzz knobs as well as a toggle for high or low gain settings. Crank the Volume and leave Fuzz down low to give you lower-gain, vintage-style fuzz. Once you start to crank the Fuzz you will find all the cutting and splatty tones you need for any riff or lead line. In the – mode, the toggle gives you a low-gain mode where you get vintage broken-speaker type sounds. Flip it into the + mode and you get a classic yet modern high-gain buzz to blow the roof off with.
If you're looking for a versatile fuzz without the fuss, the Mini Foot Fuzz V2 is your ticket. As far as we're concerned, there's never been a better Itty-Bitty Foot-Activated Buzzy-Sound device in all creation!
THIS PEDAL REQUIRES STANDARD 9V DC NEGATIVE POWER, CONSUMES 3 MA, AND MEASURES 3.6"X1.5"X1"