Daredevil British Black Belt Gold Overdrive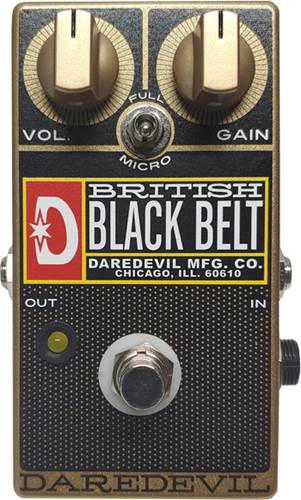 £189.00
Order now for Delivery on Saturday
Make 3 payments of £63.00

No fees.
Learn more
Manufacturer's ID: DBBG
What we say:
At A Glance:
The British Blackbelt Gold Overdrive takes the circuit from a very well know micro "belt loop" amp made by a hallowed British amp builder and puts it into a pedal for the first time. From lo-fi almost black metal sounds to full on rock and roll, the British Blackbelt is a simple yet versatile toolbox!
Features We Love:
Dual modes
Click the 'Micro' setting and instantly get the sound of the aforementioned 'Belt Loop' micro amp. Perfect for lo-fi indie rock or even early black metal vibes with its nasty rasp! Fire up the full mode and this pedal opens up, the classic micro circuit through a big rig sounds absolutely fantastic and stacks with the amp distortion creating a HUGE new sound!
Simple Controls
We absolutely love how the British Blackbelt is straight to the point in terms of controls. Volume does what it says on the tin and the Gain is even simpler. Turn it West and we have the low gain crack it East and it really screams. Both settings have there very own characteristics.
Construction
Hand built by Johnny himself at Daredevil Pedals HQ in Chicago, these pedals boast premium parts, beautiful finish, bold artwork and you have the peace of mind that everyone of these stompers has been made with the love and care you only get from smaller builders.
Highlights:
Twin modes with multiple applications in the studio or on stage.
Easy to use controls that give a varied result.
Rugged hand built construction
What's Included:
Daredevil British Black Belt Black Overdrive
Specification
These small amps have long been a secret recording technique to layer instruments yielding huge gain response. In an effort to maintain that approach, the Black Belt has a 2nd channel that emulates these small blown out tones.
The frequency range is a bit more even, lending itself to the sonic realm of any number of small battery powered amps that artists have used over the past decades.
The intent is to give musicians another cool way to get creative in the studio and expand their tracking capabilities, meanwhile giving the option to utilize these tones in a live setting as well.
The British Black Belt can be used to achieve lo-fi settings, huge walls of gain, or scaled back variations of either. Just one knob for each keeps the operation simple.