Introducing: Crimson Guitars
Published on 16 June 2017
Over the moon doesn't even begin to describe how excited we are to be stocking these jaw-dropping British-built guitars!
A brand that may be new to many of you, Crimson Guitars are based in Dorset on the south coast and design some of the finest handmade guitars these shores have to offer. Formed in 2005 by master luthier Ben Crowe (who developed a passion for guitar building whilst studying Early Instrument Lutherie at the internationally recognised West Dean College in West Sussex), the company has steadily grown by adding a small team of dedicated, highly skilled builders to ensure Ben's distinctive designs are crafted to their maximum potential.
As well as building instruments for Robert Fripp, Charlie Jones and Jakko Jakszyk, Ben started filming YouTube tutorials and crafting luthier's tools. This brought Crimson Guitars to a much wider audience and their YouTube channel now racks up over half a million views every month. This was where we first became aware of Crimson and we were curious to find out more...
Anyone who was seen Ben's videos can't fail to be impressed by the passion, enthusiasm and skill that is poured into the instruments he and his team build. We certainly were; so we contacted Ben and arranged a meeting. We were so impressed with the quality of the guitars on offer we simply had to have them.
Here are the fruits of our order...
Each guitar is truly unique and has a little bit of a story to tell, so grab a cup of your favourite beverage and spend a few minutes having a look at these beauties!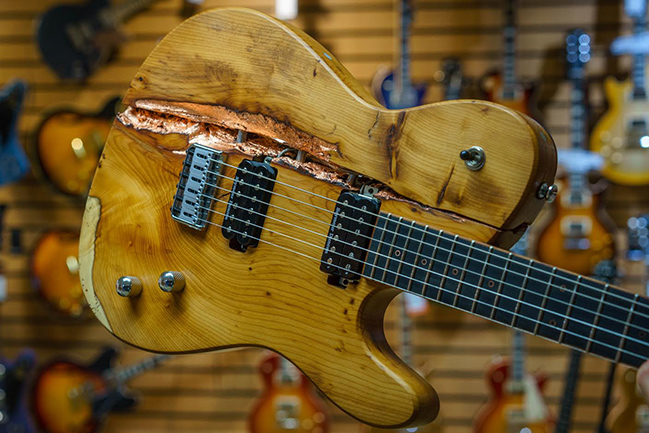 This Custom Shop Raw Descendent Copper Rodded is one of the most visually arresting and unique looking guitars we've ever set eyes upon. Made from a sinker log of Yew that had split during body shaping, Crimson had a 'I wonder what if.....' moment and came up with the idea of pinning the pieces together using steel rods. The result is this stunning looking and completely structurally stable guitar, and just to take things that one notch further, the knot holes have been filled with bronze leaf. Amazing!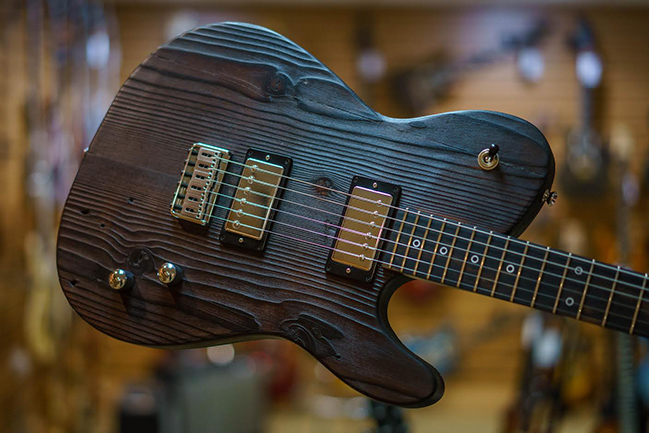 The other most 'out there' guitar is this Raw Descendent. Made from that same sinker Yew log and given Crimson's Partially Burnt treatment, this is another truly unique guitar. Featuring a super slick one piece Wenge neck that feels great in the hand and a set of Seymour Duncan Hot Rodded humbuckers.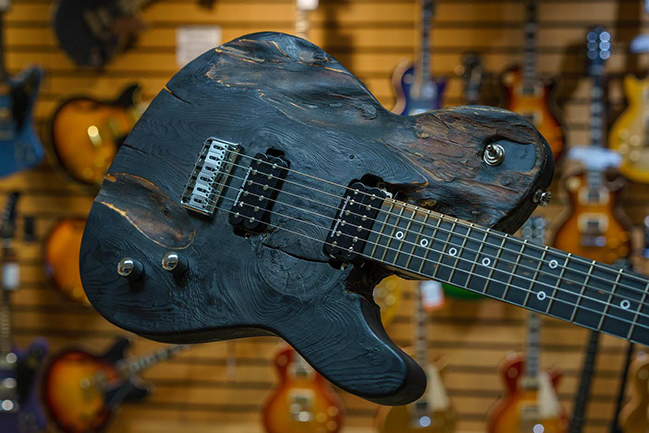 If ever there was a guitar that had to be given the burnt treatment, it is this Raw Descendent that is made from wood reclaimed from the old Dorchester Fire Station. The Hemlock Pine is super lightweight and resonant, and again, fitted a great feeling neck but this time produced with burnt, flamed maple and sealed with Crimson's own blend of finishing oil.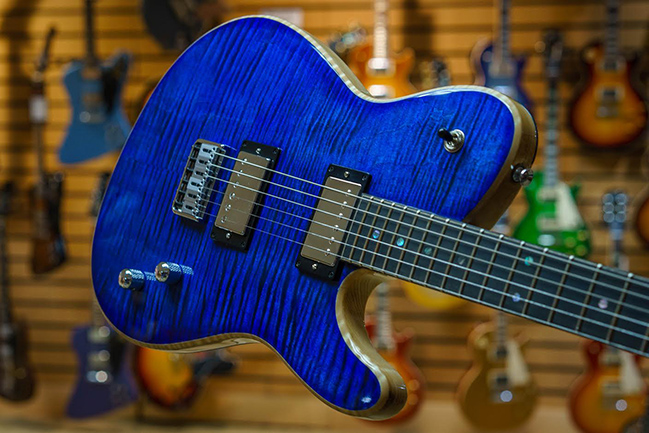 Its not limited to bold designs, check out this more conventional finish on the Artist Descendant.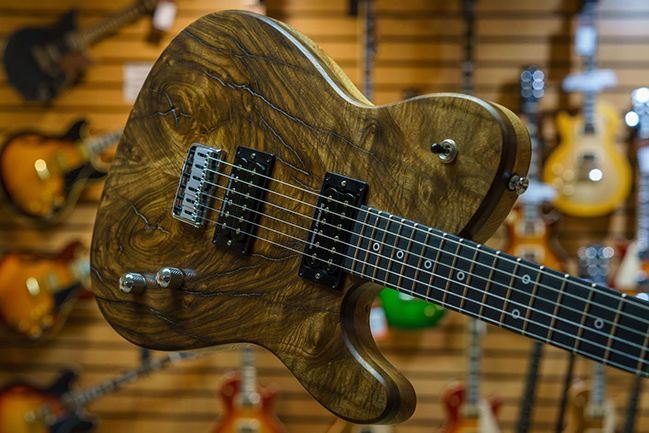 Crimson are a champion of using reclaimed wood and this Walnut Top was recovered from a coffee table in the reception area of their own workshop. There's obviously no mercy shown if Ben spots a nice looking lump of wood!!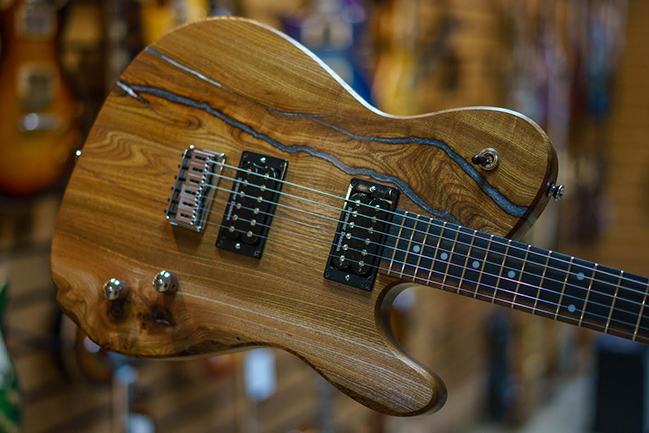 Last, but by no means least, is this Descendent. The silver streaks that look like lightning you can see running through the body are cracks in the Chestnut that have been stabilised and filled with aluminium resin, Ben was telling us that this was a personal favourite of his from the batch we had delivered.

We'd really love to see you come in and check these guitars out, we are proud to be representing and supporting a great British builder.