The guitarguitar Interview: Jared James Nichols
Published on 28 September 2018
Here at guitarguitar, we've been good friends with Jared James Nichols for a while now: as well as him being an exceptionally gifted and expressive guitarist and singer, he is also an effervescent, engaging and very positive guy! Hanging with Jared is always tons of fun and we wanted to share some of that with you! Jared, as always, didn't need to be asked twice to share his enthusiasm and passion for all things guitar. Here is our recent conversation: in it, Jared shares where he came from, how he got where he is now and what he's planning for the future...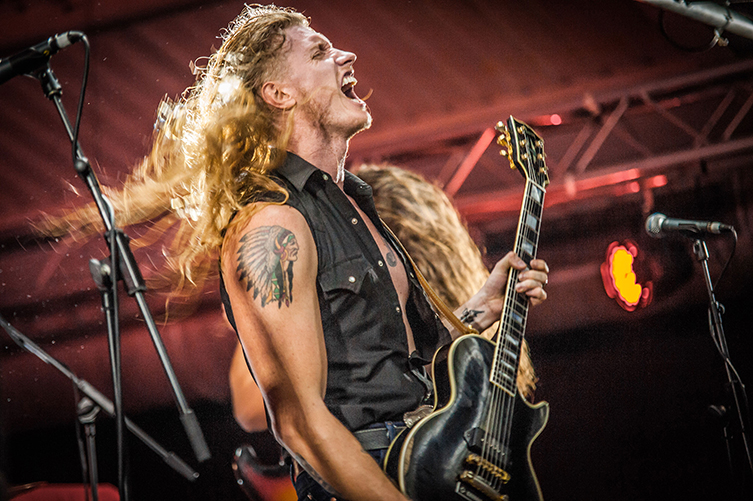 Starting back at the beginning, what age were you when you first picked up a guitar and what were your early influences?
I first discovered guitar at 14 years old. I've always loved music, as long as I can remember. The guitar bug hit me quickly! A ton of my friends were getting guitars and jamming just about when I hit high school, and of course, I wanted to join along. Originally, I wanted to be a drummer. Thankfully my parents swayed me to get into guitar instead. When I received my first electric guitar and found out what distortion was, my life changed!! The first riff I ever learned was 'Electric Funeral' by Black Sabbath. I was hooked. Jimmy Page, Hendrix, Pete Townshend... Any classic rock with a guitar was heaven to me.
You grew up in Wisconsin. How did growing up there influence your music?
I grew up in a very rural area, I had a lot of time to play. Wisconsin was an amazing place to grow up for music. There were so many open jams and concerts for me at a young age. I was playing open blues jams just a few weeks after I started with the guitar. I also grew up right down the street from Alpine Valley Music Theatre. It's where Stevie Ray Vaughan played his final show. From the age of 14-18, I saw almost every concert there. I vividly remember my first show, ZZ Top, Ted Nugent, and a young Kenny Wayne Shepherd was opening. That was HUGE for me.
Back in 2010 or thereabouts you won the Musicians Institute Most Outstanding Player Award: how long did you attend the MI? Do you feel like it's a good path to go down?
Yes!! That was a pretty amazing honor to get! Just before and at that time, I was practicing guitar up to 14 hours a day. Completely obsessed. I felt that was the perfect path for me to go down. I knew what I wanted and where I wanted to go with music and guitar. MI helped me get there a lot quicker and stay completely inspired and driven along the way.
Early on, you got on some big tours with bands like ZZ Top and Lynyrd Skynyrd: how did these gigs come about?
It's like anything. If you do 1,000 gigs, at least a few gotta be pretty good! Haha. It is all about relationships. I would play one gig and meet someone who owned another venue, then they would tell their friends and so on...early on, I played a Motorcycle Show in California for the Sturgis Buffalo Chip. They single-handed set me up to open for Skynyrd, then after that, I was able to build a relationship with Skynyrd. Nowadays I have an amazing agent who is able to connect the dots much easier, but at the end of the day, it's still all about relationships.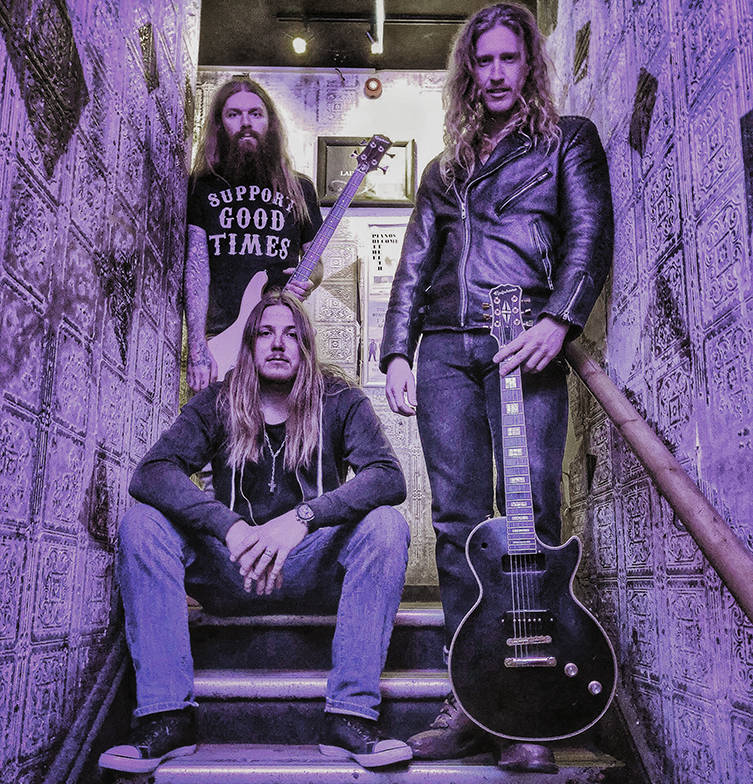 Has your band been a consistent line-up or do you use lots of different players?
Fairly consistent!! I feel like you need to have a set-up and gel with the same players to get the right feel. Of course, players can come and go, but I try and keep the same line-up, because I love playing with my guys. It's always hard to find committed players, so when you do find them, don't let them go.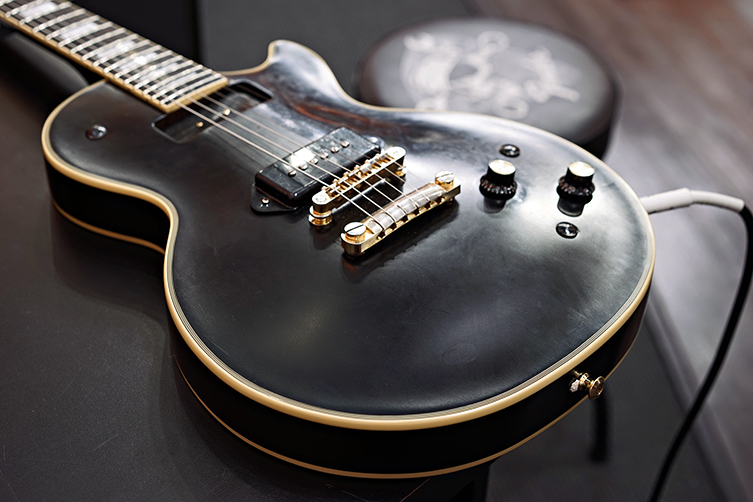 So, Jared, let's just get it out of the way: just what is it you hate so much about neck pickups? Haha! You take them out all of your guitars!
Haha!! Oh man..here we go...!
Well to be honest, I don't necessarily HATE them. They just aren't a part of what I go for, or the tones I try to get. Ok, ok... Let's go a little deeper. I play with the flesh on my fingers, with naturally gives me a more thick, dull sound. I am also expressive in a way that I rely on my volume and tone controls. I really only focus on dynamics with my actual touch, instead of pedals or switching pickups. Also, the neck pickup gets in my way and I end up smashing and cutting up my fingers on it due to my technique. Whenever I use a neck pickup, it sounds 'tubby' without articulation. I discovered that with a great dogear p90 pickup and adjusting my volume/tone Knobs and touch I could get more of the sound in my head. I love the Clapton 'Woman Tone' and I found that if I tweak my touch enough, I can get those neck pickup tones I crave. It forces you to play differently and dig deeper. Also...IT LOOKS COOL! LESLIE WEST ANYONE?!?
Your favourite guitars seem to be 50s-style Les Pauls with P90s. We love P90s too and think they are underrated but what is it that you love about them? What do they give you that humbuckers or regular single coils don't?
I love p90s!!! I use the Seymour Duncan Antiquities and they RULE. There is something so magic, mystical and musical with these pickups. I first discovered their beauty after switching from single coils to humbuckers when I was 18. Of course, I loved the huge sound of humbuckers, but I missed the articulation and nuance of single coils. When I heard Leslie West on a single-pickup p90 Les Paul Junior, I was blown away. So much power and thickness, with all of the chime and clang I love about single coils. When I first tried one, it was buzzy and kind of hard to understand. But I held tough and really tinkered with it. The revelation came when I jammed with the band on a les Paul junior. It sounded MASSIVE. Simple and deadly. They pack a bigger, hairier punch than a humbucker, but also sing like a single coil.
Are there any plans with Epiphone to release 'Old Glory', your black Les Paul, as a signature model? It has a great neck!
Hmm... Maybe something will come up here soon?!? 2019 will be something very special for sure!!!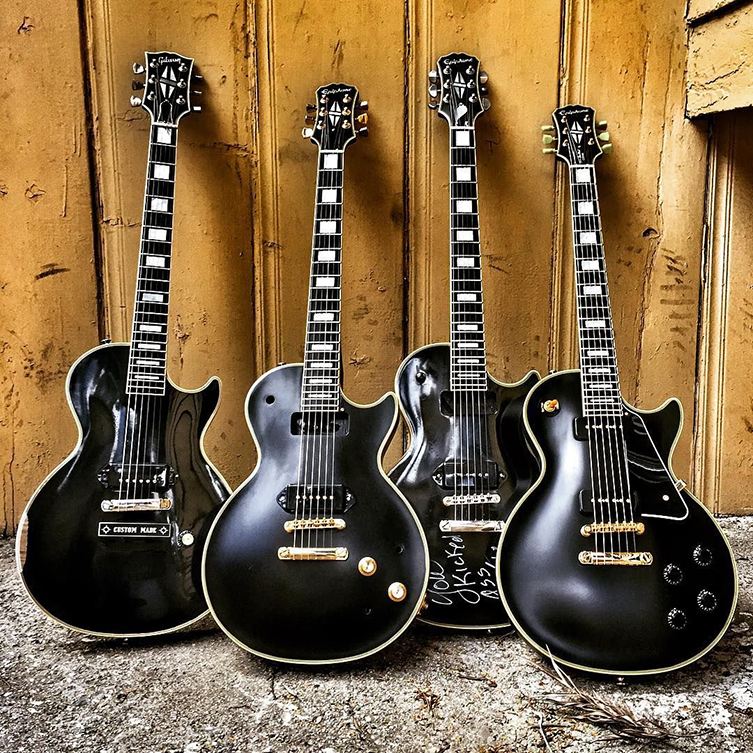 You play a fair amount of slide: do you use a special guitar set up specifically for slide? And do you have any tips for controlling unwanted noise in slide playing?
Yes! I love slide guitar as well. Honestly, nothing too special about it. Usually, I will play slide in standard tuning or open D. I find the biggest things to work on with slide are actual note pitch, vibrato, and muting. Those are the key elements, otherwise, your slide playing sounds like a wounded animal!! I always strive to make to vibrato, bending and slide playing sound like a voice. It's what I've spent the most time on for sure with lead playing.
Are you using many pedals in your set up?
NONE. Not even a tuner haha! With my new Blackstar Amps Club 50 I just plug straight in and let it rip. Oh yeah... I might have some special happening with Blackstar here very soon too...!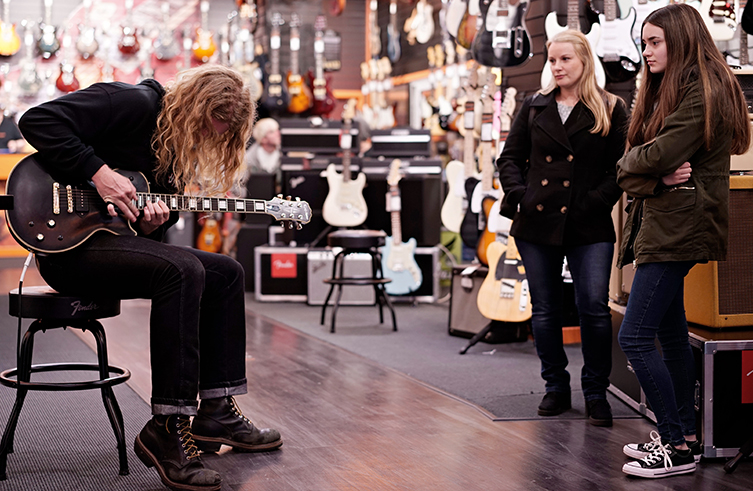 What about gain: more or less for what you like? Your tone is exceptional!
Thank you! Truth be told, I do enjoy having a good amount of gain, but really, I just love an overdriven tube amp. Once you crank up a great tube amp to a point of serious breakup, you really hear the tubes and speakers working. The harmonics and overtones are something really special that cannot be recreated with a modelling amp.
So, the Blackstar amps...?
Yes! I've used them since I started my trio, I practically grew up on them. From my bedroom to small club gigs to arenas, I've played them everywhere.
I normally ask about plectrums too you don't use one, do you? Was it a conscious decision to lose the pick?
Absolutely was! Fun fact: I'm left-handed as well. So I never truly got on with a pick. It always felt foreign to me. But everyone told me I had to play with a pick to 'be good' so I listened. But once I dropped the pick is when I started actually connecting to playing guitar. I stopped trying to sound like everyone else and just try to be me. I was 18 when I dropped the pick, it was a completely new lease on playing. Everything felt new and fun, it still does to this day.
You like to play different cover songs every night on tour: how do you select which town gets which song?
Haha. Every night is different. Honestly, I don't use a setlist either. I just try and focus on the crowd's energy and go for it. Some nights it's ZZ Top or Joe Walsh, other times it's Black Sabbath or Mountain. Every show is special for me, so I try and keep every night fresh and engaging.
Do you have to practise to keep your skill levels up? If so, what is your usual practice regime?
I love to practice. Unfortunately, I don't have much free time anymore to sit at home and shed for 10 hours a day. But, I always play my guitar when I have time. At the hotel, or backstage. I don't really have a regimen anymore. I just try and focus now on pushing more towards my own sound and connection to the guitar. Total command of the sound in my head.
Your playing has lots of classic rock and blues influences but also a really free sort of wildness: how did you cultivate your own voice on the guitar?
It just started to develop on its own naturally. For years, it was strict blues. Very safe and studied. Then came the wild abandonment of Hendrix and Leslie West. The whole rock vibe... I just get really excited and consciously try and let it all come out. I don't try to hold myself back anymore, I always play as if I were the last time I'll ever pick up the guitar.
Talking of voices, you also have a great singing voice. Did you initially sing out of necessity or was that always a part of the plan for you?
Oh man. That came way later on. When I moved to Los Angeles and I first thought of putting my band together, that came up right away. I thought to myself, all my favorite guitarists are also singers. Clapton, Leslie, Stevie, Jimi. So I decided that was the way it had to be! No other way about it. I approached singing just like I did with guitar, trial and error. It was very difficult for the first few years, but I was persistent and worked on it every day. I'm so glad I did now!!
What kind of vocal warmups do you do?
I like to sing old blues tunes in my lower register and then gradually build it up. Just stretch out on the music I love, then eventually start to push it a little bit. I don't do any sort of exercise tape or predetermined warm up. I just naturally sing.
Do you and the band have any pre-gig rituals?
Not much! Everyone usually relaxes, I try and do a few pushups to get the blood flowing and we always try and eat a meal at some point during the day! Haha.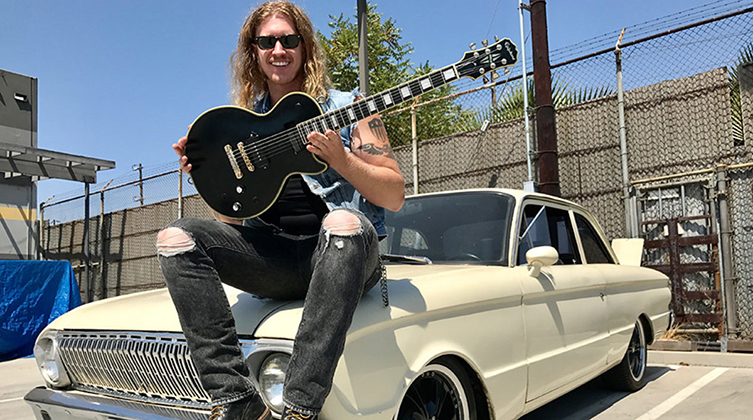 How do you stay sane on the road?
Exercise and a phone loaded with my favourite music. Then the best part of the day, going on stage.
How important is social media to what you do?
Very important. Social media is everything these days. It's pretty incredible that I can post a video and have it be seen anywhere in the world one second later! I feel like it is a great way to build a community of friends and fans of what you do. I don't spend much time on it as far as browsing around. It has helped me build my career immensely. The coolest feeling is being able to connect with your heroes online and have them like what you do. Too cool!
What advice do you have for other guitarists looking to cut their own path today as a musician?
Be yourself. Music is not a competition. It is important to only play what you love and be a nice human. Don't worry about critics, they will always be there. Just focus on your true goals and go for it. If I can do it, anyone can. Believe in yourself and GO!!
And finally, what is next on the horizon for Jared James Nichols?
Big things happening! 2019 will be a special year for sure. New music, gear, and touring. Keep an eye out for upcoming shows, chances are we will be bringing the BLUESPOWER near you soon!
NICE! Jared, it's been great talking to you. Thanks again and here's to 2019!
Cheers brother!!
Keep up to date with Jared on his official Facebook page https://www.facebook.com/Jaredjamesnichols/ and check out his records right here at https://www.shop-listenable.net/en/153_jared-james-nichols.
We'd like to thank Jared for being as awesome as usual and giving us such a great interview!
Interview by Ray McClelland