The guitarguitar Interview: Martyn Jacques from The Tiger Lillies
Published on 01 March 2019
The Tiger Lillies are a band that seem to have been beamed across time and space from some alternative-dimension 1930s Dresden. Their twisted songs of love and loss, played on accordion and violin by a trio of suited, hatted and grease-painted circus performers is not par for the course in 2019! Those feeling jaded by the blandness of modern music may just find what they need with the Tiger Lillies.
This is no new act on the scene, though. The Tiger Lillies began in London back in the late 80s, playing squats, pubs and theatres across Europe and building up a reputation on the alternative scene the old fashioned way: by performing!
Throughout the years, lead vocalist and songwriter Martyn Jacques has created ceaselessly, putting out albums, collaborating on theatre shows and bringing a sense of old-time Vaudeville magic to the Modern Era. Always an anachronistic act, the Tiger Lillies have found an audience with fans of Neil Gaiman, Tom Waits, Robert Wilson and fans of the underground and avante-garde.
2019 sees the release of new album Devil's Fairground. As the Tiger Lillies prepare to embark on a European tour to promote the album, we managed to get in a quick chat with Martyn to discuss the subjects covered in the album, which countries are great for playing in, and also, oddly, several mentions of Lady Gaga...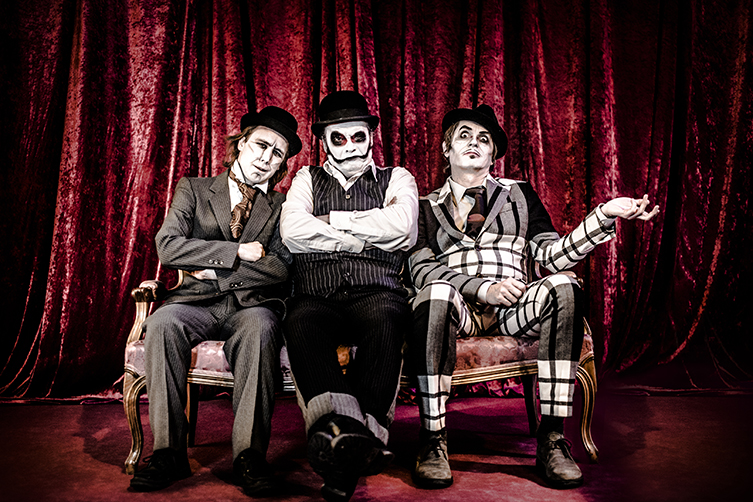 (Photo by Daniela Matejschek)
Martyn, thank you very much for talking with us! This must be an exciting year for the Tiger Lillies: you've just released a new album, Devil's Fairground and will shortly be embarking on a large tour! Given your long and illustrious past (which we will definitely get to!), what themes are you dealing with on this album?
The Devil's Fairground is about a time in the 90s in Prague after the Soviets left and before the capitalists came. There were no tourists, just alternative types and travellers. There were loads of squats, parties, and The Tiger Lillies played in a different place in the city every night. It was a very exciting, hedonistic time and these songs in the Devil's Fairground describe the characters and the people who inhabited this unusual world.
The cover art is fantastic! Does that come into things thematically?
The cover art is by an American artist called Mark Holthusen. It is a photo of Charles bridge in Prague with the large devil walking over it. It symbolises, as do the songs, the dangers of hedonism. Many of the songs chronical addiction, self destruction and misery. The Gollum, the devil, the monsters that devour and destroy. I saw many people in the throws of self destruction and decline at this time. Needless to say, they are no longer with us.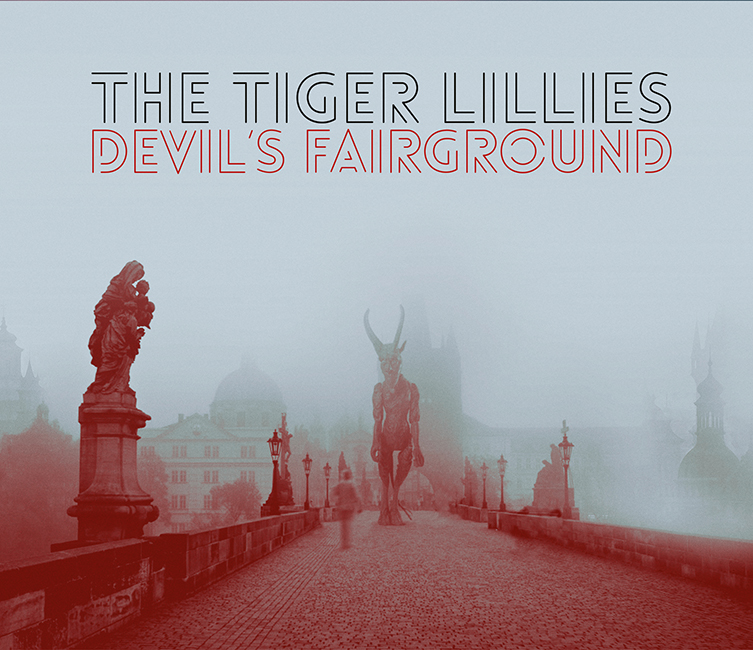 The Tiger Lillies occupy a very specific aesthetic with the costumes, face-paint and even instrument choice. Is this 'world-building' as important to you as the music?
I think the two things are essentially the same. If you choose to wear face makeup and play an accordion you are immediately saying something about who you are. I suppose we are trying in our own small way to break the mode of conformity and cliché. For me, music can become depressingly formulaic. The same voices, the same instruments, taking one's inspirations from the same sources without any imagination or originality. When I listen to most of the music on the radio I sometimes get the feeling that we really are just robots.
What is it about that lavish era of 30s Dresden and Berlin that has enchanted you so strongly? Is it the glamour? The Romance? The debauchery?
One of the ways you can break out of the cliché in making music is by travelling back in time and taking inspiration from unusual, archaic musical forms. Listening to music from 80 years ago, listening to the words, the lyrics, the instruments could actually be a very revolutionary thing in a world locked in modernity.
Where would you direct people looking to delve further into this era? I'm thinking of artists, writers, music and plays that may inspire you...
Youtube is a great place to start, a lot of it is there, spend a few hours and you could travel back in time. Circus, musical clowns, cabaret, 3 penny opera by Brecht and Weill, Gypsy or Klezmer music…
(Photo by Daniela Matejschek)
The Tiger Lillies have accompanied films live, have produced music for theatre, written plays and of course given thousands of concerts in many different types of venue. What is your favourite type of place to play? And what type of context for performance?
It's always nice to go to a new country and meet new fans. It's pretty amazing when you play somewhere you have never been to and people sing along to your songs. It's also amazing to be inspired by their music, especially their old music, which comes from their culture, from their history and has nothing to do with anyone or anywhere else.
You perform on accordion, piano and guitar. Am I correct in saying you are self-taught on all of these?
Yes. I have a bit of a problem with music teachers. I strongly recommend teaching yourself how to play. Most music teachers will teach you nothing but cliché.
Which instrument did you begin on? And which is your main go-to for writing?
I like to play different instruments when I write as each produces its own style and character. I began on the piano.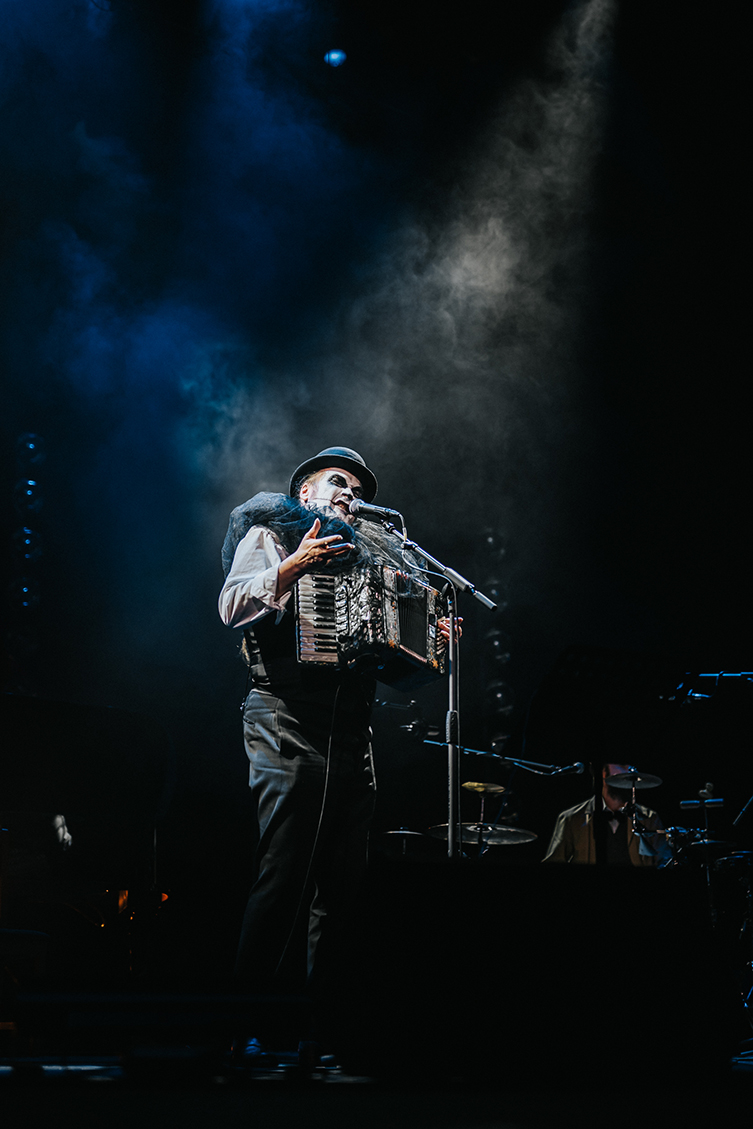 Do you write every day? And if so, do you have any writing rituals or even a preferred time and place? Also, are you able to write whilst on tour?
I write a lot of days and I have written whole albums on tour. I'm in Australia at the moment and I know I wrote The Gorey End when I was here many years ago. When you have written as many songs as me it doesn't do any harm to have a day off now and again!
You have a very beautiful and very distinctive singing voice. Was it a conscious decision to sing in higher registers or did that come naturally? Do you do anything, in particular, to look after your voice?
I have always found it very easy to sing in a high register but I also did make a conscious decision to do it and play the accordion. It's all about having a distinctive style. Nobody wants to hear another Bob Dylan. We have had one of those already!
In regard to the subject matter of your songs, you write in a diverse range of subjects, but you often come to dark, macabre subjects or indeed tragic characters. Is this the influence of vaudeville theatre?
Not really. It's more the influence of life. Look at most artists. They pretty much all come to the same conclusion. We are all sitting on a death row waiting for the sickle to be swung.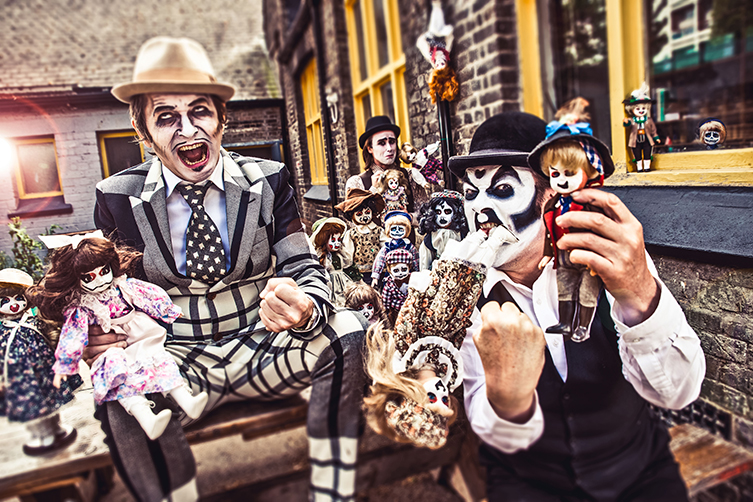 (Photo by Daniela Matejschek)
You also write in ways which champion the marginalised, the outcasts and those in the 'underground', so to speak. Are these metaphorical devices or do you indeed meet a lot of these sorts of people and feel lots of empathy?
I feel lots of empathy for outsiders. I suppose I'm an outsider myself. I can't even begin to get my head around why people like Lady Gaga and A Star Is Born. It is just utterly incomprehensible as is most contemporary pop music. It all just appears to be a never ending deodorant advert to me.
You are startlingly prolific as a writer. The Tiger Lillies have over 35 albums available: where do you recommend new listeners begin?
I like The Sea, Low Life Lullabies, Circus Songs, The Gorey End, Cold Night In Soho, Hamlet.
When touring, what type of piano do you prefer? Any particular favourites?
I like small Japanese grand pianos made by Yamaha quite a lot.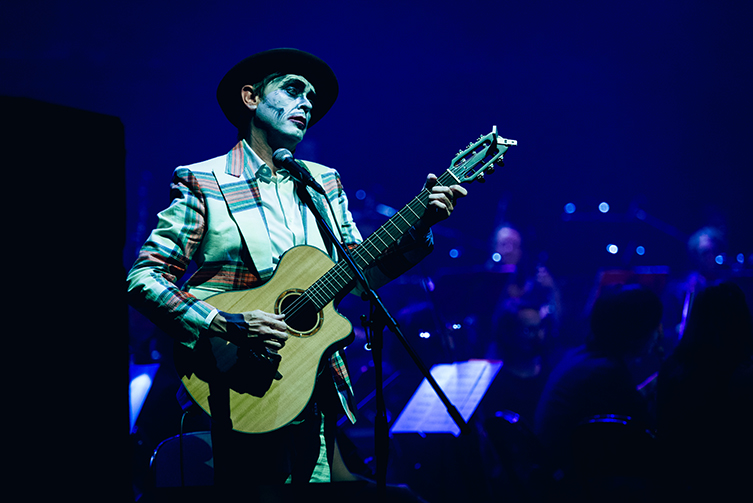 (Photo by Jakub Hrab)
With guitars, is it mainly acoustics that you go for? What do you tend to like in an acoustic guitar?
I play a solid bodied ukulele a lot at the moment, made in Czech Republic.
Which cities have the best 'alternative' scenes and how do you go about finding them?
Small countries seem to have good alternative scenes. They seem to talk to each other more in the underground scene. Generally, big countries are sewn up by the music industry.
How has streaming/Spotify changed your business? Has it worked in your favour?
Apparently yes. I don't deal with Spotify but it's meant to be great if you are an underground artist.
Do you find social media a useful and/or rewarding avenue to work with?
It seems to be again a pretty useful tool if you are an underground artist with no record company doing all the work for you.
As independent artists, is it easy or difficult to make a living purely by making music? What advice can you give other bands and musicians looking for this type of career?
I wouldn't recommend it. Unless you really have got something unusual and original to offer, something that makes people stand up and scream - you are on a hiding to nothing. Unless of course, you are Lady Gaga!
Finally, Martyn, after the touring winds down for Devil's Fairground, what is next for you and the Tiger Lillies?
I have just written One Penny Opera which I shall try to turn into a new show.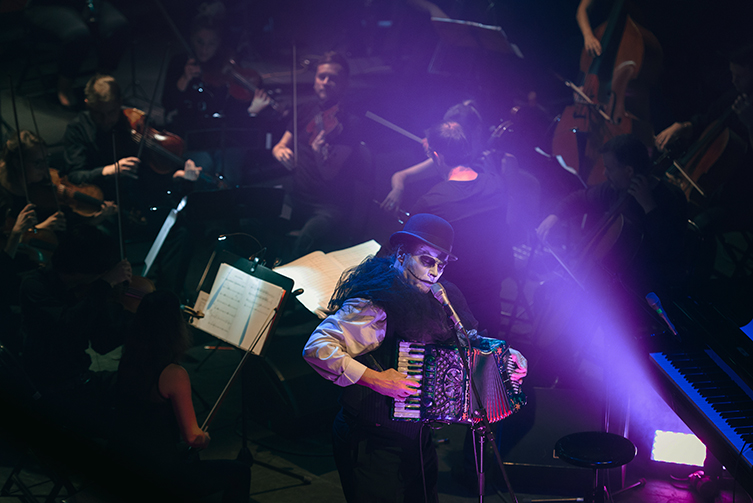 (Photo by Jakub Hrab)
We look forward to seeing The Tiger Lillies on tour throughout Spring. To see if they are playing near you, visit their website here.
We would like to thank Martyn for talking to us and to Martyna Lach for putting us in contact with him.