Events: Hannes Irengård Interview at guitarguitar Camden
Published on 26 March 2019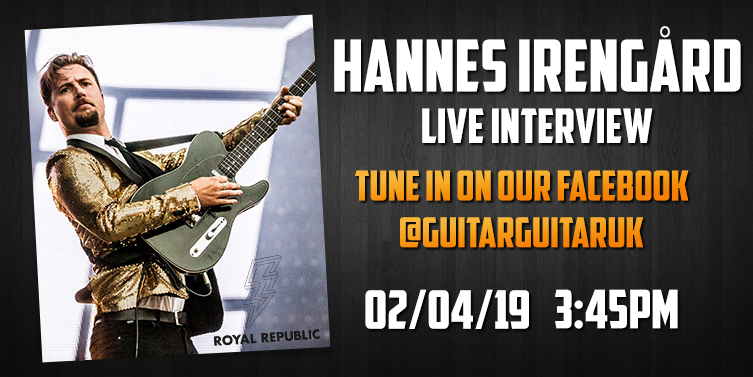 Hailing from Sweden and bringing forth their own distinct brand of garage, Royal Republic are a band you may or may not be familiar with, but certainly should take the time to get to know! Their high energy, high volume, rock 'n' roll inspired back catalogue takes us back to the early 2000's, when indie rock was king and to be totally honest, it's a welcome change from the doom and gloom today's charts often offer. With touches of their fellow countrymen The Hives, along with bands such as Electric Six, Royal Republic's self-proclaimed nerdiness helps them to stand out from the crowd but with sharp, witty lyrics on top of killer riffs, we think they're about as cool as they come. Their high octane sound is as strong as ever and following up party-starters such as, Baby and Uh Huh with a whole new album, Club Majesty, we're pleased to report that the guys are still doing what they do best, slamming out great tunes without taking themselves too seriously.
We've been Royal Republic fans for a while, so when we heard that they were visiting the UK, we just knew we had to hook something up. Read on to find out more...

We're VERY pleased to share that Royal Republic guitarist Hannes Irengård is dropping by guitarguitar Camden for an exclusive interview in association with the band's label Nuclear Blast! Responsible for the razor-sharp licks that make up the band's sound, Hannes is as smooth as you'd expect and we can't wait to chat with him about the band's new album Club Majesty, along with his guitars, effects, songwriting and much more. If you love the band, or even just fancy discovering some new music, tune in for what we're already positive is going to be a seriously entertaining interview!
To tune in to the interview, head over to our Facebook page @guitarguitaruk at 3:45pm on the 2nd of April (02/04/19).

Check out Royal Republic's latest single Fireman & Dancer below!
To keep up with all of the latest news, music and more from Royal Republic, check out their Facebook: https://www.facebook.com/royalrepublic/
Royal Republic's new album 'Club Majesty' will be released on May 31st via Nuclear Blast. Currently available to pre-order in various formats from https://royalrepublic.lnk.to/ClubMajestyPR
They will be playing Download festival on June 15th followed by an 11 date UK headline tour planned for October. Tickets available here www.royalrepublic.net