What's the Best Heavy Metal Guitar Under £500? Here's Our Top 5...
Published on 18 April 2019
What is the best Heavy Metal Guitar under £500? Well, while we can't tell you which satanic shred machine will call you, we can certainly lead you towards some of our favourites. Read on to learn about our top 5...
1. ESP LTD KH-202
As we begin our journey through this veritable armoury of Metal, we stop first at this most recognisable of tools, suitable for the lead guitarist who likes his aggression to be understated and with a certain sense of provenance and pedigree. Look well here, for this is no less an axe than that of Kirk Hammett, writer of Metal's most famous solos and right-hand helmsman to Metal's King of Riffs, James Hetfield. Kirk's KH-202 is the most modestly priced Hammett signature but don't be put off: this sleek Black Superstrat has a mean streak a mile wide.
This thing has skull & cross-bone inlays, people! Pirates were the Metal stars of their era, obviously, so this makes perfect sense. The LTD KH-202 gives you 24 frets for shredding, a reverse (pointed) headstock, a double locking tremolo and a pair of hot sounding pickups for unleashing Hell. These prime features mark the KH-202 out as a guitar truly worthy of inclusion here. ESP have packed tons into this, and the price is more than reasonable for a genuine Metallica-endorsed guitar! It's not Sad but it is True, this LTD KH-202 is great!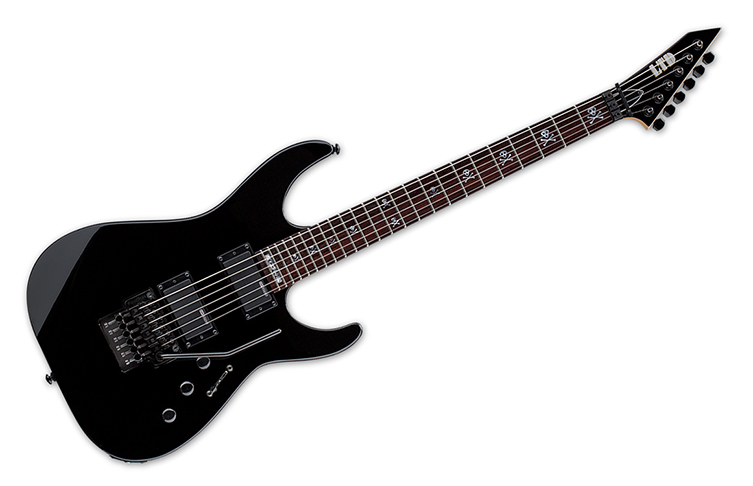 2. Chapman Ghost Fret Black Blood V2
Ol' Chappers knows a thing or two about putting together high spec crunch machines and this thrilling Ghost Fret is one such example. Of all musical genres, Metal is where 'shape' guitars are by far the most permissible. When one has the opportunity to add a spiky red and black EX-type to a Metal blog, one owes it to oneself and everyone else to do exactly that.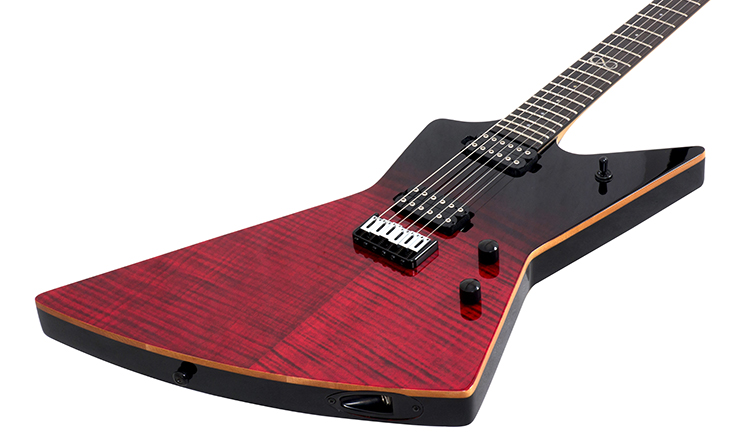 This Ghost Fret is from Chapman's Standard Series and can be seen as a benchmark of the level of quality you can now expect in the sub-£500 price range. The spec here is ridiculous: set-through neck, Ebony fingerboard, Mahogany body (which is huuuge) with a veneer of Flamed Maple and a set of alnico open-coil humbuckers with coil taps! By the sulphuric breath of Satan! That is frankly brilliant value for money, even before we consider cool design details like the reverse (pointy again) headstock and the translucent red-into-black gradient finish! Chapman call this finish 'Black Blood', which is thoroughly metal and makes this guitar even more essential than before.
The fit and finish of this is very impressive indeed. This Ghost Fret has the production sheen of an instrument that's twice the price. It feels superb, with rolled fretboard edges, and has a colossally crunchy sound that is just the thing to finally grab that ASBO you've been threatening to earn yourself. It's time. Plug into the Chapman Ghost Fret, make sure your feet are at least three feet apart and Bring The Heavy.
3. Ibanez RGMS7 Iron Label Multiscale
Is your preferred brand of heaviness on the technical side? Do you like non-standard time signatures, polyrhythms, counterpoint and progressive musical landscapes but still understand the need to Rock severely hard? You may need the Ibanez RGMS7 by your side. This mighty beast of Metal is part of Ibanez's appropriately-titled Iron Label range. Ibanez are already highly-Metal (they popularised the Seven String, don't forget), so this Iron Range RG means some serious business indeed.

The RGMS7 is at the cutting edge of today's technique-based instruments. The main secret weapon here, apart from an earth-shattering low B string, is its Multiscale design. Multiscale, for those Metal warriors out there unused to the term, uses two separate scale-lengths (slightly shorter for the High E, slightly longer for the Low B, transitioning in between) to improve intonation and tuning across the entire fingerboard. This means that the frets are arranged at slight angles, rather like a fan, and the pickups & bridge are also repositioned accordingly. The payoff is excellent tuning, intonation, overtones and string tension. Plus, the fanned frets sit at a more natural angle in relation to your fingers, making playing for long periods, (and grappling with difficult passages of lead metal perfection) much easier on the hands! Less fatigue means more heat from the Metal!
4. Epiphone G400 Pro Ebony
Turn thyself to the Original Riff Lord and behold the unearthly terror brought forth by his molten tone and Godzilla-sized riffs. Pity the weak who cannot comprehend the might of the Tony, who worship false gods and mere mortals. There is one and only one Riff Lord, and he playeth nothing but black SG guitars!
What is this I see before me? It is the fantastically affordable and eminently doom-laden Epiphone take on the SG, the G400 Pro. This is a fantastic weapon for Trüe Believers, with its set neck Mahogany construction, authentically pointed cutaways and upgraded hardware & electronics. For a humble price, you can cop the look, attitude and dark roar of the SG, with Alnico Classic Pro humbuckers and push/pull coil tapping for (cough) cleaner, twangier tones. Don't make a habit of it.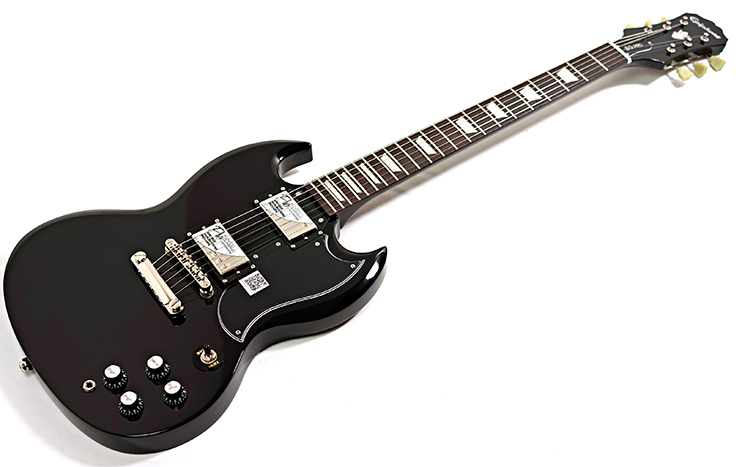 The SG is a legendary riff machine, favoured by a legion of players who want to bring the heavy but aren't necessarily up for weilding a pointy axe. We personally do not understand this behaviour but to each his own. The G400 Pro also comes in Cherry Red but let's leave that for the Classic Rockers, shall we?
5. Jackson JS32 Kelly
Let us end on a flamboyant note with the exotic curves of this Jackson JS32 Kelly. This most metal of axes has it all: an outlandish shape, a pointed headstock (one of the original pointed headstocks, we might add), a flat radius fingerboard for shredding, sharkfin inlays along said fingerboard, ceramic high output humbuckers and a locking tremolo for making absurdly scary whoops and shrieks wail out from your guitar like the cries of heretic witches! You simply cannot fail with this Jackson JS32 Kelly!
The shape itself is a redrawn take on the old 'EX' style and is something of a classic in it's own right. The Jackson Kelly was a favourite of revered Megadeth shred-genius Marrty Friedman, who used his to play leads that still amaze us today. The great thing about the Kelly is that it is equal parts riff machine and shred factory. Some guitars lean more in one direction or the other, but the Jackson Kelly is equally adept.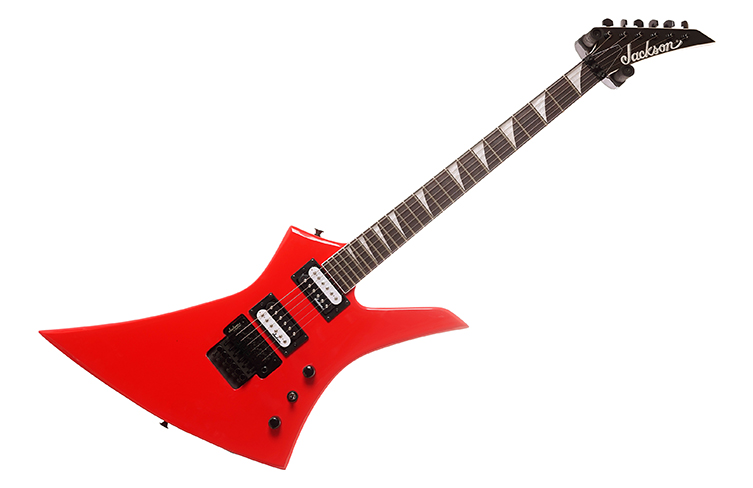 Although it is not Black, we approve of this Glam Metal-friendly red colour, since red is also the color of blood, vampire fangs and Satan. We think it is very hard to beat this JS32 Kelly for features, performance and value. It's well under our £500 cut off for price, so most die hard Metal acolytes will be able to afford this without too much trouble. Plug it in, feel how sleek and balanced it is, and prepare for an experience that will raise the dead.
...The Journey Ends
There we have it, friends. Our brief yet exhilarating journey through the lands of affordable Metal draws to a close, and what a successful adventure we've had! This is but a scratch on the metallic surface of what we have for you Metal Masters and Maidens within each guitarguitar stronghold. All of our stores are packed with the instruments you need to make your mark upon this earth. Be bold, friends, and remember that we are here to help you on your way! Our team members are all experienced Maesters who are more than willing to guide and advise you on your journey to the summit of Mt Rock. Visit us, peruse our wares, try a few in the privacy of one of our soundproofed chambers and buy those which speaketh to you. Browse our entire selection of wares online and click through to order your new sabre of Metal.
May the Metal Gods be with You.