The Yamaha P-45: Our (honest!) Review
Published on 20 May 2019
When it comes to choosing an affordable stage piano, be it for gigging, learning or practice at home, it's easy to worry that cheap will = low quality. Does sticking to a budget mean you're going to be burdened with a keyboard with clicky keys, distorted speakers or cheesy voices?
The Yamaha P-45 is definitely at the more affordable end of the stage piano market, so are there any compromises when it comes to quality?

First Impressions
As one of our best selling stage pianos, the P-45 is notable for its serious appearance. There are no cartoonish curves, unlike on many other low priced pianos. Instead, this Yamaha boasts a stern and sleek appearance that wouldn't look out of place on a stage. Weighing in at 11.5kg, the P-45 isn't the lightest stage piano, but compared to the Nord Piano which is 18.5kg, it's considerably more travel-friendly. Moving parts, buttons and connections are kept to a minimum. The P-45 is built to last, and considering its hard plastic casing, it isn't going to fall apart by being taken to gigs in a gig bag.
Features
Unlike most pianos under £500, which often feature generic weighted key-beds, the P-45 boasts an 88 key Graded Hammer Standard (GHS) keyboard. This system not only mimics the hammer response of a piano, but it also replicates a unique piano characteristic. Due to changes in tension and size of the strings in a piano, the keys are slightly harder to push on the lower notes than they are on the higher. The P-45 is designed to reflect this. As a result, if you forgive the plastic keys, switching between this digital piano and acoustic pianos is pretty seamless.
The P-45 hosts 10 different voices/sounds. These are selectable by holding down the 'function' button and pressing the relevant key. This same process is also used to change reverb settings, transpose tunings and to activate the metronome and change its tempo. For some reason, Yamaha have opted to not label all of the parameters, which means you do need to refer to the manual until you learn the features you need.
One feature that makes the P-45 great for practice at home is the built-in speakers. At only 6w for each of the pair, it's a modest system but surprisingly doesn't lack low end and doesn't distort. Designed for home use, the P-45 could be used for small church or theatre rehearsals, but it definitely isn't loud enough for gigs. However, like higher end stage pianos (which don't always include speakers), the P-45 sounds best when amplified by a PA or speaker system.
On the back of the piano there is a small panel with ports for the power supply, headphones, a sustain pedal and a USB-B port. There is no 5-Pin MIDI port, but you will get MIDI to your computer via the USB connection if you use a normal USB A-B 'printer' cable. There is only room for one sustain pedal, so no triple pedals with the P-45! But given who it's geared towards, supporting only the damper pedal (which is included) helps keep the price down. You will need to use the headphone port to connect the piano to a PA system. There are no line outputs, so it's advisable to use a 1/4" jack splitter cable rather than a single guitar cable, just to prevent phasing issues. The sound engineer at the venue will be happy to provide a couple of DI boxes to plug the left and right signal from the cable to.

How Does It Sound?
As mentioned earlier, the P-45 hosts 10 voices - 2 grand pianos, 2 electric pianos, 2 organs, 2 harpsichords, 1 orchestral strings tone and a vibraphone. The sounds are produced using what Yamaha calls "Advanced Wave Memory". This process uses digital multi-samples of acoustic sources and spreads them across the keys. It may not include individual multi-samples for every key like on more expensive digital pianos, instead, spreading each batch of samples over 2-4 keys depending on where the detail is needed. The is process is surprisingly effective and in our opinion makes the P-45 the best sounding stage piano in its class.
Rather than being a portable keyboard with a weighted key-bed attached to it, like many budget stage pianos, think of the P-45 as more of a stripped back high-end stage piano. It may not have all the features a professional is looking for and the keys may be made of shiny plastic, but it's an excellent place to start.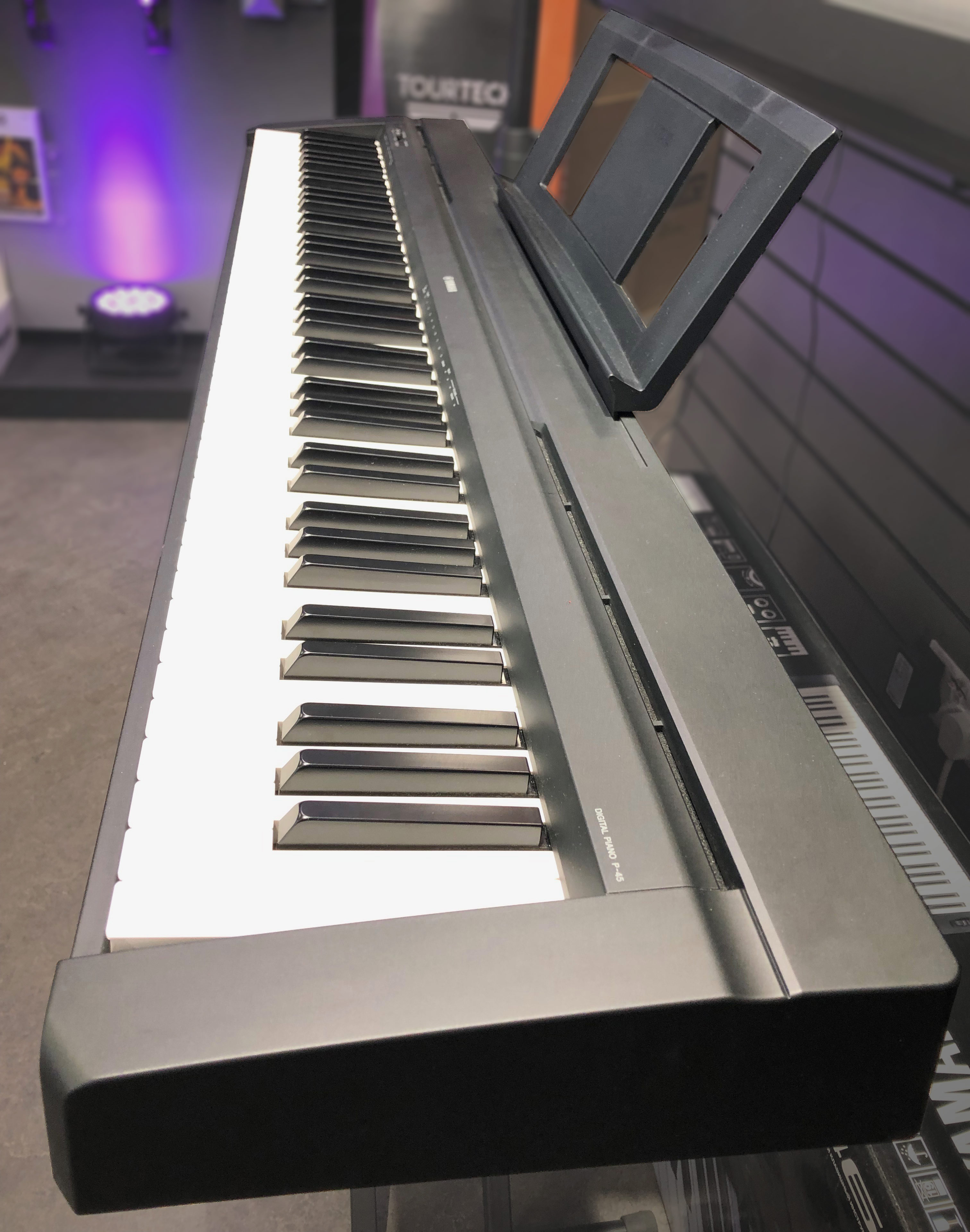 What Could Be Better?
It's a surprisingly hard stage piano to fault, but dedicated line outputs would make it more gig friendly. Or even ivory effect keys like on the more expensive Roland FP-30 would really make the P-45 a joy to play.
What's Great About It?
The key to the P-45's excellence is its simplicity, giving you quality over quantity. It may only have 10 voices that you can't edit, but those sounds are convincing. 99% of the time, you're really going to be using piano sound on a stage piano, so 10 quality sounds over 100 mediocre sounds wins every time for us. Even with the glossy plastic keys, the keyboard is enjoyable to play and responds accurately to the touch.
There's a reason that we frequently sell the P-45 to people who have been told to buy one by their piano tutor. It's affordable, high quality and made by a company that builds grand pianos. In fact, Yamaha own Bösendorfer, the world-class piano manufacture. So there's no doubt that Yamaha know what they're doing when it comes to designing an affordable stage piano that doesn't require you to compensate your technique when switching over from an acoustic piano.
Who Is This Not For?
If you're playing gigs and you require a large palette of sounds to cover a variety of songs, the P-45 probably isn't for you. Or if you're going to use it as a weighted MIDI controller with your favourite software, it's possibly worth opting for something like the Native Instruments Komplete Kontrol S88 as it has extra controls that will really aid your production workflow.
Who's It For?
The P-45 is an absolute winner if you're a beginner. It has all you need to learn dynamic control and has no limitations in terms of learning the majority of the piano grades. Alternatively, the P-45 is a great choice for musicians on a budget or someone looking for a second stage piano that's less precious.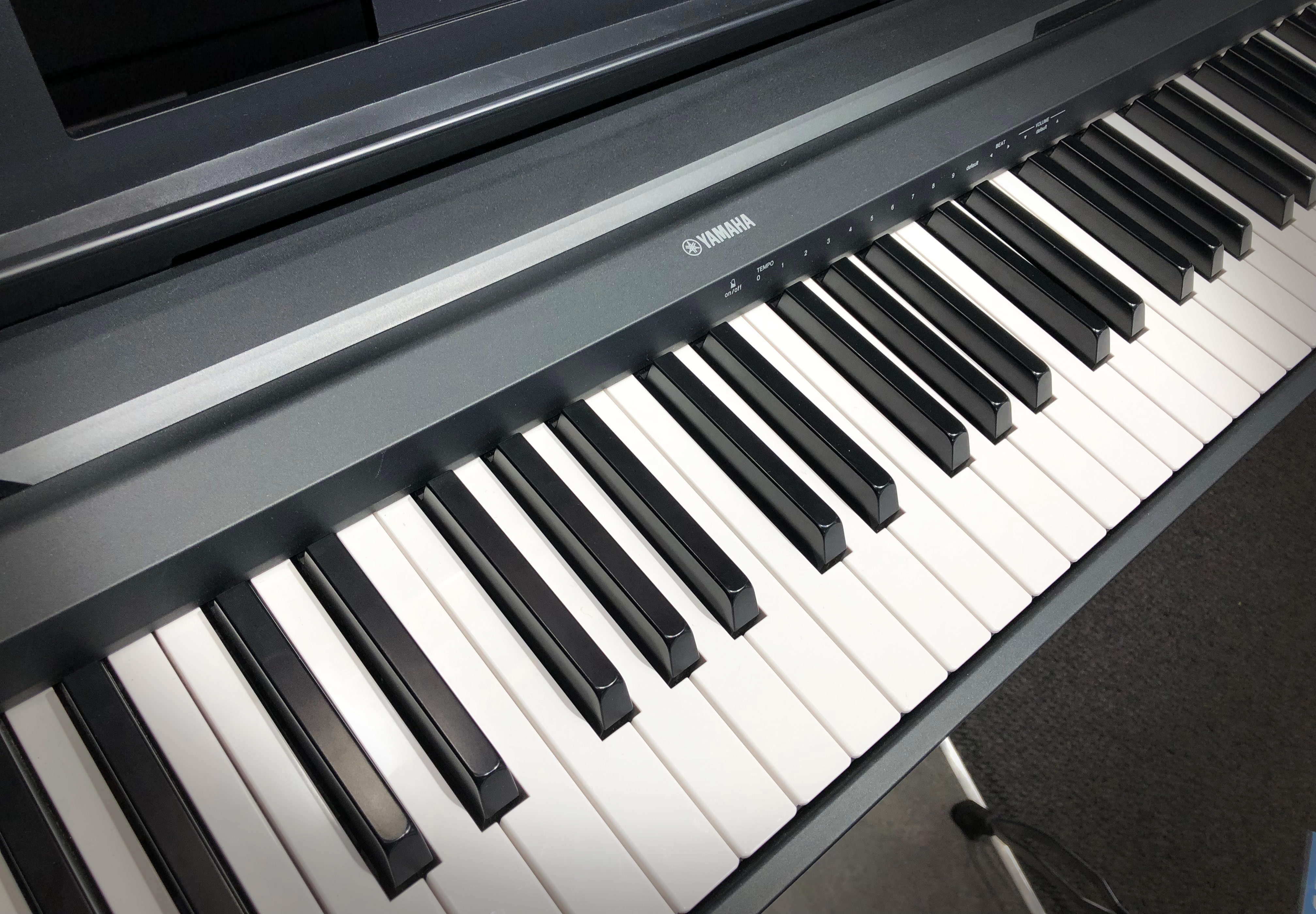 There's a lot of great things to say about the P-45, why not come and try one out in store or check it out here.