15th Anniversary: Win a £1500 Gift Card
Published on 03 June 2019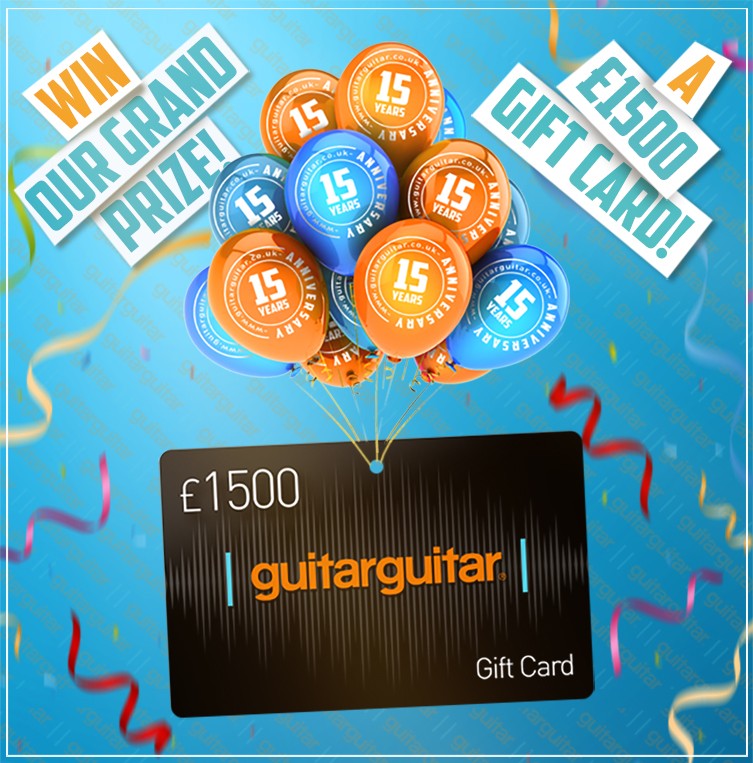 Our 15th Anniversary Grand Prize Draw has now begun!
We all have a piece of gear we're dreaming about, whether it's a new guitar, amp, pedal or anything else in between. However, unfortunately for many of us, that holy grail is often out of reach and totally unattainable. Don't worry though rockers, at guitarguitar we totally understand that and as part of our 15th Anniversary celebration, we want to help one of you to take home your dream piece of kit... Read on to find out how you can do exactly that...

Over the course of the next 15 weeks, we're giving one lucky winner the chance to bag themselves a guitarguitar Gift Card worth £1500! This can be used in any of our stores or on our website and is the perfect way to turn that dream gear of yours into a reality. All you have to do to be in with the chance to win is submit an entry ticket to any of our in-store giveaways over the course of our 15 week promotions and you'll be entered into the grand prize draw. At the end of our 15 weeks of celebration, we'll select one winner at random - it's as simple as that!
With loads of other unbelievable giveaways and chances to win, there's no reason for anyone to miss out. Come and pay us a visit to get involved!

Simply ask a member of staff for an entry ticket and submit it to the ballot box to be in with the chance to win a £1500 gift card.

Entries for all 15 Week Anniversary promotions are limited to one entry per person each week.
For full terms and conditions click here to visit our 15th Anniversary page.