Busking Week: Buskers Essentials
Published on 19 July 2019
It's time to busk! You've made up your mind that you want to get out there and perform on the streets of your home town. You've picked out a selection of songs, practised each one a hundred times and are feeling confident about your skills.
Now it's time to go in front of the Great General Public. Sink or swim, win or lose, it's all about sticking your neck out and giving it your best shot.
We applaud you. You are going to be great!
But what equipment do you need? What should you be taking along to your busking session?
We've put together a list of busker essentials for you, from suitable guitars (you can and should use ANY guitar, but these are all great choices if you're on the hunt), to amplification if you decide to do that. We have mics for the singers, since that is a primary part of the busking experience. Also, we'll highlight all of the little bits and pieces that will make your performance a smooth one: all the accessories that you'll wish you'd brought.
We've got you covered!
Check out our busker's essentials and see what you need to pick up prior to heading out!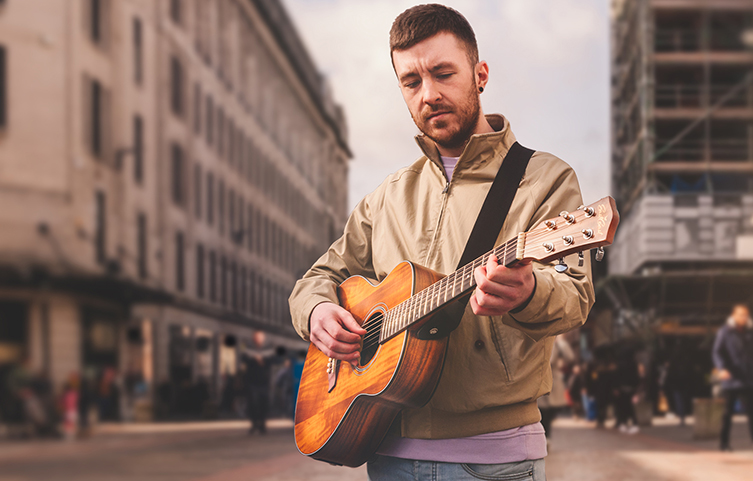 Guitars
For the purposes of this blog, we'll assume you're going to be singing and playing acoustic guitar. Busking exists in all forms, but this is the most frequent way.
So, what is a good busking guitar? Well, it obviously needs to sound good and play well. That's a given. A good busking guitar needs to have on-board electronics, so you have the option of plugging in to an amp at any time. Value for money is also a factor: you want quality, but you want to use a guitar that is not a rare, hand-made museum piece. Well, you might want that, and good for you, but taking a £1000+ guitar out in all weathers to suffer damage and possible theft is not something we will be recommending! Here are a few excellent choices for busking guitars, in a variety of sizes and prices...
Alvarez AD30CE
The Alvarez AD30CE is one of those 'do anything' guitars. It's a dreadnought shape, so you'll get a good response with both strummed and fingerpicked performances. It's a sturdy, well-made guitar with a solid Sitka Spruce top and a good pickup system, so it'll improve in sound the more you play it. It's affordable and great to play.

EastCoast EC-GSM Koa E
Smaller-bodied acoustic guitars are very in vogue at the moment. Otherwise known as travel guitars, these slightly smaller instruments are still full-sized guitars in the respect that they are not ½ or ¾-sized in the way that student instruments are. These are designed to be carried around on public transport, on holiday, and anywhere else you might want to play a guitar!

The EastCoast EC-GSM Koa E is a very affordable take on this theme. This model is made from laminated Koa, a rare and beautiful tone wood from Hawaii. The body is a smaller 'Grand Symphony' size and is surprisingly full-sounding. The neck is appropriately smaller, featuring a 23.5" scale length, but is extremely easy to play.
The EastCoast EC-GDM Koa E also comes equipped with a high-quality Fishman pickup system, ensuring that you will sound as good as possible when plugged into an amp.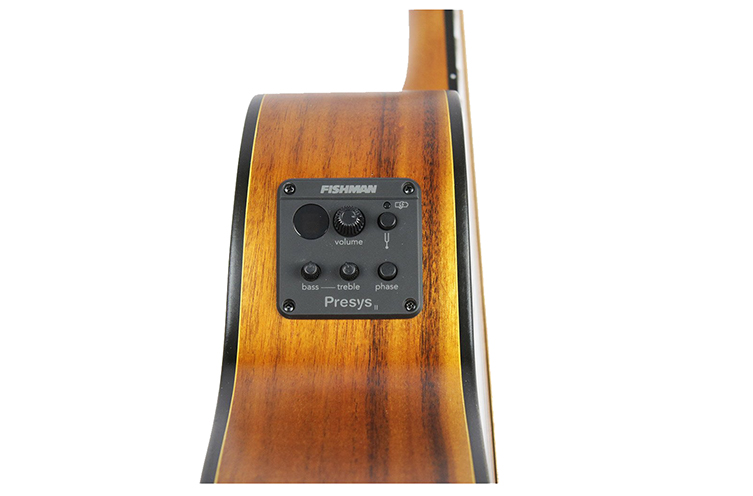 Finlayson 5 Series D-5CE Aged Burst
If you are looking to invest a little more and buy a great sounding guitar that could easily become your main acoustic, we recommend this excellent D-5CE dreadnought from Finlayson. The build quality is exceptional, as it should be given its Robert Godin/Billy Finlayson pedigree, and its solid Spruce top & layered Wild Cherry body make for a versatile, quality sound.
A Fishman Sonitone pickup harnesses this sound for your gigs, but it'll sound wonderful just on its own too. We've picked the gorgeous Aged Burst finish to help you stand out from the crowd.
If you only want to own one acoustic guitar, and wish to take it out busking, we strongly recommend something like this.

Amplification
Battery power is key here. We've actually looked at this recently, in our Battery Busking blog, but we'll briefly re-iterate some points here.
Roland Cube Street
Roland rules the roost with its versatile and capable Cube Street. You'll have heard and seen this amp probably more than any other, since it's price to performance ratio is excellent and loads of buskers use them in every town and city.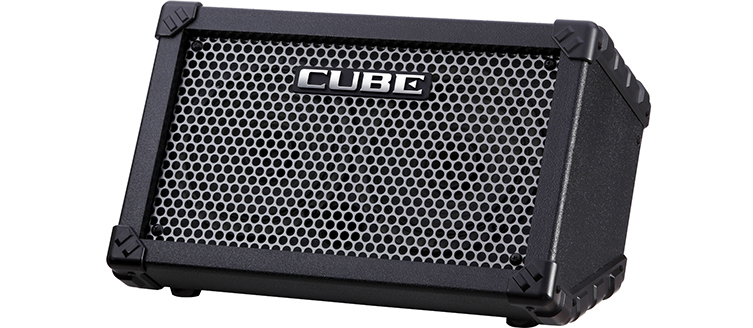 Plug everything into the Cube Street and enjoy a balanced sound with plenty of EQ and FX to dial in your tones. The Cube Street EX model is a much more powerful 'big cousin' to the Cube Street so consider your ambitions and buy accordingly.
Fishman Loudbox Mini Charge
Pickup masters Fishman bring their magic to acoustic amps with the Loudbox series. This model, the Mini Charge, gives you up to 12 hours of playing power when fully charged. It's light in weight-as are all the amps indicated in this blog- and has two channels, one for your voice and the other for your guitar. A true busking amp, with a superlative sound.
Laney A-Fresco2
Laney, a classic British amp company, offer lots of power (60watts) and two balanced channels (nice and quiet, noise-wise) in a portable package that is priced very competitively! Battery life is reported at a scandalously good 24 hrs too! The Laney A-Fresco2 Battery Powered Acoustic Amp is a very impressive product: it even has an effects loop for any reverb or delay pedals you might own!
Bose S1
Like a mini PA system, the Bose S1 sounds great, projects well and is very reliable. This is not aimed specifically at guitarists but will accept acoustic guitar and voice very well indeed. Three channels, a rechargeable lithium-ion battery and extremely light weight make this a winner for all performers, not just singer-songwriters.
Microphones
The industry standard vocal mic is the near-indestructible Shure SM58. We fully recommend them, but there are others! Make sure you pick a dynamic mic (as opposed to a condenser mic) so you won't have to look for phantom power.

Check out the Tourtech VM50 mic for good results at scandalously low prices, and Shure's PGA58-XLR-E for a well-priced mic that delivers.
Accessories (what didn't I bring?)
This section covers the rest of the music-related equipment you may want to consider bringing along with you on your next outing. Scratch that: these are the essentials! Leave these at your peril!
Cables: always bring a spare jack to jack and try for two. Tourtech TTIC-N6R 20ft cables a are cost-effective option.
Spare set of strings: we really, really hope that this goes without explanation.
Mic Stand: go for a boom stand and try angling it side-on to how you stand. It'll mean you don't have to lean over therefore your singing will improve.
Capo: a trigger-type will be the best because you can operate them one-handed and you can keep it 'biting' your headstock when not in use. Check out Dunlop and Tourtech for options.
Hardshell Case: Gig bags are handy for transporting instruments, but hard cases will let you prop up signage, CDs, messages to contact you and also provide a handy receptacle for coins and paper cash!
Tuner: If you don't have one built in to your guitar or pedals, this is a MUST. Buy a clip-on one from any of the brands and take excuses out of the game.
A-Frame guitar stand: these are inexpensive, small enough to pack away, and definitely beat laying your guitar on the pavement or balancing it against a McDonald's wall when you aren't playing it.
Plectrums: Use 'em, lose 'em, drop 'em: make sure you can grab more at any point in your set by buying your favourite picks in bulk.
Sheet music stand: depending on your repertoire, there may just be too many songs for you to memorize. Try to get by without one, since it means carrying more stuff, but if you need it, you need it!
Bunjee ropes: these WILL come in handy. Grab a pack of mini bunjee ropes from an outdoor store and keep them in your case. Keeping items together, holding things shut...there are loads of ways in which these little guys save the day.
Batteries: 9v PP3 and AA alkalines if your gear requires it. Always have spare batteries! To paraphrase Christian Slater in True Romance: it's better to have batteries and not need them, than to need batteries and not have them!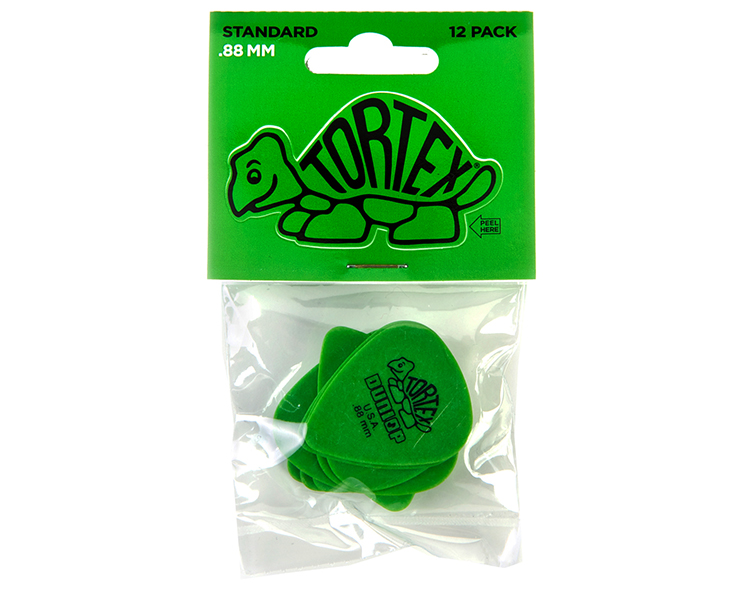 Final Thoughts
We think this is all you'll reasonably need for a successful busking session. It's not too much to pack or carry around with you, and they will all help you to put on a smooth, professional show. Just because you're standing in front of Primark instead of on stage at the O2 is no excuse for a shoddy performance. Start as you mean to go on.
Being prepared means less to worry about. Being ready to meet all eventualities means you can concentrate of giving a great performance and on just enjoying yourself!
Best of luck to you! We'll see you next time.
Ray McClelland