A Closer Look: Gibson G-45 Standard and Studio Guitars
Published on 15 October 2020
Montana.
The Big Sky Country.
The Treasure State.
Land of the Shining Mountains.
It's the fourth largest state in the US, and the third least populated.
Sounds awesome!
Montana is where Gibson make these new G-45 acoustic guitars. There's more than a hint of Western Pioneering about Montana, with its prairies, Badlands, mining and Rocky Mountain ranges. Surely, this is the correct place to be building American acoustic guitars!
This is something the company is keen to address with the new G-45 guitars. Fully American-made, fully Gibson but eminently affordable, these understated beauties ring out like a bright Montana morning. If you didn't think you could afford a 'proper' Gibson acoustic guitar, please read on.
There are two models currently available under the G-45 moniker: the Standard and the Studio. Left-handed varieties are notable by their inclusion, which is excellent to see. The differences between Standard and Studio are also not as wide as you may think, either! Let's check out the Standard first and go from there...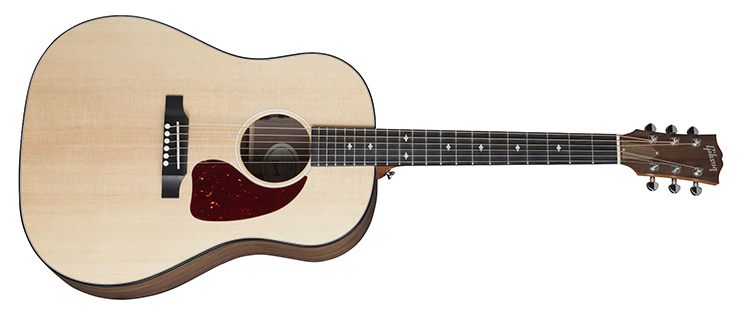 G-45 Standard
When you open the hardshell case, you'll be presented with a classic looking, round-shouldered Gibson acoustic. Finished in Natural satin with a gloss top, the Gibson G-45 Standard is a lesson in understatement. A simple teardrop pickguard sits on the solid Sitka Spruce top, which has multiple-ply binding around the top.
Lifting it up, you'll notice the slimmed down (not too much!) depth of the body, which is made from Walnut, with single binding on the back edge. Go for a strum and you'll hear a strong, rounded voice with clarity and balance. This guitar is neither too boomy nor too harsh. It's just right.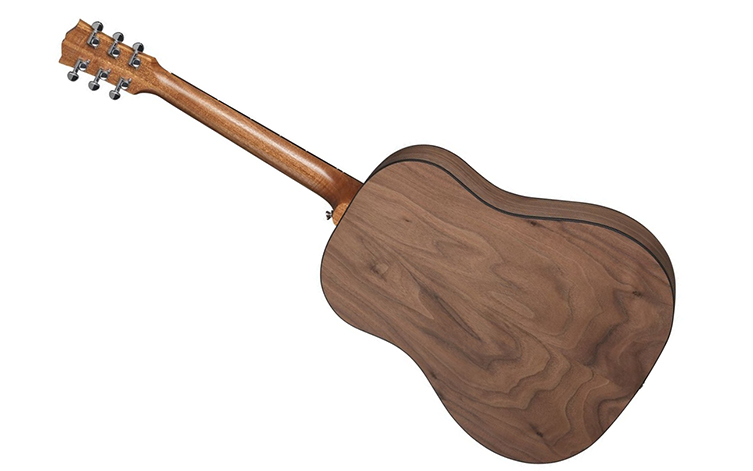 Play some songs and your hand will appreciate the neck's Advanced Response Profile. The Standard model has a 16" radius richlite fingerboard, inlaid with small diamond fret markers. Mini Grover tuners top off the famous Gibson headstock.
Plug the Gibson G-45 Standard into an acoustic amp via the fitted Fishman Sonitone pickup system and enjoy a 'live' sound that recreates the tone in a complimentary way, helping your performance to reach your audience accurately. This lovely guitar can accompany you on to the bus, train and into the studio as well as being right there for you at home as your songwriting machine. It's a companion.
G-45 Studio
The Gibson G-45 Standard really impressed us, so we're keen to see what differences are to be found with the Studio model.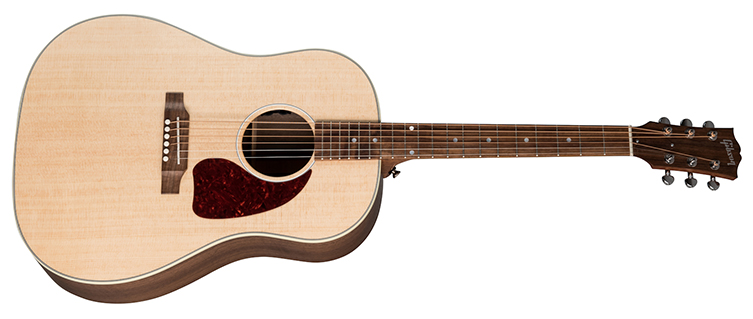 In terms of the important stuff – woods, construction and hardware – you actually lose very little! It's still made with Walnut and Sitka Spruce, with a dovetail neck joint. There is still multi-ply binding on the top of the Studio, though there is none on the back edge.
So, what is different? Well, this time, the entire finish is satin, so you'll not get a glossy top. The fingerboard is made from Walnut instead of Richlite (hardly a downgrade in our books!) and has standard dot inlays rather than the small diamonds.

And that is pretty much it! It's slightly less 'finished', in a sense, but that kind of adds to the rustic charm. The Gibson G45 Studio still comes fitted with a Fishman Sonitone pickup and still has a hard-shell case. The cosmetic differences are there, but they are relatively minor.
Final Thoughts
Gibson's new G-45 models make owning a genuine, satisfying, bona fide Gibson USA acoustic guitar an achievable reality for a great many players. These excellent workhorses are full of Gibson tone and playability, with timeless looks, quality hardware and a fitted case. The temptation to own one of these is quite overwhelming! How do you like them? Do you prefer the standard or studio model? Share your thoughts in the comments below.