Meet Your Maker: Atkin guitars
Published on 28 February 2020
In the heart of Canterbury, Kent, in the South East of England, a small group of dedicated artisans are quietly making some of the greatest acoustic guitars on the planet. Led by Alister Atkin, these men hand-build world-class acoustic guitars with fine tone woods, updated vintage designs and stunningly authentic finishing work.
Atkin guitars have been around for nearly a quarter of a century – the first Atkin guitars were sold in 1995 – and are now played by artists such as Paul McCartney, Brad Paisley, Dolly Parton, Kiefer Sutherland, Graham Coxon and Elvis Costello. That's quite a list!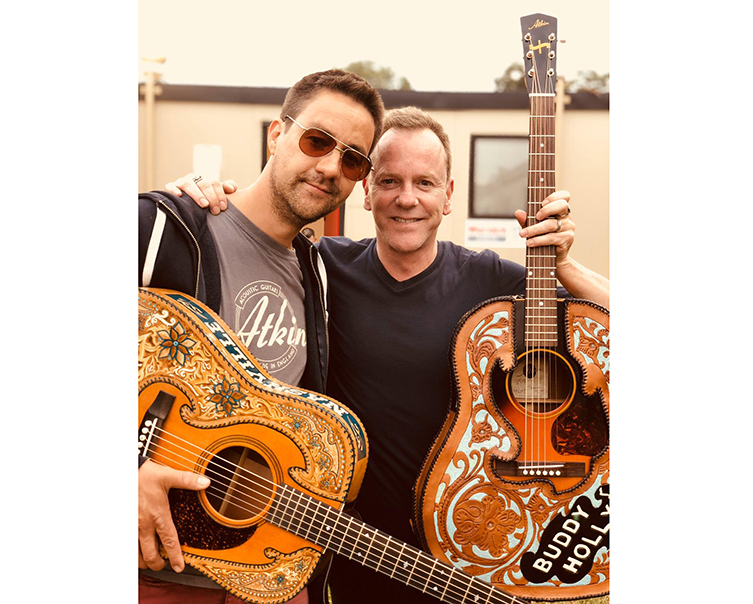 We have kept a selection of Atkin's beautiful guitars in our stores for a few years now. They have constantly ranked as some of the most wonderful instruments to pass through our doors, so we decided it was high time to get in touch with Alister for a chat! He's a busy man, but he was happy to take some questions from us via email. This short and informative piece will hopefully demonstrate the passion, dedication and good-natured attitude of both Alister and his company. He also gave us permission to show some rare pictures from the workshop: these 'making of' pictures illustrate how hands-on these experts really are! Read on to learn more about everything Atkin...
Guitarguitar: Let's go back to the beginning: what made you decide to start building your own guitars?
Alister Atkin: I built my first guitar when I was at school back in about 1989. I got to know a local guitar maker called Andy Crockett while I was doing that and was intrigued with the lifestyle. At the time, Lovejoy was on the TV and his workshop had the feel of that, it just felt like a great place to be. After school I went to study guitar making at the London School of Furniture where we built classical guitars at that time. I have always been a massive fan of British and American Folk, and when I got my hooks into the steel string acoustic, I found there was nothing else I wanted to do. Around this time, my Father died, and the workshop gave me the peace and quiet to get over that while getting lost in an exciting new world.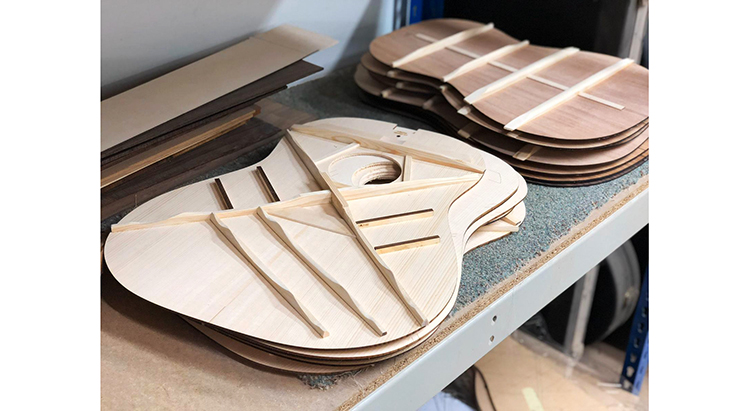 GG: What makes an Atkin guitar different from another brand of handmade acoustic guitar?
AA: I think I was very lucky when I started Atkin Guitars back in 1995 because I got to share a workshop with Andy Crockett who is probably one of the best guitar repairers in the South East (of England). I got to see literally everything on his bench. We would look inside some of the most prestigious guitars on the planet and obviously play them as well. Training your ears to actually listen while playing guitars and understand what makes them great is probably one of the best assets a guitar maker can have. Finding the sounds that you love as a maker and achieving that every time takes years to learn, and it can only really happen by going 'under the bonnet' and playing with your designs. Moving bracing, playing with height and thickness.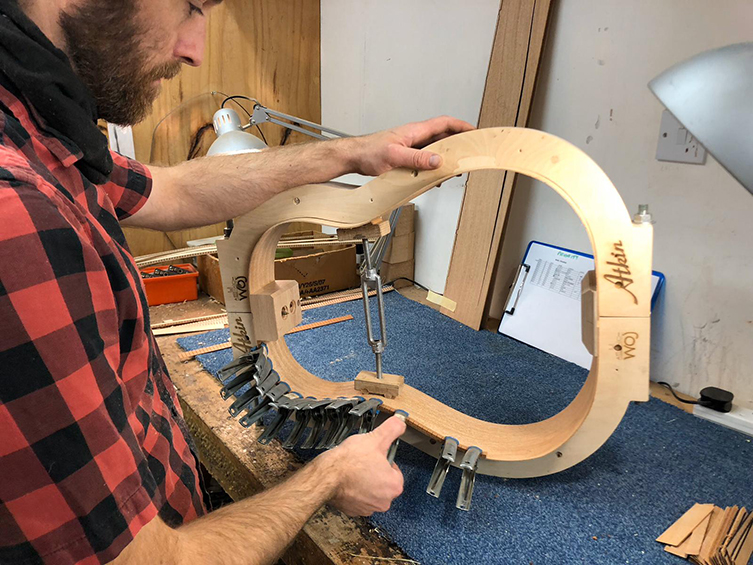 I would say that, once you have this understanding, that's when you can really start to explore the finer qualities of building. I also feel that what has really set us apart is the love of trying something new and going after some of the crazier ideas that have popped into my head. We are very well known for our Aged finishes and these wouldn't have ever happened unless we had devoted years to understanding how to do that properly. It really was a game changer for us. I think the Atkin personality is very much based on passion and love. I've always wanted to make instruments that the player will connect with, guitars which inspire them to write or play something that they didn't even know they had in them. I want that guitar to feel like an old friend from the get-go: no waiting for 20 years for it to sound great. We've done that for you.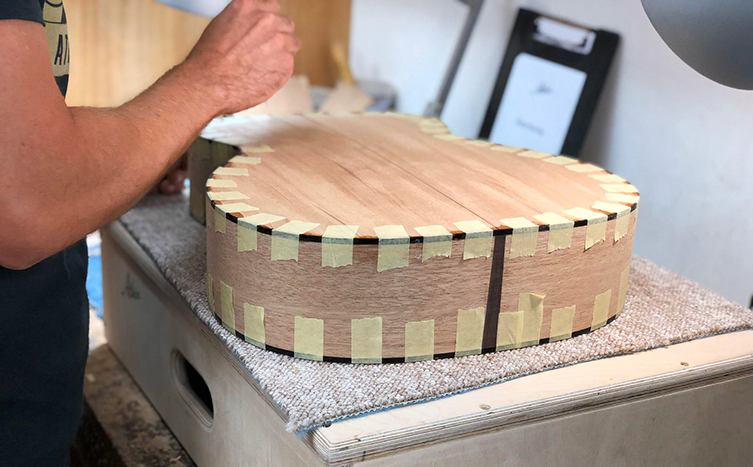 GG: What kind of finish do Atkin use on their guitars?
AA: We currently offer two Nitro Finishes. One is Aged the other Mirror. I really believe that Nitro is one of the best finishes out there for acoustic guitars. Our aged nitro finish is now what we're asked for 90% of the time. I'm pretty sure I'm right in saying that we were probably the first company to offer this on acoustics. Nitro offers some very cool qualities. I love how you can spray thin and achieve such a deep, rich finish: there's nothing quite like it out there. Because it's so thin it will always let the guitar sing, while enabling it to grow old very gracefully. A 30-year-old guitar shows all of its playing marks and little dings in a very natural way, much like leather if you look after it well. We spray about 8 coats on the aged guitars and 16 on the mirror. There are still people out there who like their guitars to look pristine when they buy them, and I can totally understand that. Both have a great sound, and both have had a lot of time spent on them by us, that's why we offer them at the same price. We love working on vintage style sunbursts and encourage people to send over a favourite pic when they order a guitar.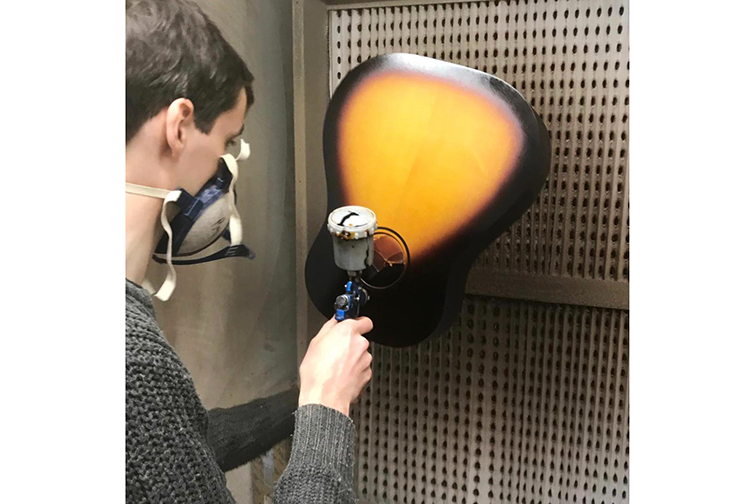 GG: Do you have a preference for timbers and fret wire etc?
AA: Most of the time we use the usual suspects. Sitka Spruce, Indian Rosewood, Mahogany and Ebony. There's a reason these are so popular, and they are steeped in the traditions and history of all acoustic making. Treated right, they are amazing.
Rosewood and Sitka as a combo is one of my favourites, I think it's really because these timbers are so connected to the music I love. Neil Young, Joni Mitchell and Stephen Stills all use this combo and those recordings still set the benchmark for my soundscape. However, in the past year we've been using Maple quite a bit and I think that's wonderful too. Flame and Birdseye provide some real eye candy while producing some rich tones. Historically it's been used throughout guitar making but maybe gets overlooked these days. Expect to see more of that from us. We have some great Koa sets coming in and some very special Madagascan Rosewood on its way too. As far as fret wire is concerned, I'm a fan of the thin medium height vintage stuff, it just sits so well on our fretboards.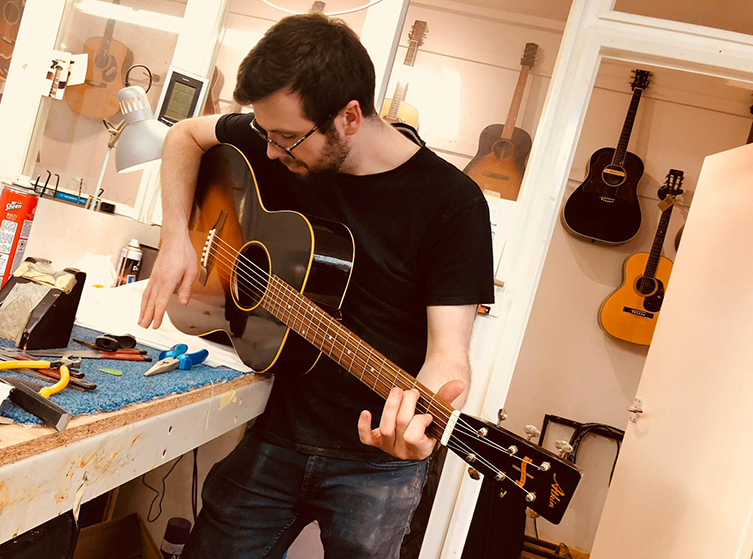 GG: You offer a wide range of styles: how do you decide on a new model to make?
AA: Our model range is very much decided by what we think is cool. There are certain guitars that sell day-in and day-out. Our biggest hitters are The Forty Three, D37, OM37, Essential D and Essential OOO. We often get asked to make new models and we will do these if they look interesting to us. Our LG47 and L36 models were guitars I felt would be popular and they sit really well in our range. Our new Small Jumbo and Jumbo guitars are starting to catch people's eye too. We've been working on some new inlay ideas and this really helps to give our guitars their own identity too. Basically, we don't make anything we don't like.
GG: Do Atkin prefer not to make 'electro' models?
AA: We do offer onboard electrics. We don't like cutting holes in the sides of guitars, but these days you don't have to, luckily. Most of the modern pickups have some onboard adjustment if you need them. We often use the Fishman Matrix or the LR Baggs Anthem.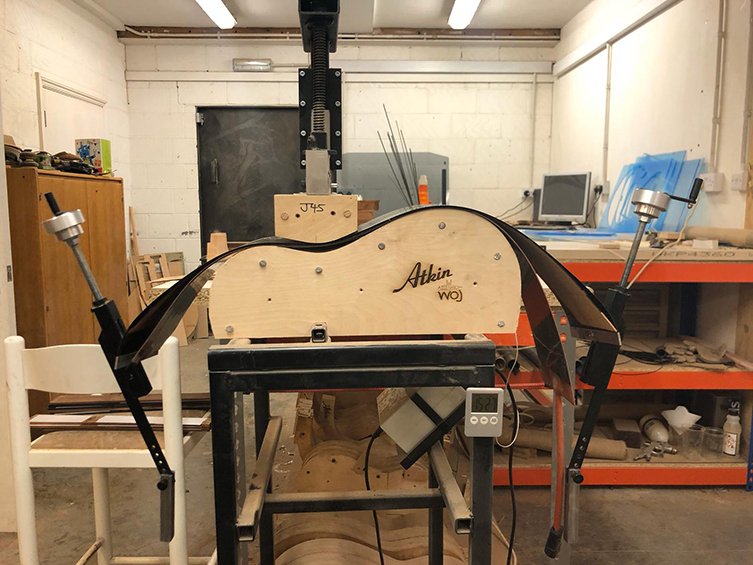 GG: What is your own personal favourite Atkin acoustic guitar?
AA: If I had to pick one, I would usually go for a D37. This is the guitar that set the fire burning for me all those years ago. I would walk round Denmark Street looking at vintage guitars and those old dreadnoughts blew my mind. I think we're all influenced by what our heroes play, and this model has no end of those. Unfortunately now, I've got a long-term shoulder injury, so I now choose the OM models. They have bags of volume and deliver all you need in most situations.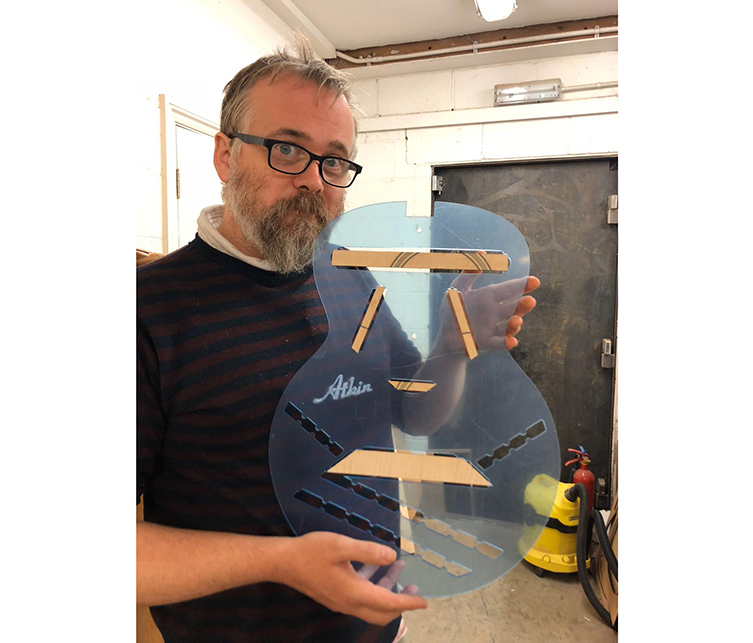 GG: Finally, what lies in store for Atkin guitars in the near future?
AA: In the past 2 years the business has gone from making 80 guitars between 2 of us to about 350 between 7. I've managed to put together a really great team of like-minded people who all have a passion for what we are trying to achieve. The plan is to keep getting better at building and working on refining what we already make. I love that we're here in the UK and I'm very proud that we're becoming a go-to brand for Brits. We get so many people saying that they have tried our guitars out alongside the bigger brands, then end up going with one of ours. This support is growing all the time.
In my mind the guitar is all about music: the songs we all love to play and the songs we haven't yet heard. Have a look at our player list to see who's using them. Next year's our 25th anniversary and there's a lot to shout about!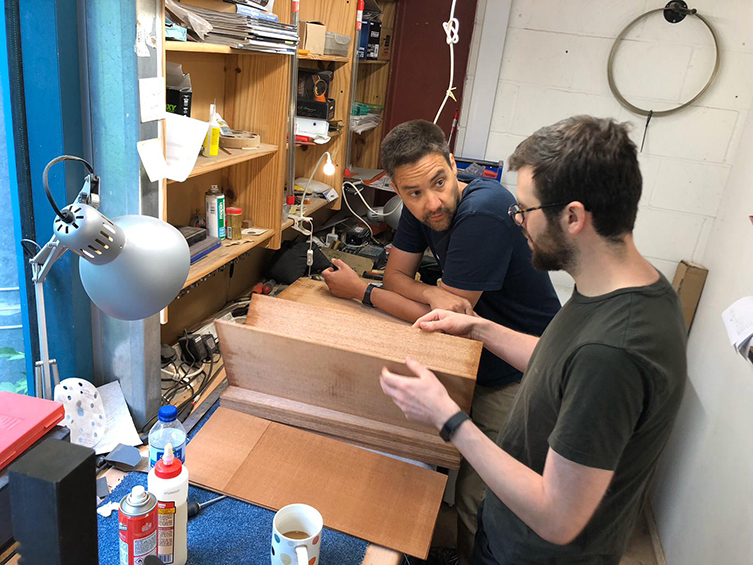 We look forward to Atkin's 25th anniversary with excitement! We love Atkin guitars and think you will too. Please have a click through to our current selection of Atkin guitars here on the site.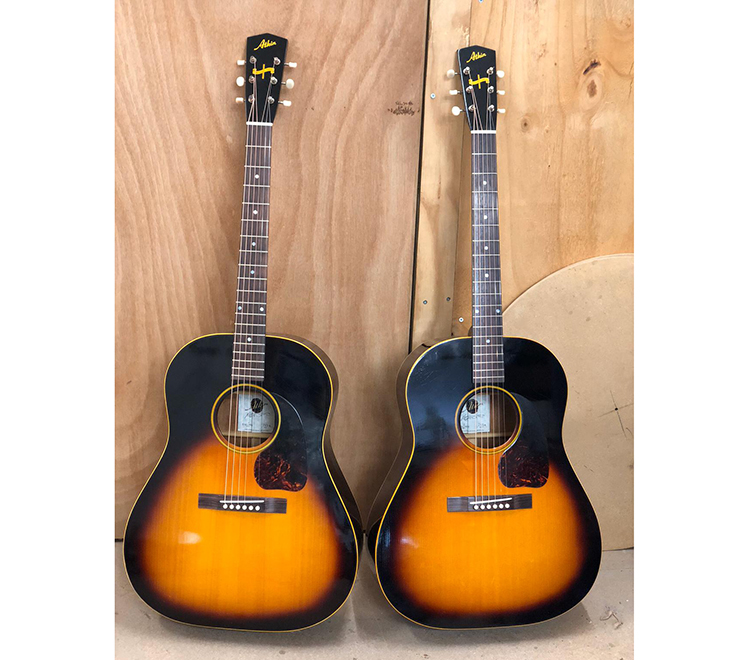 We'd like to thank Alister for his time and for his fantastic, behind-the-scenes pictures of the workshop and the team.
Thanks for reading,
Until next time
Ray McClelland