A Closer Look: Fender Custom Shop Limited Edition Phil Lynott Precision Bass
Published on 09 January 2020
Signature basses are few and far between.
Despite bass being an indispensable part of any band, the supportive nature of the instrument means that those playing often share less of the limelight than their 6-string comrades.
Not this guy though.
Phil Lynott was pretty much the definition of 'Star Power'. Coming through the ranks in late 60s Dublin (though actually born in England), Lynott was initially a vocalist before deciding to strap a bass on and front Thin Lizzy.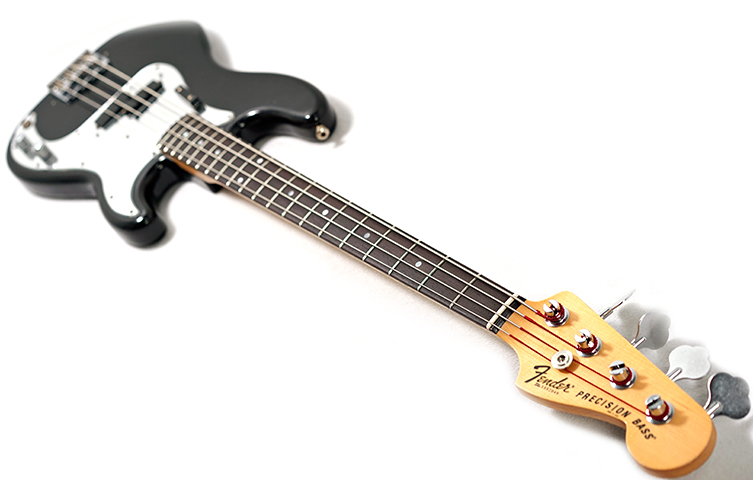 Everybody knows 'The Boys are Back in Town', 'Whiskey in the Jar' (no, it's not a Metallica song) and 'Jailbreak': they are essential additions to the catalogue of Classic Rock songs, forever to be cherished and covered by pub bands.
Lynott himself is a pretty iconic figure, too: his afro hair, tall posture and swaggering attitude has proven to be a blueprint for bass-playing frontmen, and to a greater degree an inspiration for all mixed-race musicians. There's even a statue of him in Dublin!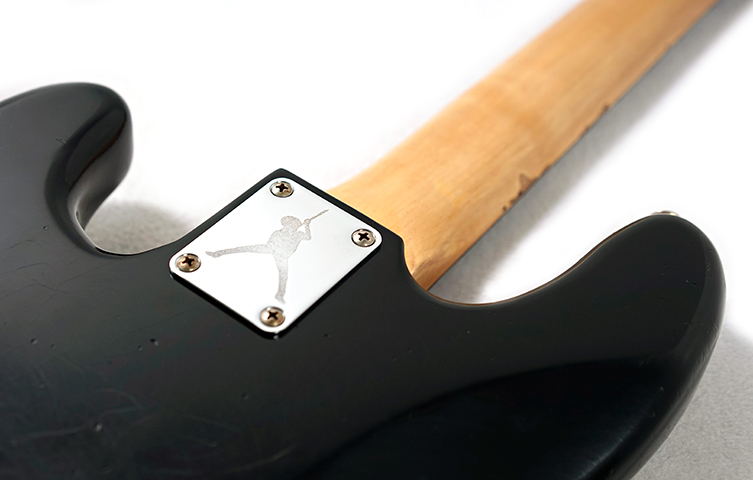 Phil certainly made his mark, and that was partly done with his famous 'black n mirror' Fender P-Bass. Fender's Custom Shop have recently decided to pay tribute to this true Rock 'n' Roll hero by releasing an extremely limited-edition replica of this bass! It's limited to 60 pieces, and each one has been hand-built by Master Builder John Cruz!
There's a nice collection of case candy to go along with the bass, but first, let's take a look at the instrument itself...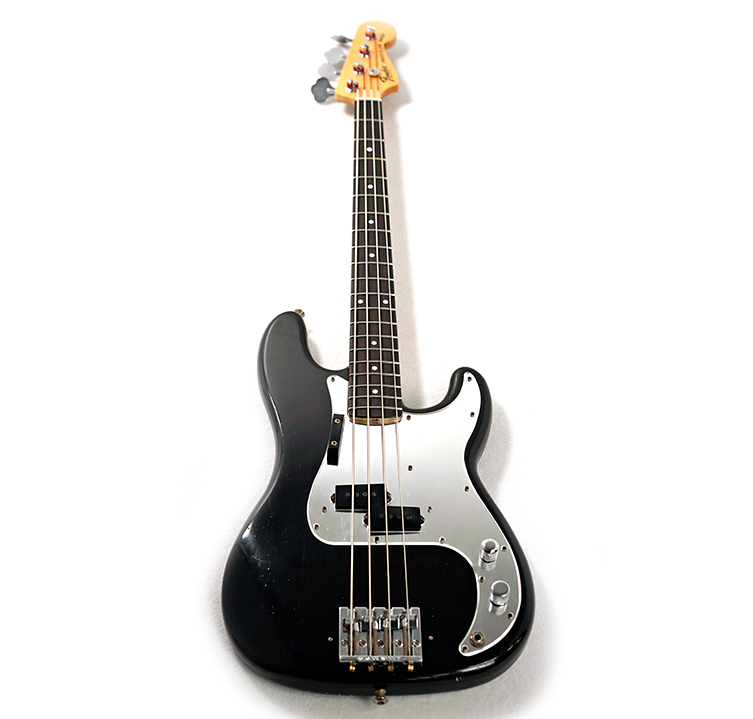 The Bass
The Fender Custom Shop Phil Lynott Precision Bass has been made with 2-piece Ash body, carefully selected by Cruz. The Black finish has been lacquered with nitrocellulose and lightly relic'd to exhaustively accurate detail. Cruz is a master of this art and it shows!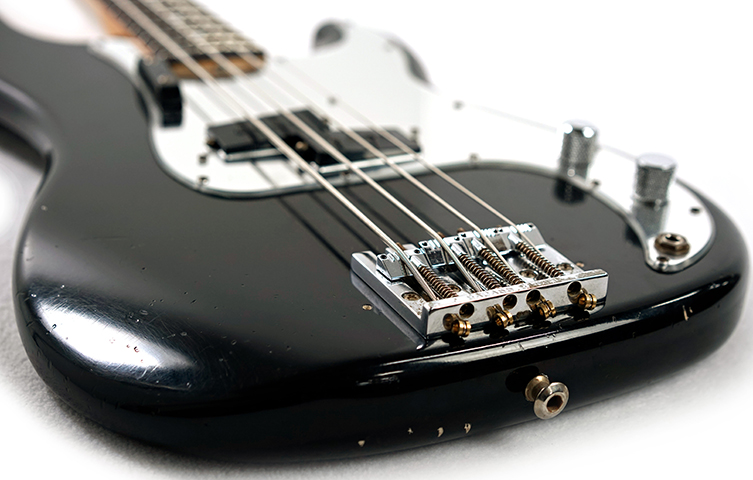 The neck is a piece of rift sawn Maple. Rift sawing is very similar to quarter-sawing: the log is sawn at an angle of between 30 and 60 degrees to the rings of the timber. Having the grain at this angle strengthens the cut piece of wood, meaning it'll be much more resistant to distortion and other damage. It's a more expensive, time-consuming process, but the result is a stronger neck.
The Phil Lynott P-Bass's neck has a mid 70s 'U' profile and a Rosewood fingerboard with a vintage 7.25" radius and jumbo frets. The neck is also finished in nitrocellulose lacquer.
The pickup is specially hand-wound '78 style split-coil, made in the Fender Custom Shop like the rest of the instrument. A BadAss II bridge is used, and of course the pickguard is of the mirrored variety!
There may be cooler looking basses out there, but we don't think we've seen them.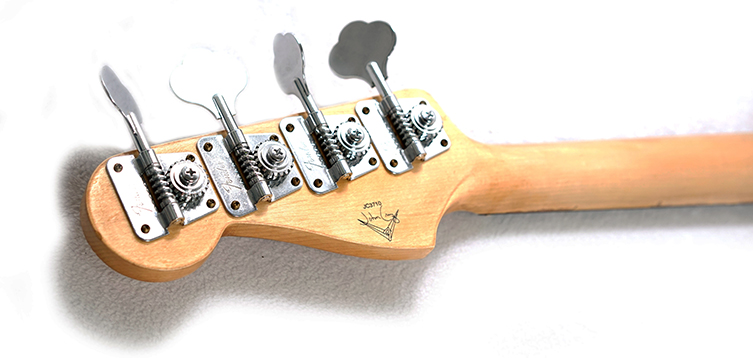 The Candy
If a hand-made bass, crafted by Master Builder John Cruz in tribute to Phi Lynott isn't quite enough, Fender have put together a pretty excellent package of extras to seal the deal! First up is a super heavy-duty Anvil case, with appropriate stencilling on the outer surfaces.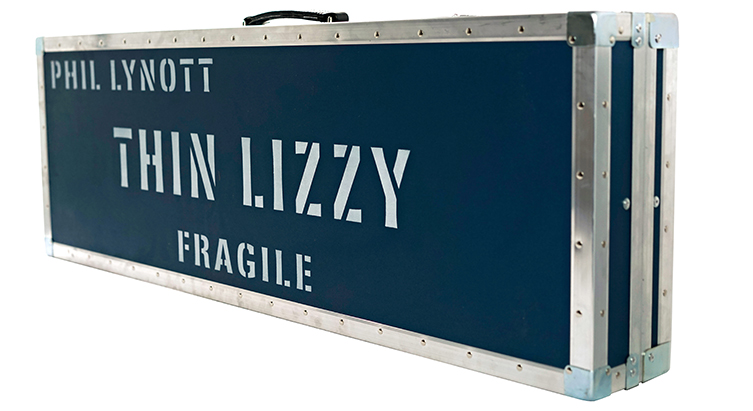 Inside the case, in addition to the bass itself, are some prime artefacts of seventies Hard Rock. You get a leather studded strap to pimp up the bass for stage-wearing, a matching wristband to coherently accessorise with the strap, and a fantastic pair of retro mirror aviator shades!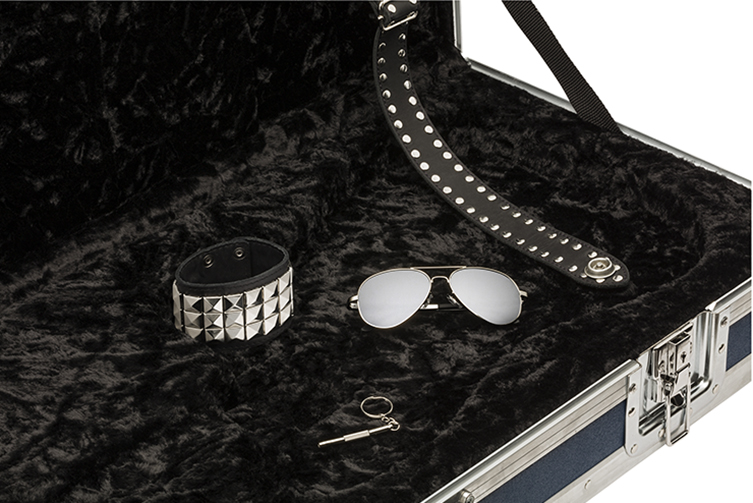 Yes, you are actively encouraged to wear all of these when playing along to 'Live & Dangerous' for sure! These items have all been custom made for this package!
There is also a Certificate of Authenticity, signed by John Cruz. It's quite a set.
Have a look at our Fender Custom Shop Limited Edition Phil Lynott Precision bass today!
THE BASS IS BACK IN TOWN!