Events: Mick Thomson Meet & Greet
Published on 15 January 2020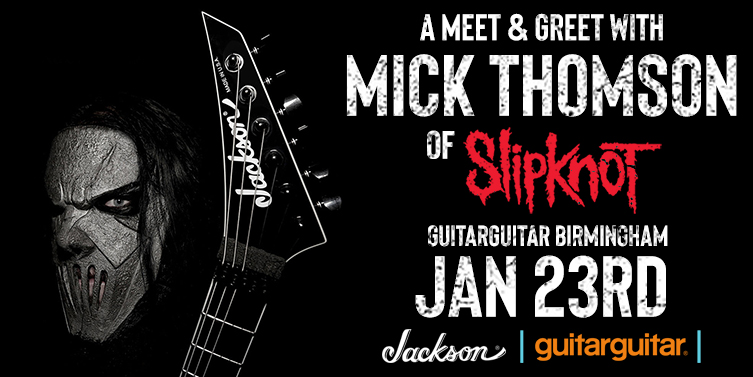 On the 23rd of January at 6:00PM, we're over the moon to announce that Slipknot guitarist Mick Thomson is joining us at guitarguitar Birmingham for an in-store Meet & Greet/Signing! We couldn't be more hyped to give you guys the chance to meet such a legendary player, so if you see us wearing sinister masks, jumpsuits, or simply running excited laps of the shop over the next week or so, we're just trying to get it all out of our systems before he shows up. We'll be handing out flyers for you to get signed but please bring along any records, merch or gear you want penned - you don't get chances like this every day! There's no need to book tickets; however, we're expecting a huge turnout, so make sure you get down early and get queued up outside... We'll see you Maggots there!


Metal titans Slipknot have dominated the genre since their debut in 1999, simultaneously thrilling fans and terrifying parents with their iconic jumpsuits and masks. In short, their influence and contribution to modern metal is unparalleled, with crushing guitar parts that helped to define the genre. The thick, crunching guitar tones and killer riffs that band are known for come courtesy of Jim Root and Mick Thomson, who have pushed the band's sound forward, delving deeper into their heavy, yet technical playing with each album. So many of us grew up worshipping Slipknot as we learned their finest riffs and wondered why our 10watt practice amps didn't churn out the same spine-chillingly heavy tones... While that mystery wasn't too hard to solve, it doesn't get any easier to replicate Thomson's brutal guitar parts and with a tour currently steamrolling its way across the UK, we can't wait to see these monsters of metal do what they do best and we're over the moon to get the chance to hang out with the man himself and Birmingham's largest guitar store. Don't miss out on this folks, this is gonna be HUGE.
Can't wait for the event? Take a look at Mick's Signature Jackson below, or check out the latest from NAMM 2020 now!