A Closer Look: Fender Custom Shop Greg Fessler 'Master Builder Designed' '59 Strat
Published on 07 February 2020
If you are a Stratocaster fan, you'll know who Greg Fessler is.
For those who don't, he is one of the most celebrated Master Builders in Fender's illustrious Custom Shop. Greg is not only Robben Ford's personal guitar builder, he has also built instruments for John Mayer, Pete Wentz, Joe Bonamassa and Hank Marvin.
Now, you can have one too, but as one of the world's most in-demand guitar makers, his order books are always notoriously full. We're talking about YEARS of waiting, here! Now, if you're prepared to wait it out, that's awesome! We can help! Visit us to have a cup of coffee and a chat about how we can get the ball rolling with your own Custom Shop Master Built guitar.
If, however, you don't want to wait so long, we have another way...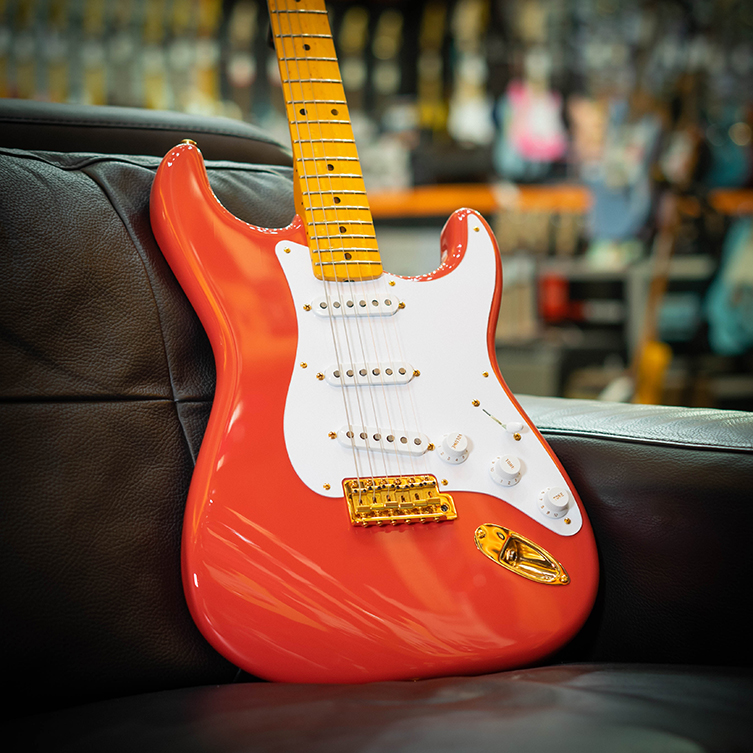 Master Built Fender Stratocasters are now sitting in the £5k+ price bracket. This is how much it costs (at least) to get one of these guys to hand-build you, top to toe, a Fender Custom Shop Master Built instrument. However, there is also a tier of guitar available occasionally called the 'Master Builder Design' series. This is an informal group of instruments spec'd up by a Master Builder, to their own particular taste (but with input from us), and built as a 'Team Built' instrument. The Master designs a guitar they would build for themselves, incorporating some of the things we'd like to see, and then the Custom Shop Team puts it together. As Master Builder Todd Krause says: 'It's all about getting the right ingredients into the stew'.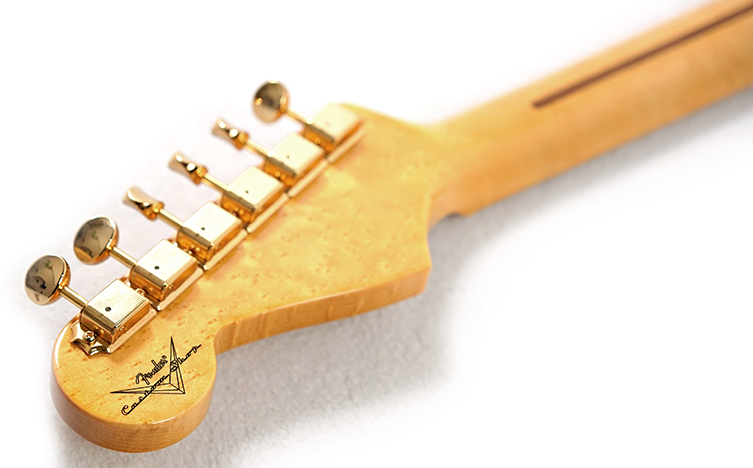 These Master Builder Designed guitars are still absolutely Custom Shop, hand-made Fender guitars, they just come in at a lower cost since more people have a hand in making it, leaving the Master Builder free to attend to his own orders. It's almost like having a Master Built guitar, for thousands of pounds less!
Good deal?
We think so!
With this in mind, we approached the Custom Shop a while back and had a conversation of Greg about doing a short run of these Master Builder Designed guitars. Our eventual design was based around a '59 Strat, with some changes to the 'historic' spec in keeping with Greg's taste and preferences. Considering who he's made guitars for, we were quite happy to go with his ideas!
This run of guitars actually sold out super-fast, so we've decided to go back and order a small run of additional instruments, and these are available now, at a fantastic price! They never last long, so please don't hang about if you want one! In the meantime, here are a few more details of the design itself...

Greg Fessler 59 NOS Strat
Greg has opted for a '59 Strat, which is not normally even an option! Fender Custom Shop normally offer 6 potential Strat base models: '55, '56, '60, '63, '65 and '69, so this is already a departure! This is finished in the Custom Shop's NOS – New Old Stock – grade of relicing. This is the lightest, in terms of relic work, that Fender Custom Shop offer. By lightest, we really mean none: there is no 'patina' of age on the finish or hardware, and there are no marks or dings anywhere. It's like it's been hanging in the back of some imaginary guitar store for decades, completely untouched, before being found by some lucky player.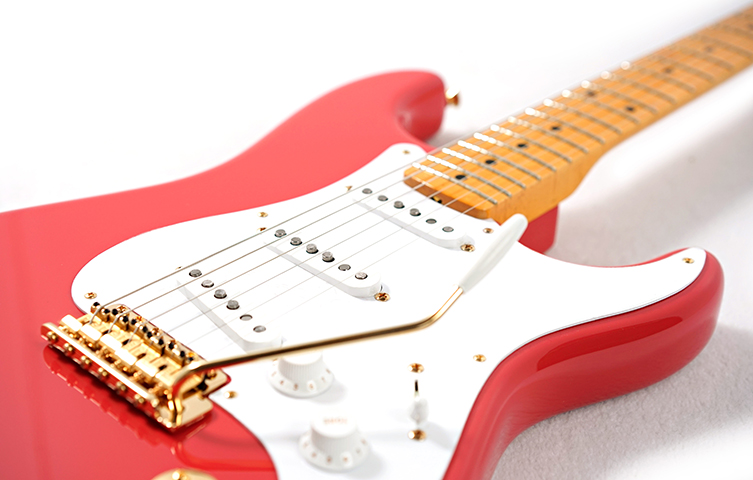 Greg has decided on an Alder body and a Maple neck: classic 50s Strat stuff! The neck is actually AA Birdseye Maple, a beautiful and distinctive figured wood. The profile is '60s-style Oval C', which is comparatively slim and slender when compared with early 50s necks. Greg has broken with strict vintage tradition to dictate a 9.5" radius fingerboard, making this guitar easier to play and therefore more appealing for the contemporary player. Why struggle with bad bends and fret-outs in the middle of your blistering Texas-style solo? 21 medium jumbo frets are vintage in number but modern in size, another tasteful hybrid choice.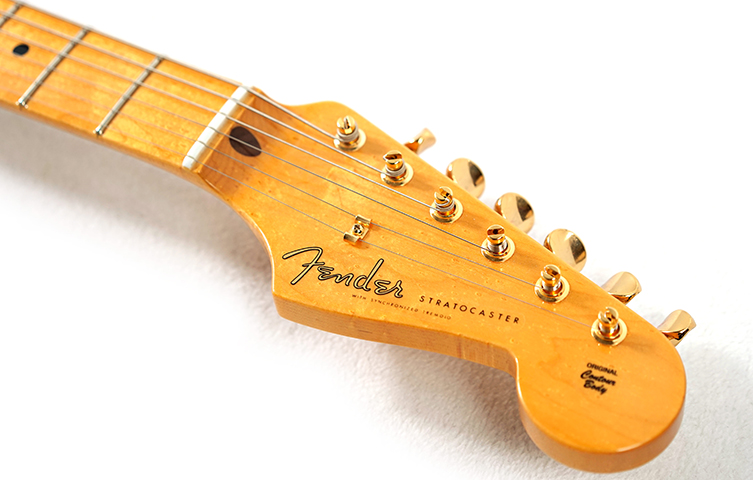 In terms of pickups, Greg has selected a trio of Custom Shop Fat 50s Strat models. This set uses alnico 5 magnets to recreate that timeless 1950s Strat twang, but with a slightly hotter output and bigger low end to give the guitar a voice that fits in with contemporary music as well as authentically older sounds.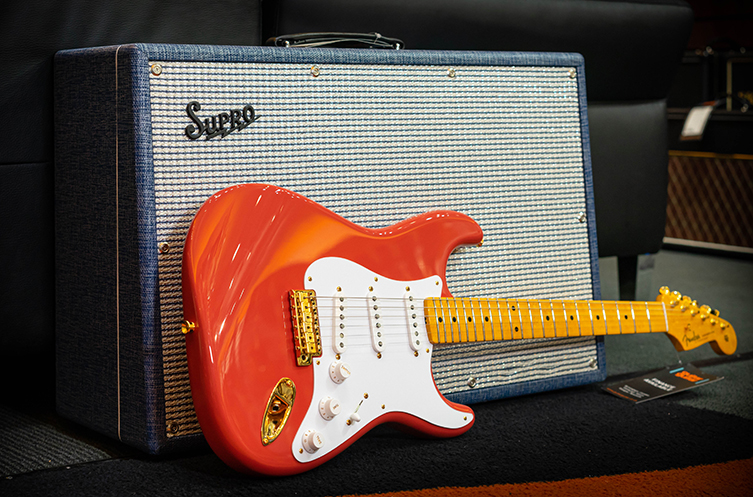 The Fiesta Red finish is matched perfectly to those old DuPont paint swatches: there are a lot of guitars out there that say they are 'Fiesta Red' but this is the real deal! It looks stunning. In true fifties fashion, the pickguard is a single-ply, 8 screw style, as it should be. Gold hardware is a further tip of the hat to a certain player...those who know will know, and those who don't can just love how beautiful this guitar looks!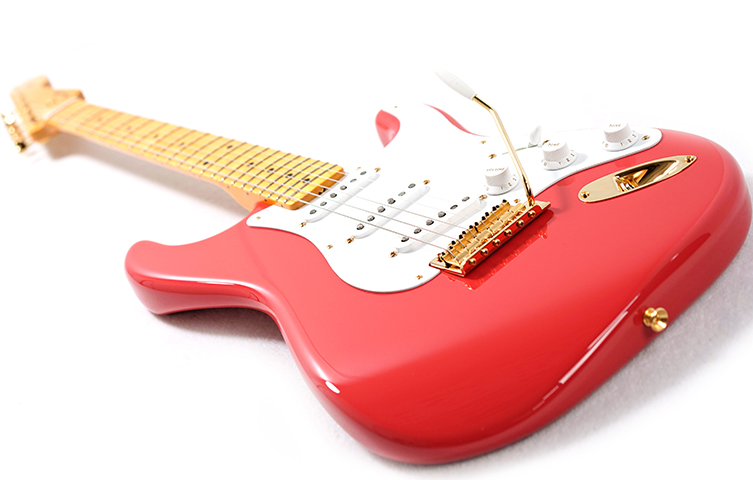 Truly, our small selection of Master Builder Designed 59 NOS Strats are world-class instruments. Each represents the taste of a great artist, the best materials and the most famous Custom Shop in the business, all doing their thing. These are being offered at a price that is a good chunk lower than standard, and we want you to enjoy the opportunity to own one of these whilst our very limited stock lasts!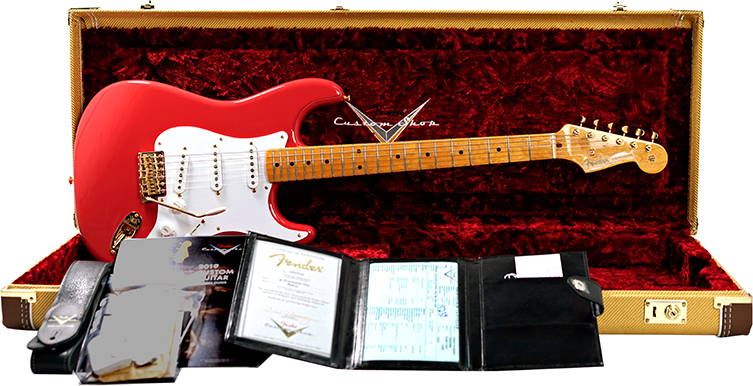 Have a look here at our Fender Custom Shop Master Builder Designed Greg Fessler 1959 Strat NOS guitars in Fiesta Red! Check one out in action here!