Best of British - The Builders Who Are Flying The Flag For The UK
Published on 03 February 2022
We are proud to be serving Britain's need for guitar gear. Our stores span from the cold, wet expanses of Scotland to the cold, wet expanses of South England. We may moan about our weather, but we are genuinely proud to be a British company. So, we thought it was high time we shout out to some of the brands currently building in the UK. There has been a recent resurgence in UK made musical equipment, and this list touches on some of our highlights.
PJD Guitars
Founded by Leigh Dovey in 2010, PJD guitars have fast become an essential brand to watch. The company started life in a very traditional British manner—just one man in his shed. Over a decade on, the team has expanded to 12 members. Leigh is proud of how much the guitar manufacturing process has been kept in-house at their facility just outside of York. Only two crucial components are outsourced, the pickups and the hardware. He opted for two British pickup manufacturers to fill the role of filling the holes. Bareknuckle and Cream T pickups are guaranteed to give you a premium output from an exceptionally crafted instrument. The role of hardware goes to Gotoh. Gotoh is a familiar name to those accustomed to high spec instruments.
PJD implements an array of building techniques across their entire range, designed to elevate the performance and reliability of their instruments. For example, every single guitar features a bolt-on neck. However, this is not your bog-standard bolt-on neck. Instead, brass inserts have been incorporated into the neck of the guitar, which is connected via bolts through the body. This slightly unusual technique means, unlike wood screws, they should never wear out. On top of that, every neck uses quarter-sawn maple, roasted for enhanced stability.
Atkin Guitars
Founded in Canterbury, England, in 1995, Atkin is a UK brand that has withstood the tests of time. Its origin can be traced down to one man, Alistar Atkin. Alistar started production as a one-man band, but the team has since expanded to a small expert team of seven members. Much of an Atkin guitar is handcrafted, but modern technology has been incorporated where there is a clear advantage to the guitar's construction. Alistar and the team roughly put out around 350 guitars a year which is remarkable when you think this number is not far from what some companies offer as a limited run these days. The process may be slow, but this time commitment sets guitars like these apart.
Atkin have prided themselves on the ageing process of their aged acoustic range of instruments. Unlike the ageing rockstar, acoustic guitars always sound better with a few years under their belt. Whilst the masses have been spreading themselves in layers of anti-ageing creams trying to fight the inevitable; guitar builders have been doing the opposite. Now, utilising modern techniques, Atkin unlocked the secrets of ageing. Torified tops and bracing unlocks a rich world of harmonics via a complex breakdown at a biological level. These guitars play like they have been used for years, one of their biggest appeals to many players.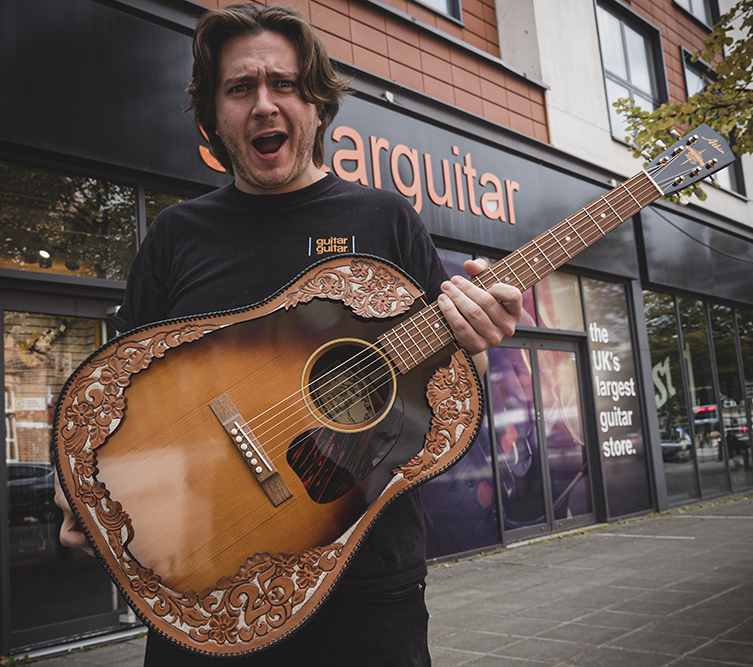 Laney
Founded in 1967, Laney was propelled into world stardom by Birmingham legends Black Sabbath. When the world heard Tony Iommi's monster guitar tone crashing through the soundscape of a thundery night on Sabbath's debut album, inspired guitarists came in droves seeking the amplifiers that stood behind him. Laney is a quintessential part of British amp manufacturing, and now more of their production is moving back to the UK. Laney has been making hand-constructed amplifiers in the UK in the form of their Black Country Customs boutique range, but now one of their production line models is being moved back to their Midlands facility. That line is the famed blue boxed Lionheart range.
The Lionheart range came to fruition in 2007 when it was first introduced to celebrate Laney's 40th anniversary. Sharing the same name as the Medieval king of England, Richard the Lionheart, it only makes sense that English circuitry courses through its DNA. With a pedigree entrenched deep in the heart of British rock music, it is fitting that this renowned brand are bringing the Lionheart production line back to the UK. If you are looking for an amplifier that will produce a comprehensive array of sounds in a smart, well-constructed package, then the Lionheart range is a must-try.
Origin Effects
Another homegrown company is Origin Effects. The electronics wizard behind this extravagant collection of compressors, distortions, and modulation boxes is founder Simon Keats. Origin has taken the concept of high-end studio-grade outboard gear and compacted them into a circuit that can fit into a guitarist friendly interface. Big names such as Tony Iommi, David Gilmore, Joey Landreth, Ed O'Brien, and more have now used these pedals in their rigs. Such a highly esteemed collection of players is impressive, but this is made even more so given that the company has only been in operation since 2012.
Every Origin pedal is hand-built and tested in Buckingham, England. With a growing team and an already expansive collection of users, Origin is a UK company with wide-reaching arms. This company should undoubtedly be on your list of brands to watch.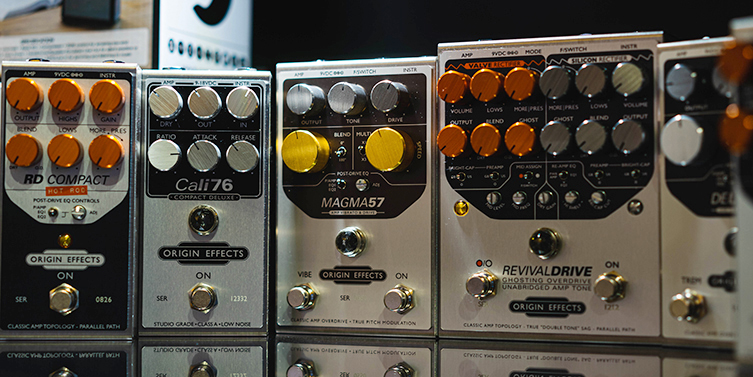 Exciting Time For British Builders
We are currently in the midst of a revival of British manufacturing. This is an exciting time for builders and guitar fanatics across the nation. Thankfully we are not short of homegrown boffins to help push forward advancements in the guitar world, and we can not wait to see what comes next.
There are plenty of common themes that run through the histories of these UK builders. It is interesting how many of them started life as a one-man driven passion project that oftentimes grew out of a shed. The tenacity, drive, and relentlessness the founders of these companies share is passed onto their products. You can tell this gear is built close to home.