A Closer Look: D'Angelico Guitars
Published on 13 March 2020
Bold, stylish, curvy and jaw-droppingly gorgeous, D'Angelico have made quite the impression on us at guitarguitar. Their selection of shapely guitars are among the most admired in our stores and we have to say, it's not just about the looks alone with this lot. They sound absolutely gorgeous. With models that range from bold jazz sounds, to proper rock machines, D'Angelico are absolutely killing it and we reckoned it was only right to show off a few of our favourites.
Let's start with one of the more recent arrivals, a beauty straight from NAMM - the Limited Edition Deluxe DC Tremolo Matte in Rose Gold. We fell in love with this the second we first laid eyes on it and it's easy to see why. Keeping up D'Angelico's signature vintage aesthetic, the design is as flawless as ever with a limited edition distinctive Rose Gold finish which somehow manages to be both understated and eye-catching at the same time. Glorious gold hardware appointments add to the image with a Bigsby designed in keeping with the brand's ornate deco style. However, as we mentioned, D'Angelico don't do things by half measures and this gorgeous guitar sounds stunning. This limited-edition model features a set of Seymour Duncan Seth Lover A4 humbuckers which do a great job of providing a fat, jazzy 50's sound with loads of body and a lovely edge of sparkle. This model is limited to only 50 pieces so get down and try one out before they're all away...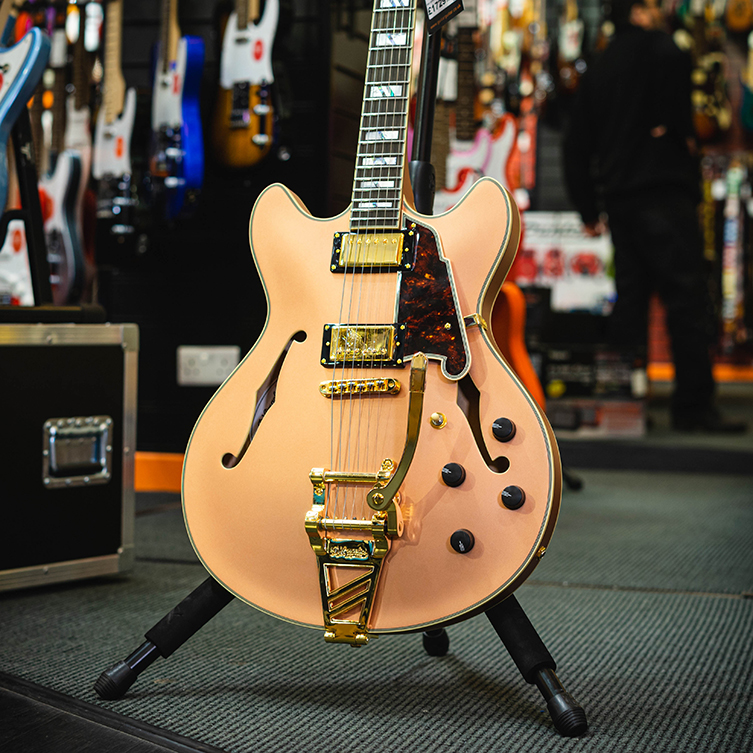 Next up, we have another new arrival from the NAMM show and it's every bit as breathtaking, the simply sublime D'Angelico Deluxe 175 in Matte Wine! Once again sticking to what they do best, D'Angelico have put together another stunning hollow body with an attitude and a lovely limited edition finish. Also sporting a lovely gold Bigbsy, this guitar has so much rock 'n' roll vibe we can barely contain ourselves. Easily one of the most stylish models we've seen from the brand, the finish sets off its hardware perfectly and had us totally weak at the knees. when it first showed up. On this model, D'Angelico have opted for a set of TV Jones pickups with coil splits to unlock a whole new set of thick, creamy tones that take you right back to the glory days of rock n roll. Additional features such as locking tuners make this a great guitar for the money and with only 25 available in Europe, we don't see them hanging around long - do yourself a favour and try one out before it's too late!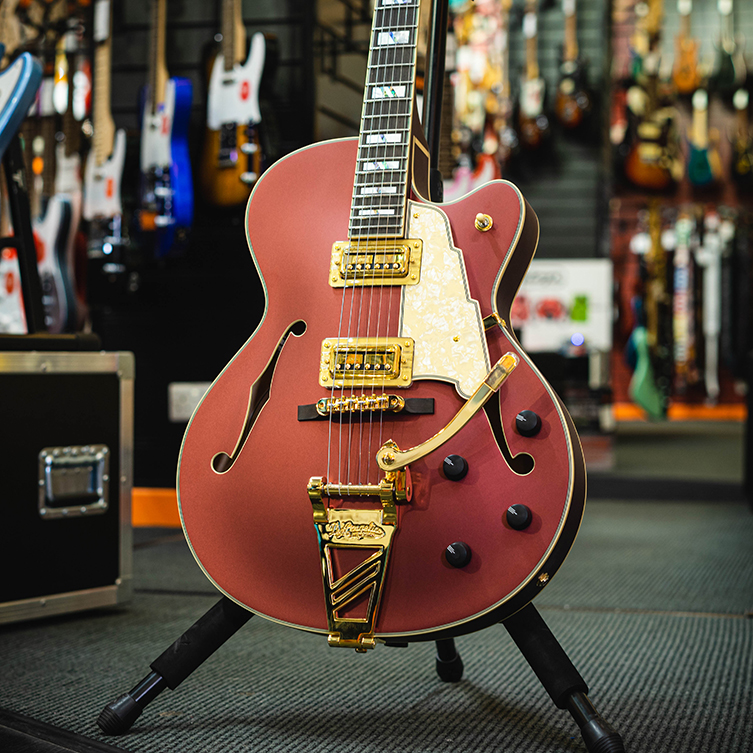 Don't worry, if hollow bodies aren't your style, D'Angelico make plenty of gorgeous solid-bodied guitars too. One of our favourites is the Deluxe Brighton in Natural Swamp Ash, a double-cut little rocker that marries stunning aesthetics with a no-frills attitude and a beautiful tone to boot. Lightweight and made to be riffed onstage, this model is perfect for everything from blues to jazz to punk rock. Buttery sounding Custom Seymour Duncan DA-59 humbuckers dish out a lovely vintage tone with a 3 Way Toggle keep things simple but interesting at the same time. The Swamp Ash body looks tremendous and adds to the lovely sound of the guitar, which sustains for daaays. Its slim neck also feels excellent and adds to the overall playability of this axe. If you're a fan of timeless tones and no nonsense guitars, this is a must try.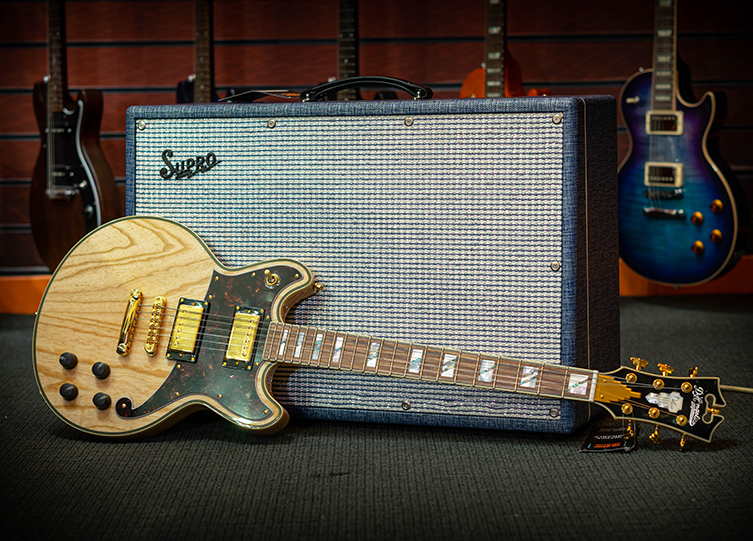 The solid bodies come in some pretty stunning limited edition colours too, like the gorgeous Deluxe Atlantic in Matte Rose Gold. Flaunting the same decadent finish and flashy gold hardware as the Deluxe DC we mentioned earlier, this is a remarkably beautiful guitar. The Deluxe Atlantic utilises the same Seth Lover A4s too, giving this axe a similar vibe but in a solid body. Still capable of plenty of chunky, creamy tones but with a tighter sound than it's semi-acoustic brother, this is a workhorse that will handle pretty much any genre you care to throw at it. Build quality is as stupendous as we've come to expect from D'Angelico and it's C-Shape neck feels excellent. If you've yet to have a blast on one of these, they don't come much more gorgeous than this so make sure you do before they all disappear!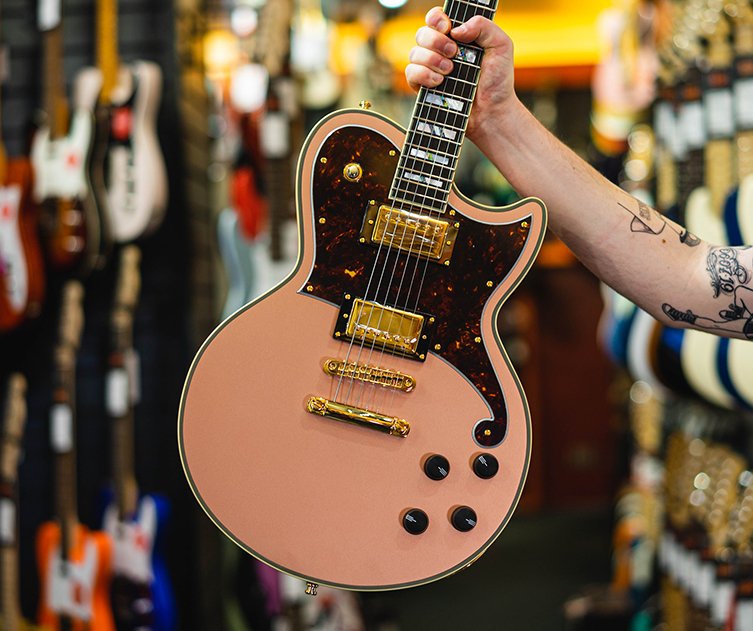 Let's finish off with something a little more laid back for the strummers, a guitar we see as offering unbelievable value for money, the Premier Utica in Natural Mahogany. On offer at the moment for only £99, this gorgeous acoustic has more style than most with a lovely mahogany body and D'Angelico's signature Deco-styled headstock. Lightweight and extremely comfortable with its 3/4 size, this guitar also has a lovely rich, full tone with incredible projection for its size. Perfect for beginners or those looking for an affordable acoustic that will travel well, this is a whole lot of guitar for the money. Drop by your closest store to try one for yourself and be prepared to fall in love!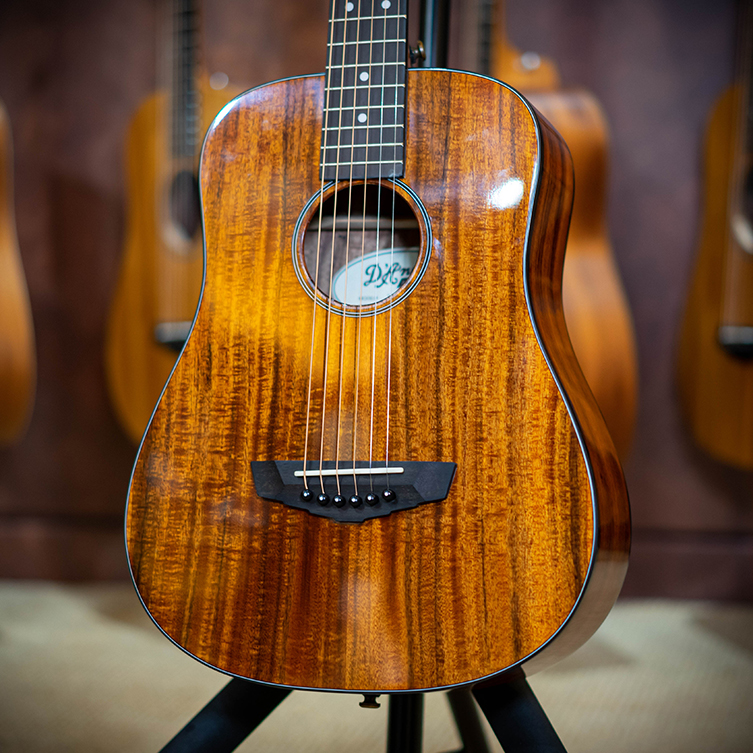 Remember folks, these are just a few of our favourite models and to be honest, we could keep talking about D'Angelico's guitars all day. Their selection is totally different to anything else on the market and we absolutely love the vibe of their guitars. Never ceasign to feature exceptional build quality and the grace and style to go with it. If you've yet to have a shot for yourself, do yourself a favour and pay us a visit - you won't regret it!