Brief Histories: The Gibson Les Paul
Published on 03 April 2020
Some of us are Gibson people.
Others are Fender.
Probably, most of us like both, but we do each tend to lean towards one 'school of design' in preference to the other.
There are countless electric guitar brands out there in the world, but 99% owe a large debt by the ground created by these two game-changers, way back in the fifties. In the first of these Brief Histories, we've decided to lean towards Gibson and their most famous creation. Here, then, is a very brief history of the Gibson Les Paul.
This short summary of this most magical instrument will hopefully outline its surprising path through history, and perhaps inspire you to delve further yourself!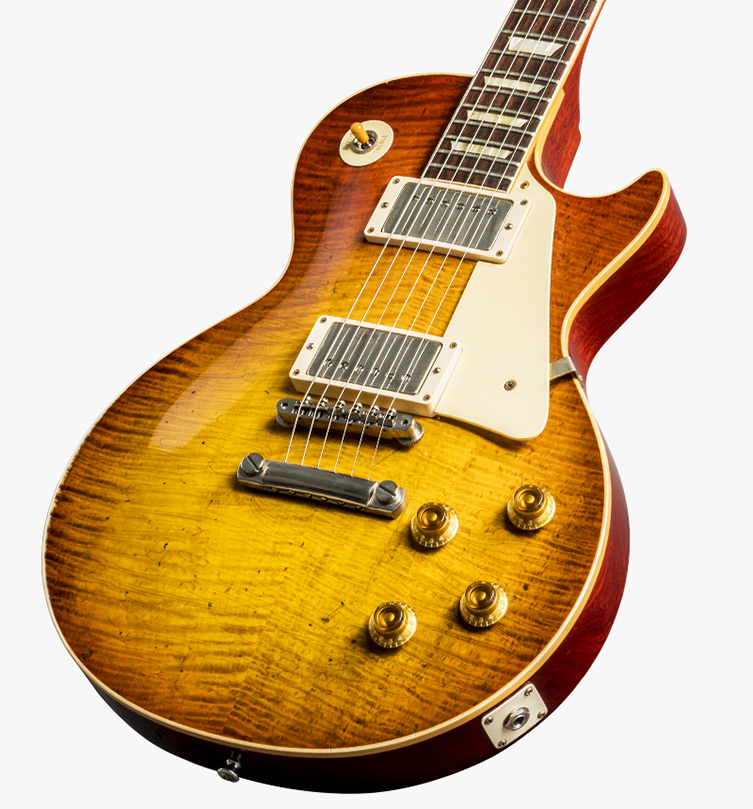 Lester Polsfuss
There cannot be a discussion about the development of the electric guitar (never mind the Les Paul guitar) without paying due respect to one of the instrument's primary inventors.
Before Led Zeppelin, before the British Invasion, before Rock 'n' Roll, even, there was Lester.
Lester Polsfuss, better known by his stage name of Les Paul, was part of a successful musical double act with his wife Mary Ford in post-war America. His game-changing guitar playing helped propel the couple into major stardom in the US. The innovative star was also an inventor, who tirelessly toiled in his workshop in between tours and TV show commitments.
These tinkerings led to amazing discoveries like multitrack recording techniques, tape-flanging, 'echo' and more. Talk about influential! Modern music exists as it does now largely because of the early-doors strides made by this man's curiosity.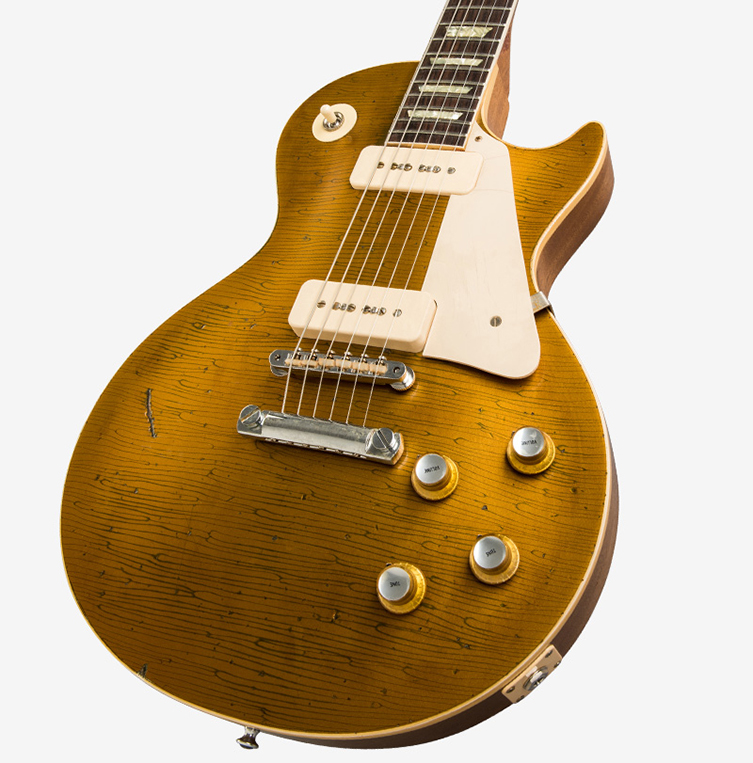 Of course, his most famous creation was (one of) the world's first solid body electric guitar, nicknamed the Log, due to its somewhat ungainly appearance. This happened away back in 1940, when Les used to work after hours in his friend Epi Stathopoulus's instrument workshop. Guitar fans will know Epi as the charismatic owner of Epiphone guitars, who were a massively popular brand of New York-made Jazz guitars at the time. The Gibson buy out of Epiphone was decades away (Lester was instrumental in this happening, but that's another story...) Indeed, Rickenbacker had actually made a solid guitar ahead of Les, but history remembers the Log as being the first time that people began to take notice of the concept of a non-hollow guitar.
So, Les took the Log to a several manufacturers, including Epiphone, who declined to put his idea into production. Gibson declined too, until Fender released their world-changing Broadcaster guitar in 1950. Requiring a product to sell in response to this incoming new world, Gibson's then-President, Ted McCarty got onboard with Les and worked with him to being the Log to market.
The Beginning
Contrary to popular belief, Les Paul didn't really design the Les Paul guitar at all. He was consulted, and had some input on its look and design, but the guitar itself was designed by Ted McCarty and Gibson factory manager John Huis. It's a signature model, for sure, but it shouldn't really be thought of as Les Paul's creation as much as it's a guitar he endorsed.

The Gibson Les Paul debuted in 1952 in its famous Goldtop livery with two P90 pickups and a trapeze tailpiece. Beauty aside, the main selling points for the Gibson Les Paul included its easy playability and woody, sustaining sound. The luxuriously carved top, set neck and romantic-looking curves were created in express opposition to Fender's utilitarian Telecaster (the name had changed by '52), and the Les Paul was marketed as being a luxurious step up.

Initial sales were high, so the following year, the first Les Paul Custom was released. The Custom model was said to be instigated by Les himself, who wanted a more glamourous look for his TV appearances on the Les Paul & Mary Ford Show. This model increased the amount of binding and added pearl block inlays and the Split- Diamond headstock inlay from Gibson's Super 400 model to make what Les Paul called his 'tuxedo' guitar. Available in Black with Gold hardware, this has become one of the Les Paul's most revered models.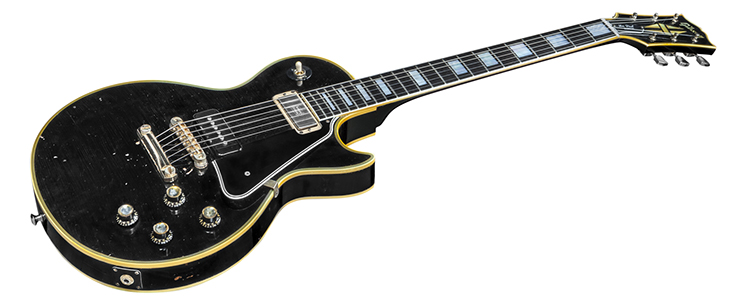 (this reissue model has a Semour Duncan mini humbucker in place of the Seth Lover Alnico pickup)
In 1953, the Les Paul Custom had a bridge position P90 pickup and an 'alnico V' pickup designed by Seth Lover. The frets on the upgraded Ebony fingerboard were lower and narrower, earning the guitar the nickname 'fretless wonder' due to its ease of use. This guitar flat-out played itself! 1954 brought the Tune-o-matic bridge and stop tailpiece to proceedings, which brought tuning stability and intonation to another level.
Whilst these guitars were making their mark, two significant other Les Pauls were introduced, too. The Les Paul Junior was a simple slab-bodied instrument with a single P90 pickup and no binding. Intended as a student model, it became an affordable classic that was gone down in history as one of the most revered and loved guitars ever. A double cutaway version followed soon after, painted on a finish known as TV yellow (it showed up grey on black and White TV screens, thus making it more visible), and a two pickup Special was introduced not long after. The Juniors were originally made from 1954 till 1960.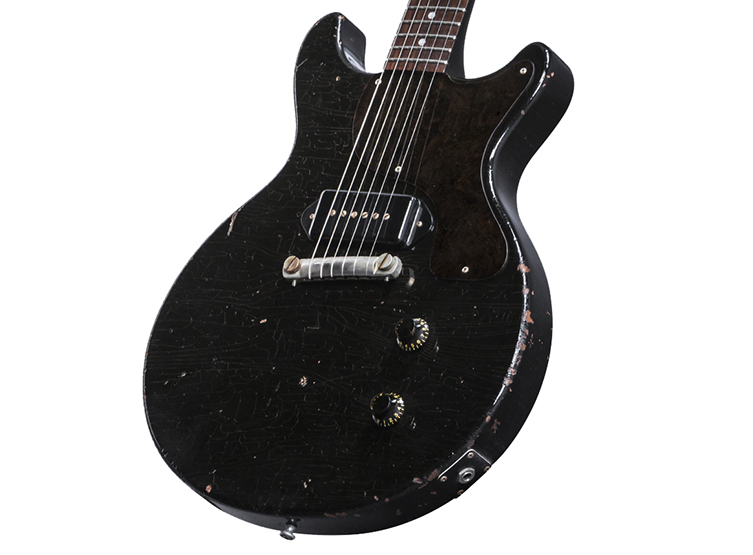 PAF Tone
In 1957, Seth Lover designed the humbucking pickup for Gibson. Known as PAF pickups (Patent Applied For, which was indeed granted not long after), we probably all know and understand the legendary sound nowadays! Full, thick and sustaining, with a chiming attack and lots of depth.
These pickups were applied to both the Goldtop (not yet known as a 'Standard', let's not forget) and the Custom. Now, familiarity would have it that the Custom had two pickups by default, but in fact the 3 pickup 'Black Beauty' was the 'regular' Les Paul Custom of 1957, with far less two pickup Customs being made.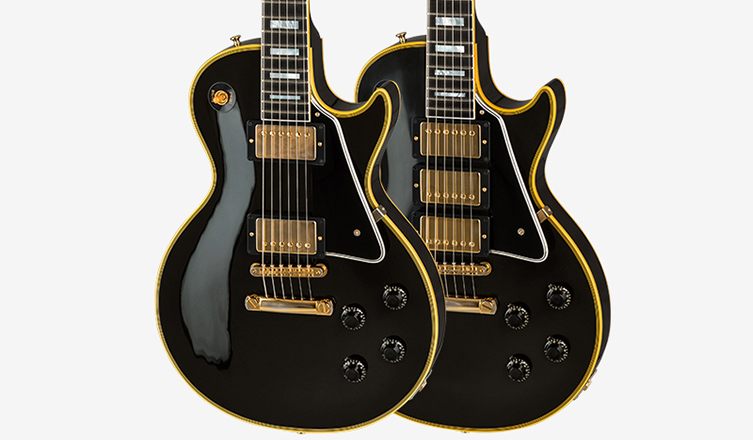 Most reissues we see nowadays of the Custom tend to be from 1957, when the larger headstock and gold PAF's reigned supreme, whether there are two or three.
The Standard
In 1958, the Holy Grail Les Pauls were brought into the world. These models swapped out the Gold of old in favour of a translucent Cherry Sunburst finish over either a 'plaintop' of relatively unremarkable Maple, or a book-matched top of figured Maple. This was the era of the Tiger Top Les Paul, with the strikingly flamed Maple bringing a dramatic gravitas to this always-beautiful guitar. The name 'Standard' was coined to differentiate from the Custom. Between the years 1958 and 1960, less than 2000 Les Paul Standards were made. The fact was, at the time, they were not hugely popular. Though these guys have since gone on to ironically become the most expensive vintage guitars the world has seen, they were often passed up by guitarists in the late 50s, mainly because a Fender could be had for a good deal less money. The Fender sound was also newer and fresher, especially in the days before Marshall stacks!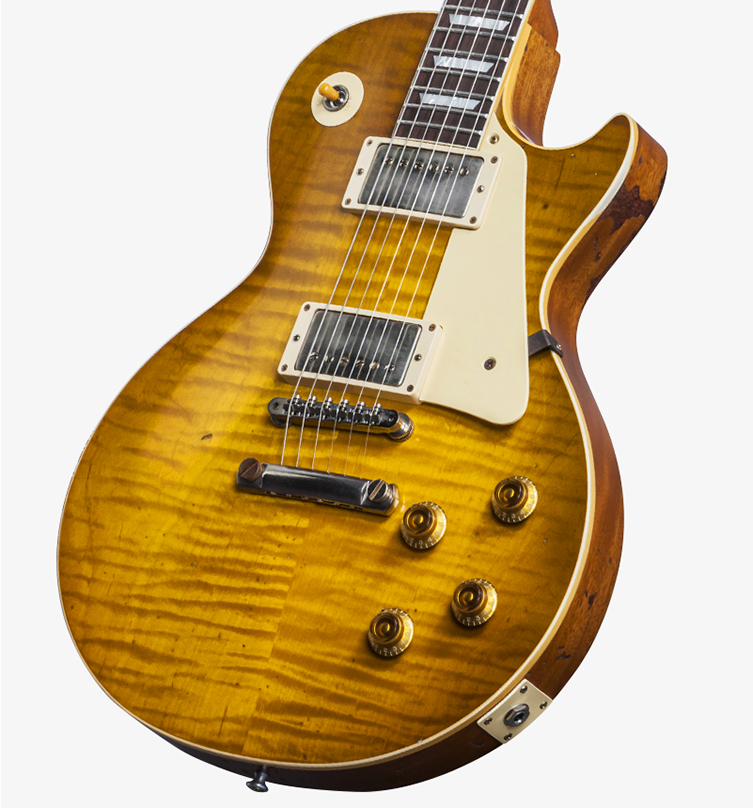 The Legend Falls
From the beginning of 1961 right up until 1976 (!) the Les Paul Standard was out of production. True, Gibson reintroduced the Les Paul Custom in 1968 (it's never been out of production since) and there were plenty of P90-clad Juniors and Specials available from the late fifties, but fans of the Standard would have a long wait on their hands before Gibson reintroduced them.

Talking about fans of the Standard, the entire British Invasion seemed to use the Les Paul Standard as their weapon of choice! In the mid to late 60s, many British Blues players began understanding just what was possible with volume and dynamics. Players like Jeff Beck, Eric Clapton, Jimmy Page and many others began using Marshall amplifiers to better compete with loud drummers. This is turn necessitated overdriving the front end of the amp to produce glorious distortion. These iconic players quickly found out that old second hand Les Paul Standards, heavy on the shoulder as they may have been, were by far the greatest carriers of this sound. The stronger pickups and thick, solid Mahogany turned the guitarist's sound into something akin to an electric cello being mixed with thunder and lightning.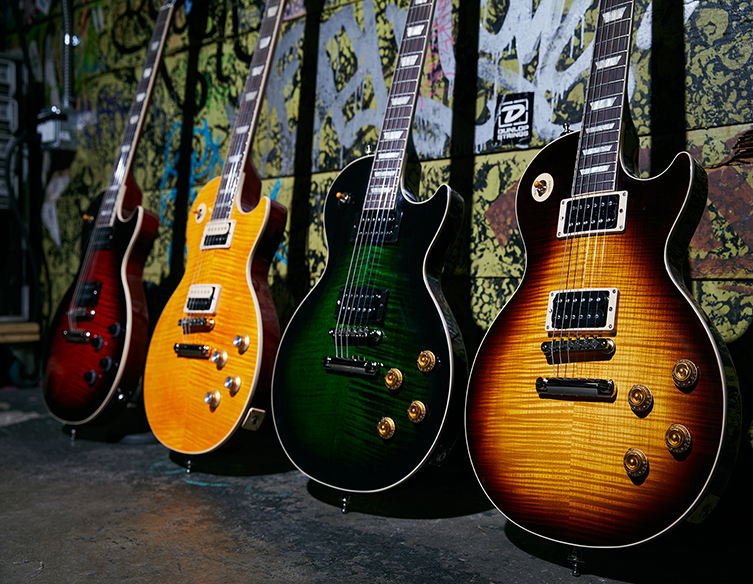 Post-Invasion
The British Invasion put the Les Paul firmly on the map, where it has reigned ever since as one of maybe four of the most significant electric guitars in existence. In the 70s, before the Standard was re-issued, Les Paul Custom models started being made with volutes behind the neck and 'sandwich' bodies which had a thin 'filling' of Maple in between two pieces of Mahogany. Not ideal, but it was good enough for players like Randy Rhoads, who did a lot in the early 80s to bring the Les Paul back out in front of audiences. Steve Jones of the Sex Pistols did similarly, and his simple approach was maybe more influential than anybody else's until a certain top hat-toting guitar slinger made further iconic use of a Sunburst Les Paul Standard.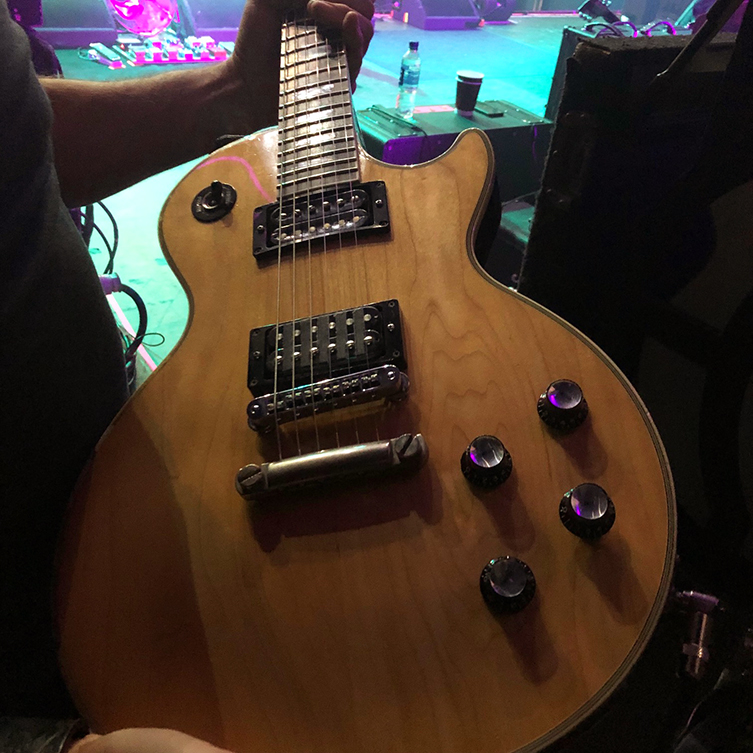 More Modern Times
Since those days, the Les Paul has been in constant use throughout all major music movements. It's authority as being the only guitar that can really supply 'those' tones has not diminished. Bands like Tool, Smashing Pumpkins, A Perfect Circle, Mastodon and Alice in Chains are flying the flag for the Les Paul on arena stages across the world. Players such as Zakk Wylde are ably proving that it's as usual to speed freaks as it is to those dedicated to the Riff! Alex Lifeson likes to have a Floyd Rose on his, and Joe Bonamassa brings a selection of tasty vintage Les Pauls with him wherever he goes.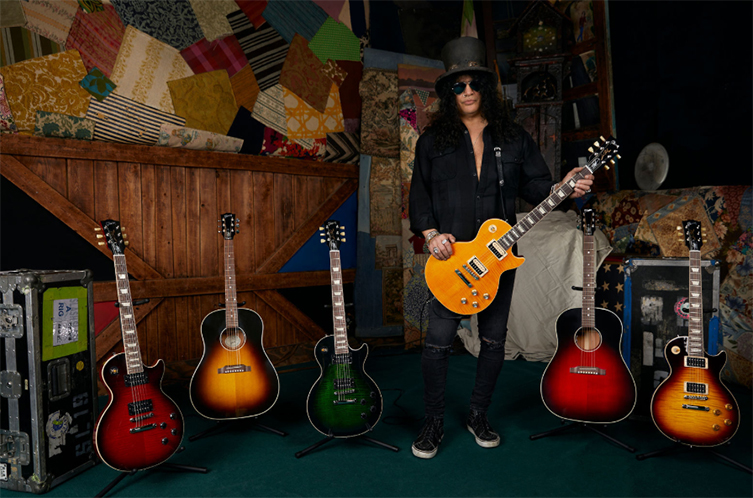 The vintage market went crazy for a long time, and though it has now calmed down slightly, vintage examples of Les Pauls from the late fifties still cost the same as a sportscar.
The best news, we think, is that the ranges currently available from Gibson are amongst the best they've ever done. All of the classic models are there, in their most appropriate guises, in the Original Collection. Contemporary modifications are available via the excellent Modern Collection. The legend of the Les Paul is intact!
This was, of course, something of a whistle stop tour today. There is no way we could cover every aspect of this incredible instrument's timeline, but we hoped you picked up a fact of two, or at least like the photos!
Thanks for reading and come back soon for more Brief Histories!
Until then
Ray McClelland