Classical Guitar: A New Adventure (Updated for October 2021)
Published on 18 October 2021
You love playing the guitar.
Every spare minute you find, you instantly head across to your acoustic, or you switch on your amp for a quick surge of Rock.
It's brilliant! Stealing moments of musical fun throughout the day is what makes life more colourful.
But recently, you've found yourself in a bit of a rut. You've acquired a few of the guitars you've always wanted, you're more than satisfied with your tone and you've finally been able to nail Eruption/Scuttlebuttin'/Voodoo Child/Satch Boogie (delete as appropriate). You feel like you've mastered a lot of things. Now you're in something of a lull, and it's kind of upsetting.
You know you love all things guitar, but you've hit one of life's invisible walls and it's making you frustrated. What to do? Try an entirely new instrument? Yeah, if you have the time and energy to begin from scratch again. Good on you, we applaud the decision! However, we found another avenue to explore, one that builds upon all of your existing knowledge and skill, and simultaneously presents you will a whole new world of sound and technique to master...
Have you ever considered trying your hand at classical guitar?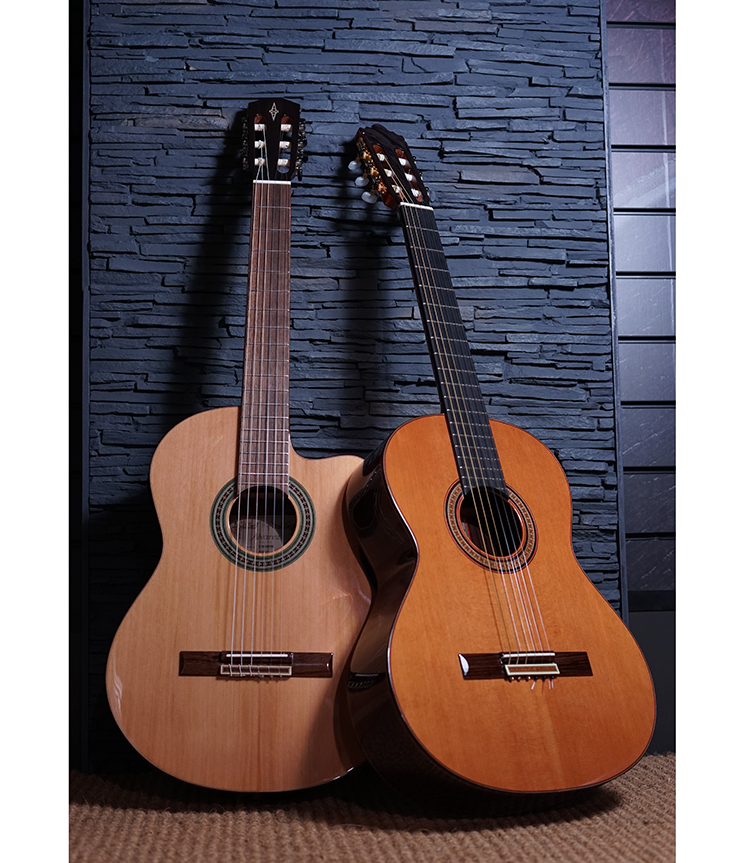 Fresh Headspace
A classical guitar, whilst ostensibly an acoustic guitar, a very much its own beast. The obvious difference from a steel strung instrument is the beautiful, exotic nylon string sound, but there's much more. The entire feel is markedly different, from the wider, deeper neck, to the lack of tension in the strings, to the very touch of the strings themselves. Both hands will be met with sensations that are unfamiliar: the left hand will notice more space between the strings, not to mention the bigger, more forgiving strings themselves, whilst the right hand will sense more 'give' in the plucking of strings.
Even these little differences can do much to revitalise your sense of the instrument and how you relate to it.
There are differences in body size and scale length too, but we'd maybe say that these are secondary to those first sensory experiences.
The other main consideration is that of your repertoire. Wonderwall and Wish You Were Here will just no longer sound right! We think the whole point of travelling down the classical path is to immerse yourself in new sounds, anyway! Expand your repertoire and your taste as a music fan by branching out into genres that make good use of nylon string guitar. The obvious one is Flamenco, which we'll return to soon, but there are also Latin styles (like Bossa Nova, for example), West African music, Jazz and most folk styles from the Mediterranean and Middle East. On top of that, of course, you have the entire vocabulary of Classical guitar repertoire to work on! Listen to some of the examples we've included throughout this article for inspiration. Allow your draw to drop at some of the insane technique on display! Eruption doesn't really seem so hard any more, does it?
New Techniques
Although plectrums are often used with Classical guitars in Cuban Son music, this is more of an exception than a norm. The way to play a classical guitar is get your right-hand fingers working! The tone of the instrument is generated here to a large degree, and it's fascinating to note the difference in tone that can be achieved by changing your angle of strike, or by how much nail you use compared with the flesh of your fingers and so on.
Classical playing will open up your knowledge and application of chords in a huge way too, which most definitely will improve your guitar paying across the board. Adopting scales like the Harmonic Minor and the Dorian Mode, which make up lots of examples of classical guitar, will have your fingers moving into new, ever-more melodic places, too!
Classical shred: Flamenco
Okay it's not fair to call Flamenco 'shred', but seriously, this is one of the most technically demanding guitar styles on the planet. Do you love a good challenge on the guitar? Can you attack the more difficult John Pettrucci or Tosin Abasi solos with considerable success? Good, well done! You may have what it takes to unlock the exotic, mysterious doorway to Flamenco greatness. It's not a challenge, it's more of an invitation...
Focusing as much on super-precise rhythm work as on those distinctive flurries of Iberian notes, Flamenco is a style that overwhelmingly focuses on right-hand techniques. So many guitar styles are about the fretting hand, so this alternative focus alone should be reason enough to delve in and get practising!
There's something lovely and satisfying about being able to pick up a classical guitar and instantly transport yourself and those around you to a warm Mediterranean sunset with just a few notes. Especially right now, with so many of you feeling denied of that very thing due to the lockdown: we can't travel there on a plane, but we can get some of the way there in our minds and imaginations with the help of music. Evoke the sound of the Med with some gorgeous nylon playing!
We're going to talk about guitars now, but we thought it worth mentioning that it isn't strictly necessary to buy a Flamenco guitar in order to play Flamenco guitar. The differences are subtle, and to the non-professional tocaore, they aren't going to spoil your fun one bit!
Choosing a Classical Guitar
It's good news here! Good quality Classical guitars can be had for not too heavy a spend. As with steel string guitars, you pay more for pickup systems and progressively more-solid bodies. We'd recommend looking for a reasonably priced guitar with a solid top as a good start. We'll look at a few, but before we do, there are other fun factors!
We sell a number of scaled-down classical guitars, like ¾ and ½ sized models. Whilst these are designed for younger (or just smaller) people, it's worth remembering that these also make for great travel instruments! Keep that in mind for the future, when you may be considering a weekend away or even a trip into the country with your family. If you like playing outside, these smaller classical guitars could fit a task you hadn't perhaps even considered!
The same is true for full-sized classical guitars, too, of course! They are lighter than steel sting acoustics, mainly due to the general lack of a metal truss rod (nylon strings have nothing like the same level of 'pull' on a guitar's neck), plus they are generally smaller in size than, say, a dreadnought.
So, to round off our article on the merits of the classical guitar, we'll look at a select few than we normally carry, though we do emphasise that there is a wide selection of classical guitars on our site here to pick from! As ever, please do get in touch if you want more help, advice or information. We live and breathe guitars, and we always want to help!
Yamaha CG122MC
Yamaha are always a brand you can trust. Their affordable classical guitars are exemplary, with good comfortable necks, decent tuners and a sound that is perfect to evoke a sense of the exotic. This CG122MC model is a good step up from the beginner models with its solid Cedar top bringing a warm, open sound. A nice matte finish adds to the appeal of this tasteful and well put-together instrument.

Admira Virtuoso Electro Cutaway
This suave classical is a great choice for those who want plenty of features. This Admira Virtuoso could actually be the best 'gateway' classical model for electric guitarists, with it's easy playability and slim neck making it good for those who are not used to the feel of a classical guitar. The neck is still nice and wide, so you get the string separation, but it's more manageable for sure.
The guitar has a cutaway shape to allow for unrestricted access to those higher frets. Solid Cedar has been used for the instrument's top, so you'll enjoy a slightly warmer tone and response with this over a similar guitar with a Spruce top. Best of all, there's a great quality Fishman pickup and preamp system installed, to let you plug into an amp or PA system. This is great is you have a mind to perform in the not-too-distant future! If you want to get playing in public, then this is a very capable choice which also presents good value.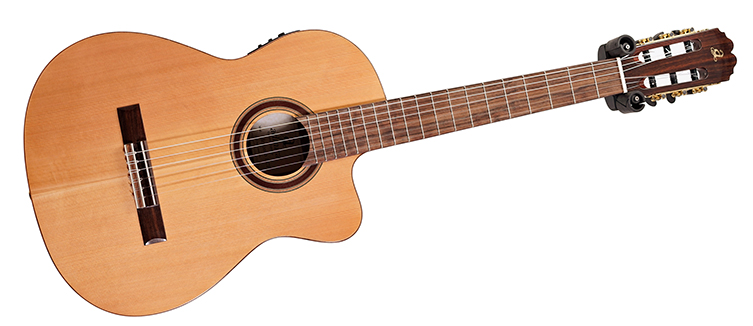 Alvarez CF6CE Cadiz Flamenco Cutaway
For those wishing to embark on a more specifically flamenco-flavoured journey, this guitar brings a lot for the money. The Alvarez CF6CE has been designed in Andalusia, the very heart of Flamenco culture, and uses layered Cypress for the back and sides of the body, in keeping with Flamenco tradition.
This model has the correct asymmetric bracing with a tone bar, to make the slightly louder, treblier 'snap' of the true Flamenco guitar. A slightly longer scale length and lower action aids in the authentic playing experience, too.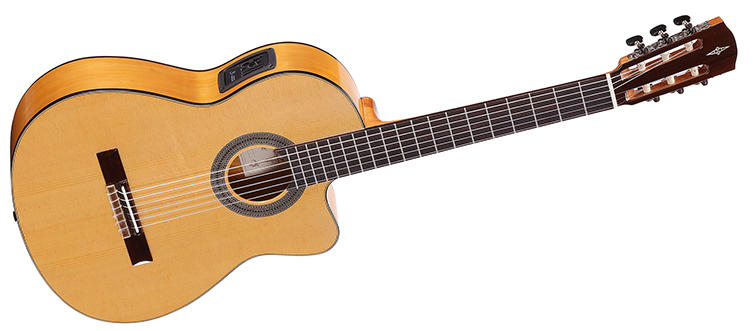 Another great bonus is the fantastic quality LR Baggs Element pickup system. This is one of the best on the market and will ensure that your 'plugged' sound is as inspiring as your unplugged one. For some real Flamenco authenticity at a very good price, this Alvarez is a top choice.
Ramirez Del Tiempo 135th Anniversary
Talking about authenticity, it doesn't really get more authentic than 5 generations of a family in Madrid, all dedicating their lives to guitar building! This is what you get when you buy a Ramirez guitar, known the world over as one of the finest classical guitar builders.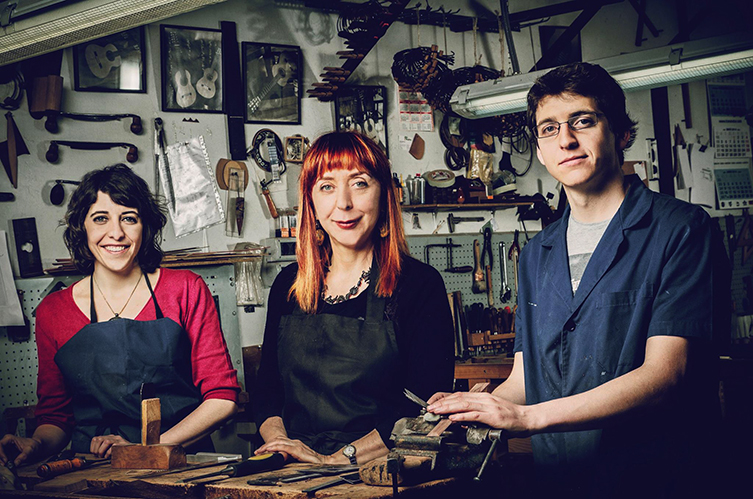 The expertise and knowledge handed down from generation to generation has made Ramirez the classical guitar of choice for plenty of professional players, including big names likes Mark Knopfler, Chet Atkins and Mike Oldfield.
This beautiful model is a celebration of 135 years of Ramirez guitars. It is had made with entirely solid tone woods: Cedar for the top, Indian Rosewood for the body and Ebony for the fingerboard. A lacquer finish and lots of sumptuous traditional detail mark the Ramirez out as a rare guitar indeed, full of Spanish spirit and romance.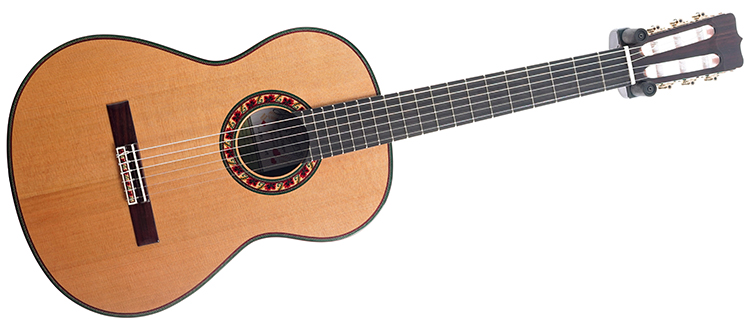 If you want to make an investment in the best, this is the type of hand-made quality you can get. We think the cost is very reasonable indeed, considering the century-plus of know-how and passion that comes built in. This is a guitar to accompany you on a lifelong journey.
Final Thoughts
Taking up the classical guitar is a satisfying and easy way to edge into something different and exciting. Some techniques are very demanding, and therefore the challenge is there too, for those who want it! For those who just fancy a change, they can take their knowledge and apply it to a different sound and feel. It's a beautiful sound that gives back everything you give it: we encourage you to try playing a classical guitar!